Spring and summer time bring the sounds of birds and nature all around us. It is a great time to make a milk carton birdhouse craft with your girls that will surely help fill up their backyards with beautiful birds. This is also a great craft to showcase the importance of recycling and making the world a better place.
Of course depending on the age of your girls you may want to do the first few steps of cutting out the cardboard before the meeting so girls are not using the knife.   You can learn through directions and pictures and a short video showing birdhouse being made. Let's get started!
Learn How to Make Milk Carton Birdhouse
For this craft you will need:
paper cartoon from juice, but you can use any box that you want maybe of milk, yogurt or cornflakes
scissors
hot glue gun
white spray
Paint (optional if they will add more color to the birdhouse)
thin little woods
piece of rope
scalpel
How to make your milk carton birdhouse
Step 1: Take the cardboard and cut a hole on the front side to create the door.
Step 2:  Take the spray and spray the box with white spray. If you are going to paint other colors on the house do that after the white spray drys. Either way make sure to let it dry completely before you continue with the decoration.
Step 3: When you are sure that the box is completely dry, take the scalpel and cut the plastic on the top of the box to get clean side. For the cutting process I've used scalpel because it was easier for me but you can use scissors as well.
Step 4: Glue some rope around the door to beautify the look of the birdhouse.
Step 5: To complete the bird house decoration glue some thin sticks on the upper side to create the roof of the house. For the gluing process I used a hot glue gun, but you can use any glue that you think will work.
Step 6: You can leave the Milk Carton Birdhouse as it is or you can put one longer stick on the bottom side where the birds will be able to stand.
Step 7: Also, you can make a hole in top to thread inside so you can hang the birdhouse on some tree. I've used thin wire for this step.
Put food for birds inside and your project is finished.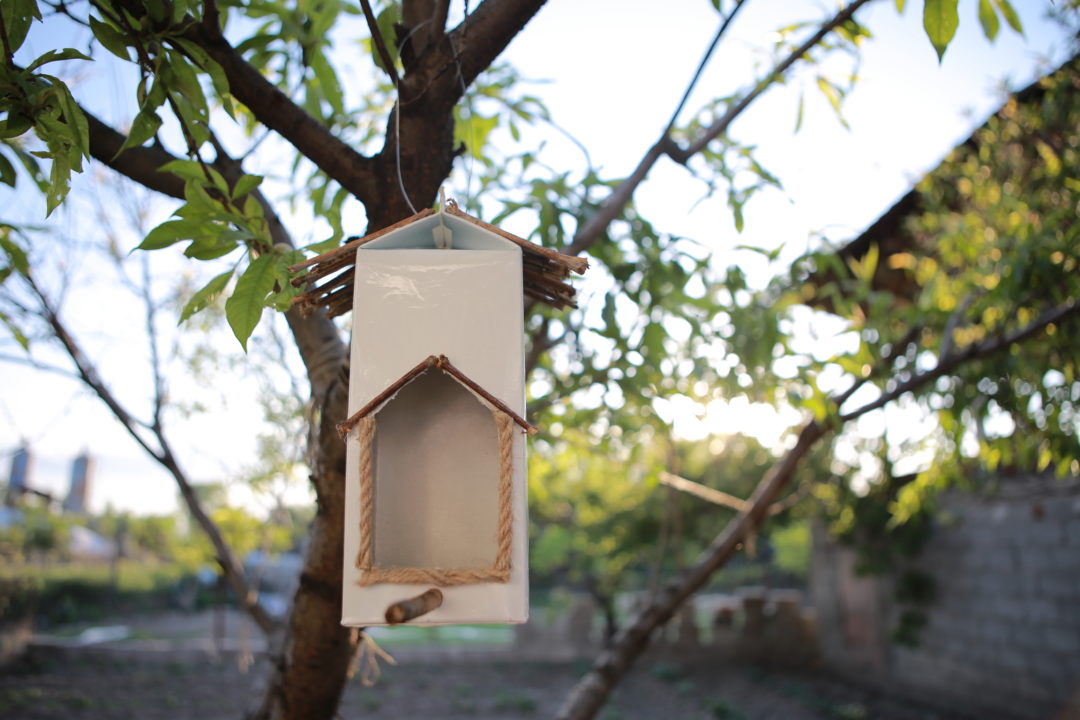 Activities Beyond the Birdhouse Craft
If you want to teach your girls more about birds they may see in the house they are making you can use the "Bird, Nests, and Egg Guide" during your meeting to show them pictures and discuss with them the type of birds that would benefit from their bird house.
Keep exploring topics like this one: