If your looking for ideas to make your meeting more fun while discovering the great outdoors and getting creative, you have come to the right place. Using some of these activities below to get outdoors and creating some amazing art masterpieces with your girls.
Below are a few ideas to get you started.
Outdoor Art Creator Activity Booklet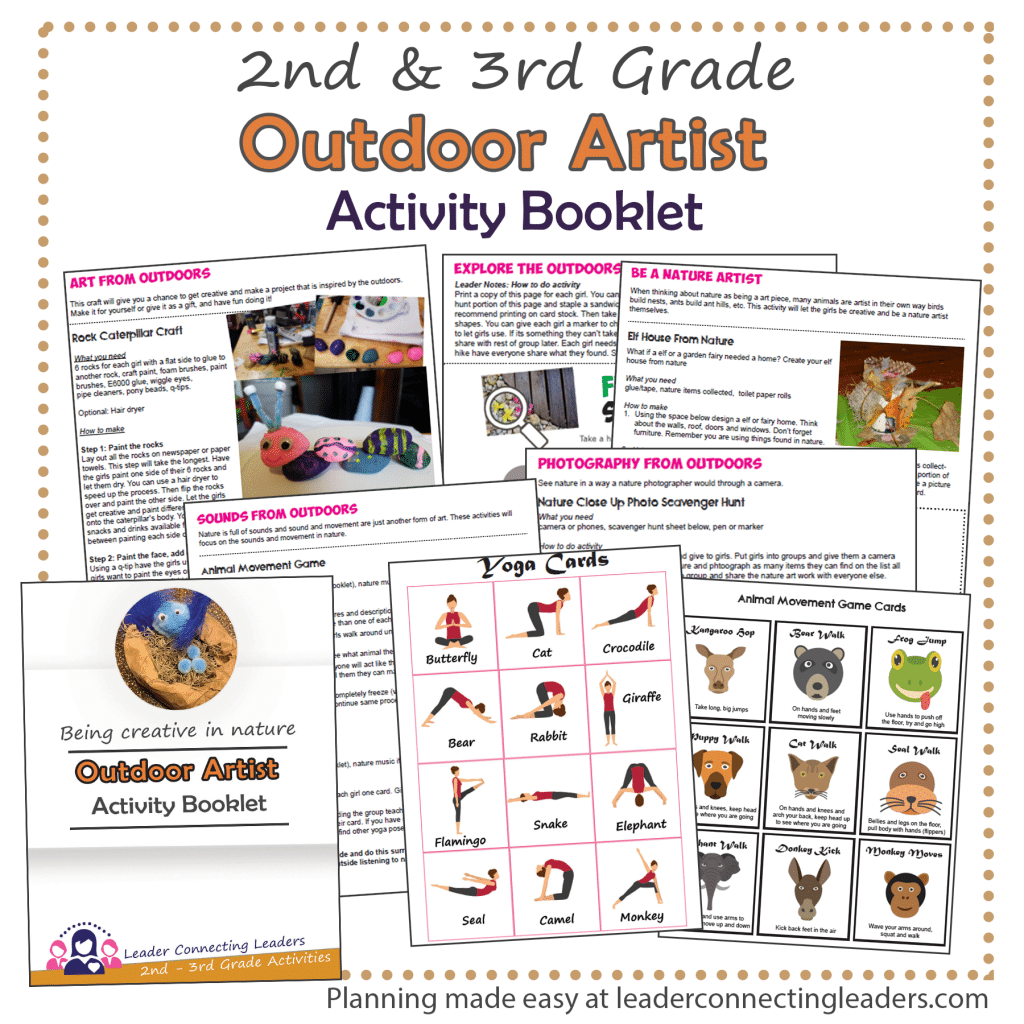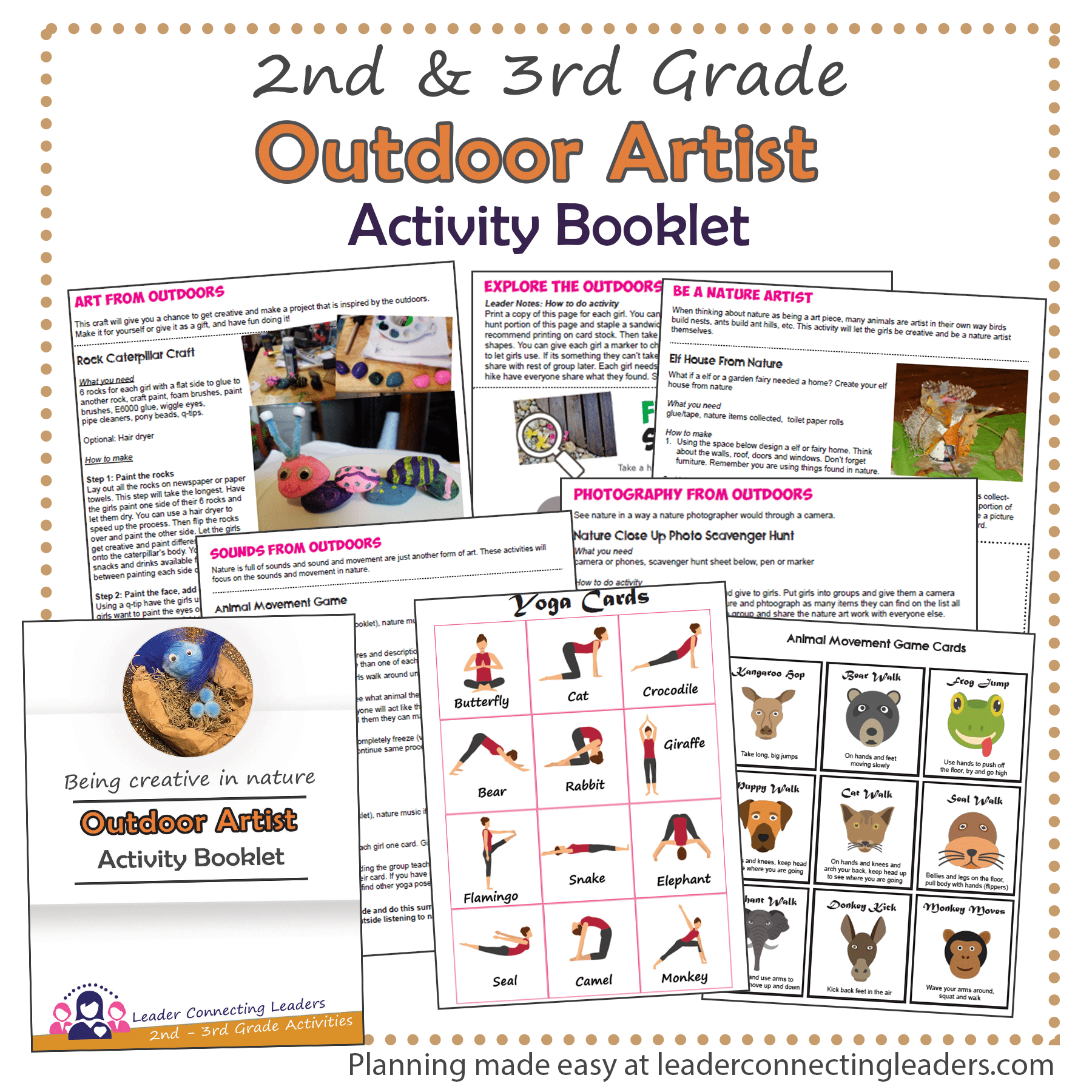 Before jumping into a few ideas, do you want to skip all the planning? If so, use this Activity Booklet with interactive activities and crafts that teach girls more about how to bring art and the outdoors together. Your girls will explore the outdoors by looking at nature both close up with a photo hunt and by going on a scavenger hunt hike searching for different shapes within nature. There are activities that will get the girls up and moving while learning more about how sounds and movement are also a form of art and lastly they will get creative with two hands on crafts using found objects in nature. With a step by step activities, you can't ask for a easier way to run your meeting. Learn more about this activity booklet and get yours today!
Be sure to also checkout these other activities your girls will love:
---
Other Fun Activities To Try
Bird Hunt and Craft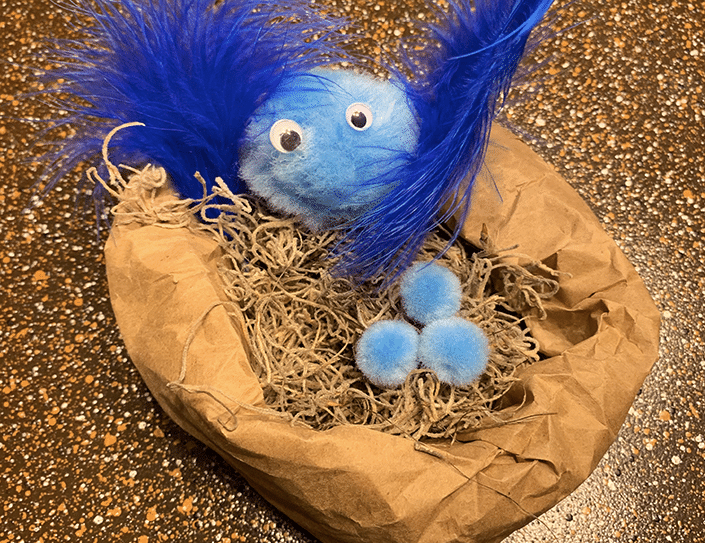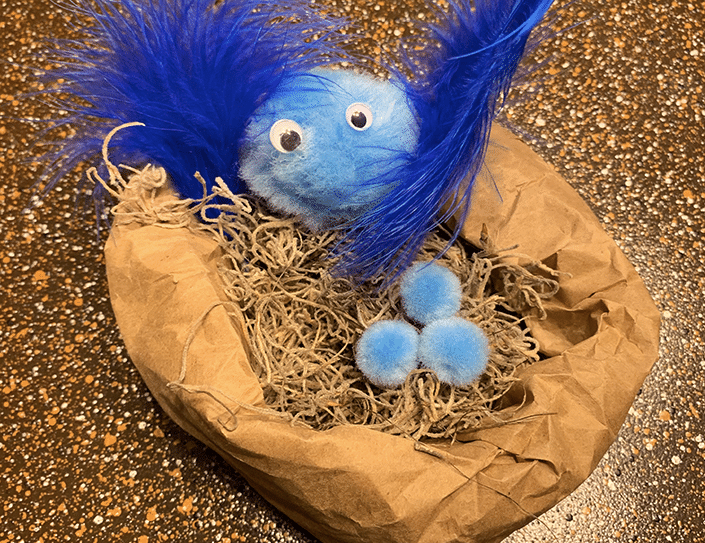 Take your girls on a hike and ask them to listen for birds and look for birds and any signs of bird nests. If you want to have the girls learn more about different kinds of birds they see a great bird guide that is for kids is the "Bird, Nests, and Egg Guide." Of course remind them we do not disturb or touch nature, but let's look and learn.  After the hike go back to your meeting space or campsite and have your girls make a nest with their favorite type of bird in it or maybe one of the birds they saw on the hike.
What you need: Paper bags, small and large pom poms, wiggly eyes, moss or craft grass, feathers
How to make bird with nest:  You can cut brown bag in half then roll it down into shape of nest. Then glue the grass into bottom of nest. Then glue pom poms for baby eggs and large pom pom with eyes and feather for mom bird.
Nature Craft ideas
If you are like me I am not the best person to ask about nature. I have no idea where to start coming up with creative nature related crafts and no idea what types of crafts to do at certain times of the year. So of course I went to google and came across Kid's Style Nature Crafts which includes over 50 ideas to do with kids. It has full color images and step by step diagrams so it was easy to show my girls what the final craft would look like rather than making them ahead. You can pick a few to do and make sure you have any supplies you need besides of course NATURE, and you are good to go. Full-color photographs and step-by-step diagrams are included for each project.
Rock Painting
My girls love painting rocks, we have created things from them by gluing them together, turning them into pet rocks for the weekend, and more. There are so many things you can do with rock painting.
Did you know? In archaeology, rock art is human-made markings placed on natural stone. A global phenomenon, rock art is found in many culturally diverse regions of the world.
Beyond just painting a few rocks as part of your outdoor art badge, learn more about how to put take part in the Kindness Rock project, and how to paint rocks. Click here
Animal Yoga
For some added fun and exercise you can do animal yoga with your girls. Below is a short 5 minute video with yoga poses that are directed by the animals the poses represent. It could be a great way to end your meeting or if you need to warm up before starting meeting.  It is also a fun way to introduce your girls to yoga poses.
If you don't want to spend the time planning, our 
Activity Booklet
 has step-by-step instructions with activities that don't require any planning other than gathering supplies and printing booklets.
What do we do after your girls complete the activities?
Well of course give them the badge to display proudly on their vest, they earned it!  Additionally If you are like many leaders we want to award our girls when they complete something even beyond just the patch. One great way to show achievement is with a certificate. Don't worry you don't have to make them, I found a resource that has done all the work for you and all you have to do is print them and customize the certificates with each girl's name, badge or award earned, date, and troop leader.  Editable certificates perfect for awarding girls after earning a badge.
Beyond outdoor art, learn a new skill each month
If you want your girls to get outdoors, learn new survival skills, and enjoy the other joys that come along with being outdoors the Think Outdoors monthly subscription program will be perfect for your troop. It is a year long program with something new each month to get your girls outdoors exploring nature. I have tried the program am excited to share my experience with you.
Learn more about the boxes
Related Activities For Multi-level Troops
If you have a multi-level troop you may want to use one of the variations to this program that is geared toward the age of your girls.