5 Fun Activities To Help Your Girls Earn The Make the World A Better Place Petal
This post may contain affiliate links and this site is not connected with, affiliated with, approved by, endorsed by The Girl Scouts of the USA or the Frontier Girls. Ideas are my own and I share to help you run your troops with ease.
If your looking for ideas to make your meeting more fun while teaching your girls how to make the world a better place you have come to the right place. Using some of these activities below to help your girls respect nature and teach them not to harm the environment by always picking up trash and and never pick on someone for being different because being different is what makes us all special.
I recommend the following activities that will reinforce making the world a better place:
Practice with activities
Be creative with a craft
Get moving with a game
Put into action with a service project or real life experience.
Optionally: If I have a song that related, sing that as well.
Below are a few ideas to get you started.
Make the World a Better Place Activity Booklet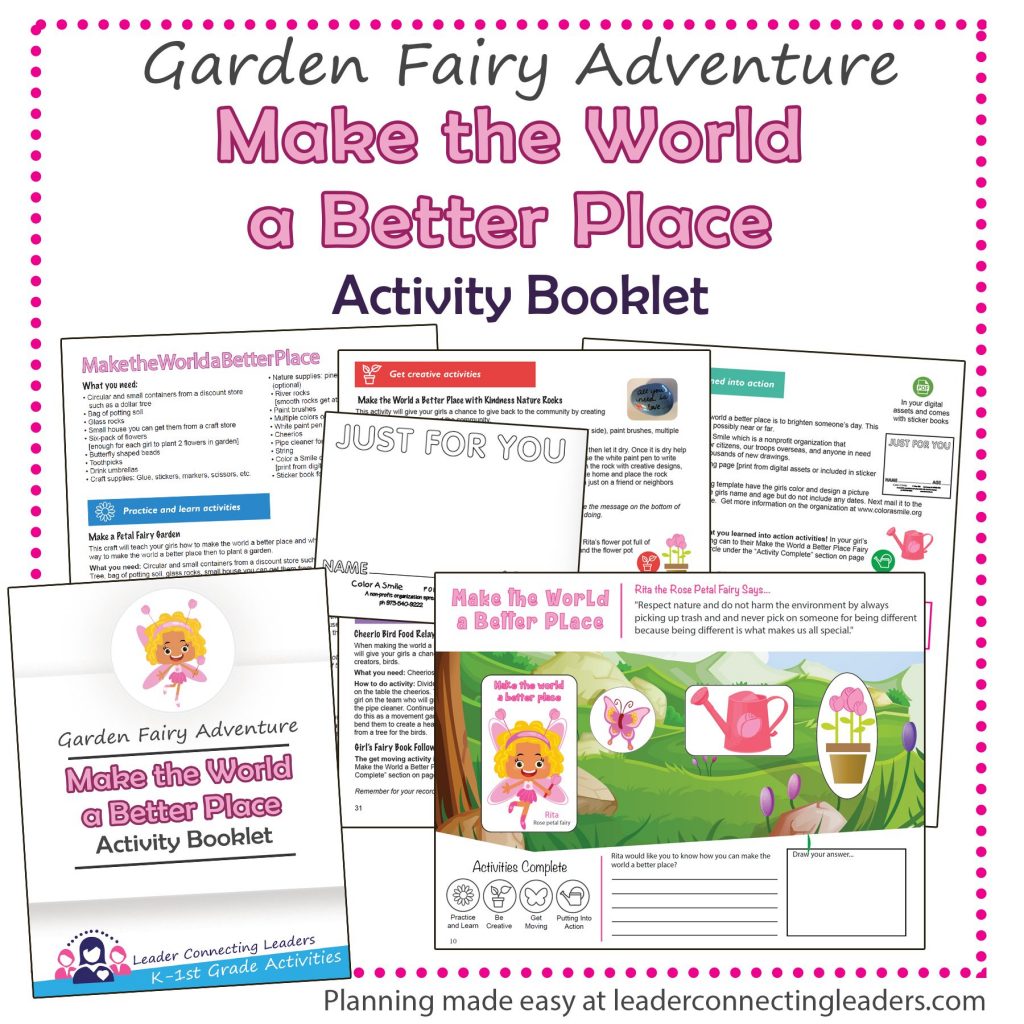 Do you want to skip all the planning? If so, use the Make the World a Better Place Activity booklet and take your girls on a garden adventure helping a family of fairies on a mission to teach the world how to live by very important values. Using the leader booklet and the girl's activity booklet your girls will complete lots of activities to help their fairy friends plant flowers, water gardens, and learn how to put important values to live by into action. With step-by-step activities planned for you all you have to do is gather the supplies listed, you can't ask for a easier way to run your meeting. Learn more about the activities included and get yours today!
---
Other Fun Activities To Try
One way to make the world a better place is be kind to nature. There are 100s of ways to make a bird feeder which girls can take home and put in back yard.  Here is a pile of ideas for inspiration.
Be kind to others: Meals on Wheels help
Find out what your local area does to feed the needy, if they are a meals on wheels program see if girls can decorate the bags, or draw pictures to go along with the meals. Because being kind to others is a great way to make the world a better place.
Few ideas I shared on another blog
Decorate flower pot and plant flowers
Do a clean up at a beach
Color a smile program
Coloring page ideas
My review of the Daisy Petal Pack Kit from MakingFriends.com for Make the World a Better Place Law Daisy Petal
Read how to complete each of these activities for this petal on the GS Leader 411 Blog
Few Pinterest Finds you will love too…
One of my favorite sites to visit is Using Resources Wisely. She is another amazing resource for you all to be sure to follow.  She shared 10 great ideas to help you earn the Make the World a Better Place Petal.
Check them out here
What Do You Stand For? Character Building Card Game (Game)
If you have read some of the other blog post for petal ideas I share this over and over, because its so great. I found this on amazon a while back and let me tell you its a great way to get your girls talking, it has amazing scenarios to work through, there are many cards that will fit into the other petals as well, so make sure to pick out the ones you want for the specific law you are working on. What Do You Stand For? Character Building Card Game
Add a SWAP craft to your meeting
If you want to add a SWAP craft to your meeting while earning this petal. This kit is from one of my favorite websites for Girl Scout resources Makingfriends.com. It comes with everything you need to make 30 Daisy swaps. Daisy Make the World a Better Place SWAPs
What do we do after your girls complete the activities?
Well of course give them the badge to display proudly on their vest, they earned it!  Additionally If you are like many leaders we want to award our girls when they complete something even beyond just the patch. One great way to show achievement is with a certificate. Don't worry you don't have to make them, I found a resource that has done all the work for you and all you have to do is print them and customize the certificates with each girl's name, badge or award earned, date, and troop leader.  Editable certificates perfect for awarding girls after earning a badge.
---