If your looking for ideas to make your meeting more fun while discovering the great outdoors and getting creative, you have come to the right place. Using some of these activities below to get outdoors and creating some amazing art masterpieces with your girls.
Below are a few ideas to get you started
Outdoor Art Maker Activity Booklet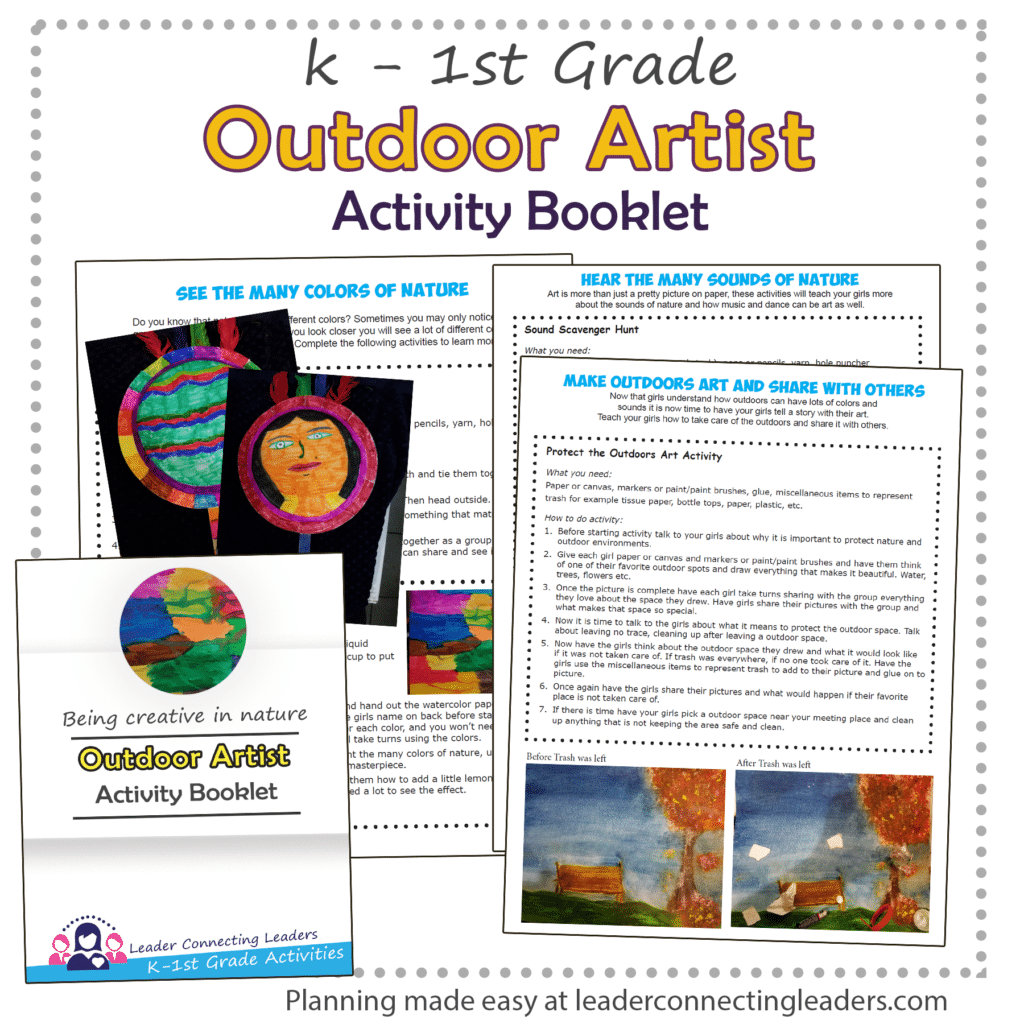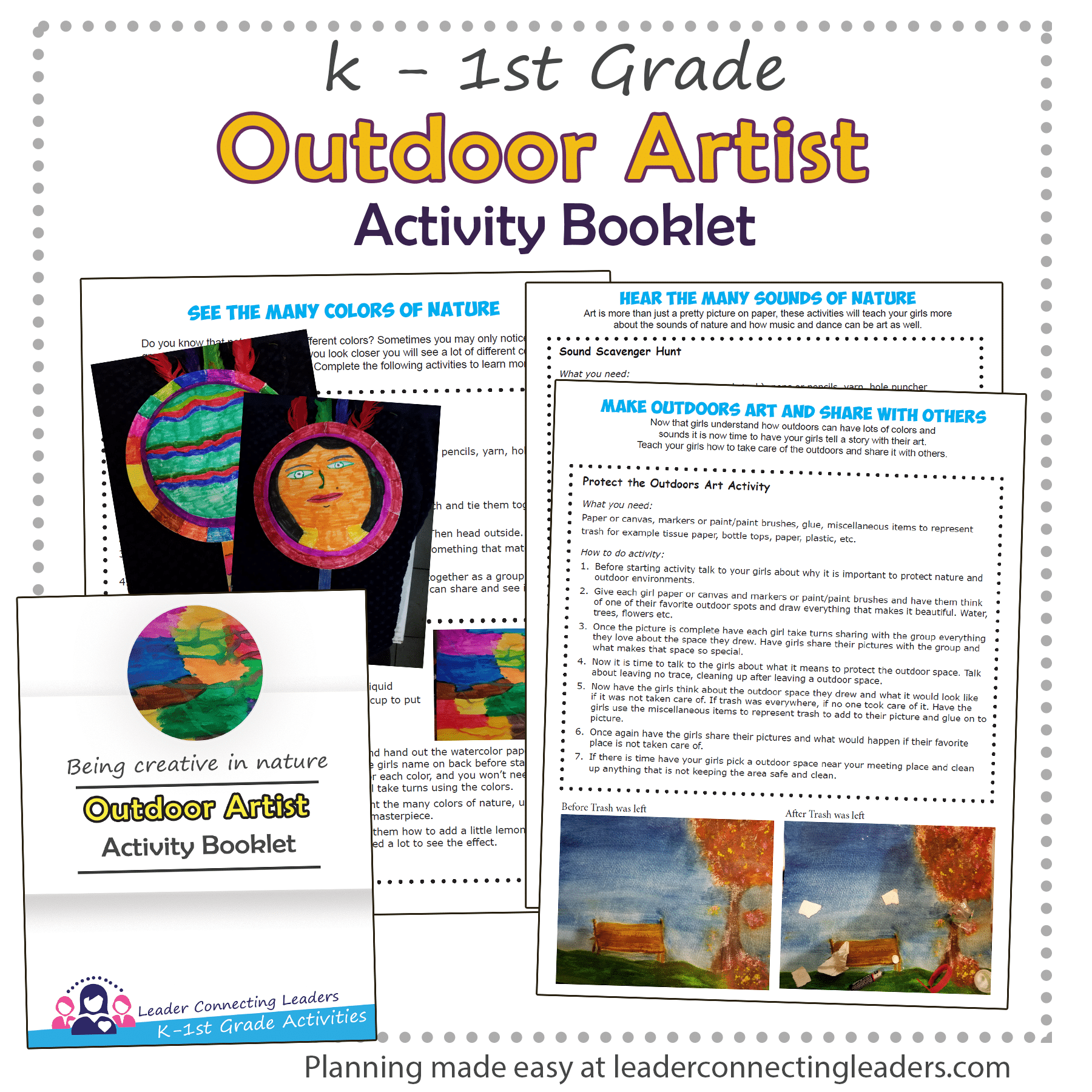 Before jumping into a few ideas, do you want to skip all the planning? If so, use this Activity Booklet with interactive activities and crafts that teach girls more about how to bring art and the outdoors together. Your girls will explore the outdoors by going on a color and sound scavenger hunt, making some masterpieces that will not only showcase beautiful outdoor scenes they will also learn more about keeping the outdoor safe and clean. With a step by step activities, you can't ask for a easier way to run your meeting. Learn more about this activity booklet and get yours today!
Be sure to also checkout these other activities your girls will love:
---
Other Fun Activities To Try
Bird Hunt and Craft
Take your girls on a hike and ask them to listen for birds and look for birds and any signs of bird nests. If you want to have the girls learn more about different kinds of birds they see a great bird guide that is for kids is the "Bird, Nests, and Egg Guide." Of course remind them we do not disturb or touch nature, but let's look and learn. After the hike go back to your meeting space or campsite and have your girls make a baby chick it could be any color maybe of one they saw on their hike or learned about in book.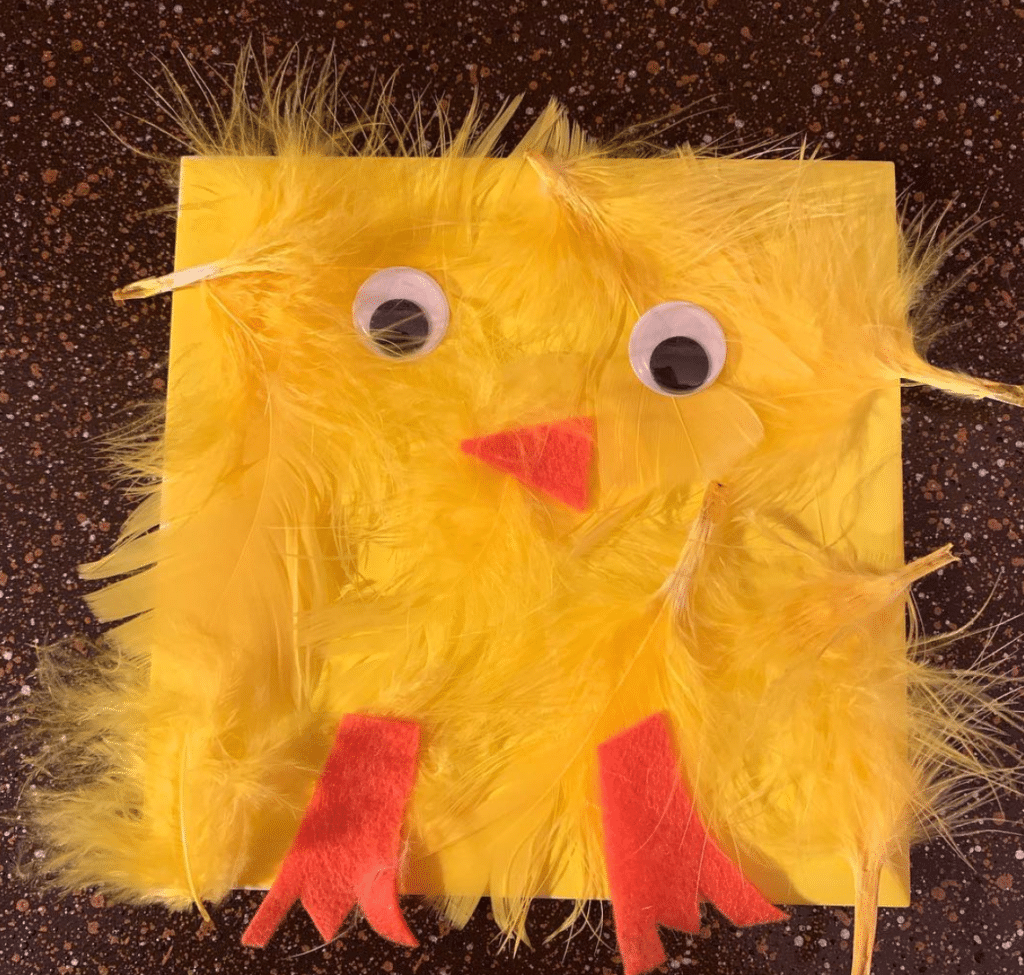 How to make bird: A easy craft to make with younger kids using a plaster plate got at craft store you could also use heavy cardboard we painted it yellow wait for it to dry then glue on all the pieces and parts yellow feathers and felt beak and feet and of course wiggly eyes. Works using regular glue
Nature Self Portrait
What you need: Heavy Poster board for each girl
How to make: Have the girls gather up items in nature to use to create their self portrait. Then with space available to them they can create their portrait however they want.
Nature Sounds Video
This could be a fun video to start your meeting out with discussing how nice it is to drop the technology and just listen to the sounds of nature.
The video is about a ten year old boy who takes a walk in the woods with his parents. But he is paying to much attention to his video games than nature so his father took it way. Then a strange noise catches the boy's attention. His mystical journey into a new world of hidden possibilities begins.
Musical Instrument Craft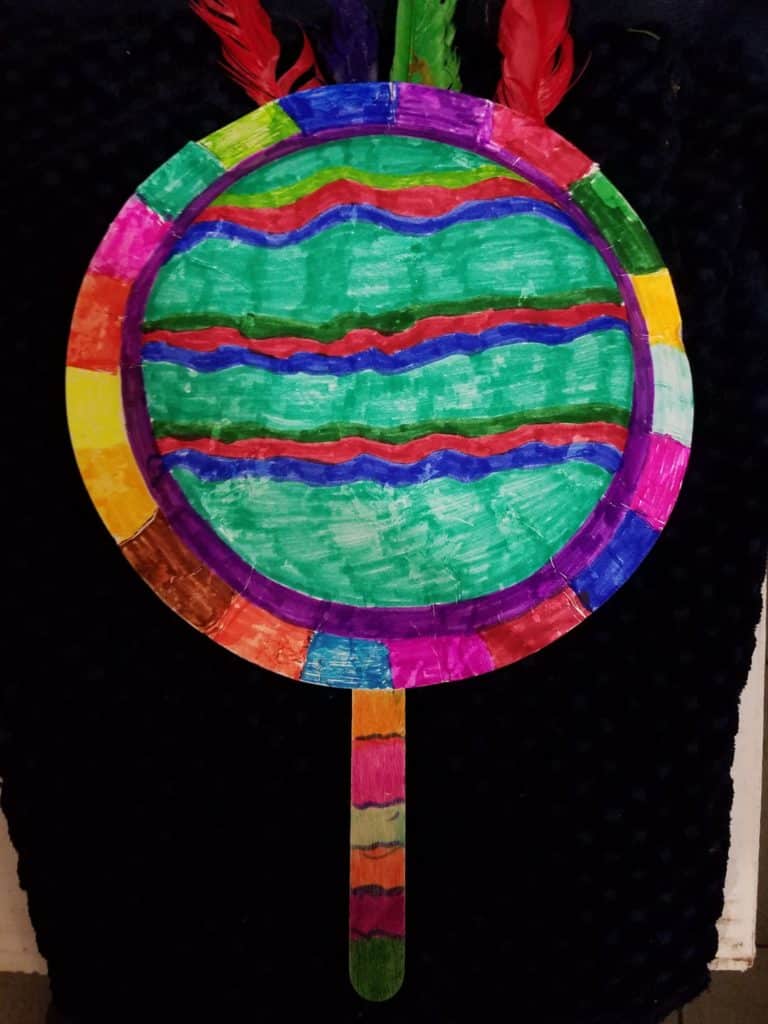 What you need:
2 paper plates, raw beans, markers, jumbo size Popsicle, feathers, tacky glue
How to make:
Give each girl two paper plates and a jumbo Popsicle and markers and let them design and color there plates and Popsicle sticks anyway they would like.
When they are happy with their design place the beans on top of one of the plates, put glue on back of Popsicle stick and lay down on that plate.
Glue some feathers on top of that plate to stick out top, then put glue all the way around the outside of the plate and press down the other plate on top of this plate enclosing everything inside. Then let dry.
Once dry have the girls take their new maracas outside and make some sounds of their own. Maybe listen for sounds and use the maraca to match the sound.
Rock Painting
My girls love painting rocks, we have created things from them by gluing them together, turning them into pet rocks for the weekend, and more. There are so many things you can do with rock painting. If you need some inspiration for your rocks get a copy of Rock Art! Painting and Crafting and it has a lot of ideas to get you started.
Did you know? In archaeology, rock art is human-made markings placed on natural stone. A global phenomenon, rock art is found in many culturally diverse regions of the world.
Beyond just painting a few rocks as part of your outdoor art badge, learn more about how to put take part in the Kindness Rock project, and how to paint rocks. Click here
Beyond outdoor art, learn a new skill each month
If you want your girls to get outdoors, learn new survival skills, and enjoy the other joys that come along with being outdoors the Think Outdoors monthly subscription program will be perfect for your troop. It is a year long program with something new each month to get your girls outdoors exploring nature. I have tried the program am excited to share my experience with you.
Learn more about the boxes
Related Activities For Multi-level Troops
If you have a multi-level troop you may want to use one of the variations to this program that is geared toward the age of your girls.