Are you learning more about the great outdoors with your girls? If so this craft can be a great addition to your event or meeting. It is simple enough for younger girls to make and can be made challenging enough for the older girls to enjoy making.
Learn How to Make a Outdoor Scene Using Pasta
For this craft you will need:
pasta bows (bring other type of noodles for girls to get extra creative with scene)
blue and yellow cardboard or card stock (You can do other colors as well depending on what type of scene your girls want to make)
scissors
hot glue gun
google eyes
markers
How to make your outdoor pasta scene
Step 1: First, draw a circle on the yellow cardboard. This is going to be the sun so you can decide if it is going to be bigger or smaller. Cut the circle using scissors and glue it on the blue cardboard using hot glue gun.
Step 2: Start gluing the pasta bows around the sun as a rays. You can paint them but they are kind of yellow and the sun is the same color so you don't really have to paint them.
Step 3: Glue the googly eyes on the sun and draw a face on it using black marker or pen to finish the look of the sun.
Step 4: Now, paint a few bows in different colors and glue them around the sun on the same cardboard. Those are going to be butterflies.
Step 5: After you glue them draw a trace line for where butterfly is flying with black dots using a marker and antennas on the butterflies. For painting I've used acrylic markers but you can use any type of markers or colors that you think will work good for this project.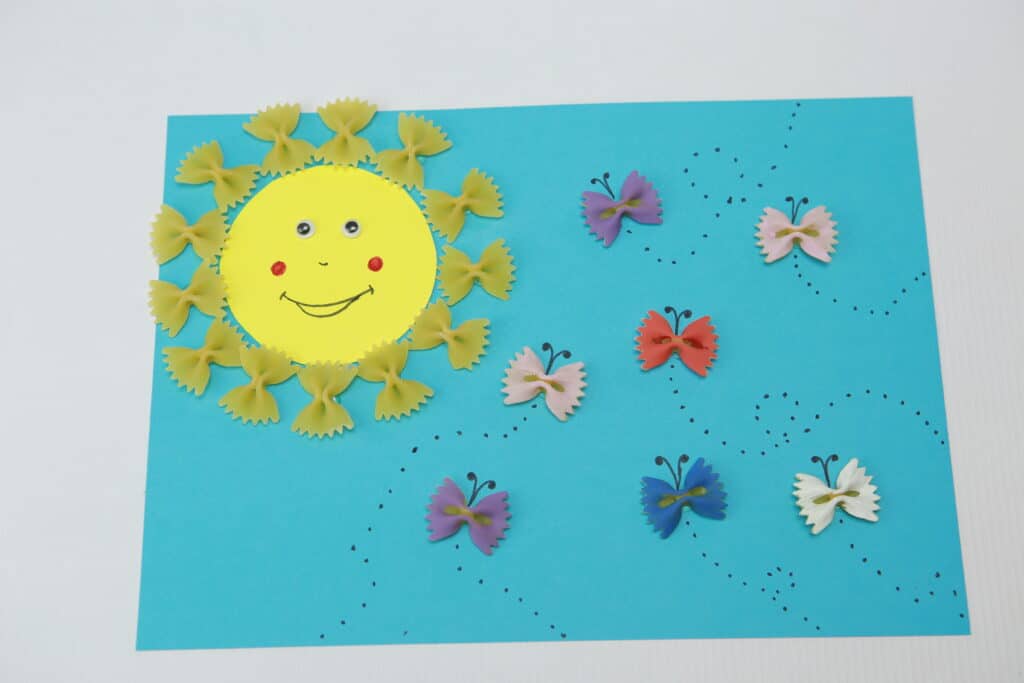 Alternative craft ideas: Buy different kind of noodles and let girls get creative on what type of outdoor scene they can make. You can also give them different color card stock to make the scene with.
Crafts Beyond the Outdoor Pasta Scene
Inspiration for this craft came from Craftingmornings.com where they made butterfly picture with grass using bow pasta.  So you can see you can do a lot of different things using pasta. 
Need more noodle inspiration? Here is a pinterest board full of noodle craft ideas to help your girls create a amazing outdoor pasta scene