Have your girls ever been interested in robot development? If your looking for ideas to learn how to create and design, build and program, and present and show off a robot with your girls, you have come to the right place. Using some of these activities below to learn to analyze and present robotics concepts in a number of ways.
Below are a few ideas to get you started.
We partnered with CodeSpeak Labs, which specializes in computer science education for kids, to bring you these resources!
Showcasing Robots Activity Booklet For 9th – 10th Graders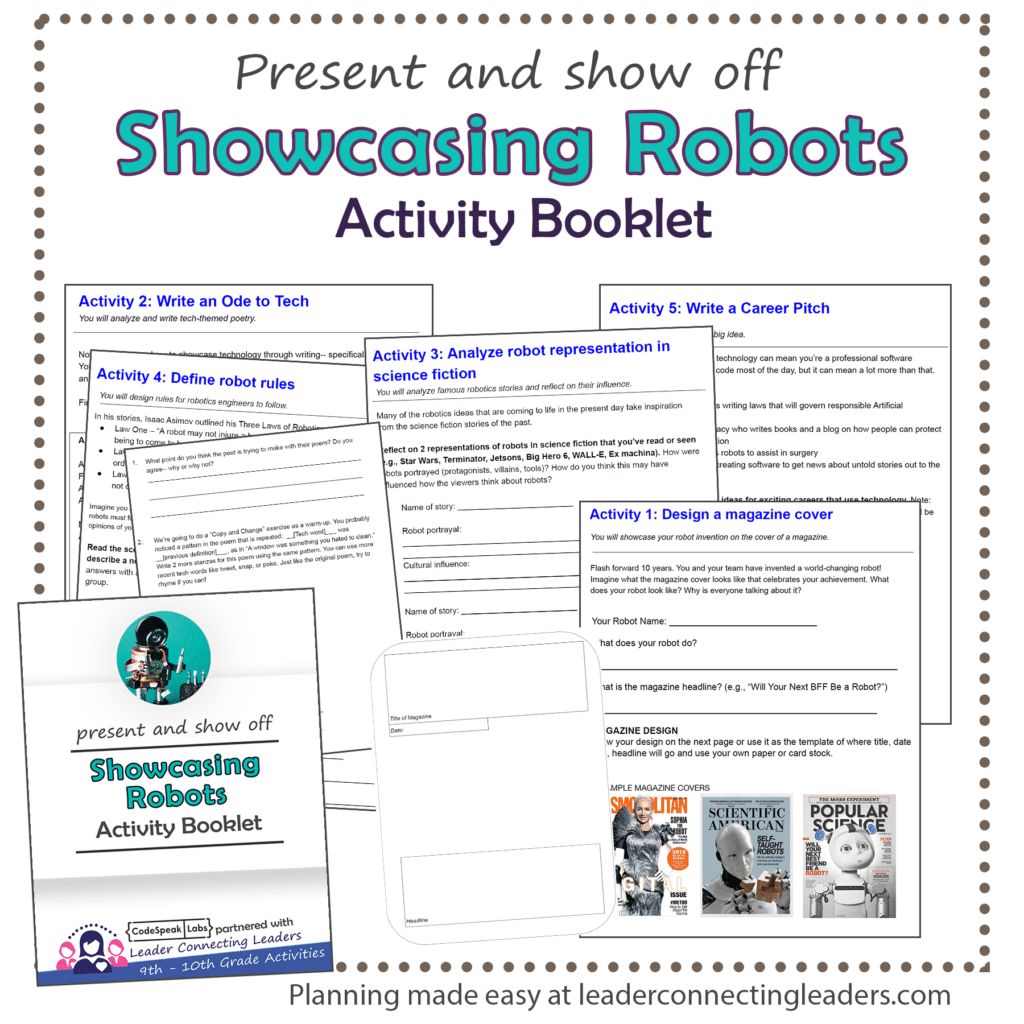 Before jumping into some ideas, do you want to skip all the planning? If so, use the Showcasing Robots Activity Booklet which will have the girls writing, acting, and debugging their robots. These activities include writing robot poetry, designing a magazine, and writing a pitch! With step-by-step activities, you can't ask for a easier way to run your meeting. Learn more about this activity booklet and get yours today!
Other Fun Robotics Activities
Participate in a Robotics Competition 
VEX Robotics competitions are held all around the world. See a list here.  20,000 teams of middle school and high school students play in over 1,700 competitions worldwide.
You can watch this 3 minute video to see the 2019-20 school year challenge. The object of the game is to attain a higher score than the opposing team by placing Cubes in Towers, or scoring Cubes in Goals.
If there's not a competition near you, you can purchase everything you need to host your own local competition from their website, including robotics kits as well as the competition arena. 
Find a Robot to Back on Kickstarter
Kickstarter is the platform for creative people to pitch their ideas to the internet and get support. It's also the place to see well-made videos that are exemplars of how to showcase robots. Prior to mass producing their product ideas, new inventors create a page on Kickstarter where they describe their inventions and take pre-orders. The inventors only fulfill the orders if a minimum threshold of funding is generated; that way, only products with enough market demand will be created. It's a low-risk way to get new ideas out into the world. 
For example, MODI is a DIY robotics kit that raised $90,358 from 476 backers. You can see the full page here.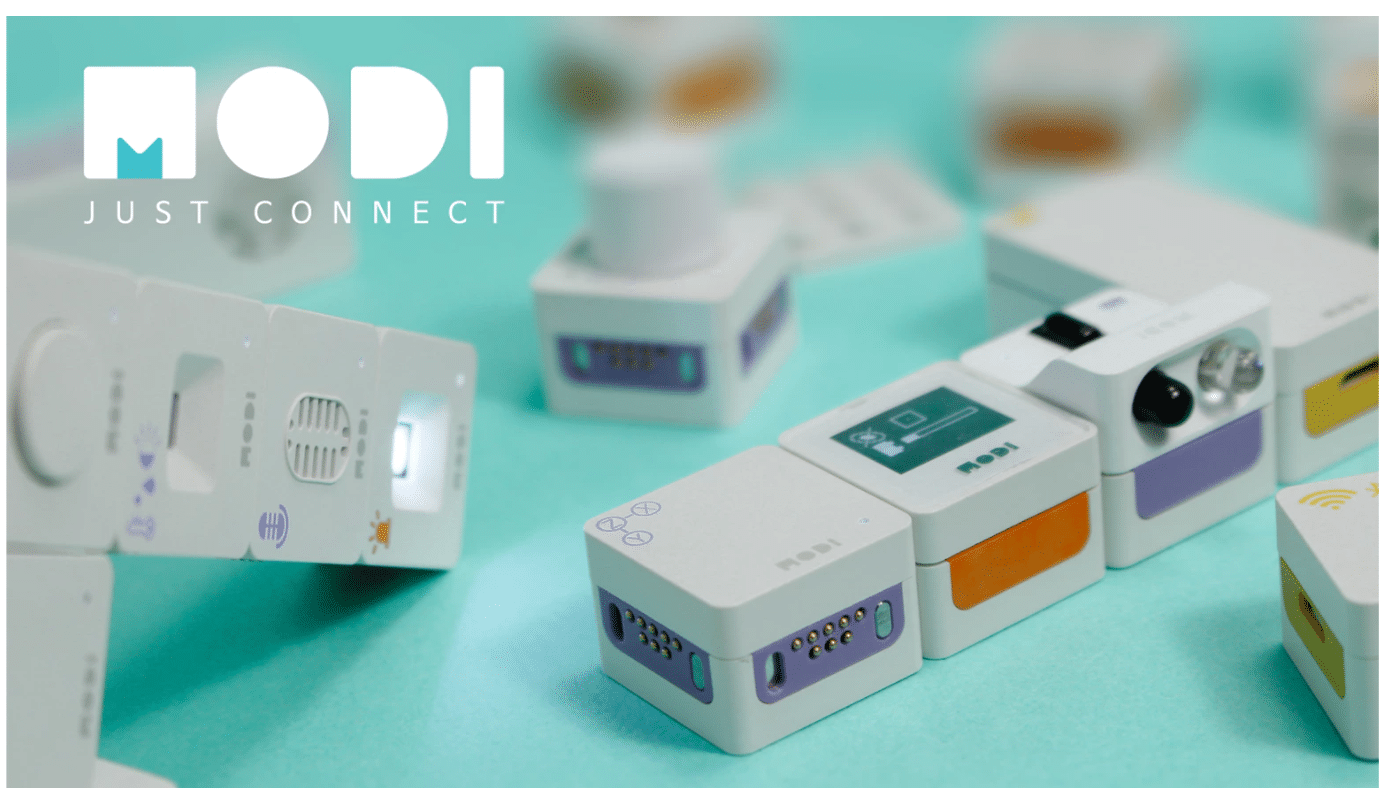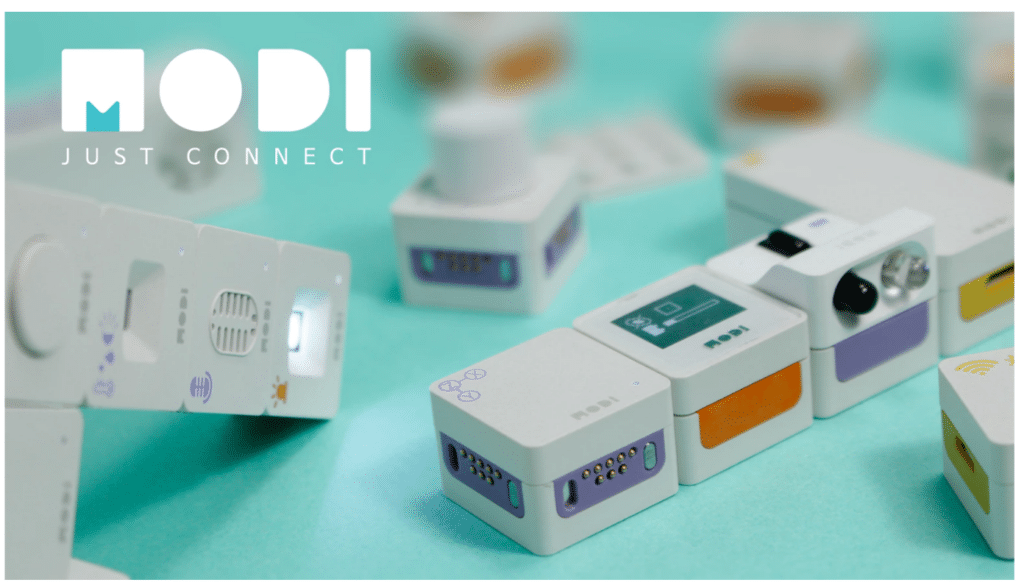 The girls will have fun perusing all of the robotics and DIY electronics ideas that are up on Kickstarter. From "Supertoy – World's First Natural Talking Teddy Bear" to "NanoBeam: helping makers build the smallest things", the girls will get a peak into a world of people who are willing to experiment with big– and sometimes a little crazy– ideas. 
If there's a product that gets the girls excited, it can also be fun to be a backer. Usually the minimum amount is relatively low (~$10) and you'll get updates on the inventors' journey and their product's development. You feel like you're part of the team, rooting for the inventor to reach their goal so they can turn their idea into reality. 
Make Your Own Pitch Video
After watching all those cool videos on Kickstarter, the girls can make their own video. Bonus points if they create a prototype or model of their robot idea for the video, but if not, they can always just shoot a video with a robotics concept. 
Recording the girls presenting can be really helpful because it will enable them to watch themselves on film; they can review, give each other feedback, and iterate. It enables more insightful self-reflection; they can notice if there are things they want to work on (e.g., using too many "ums" or filler words) and they can experiment with different forms of presenting (e.g., narrative voice over, scripted scene, monologue.)
Teach Engineering to Kids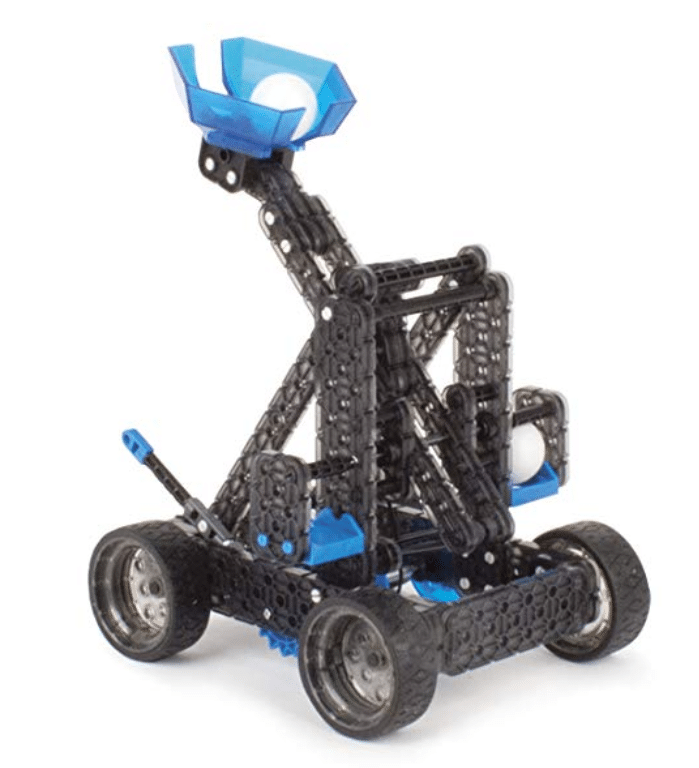 Most of the programmable robotics kits from VEX are quite expensive, but they do sell some basic contraptions you can build to teach early robotics / engineering concepts. For example, the VEX Catapult Launcher is only $15.   
At this price point, you could order multiple sets and have the girls volunteer at a local YMCA or Boys and Girls Club to teach younger kids how to assemble and use the Catapult Launcher. Teams can compete to get their ball traveling the furthest or to launch the balls into a goal.
If you don't want to spend the money to buy a robot, the Robotics Activity Booklet has everything you need — no other materials required!
What do we do after your girls complete the activities?
Well of course give them the badge to display proudly on their vest, they earned it!  You could also do a fun patch. Here is a real cute one:

Get Your Robotics Fun Patch Now
Additionally If you are like many leaders we want to award our girls when they complete something even beyond just the patch. One great way to show achievement is with a certificate. Don't worry you don't have to make them, I found a resource that has done all the work for you and all you have to do is print them and customize the certificates with each girl's name, badge or award earned, date, and troop leader.  Editable certificates perfect for awarding girls after earning a badge.
Related Activities For Multi-level Troops
If you have a multi-level troop you may want to use one of the variations to this program that is geared toward the age of your girls.
K – 1st grade activities:
2nd – 3rd grade activities:
4th – 5th grade activities:
6th – 8th grade activities:
11th – 12th grade activities