Today's post is about an amazing app that was brought to my attention that is great way to keep your troop organized if you love using technology your going to love this app.
Being a troop leader isn't easy, it's far from it. You need to look after several young girls and plan activities nonstop. On top of that, you don't always have the clearest communication with the parents of your scouts.
BAND is an app that can take the burden off of troop leaders and lend a "helping hand" – It's a leading group communication tool that troop leaders can use to stay connected with parents without having to use multiple apps. With Calendar, Community Board, and an Album built-in in, BAND fulfills your group's communication needs, including scheduling, information/file sharing, chat, organization and accountability.
Here are the four ways Laura, a troop leader of 10 years from San Antonio, Texas, uses the BAND app to organize her girls and the parents.
Alert Parents with Announcements Right Away
Tired of dealing with group texts? With BAND you can say goodbye to the group text clutter and say hello to an organized community board. You can post important information that you'd like your girls' parents to know and they will get notified right away. You can also post upcoming events like birthdays and meeting days on the calendar so parents can easily find them.
When you write a post on BAND, you can use useful attachments such as files, events, polls, and photo/video. It makes for better visualization and organization when getting information across to your groups.
 Get Interactive & Keep the Girls Engaged
Make BAND into a space to have fun with your troop! As a troop leader, Laura uses her Band to challenge her girls every week in order to earn badges and points. From sharing selfies, Fourth of July pictures, to historical posts the troops are constantly engaged and participating on BAND. If your girls are younger and don't own smartphones you can always have parents pass along the message & fun tasks.

Privately Share Photos & Save the Precious Moments
On a hike with your girls and want to capture the moment? You can save and organize all your photos in an album for the girls and parents to see! The images in your Band will only be shared with the members of your Band, keeping it safe to upload & share as many photos and videos as you want!
Chat with Parents Individually
Lastly, if you need to get in contact with a parent about their scout? No problem! Just use BAND's private or group chat, even without knowing every parent's phone number. Discuss matters like drop off or pick up schedules, scout accomplishments, and any concerns on the app.
In conclusion, BAND is the best way to inform and engage parents in an efficient way. It will make your job much easier as a troop leader. So what are you waiting for? Make life simple with BAND. Start communicating with your group with a quick tap on your mobile device.
Steps to get started:
Download BAND
Sign up with your email, phone number or Facebook account
Create a group for your troop
Invite your parents and girls to the group by sharing an invite link.
Ready? Complete step one & download BAND now. The best part is BAND is available for iOS, Android, and via web.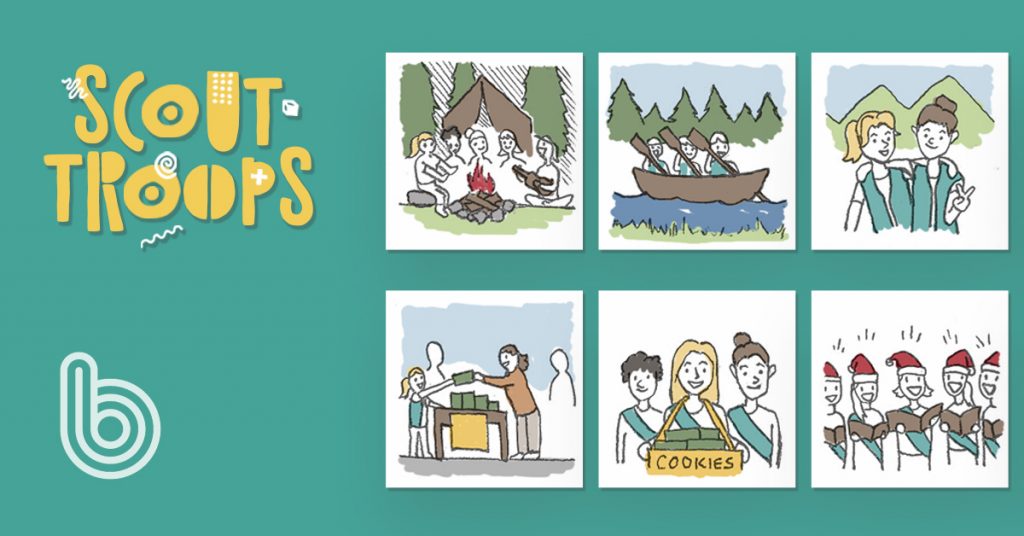 Organize Your Troop Parties This Year with a 25+ page Leader Planner 
This Leader Planner is from another amazing blogger named Jen her blog is called "I am StrawjenBerry" With the help of Jen I wrote a blog post explaining everything you will get in this planner. It has everything you need to plan your troop year. The planner contains your calendar, meeting planners, rosters and badge trackers in one safe place for when you need it. Read more
Enjoy every minute being a leader and continue to inspire your girls!