If your looking for ideas to make your meeting more fun while how to use a digital camera and take one of kind photos, then you have come to the right place. Using some of these activities below to teach your girls everything there is about being a digital photographer.
Below are a few ideas to get you started.
I partnered with CodeSpeak Labs, which specializes in technology education for kids, to bring you these resources.  
Digital Photography Activity Booklet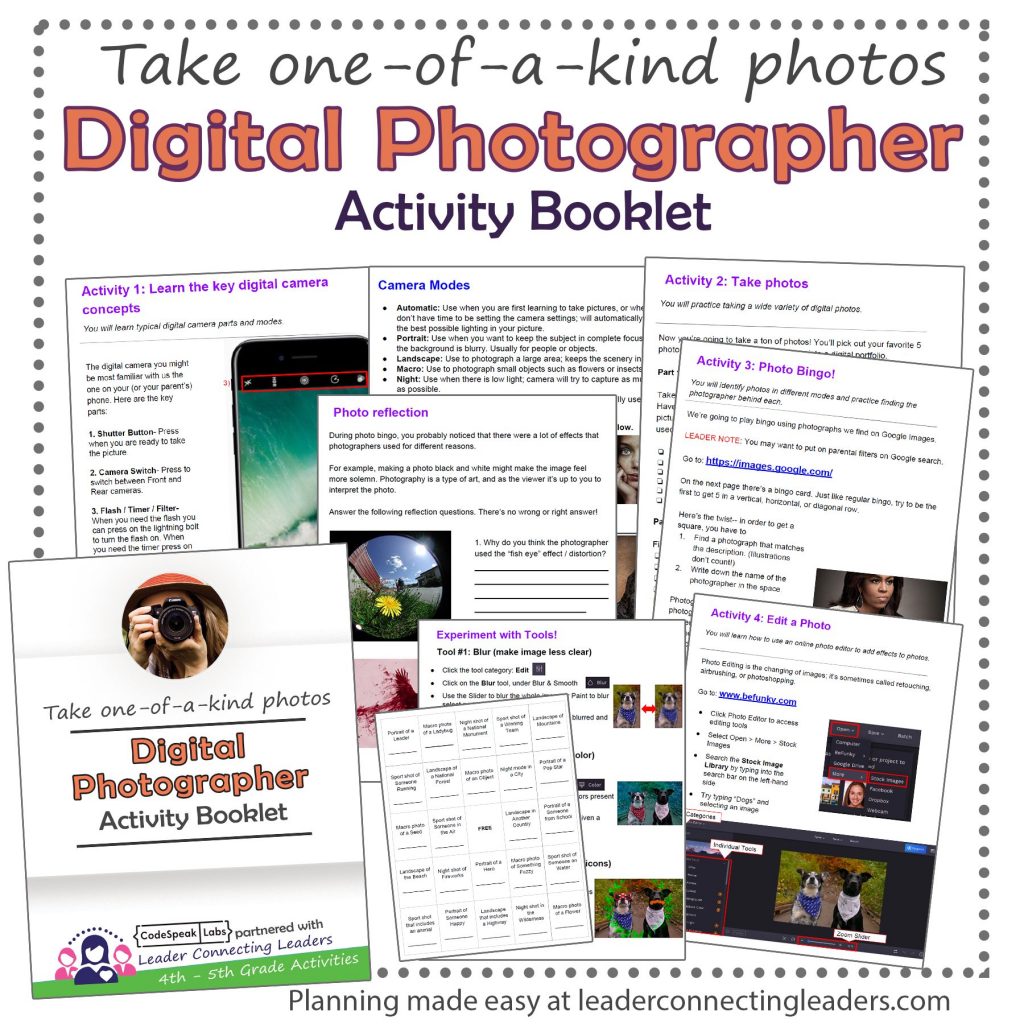 Before jumping into some ideas, do you want to skip all the planning? If so, use the Digital Photography Activity Booklet which has a wide variety of activities that teach girls the foundations of digital photography. These activities include learning different camera modes, playing photo bingo, and coding a slideshow with their photos! With step-by-step activities, you can't ask for a easier way to run your meeting. Learn more about this activity booklet and get yours today!
Be sure to also checkout these other activities your girls will love:
---
Other Fun Photography Activities
Make a Troop Blog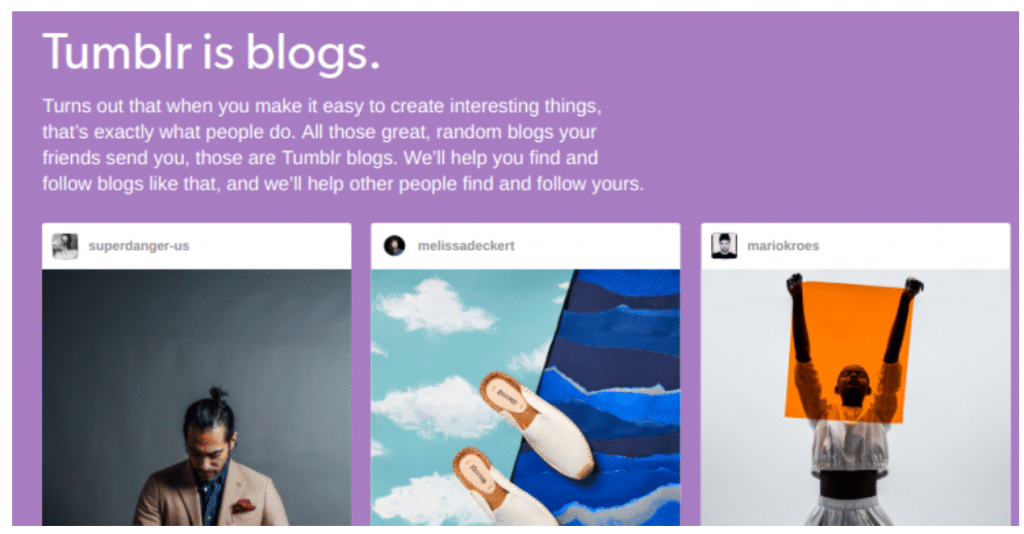 A blog is a great way to display all the digital photographs the girls take, while documenting your troop's activities.
While the girls are learning about digital photography you can assign one to be the official photographer for every meeting. If you want the blog to be private you can give it a password or just store it as a Google photo album.
If you want the girls to be able to share the blog, you can host it on Tumblr, a popular blog platform. Even if the girls take just one great photo for every post, Tumblr displays it nicely. It's common that people only write brief accompanying text, so it's very low commitment. You can tag your posts with relevant hashtags such as #girlscouts, #scouttroop and other key words so that other troops and people in related communities can easily view and share your troop's posts.
Edit a Digital Photo with Code

You can extend the learning from learning about digital photography even more by teaching the girls how to edit a photo with code.
This link will take you to a tutorial. You follow the instructions on the left-hand side to be guided through how to use JavaScript to edit a photo. The girls can upload their own photo to edit or use the images provided.
Here's an example of what the code looks like to add and stylize text on the photo:
var my_text1 = text("Polar Life");
my_text1.size = 40;
my_text1.x = 20;
my_text1.y = 20;


my_text1.color = "yellow";
If the girls edit their own photo, it works best if they upload a photo of someone's face because they'll be animating sunglasses to drop down and land over the subject's eyes.
Watch a primer on the history of photography
A lot of girls are up-to-date on how the latest smartphone cameras work but don't know anything about how camera technology has evolved over time. This video covers a brief history of photography.
After watching this 4 minute video, your group can discuss:
What's something new you learned about the history of photography?

What are the benefits and drawbacks of modern digital photographs compared to earlier photographs?

What do you think the photographs of the future will be like?
Get a photo printer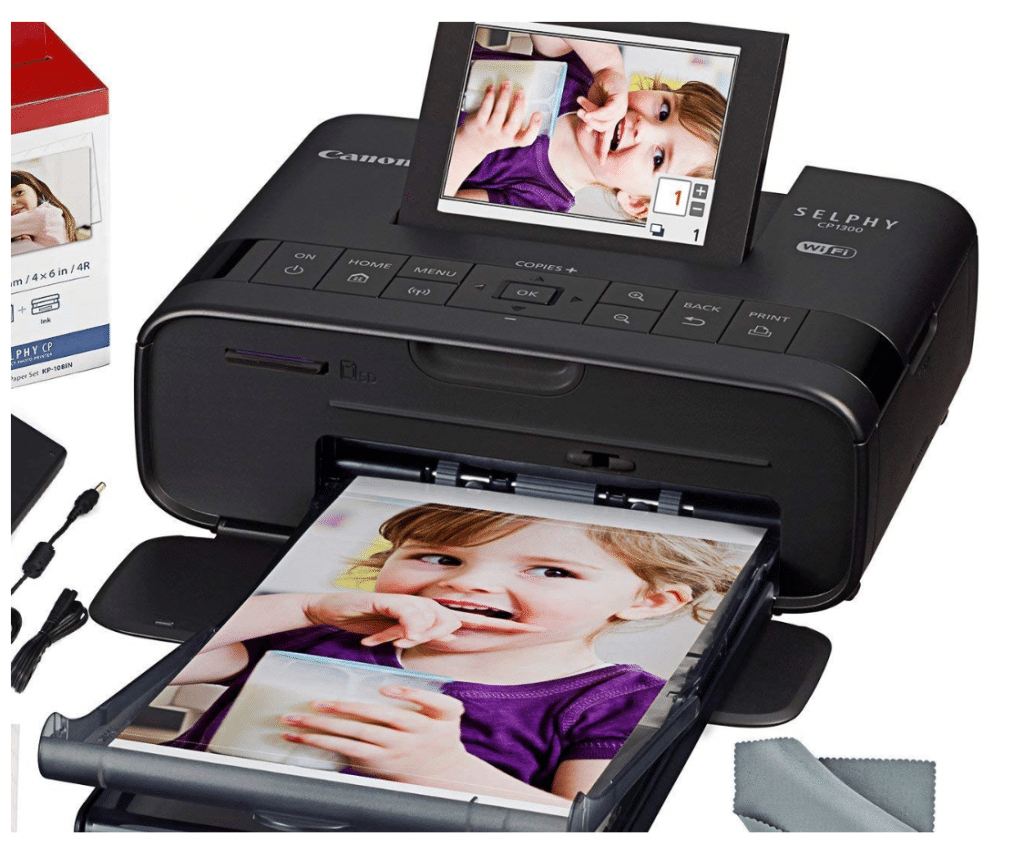 Nowadays people take hundreds of photos but rarely print them. You can get a low cost photo printer on Amazon so that each girl can pick their favorite photos and print them out. (You can order one on here for $160.)
With this photo printer, you can make a big collage of photos that girls and their parents can enjoy. It's compact so it's easy to bring around and store. Another activity you can do is have the girls take portraits of each other and print them out. You can order custom paper frames– here's one place you can order them–that have your troop name and logo, for example.
If you don't want to spend the money to buy equipment, our Activity Booklet has step-by-step instructions with activities that don't require anything besides an internet-connected computer.
What do we do after your girls complete the activities?
Well of course give them the badge to display proudly on their vest, they earned it!  Additionally If you are like many leaders we want to award our girls when they complete something even beyond just the patch. One great way to show achievement is with a certificate. Don't worry you don't have to make them, I found a resource that has done all the work for you and all you have to do is print them and customize the certificates with each girl's name, badge or award earned, date, and troop leader.  Editable certificates perfect for awarding girls after earning a badge.
More Resources For You Beyond This Site
I get asked a lot what other resources are out there on the internet for Leaders.  I have done some digging over the years and have used many of the resources myself. I compiled a list of some great companies that sell patches, programs and also other bloggers offering amazing resources that may fit your needs even better than my site did.   Checkout what I found.