Your girls are in one of three categories. If your girls fall into one of the first two categories then I would continue on in this post where I will share a few ideas to help you and your girls feel really comfortable public speaking.
They are eager to get in front of people and say a speech or be keynote speaker at a conference. And want to do activities to make themselves better!
They are afraid of being in front of people and talking and want to do activities to help them get over that fear.
They have no desire to ever speak in front of people – if that is the case check out one of the other ideas for your girls available here
Below are a few ideas to get you started.
Public Speaker Activity Booklet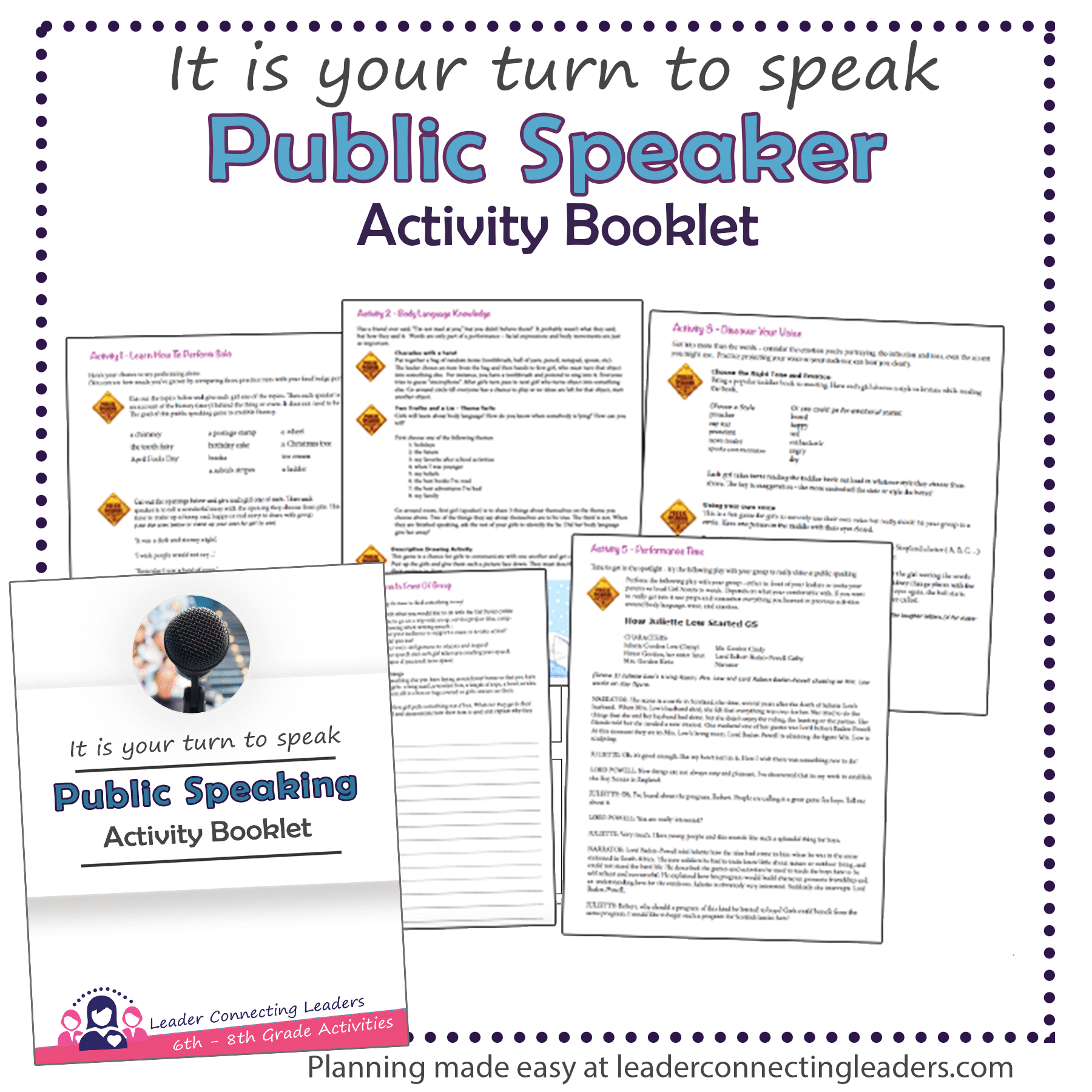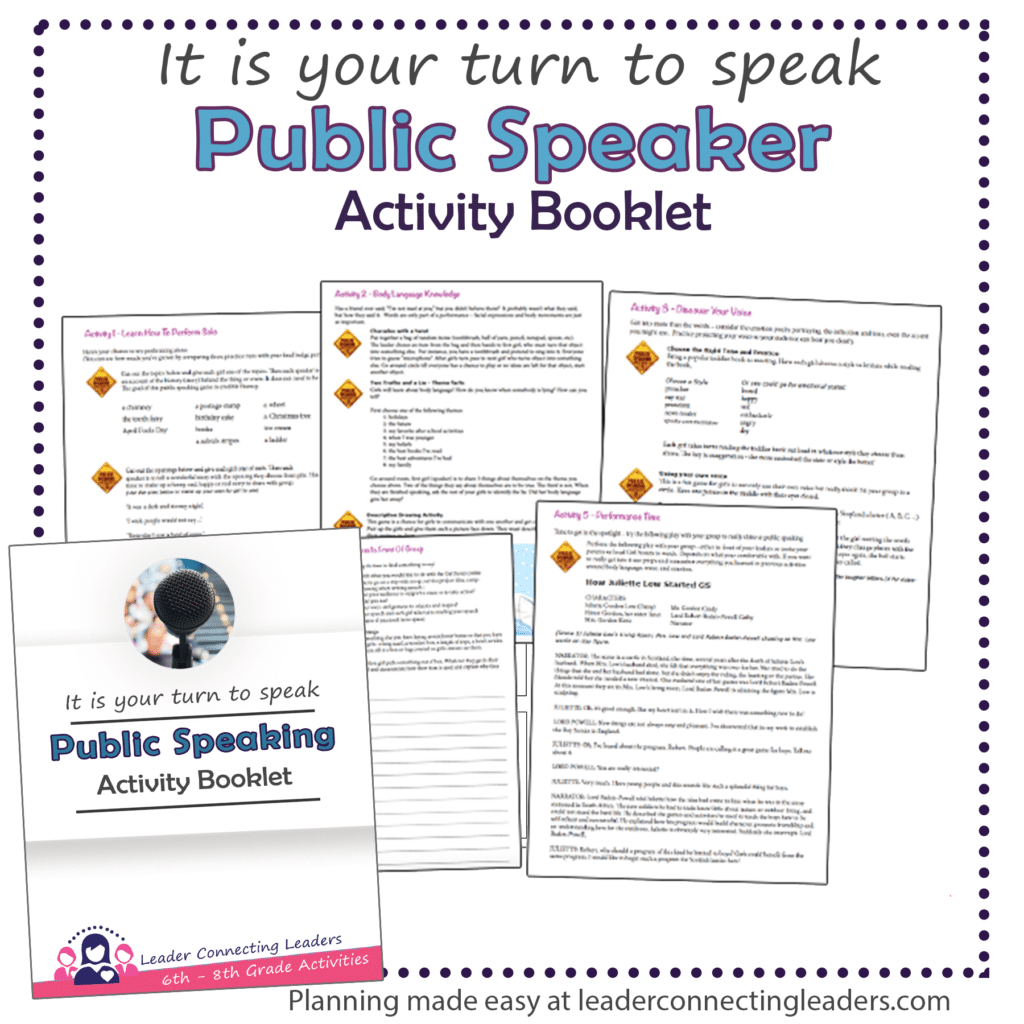 Before jumping into a few ideas, do you want to skip all the planning? If so, use this Activity Booklet with activities, games, and worksheets to allow your girls to take over the meeting. Girls will learn how to perform alone by using topics to share a history. They will play a charade game with a twist, truths and lies game, and game using their drawing skills and body language to communicate.
Girls will find their voice by finding the right tone and emotion for a popular toddler book and playing a game where the girls will use their voice and memory to complete the game tasks. They will create their very own improv act, and work on writing a speech for a special event. Lastly the girls will put everything they learned together and public speak in front of a crowd. With a step by step activities, you can't ask for a easier way to run your meeting. Learn more and get yours today!
Be sure to also checkout these other activities your girls will love:
---
Other Fun Activities To Try 
Get More Comfortable In Front of People
Have your girls pull out a action out of bowl. Then have them take turns going in front of group and acting it out without speaking, then have them do a action speaking without actually saying what the action was on card. Using words in a way to help the rest of group guess what they are. Here is also a great charade game with even more ideas: Charades Party Game – Family Charades-in-a-Box Compendium Board Game
a bear riding a bike
an octopus water-skiing
a bunny dancing
a monkey climbing a tree
a squirrel burying a nut
a raccoon digging through the garbage
an ostrich burying his head in the sand
a camel taking a nap
a dog driving a car
a kangaroo boxing
a penguin going down a slide
a dinosaur playing hopscotch
a bird building a nest
an alligator washing a car
a flamingo drinking from a water fountain
a cat giving himself a bath
a fish going to school
an elephant riding a roller coaster
a pig playing hockey
a giraffe playing basketball
Charade list came from: http://www.momsandmunchkins.ca/2012/04/05/kids-charades-ideas/
If you don't want to spend the time planning, our Activity Booklet has step-by-step instructions with activities that don't require any planning other than gathering supplies and printing booklets.
What do we do after your girls complete the activities?
Well of course give them the badge to display proudly on their vest, they earned it!  Additionally If you are like many leaders we want to award our girls when they complete something even beyond just the patch. One great way to show achievement is with a certificate. Don't worry you don't have to make them, I found a resource that has done all the work for you and all you have to do is print them and customize the certificates with each girl's name, badge or award earned, date, and troop leader.  Editable certificates perfect for awarding girls after earning a badge.
More Resources For You Beyond This Site
I get asked a lot what other resources are out there on the internet for Leaders.  I have done some digging over the years and have used many of the resources myself. I compiled a list of some great companies that sell patches, programs and also other bloggers offering amazing resources that may fit your needs even better than my site did.   Checkout what I found.