When I started this blog I started a list of everything I wanted to create and provide for leaders who came to Leader Connecting Leaders looking for resources and help. After a few years of blogging and making badge activity booklets I started getting emails from other leaders and women passionate about scouting who wanted me to share their resources. At that point I shifted focus and instead of trying to do everything I am now focused on badge and activity booklets which is the part of being a leader I love the most and want to pass my knowledge on to all of you while also collaborating with other bloggers with a scouting passion, but focus on other aspects of being a leader and are offering great resources online. With this blog it has given me the opportunity to share what others have to offer to you and your girls.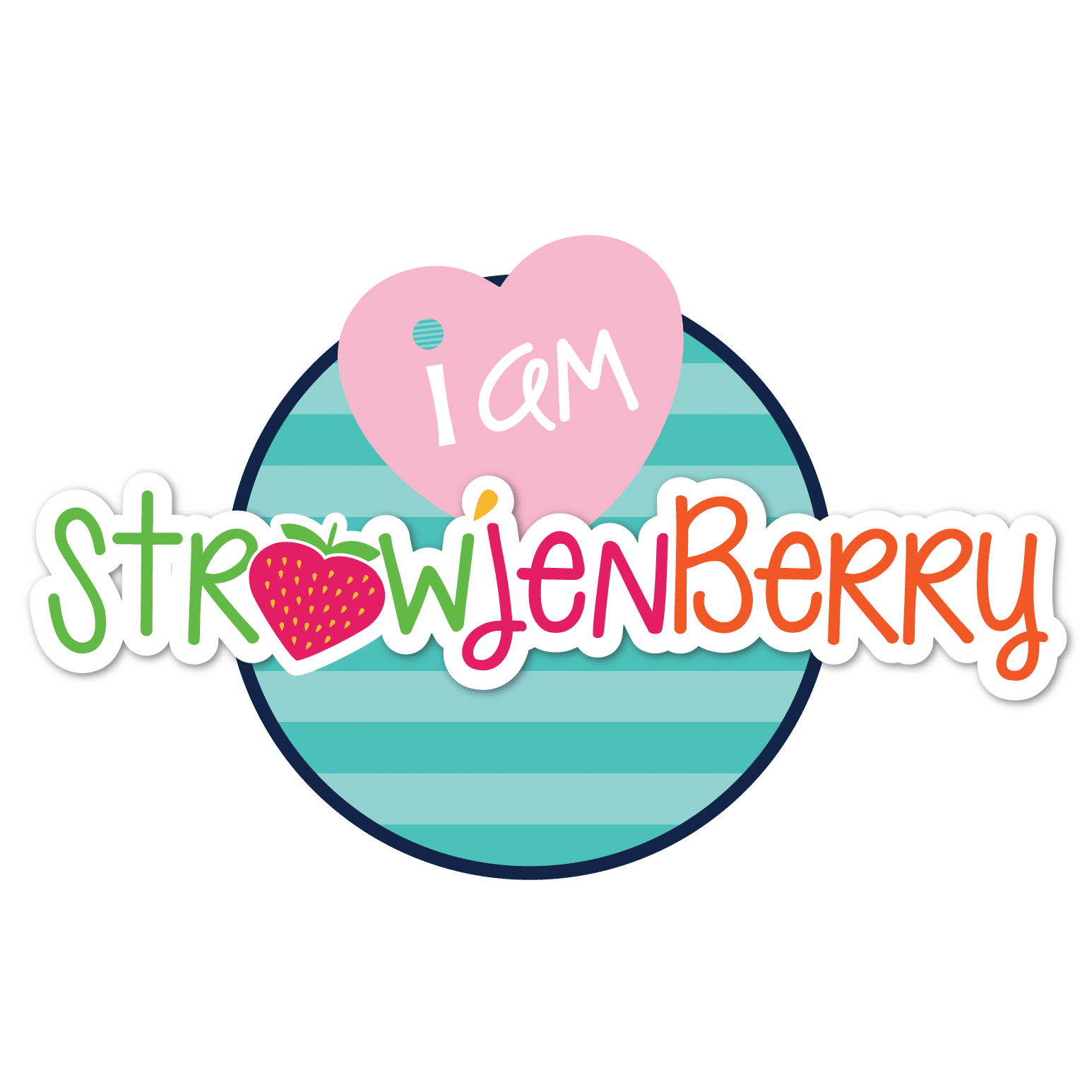 So with that said I have been following a amazing blog called I am StrawjenBerry, her name is Jen who struggled with the organization portion of being a leader and took 2 years creating a Leader Planner that has it all. If you have no idea where to start this Leader Planner will get you and your troop organized quick! Be sure to join her mailing list to stay updated on all her other resources as well.  I asked her to share more about the planner and share her amazing blog full of a pile of freebies to get you started as will.
---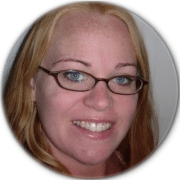 Jen says, "One of the challenges I had as a new leader was organization.  I found that even though my troop had less than ten girls, I still needed to manage paperwork and information for each girl.  Like a teacher, on a smaller scale.  I knew that I needed something separate from my personal and work planners, one that I could put in a binder and grab when I needed it.  It took over two years for me to develop the leader planner.  It truly is a labor of love.
The planner is a fillable PDF that includes everything you need to plan your troop year in a colorful, fun format. It all starts with a personalized cover that includes your name, troop number (optional) or year. You'll never have to search for information again because it will be all in one place. The planner contains your calendar, meeting planners, rosters and badge trackers in one safe place for when you need it. Once you assemble your binder you can take it to the store and make your awards purchases too."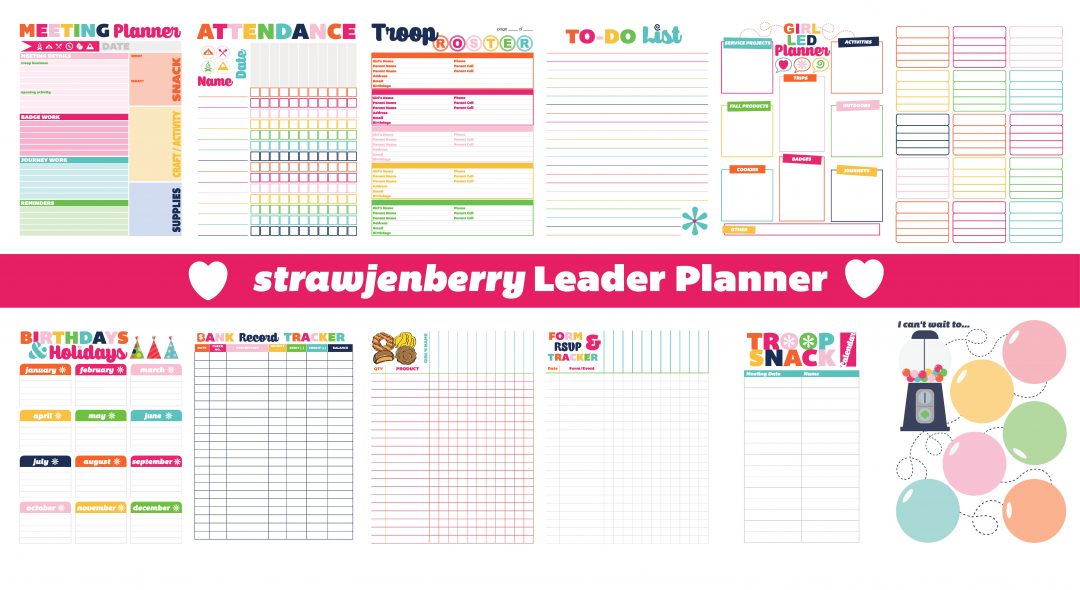 The full color planner kit includes:
One personalized cover (from a choice of four designs)
Three (3) NEW pages: Meeting Agenda, Reminders and a parent volunteer/snack sign up.
2018-2021 Year at a Glance Calendar Page for easy meeting planning
Colorful Meeting Planner Page with sections for all your notes on snacks, crafts/activities, supplies, meeting details (troop business and opening activity), badge work, journey work, and reminders
Attendance Sheet
Troop Roster
Girl-Led Troop Planner
To-Do List
Birthdays & Holidays Tracker
Snack Sign-up Sheet
"Can't Wait To…" Girl Planner Sheet
Form and RSVP Tracker
Product Sales Tracker
Weekly 2-page Horizontal Spread Planner Sheet (undated for unlimited use)
Monthly 2-page Calendar Spreads (undated for unlimited use)
Blank Roster Sheet (use for volunteers, trip addresses, etc.)
ALL NEW Badge Trackers for every level!
This all new tracker allows you to track all badges, journeys, pins and awards on one page per girl! Completely updated with STEM and OUTDOOR badges and journeys!
This all new tracker allows you to track all badges, journeys, pins and awards on one page per girl! Completely updated with STEM and OUTDOOR badges and journeys! New badges will be added before each school year in August.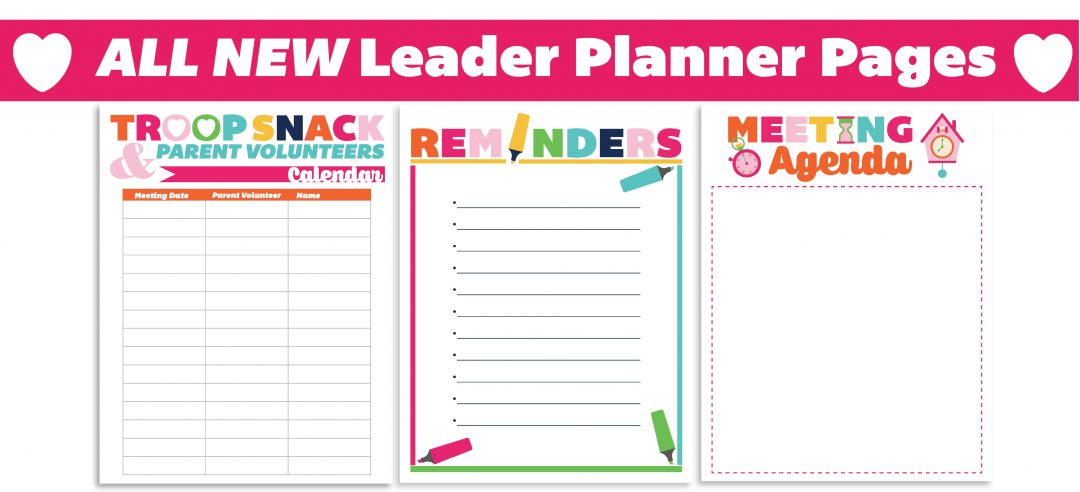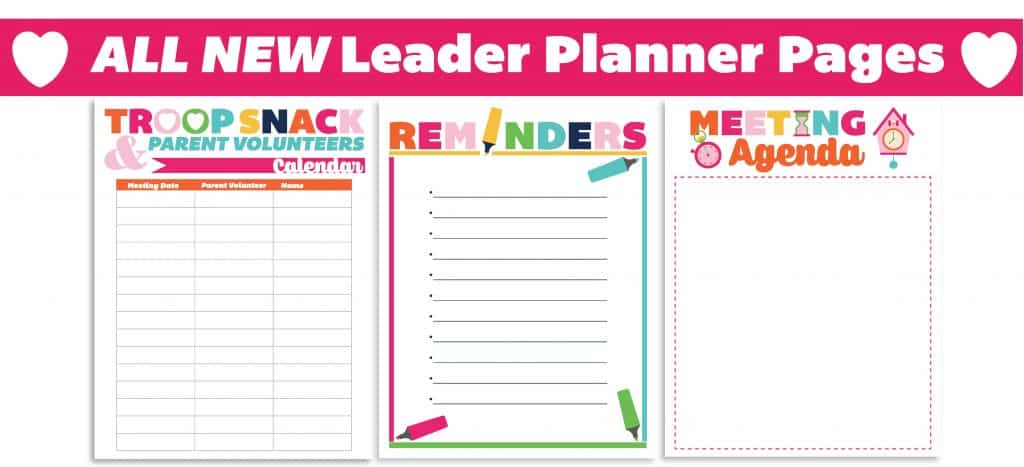 The basic planner includes all of the above. Add-ons are available at a special discounted rate with the purchase of the planner:
Dividers:  Camping, Council Forms, Badge Trackers, Troop Info, Calendars, Leader Resources, Cookies and Fall Products.
Fillable newsletter
Both the newsletter and dividers
The entire leader planner file is almost 30 pages with the cover. Add in freebies from the resources section of strawjenberry.com and you will have all the tools to plan an organized troop year.  Free resources include: Parent Handbook, Troop Calendar, and other printables.  Get yours planner for your troop now 
These pages are designed to be printed on standard letter 8.5″ x 11″ paper. The files are in PDF format which opens and prints best using Adobe Reader. Pages can be printed at home or professionally bound at your nearest office supply store. Because they are standard letter size, they work with three ring binders, punched within disc bound notebooks or spiral bound notebook style.  I highly recommend the Avery 3 ring binder from Amazon because it has a nice plastic sleeve in front to put the cover of your planner and also there are a variety of colors to choose from.
To show my commitment and support to scouting and leaders all over the world, any new items that are added to the planner in the future will be available to all past purchasers.
Beyond this book Etsy is full of other amazing shops that also focus on making being a leader so much easier. So be sure to stop over to Etsy and search scouts for more great ideas.
---
Do you like to be digital with your organization? Here are a few additional ideas to get your troop organized without pen and paper.
---
12+ amazing resources to help you plan and organize your troop + FREE Kaper Chart Download
One thing we all know as leaders we need all the help we can get to make the program fun, educational, and to help build the girl leaders of tomorrow. This post is packed full with ideas for:
Kaper Chart ideas plus a free download
How to organize your troop
Collaboration Ideas
Badge Planning Resources
World Thinking Day
Cookie Season Support
Extra Fun For Meetings
How to make your troop unique
Ceremony Ideas
Party Planning Kit Printables
I am so excited to present Strawjenberry's Ultimate Party Kit! Almost everything you need to plan your troop celebration is included in this kit and can be printed at home or through your local office supply store or printer. It all starts with a personalized troop banner (two options to choose from) that includes your troop number. From there you have many different supplies to create the labels, stickers and decorations that you need.
The full color party kit includes:
One personalized banner
Personalized party invitation
Four (4) styles of placecards/treat labels, including one (1) secret bonus design
"I Love Girl Scouts" flower graphic
Fifteen (15) unique and colorful "badges" to use as stickers, cupcake toppers, or decorative elements on any number of party items
A sheet of personalized gift tags
Two (2) square backgrounds to create labels for lollipops. chocolate bars or giftboxes
A set of personalized badges with your girls' names on them (you can also opt for a troop number instead)
Printable 8 1/2 x 11 Promise and Law pages–perfect for framing!
One sheet of twelve (12) blank badges
One sheet of twelve (12) level letters with heart (d, b, j, c, s, a, v)
The sky is the limit for how you can use all of these DIY elements to create the ultimate party. All items are included and have the bright and cheerful design color scheme. Get now for any party, ceremony or event you are planning for your troop.
Enjoy every minute being a leader and continue to inspire your girls!