Do your girls have a strong female role model to look up to?
Role models are so important for children. They give them someone to aspire to be like, help create goals, and show them what's possible if they work hard! For girls, in particular, it's vital they have strong females to watch, showing them that women are just as powerful and capable as men.
One such role model right now is Madam Vice President, Kamala Harris. She's a brilliant inspiration for young girls and women around the world, and one that you should definitely be talking about!
To help educate your girls on female role models like Kamala Harris, here's a bunch of tips and activities you can use as inspiration.
1. Independent Woman Bingo
There's no denying that we love bingo, and have a ton of bingo resources to prove it! It's a great way to have fun with your girls without getting into anything too competitive or demanding. It's also a surprisingly great way to learn, and it's perfect for teaching your troop more about strong independent women.
Strong Women Bingo Game
There are 24 different strong women your girls will learn about playing this bingo game. Get for your troop in the shop.
Create Your Own Bingo Game
For example, for Kamala Harris bingo you could create sheets with the answers to questions on them. Read aloud the questions and your girls will have to see if they have the answer on their sheet. If they don't know much about Kamala Harris, you could either do a presentation beforehand to teach them about this independent, strong black woman or let them guess the answers as you read out the questions before letting them know the right answer.
Here are some examples of questions and answers you can use:
What number of Vice President is Kamala Harris? 49th
Where did Kamala Harris' parents come from? India and Jamaica
Where did Kamala Harris serve as a district attorney? San Francisco
Is Kamala Harris the first female Vice President? Yes
Will Kamala Harris be the last female Vice President? No
Get creative and help your kids learn more about independent women through fun bingo games!
2. Dress Up as a Female Role Model
If you're wondering how to teach your girls how to be an independent woman, what better way than for them to embody them? Plan a day when your girls all have to come in dressed as a woman who's inspired them, be that an author, an astronaut, or Kamala Harris herself! This is a great way to incorporate fun into learning and really get your girls to think about who inspires them.
When they come in, give each girl a couple of minutes to stand up and speak about the person they've chosen, so make sure they're prepared! Ask them to find out some background knowledge about their upbringing as well as what they do now and why they're inspirational. If your girls are stuck, here are some great women they can go away and research:
Kamala Harris (check out this amazing badge they could wear!)
Ruth Bader Ginsburg (check out this amazing badge they could wear!)
Rosa Parks
Emmeline Pankhurst
Amelia Earhart
Josephine Baker
Nora Ephron
3. Story Time
If you're looking to share independent women's voice with your girls, why not read to them about the women throughout history who have been so influential? This doesn't have to be boring – far from it! There are tons of great books out there designed to teach young girls about the independent women who came before them, like Good Night Stories For Rebel Girls.
If your troops enjoy the stories, why not get them to write one of their own, too? They can go away and research a woman they're inspired by and create their own fascinating tale all about the person they pick!
4. Recreate a Woman's Speech
There are plenty of great speeches given by women, but we don't hear about them very often. This activity is geared a little more towards older girls who may be able to understand the speeches a little better and be able to deal with more serious topics.
Get your girls to find a speech by a woman that inspires them, and then choose their favorite couple of lines or a paragraph from the speech. Have them stand up and recreated it, using all of their theatrical skills! Of course, not everyone enjoys acting so for girls that are a little shier, ask one of the girls who enjoy delivering the speeches to read theirs out for them.
For inspiration, here's a list of some of the greatest speeches given by women throughout history.
5. Create Quote Posters
Quotes are a brilliant way to inspire your girls and spark the seed of inspiration that could change their entire lives! A simple quote could see your girls delving deeper into the world of strong female role models, helping them to discover their own destinies in the process.
At your next meeting where it's a bit rainy or your girls are ready for some crafts, have them create posters for independent, hard-working woman quotes. You could find these yourself, creating a list of great quotes for your girls to pick from or ask them to research them on their own to find ones they love. Around the quote, they could add words that they feel when they read it like inspired, hopeful, and ambitious, encouraging them to explore their own feelings and dreams.
If you're teaching your girls about Kamala Harris, she has plenty of great quotes to pick from!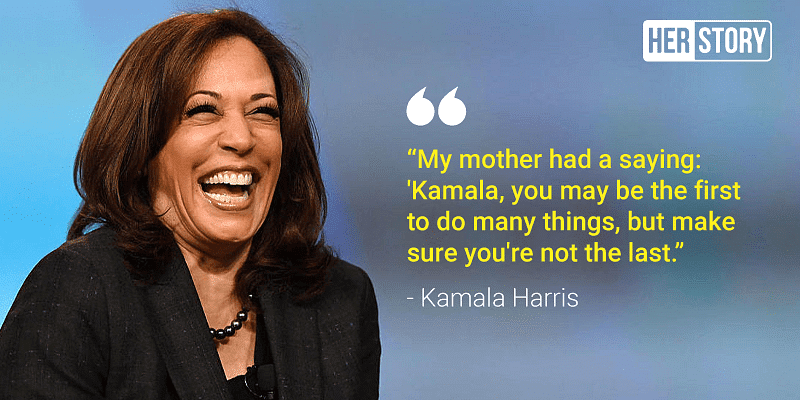 Start Teaching More About Strong Women
In a world where women have often been second-class citizens, it's up to us to teach our girls why that's not the case. They deserve the world and can do anything they want, but that's not always what society tells them! So, speak up and use your platform to teach your troops about the strong, independent women who have achieved their goals and changed the world.
For more help and inspiration, be sure to check out more of our leader resources!
Enjoy every minute being a leader and continue to inspire your girls!