Today I want to share with you everything you need to throw a successful Vision Board party.  It is a new year! What is the one thing that many people do at the beginning of each year? Make New Year's Resolutions? Yes, you guess it correctly! New Year's resolutions can be anything from drinking more water to making the honor roll. Hopefully, many of your girls have already begun setting goals of the things they want to accomplish throughout the year. A great way to document these goals is by creating a vision board.
A vision board is a collage of pictures, powerful words, quotes, and personal affirmations that depict your dreams, goals, and desires. A vision board party is a great activity that you can do with your troop to start off the New Year or even the new year of scouting. It is never too early for your girls to start thinking about the goals they want to accomplish for the next 6 months, year or for the next 5 years.
Before jumping into the party if you have 9th and 10th graders you may be working on the Girltopia Journey. A vision board party could go great while working on it. Here are a few ideas to help you plan your journey work:
What you need for a Vision Party
In order to host a successful vision party, you will need the following items:
Poster Boards or Foam Boards
These can be found at your local Dollar Tree, Wal-Mart or if you are like me just order online at amazon and save a trip to the store. I personally prefer the foam boards because they are sturdy, and they last longer.
Magazines
Search your home for old magazines or find some at your local library. Many libraries have magazines for FREE! My suggestion is that you will need to obtain 5-10 magazines for every participant.  For example, if you have 10 girls in your troop, you will need at least 50-100 magazines. So collect as many as you can!
Scissors
Glue Sticks
Motivational Music Playlist
Create a playlist of music that sets the atmosphere for a great party and motivates the girls to take action.
Refreshments
This can be as simple as cupcakes and punch. Don't over think it.
Optional Supplies
You can also incorporate markers, glitter, gel pens, scrapbook cut outs, and borders. They add a little something extra to each board.
Now Onto How to Have a Vision Board Party
Introduction


Use this time to educate your girls about a vision board and the importance of goal setting.
Search through Magazines.


Have your girls find images or words that speak to them and that are related to their goals. Once they find those items, they need to use a pair of scissors to cut out those images or words. If they cannot find anything related to their goals, they can write down a word or phrase or even draw a picture that relates to their goals.
Sidebar: The motivational music playlist should already be playing during this time. You can also begin serving refreshments or you can wait until the very end of the activity.
Place Items on Board.


The glue sticks can be used to place the items on the board. There is no rhyme or reason to creating the board. The items can be all straight and side by side or they can be slanted and scattered.  It is their own personal vision boards so they can be creative!

Need a bit of a break from crafting?

I recommend adding a little something to your event. A game or two is great. One game my girls love at every age is the 4 corner game. Your girls will be running from corner to corner laughing and getting all their energy out. No matter what time of year your planning your vision board party use the 12 months 4 corner game to use with your girls.
Share Your Board.


Once they have completed their vision boards, it is time for them to share with the rest of the troop. They will need to explain why they placed the items on the board and how they relate to their goals.
 Here are a few examples of a variety of vision boards.  I have also done vision hats instead of boards. Here are a few vision hats done when discussing healthy living and what it meant to the girls.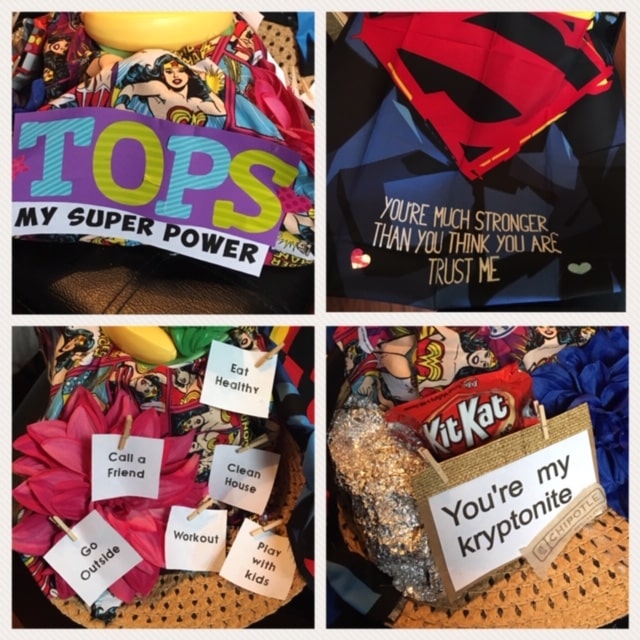 Wrap Up/Clean Up


Take pictures of the troop and their completed vision boards, and begin the clean up process. Keep the magazines, scissors, and glue sticks so they can be used again for future vision board parties.
Once you have done all of the above steps, you have officially hosted a vision board party. Congratulations!
After Vision Board Party
Yes, the boards are done and the troop hopefully had an enjoyable experience, but the work is not done. So, what is next?
The girls need to place their vision boards in an area where they will see them every day. Consciously seeing the board will serve as a friendly reminder of their goals so they can take action.
Dedication is key in order to make their goals come to pass. Creating a pretty board of pictures and phrases is not enough if they are not going to act on their desires. They must do the work in order for their goals to become realities. For example, good grades cannot be achieved unless studying takes place.
Patience is important when accomplishing goals so don't rush the process. Things take time, and they will manifest at the appointed time.
Ideas for girls interested in pageantry: Dig a little deeper into how you can use vision boards to reach a specific goal. Learn How to Manifest the Crown with a Vision Board
I want to thank Krystle Bell Saulsberry for contributing this amazing idea for leaders like you. She is a pageantry consultant, financial coach, blogger, author, and speaker. She has worked in the pageantry industry for over 15 years, and she has experience as a titleholder, judge, coach, emcee, and stage manager. She is the Creator of KrystleClearPageantry.com, a pageantry and lifestyle blog that serves as "Your Krystle Clear Source for All Things Pageant Related." Krystle is a professional public speaker and speaks on topics such as self-esteem, self-confidence, etiquette, and personal finance. To learn more about Krystle, please visit her blog at www.krystleclearpageantry.com.
---
Party Planning Kit Printables
I am so excited to present Strawjenberry's Ultimate Party Kit! Almost everything you need to plan your troop celebration is included in this kit and can be printed at home or through your local office supply store or printer. It all starts with a personalized troop banner (two options to choose from) that includes your troop number. From there you have many different supplies to create the labels, stickers and decorations that you need.
The full color party kit includes:
One personalized banner
Personalized party invitation
Four (4) styles of placecards/treat labels, including one (1) secret bonus design
"I Love Girl Scouts" flower graphic
Fifteen (15) unique and colorful "badges" to use as stickers, cupcake toppers, or decorative elements on any number of party items
A sheet of personalized gift tags
Two (2) square backgrounds to create labels for lollipops. chocolate bars or giftboxes
A set of personalized badges with your girls' names on them (you can also opt for a troop number instead)
Printable 8 1/2 x 11 Promise and Law pages–perfect for framing!
One sheet of twelve (12) blank badges
One sheet of twelve (12) level letters with heart (d, b, j, c, s, a, v)
The sky is the limit for how you can use all of these DIY elements to create the ultimate party. All items are included and have the bright and cheerful design color scheme. Get now for any party, ceremony or event you are planning for your troop.
Organize Your Troop Parties This Year with a 25+ page Leader Planner 
This Leader Planner is from another amazing blogger named Jen her blog is called "I am StrawjenBerry" With the help of Jen I wrote a blog post explaining everything you will get in this planner. It has everything you need to plan your troop year. The planner contains your calendar, meeting planners, rosters and badge trackers in one safe place for when you need it. Read more
Enjoy every minute being a leader and continue to inspire your girls!