It's 2022, and that means it's time for New Year's Resolutions! One of the best places to make goals in the new year is in your troop! Not only will it improve your girls' experience, it will teach them the life skill of goal-setting, along with the satisfaction of a job well done. Here are 5 resolutions for your troop in 2022!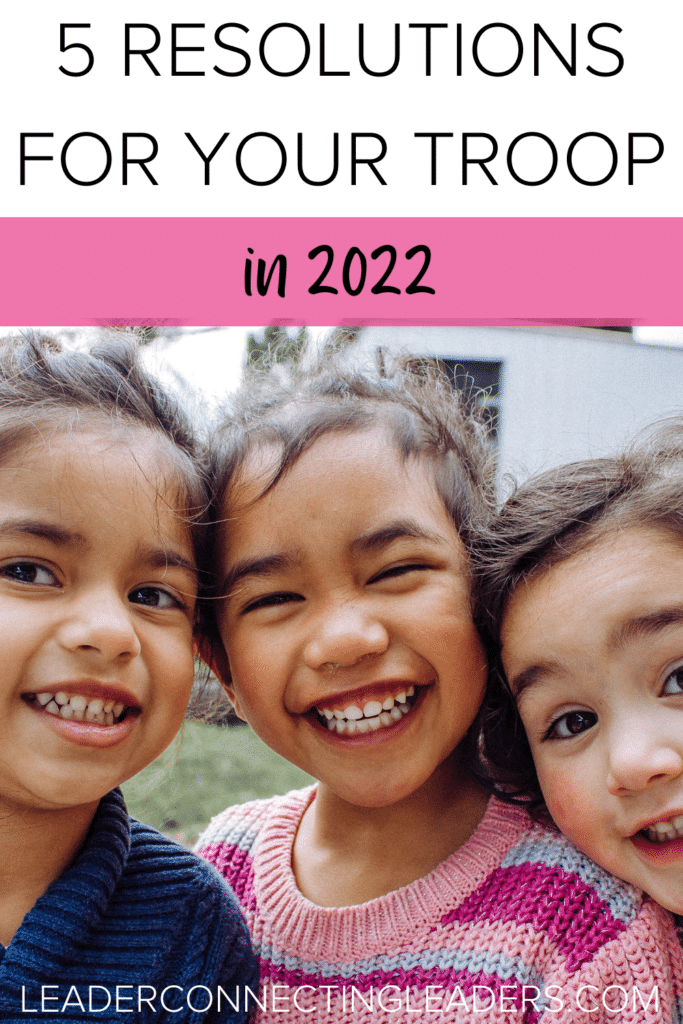 Set a Specific Sales Goal
You probably knew this one was coming, so I decided to bring it up first. Setting a specific sales goal (whether it's in dollars, items, or another unit of measurement), gives your girls a spot to aim for, and teaches them the importance of goal-setting.
Make sure this is a realistic goal with benchmarks at which you can assess your progress and potentially alter it. Making goals that are too high or inflexible can make your girls feel defeated, bringing down the morale and enthusiasm of the group.
Setting and then meeting goals can be a huge confidence-booster and help your girls develop a healthy sense of self-esteem where they know they can achieve anything they set their minds to! Just make sure this goal is held with open hands and doesn't put too much pressure on your troop.
Improve Your Health
Whether you're a troop leader for Girl Scouts or another group, it's important that your activities help improve your girls' physical, mental, social, and emotional health. You can set goals together with your girls that represent ways they can grow together in all of these areas.
Part of this, of course, can be the activities you do together, like hiking or first aid. But another part is how you handle things as a troop leader. How will you set an example when something goes wrong? How will you treat a girl who isn't performing as well as others or fitting in with the others, or handle a girl's loss of a family member? All of these kinds of things can improve or hinder your girls' mental, emotional, and social health. You can set up specific plans now to ensure you handle these situations well in the moment.
Show Kindness
One of the most important skills for young women to learn is kindness, because this will serve them well in every relationship for the rest of their lives. Purposing in your heart to teach your girls kindness through your words and your actions will go a long ways of their experience inside and outside of troop meetings.
You can teach kindness to your girls purposefully by having them participate in things like community outreach, teamwork exercises, and helping members of the troop who are struggling. You can also teach kindness in the day-to-day moments of how you treat the girls and talk about people who aren't in the room.
Step Out of Your Comfort Zone
What could be better than helping a group of girls do something they didn't think they could do? Setting a resolution with your girls about something specific that's out of their comfort zone can be a fun way to make memories and build their self-respect. Ask your girls for some ideas of things they have never tried but would be willing to do (making sure you respect every girl's boundaries). This could take place at a camp or retreat, or it could happen in the comfort of a troop meeting! Helping girls get out of their shell is a great way to break the ice and teach them to believe in themselves.
Just like the rest of the goals, this applies to you as a troop leader as well! Is there something you haven't done with your troop because you're not sure you can pull it off? Are there any girls you feel less comfortable reaching out to? What could you reach out of your comfort zone to accomplish with your girls?
Enjoy Nature
Over the last couple years, a lot of us have stayed indoors more than usual. Make sure to still prioritize taking your girls outside and showing them the beauty of nature! Even if you have constraints around things like overnight camping, find some creative ways to explore together.
If you usually take your girls to the same few places, try coming up with some out-of-the box ideas for places you could take your girls that they would not otherwise see.
If you'd like some support in following through with these resolutions, please check out some of my other posts about ways to improve your leadership of your troop. Implementing goals like these can really make a difference in the memories your girls will keep for life.
---
Activity Books Your Girls Will Love
Enjoy every minute being a leader and continue to inspire your girls!
Purchase this wonderful illustrated book from Amazon.