If you are looking for an event that will entertain Kindergardeners all the way up to adults, then I would recommend trying a photo scavenger hunt. Today I will share with you one of the themed photo hunts I have put on with my troop and service unit.
Is a photo hunt not enough for your group? I know for my troop they wanted more so we added games, songs and craft to the event. Take the photo hunt ideas from this post, then navigate over to the Super Hero Party Ideas post to keep generating a amazing party for your troop.
How to Dress for the Occasion
You can have your girls come dressed as their favorite super hero. Then when they arrive have them make their very own super hero masks to wear during event or to take home with them. Superhero Masks Craft Kits.
After everyone was dressed and ready to go split the girls up into groups of 5 to 8 per team and try to keep them in the same age bracket. Give each group a list of pictures they have to take. Tell them to work as a group to take as many as they can in a set amount of time.
After the girls complete taking the pictures you could order pizza and play a few group games with the girls while a few of the adults go to develop the pictures. If you don't plan to develop the pictures you could also show them on a TV for everyone to view.
Super Hero Scavenger Hunt For Your Troop
Your mission if you choose to accept it is to walk around the park and beach with your super hero masks on and armed with your groups camera to capture the following heroic acts. The team with the most points will earn the title of being the most heroic group of superheroes.
Everyone High Fiving
Everyone Jumping (everyone must be off the ground for it to count)
Picture where it looks like you are flying
Charlies angel poses at the top of a flight of stairs
Everyone on a slide
Team all wearing shoes on hands
Group reflection in water
Picture of everyone gangster posing with a stranger
Everyone doing a model pose
Most creative use of "Leap-Frog"
I can't believe we all fit in here picture
Making faces with a stranger
Entire group upside down
Make yourselves appear very small
Doing exactly what a sign says
Funny group picture with lake behind you
Whole team picking up litter
Entire team doing the YMCA
Everyone on the team throwing paper airplanes
Picture with an animal
Make yourselves appear very large
Entire team doing a group hug
Entire team crossing the road doing duck walk
Entire team balancing on See-Saw
Everyone wearing tin-foil hats
Everyone laying down
Everyone doing hear no see no speak no pose
Everyone wearing their clothes inside out
Everyone with water up to ankles
Everyone doing something funny
Printable of the 30 photo hunt items above
Added Photo Challenges
If you are like me you may want to add even more challenges to the photo hunt. What I did was created a close up hunt to go with photos above. You will need to create your own, but below is example of what I did. You will give each team a copy of the hunt. The team has to find the picture location and take a picture as a group next to or on that location.
EXAMPLE OF CLOSE UP HUNT: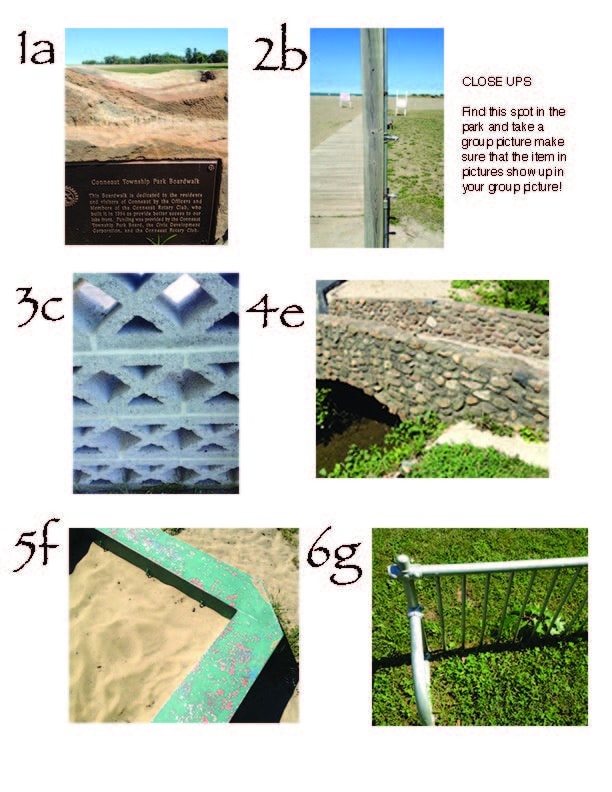 Planned for you Photo Hunt
If you love this idea check out the A – Z Photo Scavenger Hunt. Use the directions to run your very own Photo Scavenger hunt from beginning to end no planning necessary. Just follow the steps in the booklet and your work is done for you! Click here to get the booklet
---
Party Planning Kit Printables
I am so excited to present Strawjenberry's Ultimate Party Kit! Almost everything you need to plan your troop celebration is included in this kit and can be printed at home or through your local office supply store or printer. It all starts with a personalized troop banner (two options to choose from) that includes your troop number. From there you have many different supplies to create the labels, stickers and decorations that you need.
The full color party kit includes:
One personalized banner
Personalized party invitation
Four (4) styles of placecards/treat labels, including one (1) secret bonus design
"I Love Girl Scouts" flower graphic
Fifteen (15) unique and colorful "badges" to use as stickers, cupcake toppers, or decorative elements on any number of party items
A sheet of personalized gift tags
Two (2) square backgrounds to create labels for lollipops. chocolate bars or giftboxes
A set of personalized badges with your girls' names on them (you can also opt for a troop number instead)
Printable 8 1/2 x 11 Promise and Law pages–perfect for framing!
One sheet of twelve (12) blank badges
One sheet of twelve (12) level letters with heart (d, b, j, c, s, a, v)
The sky is the limit for how you can use all of these DIY elements to create the ultimate party. All items are included and have the bright and cheerful design color scheme. Get now for any party, ceremony or event you are planning for your troop.
Enjoy every minute being a leader and continue to inspire your girls!