If your troop is planning an award ceremony for one of the highest awards Bronze, Silver or Gold it is always great to come up with new and exciting ways to celebrate these events. Some councils I know do special ceremonies for the Gold girls, but on a troop level I know if you're like me I want to make this accomplishment just as important for  all the girls at every level.
Here are a few other great ceremony ideas to use with your troop if your not planning a award ceremony at this time:
---
"A Star is Born" Award Ceremony
We have always let the girls decide on their clothing choice for all the ceremonies after they have heard what the theme will be. Some of the ceremonies (Silver) the girls chose dress pants and tops, but the girls always tried to all have same color coordination with each other.  The theme I am telling about with this blog post is a (Star Is Born) the girls dressed in gowns and the troop got a great deal on a limo so the girls got picked up at our meeting location (church) this part was a surprise, it took them all over the area for about an hour stopping for photos in different locations. We followed in a car, if you're a leader you know what I am talking about when I say the greatest feeling my mom and I got is when the girls got out of the limo and ran to us and gave us a big hug and kept thanking us for the memories.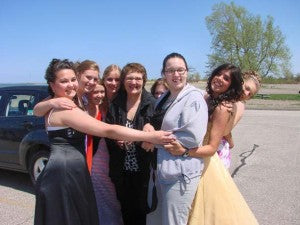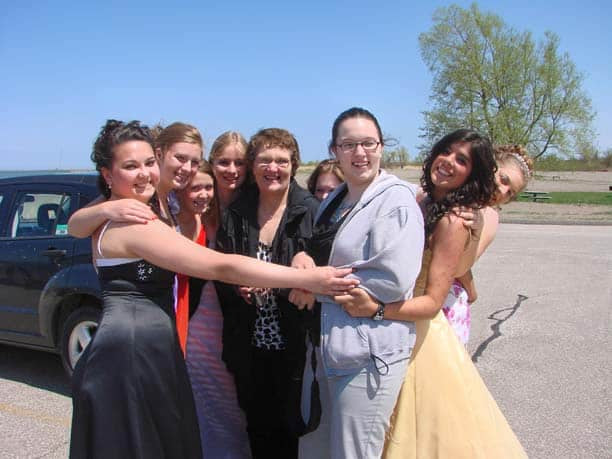 When the girls arrived at the fire hall the Silver award girls came in first one at a time and then the fathers of Gold Girls escorted them in we had the Junior girls with camera's flash just like the paparazzi for both awards, the brownies/daisies blew bubbles.  We purchase stars to put on the floor with their names on them just like the movie stars have.
During the ceremony when we called the girls up to the front. We laid red plastic down center so the girls had a red carpet to walk on to get to the stage. Silver award girls walked alone, but the Gold Girls got escorted by their fathers. We had a song playing for the girls to walk down the red carpet.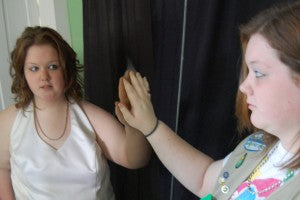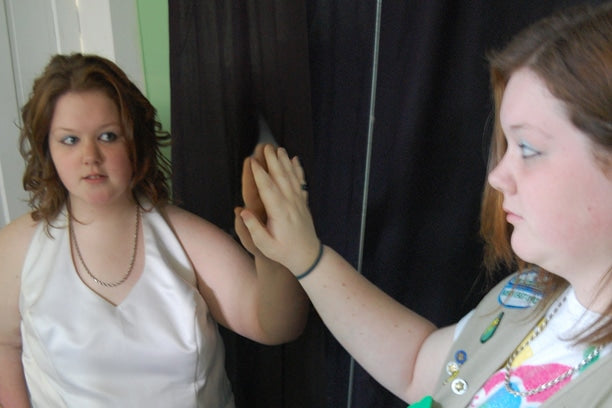 Great picture  for Gold Girls or even Senior Pictures if your daughter is a Lifelong Scout. I used a mirror and a little photo editing skills, first take picture of girls looking into mirror in their uniform, then take the same picture looking into mirror wearing gown. It is important the mirror is in same position girl stands in same position. And try to have same look on face so it really does look like they are looking into mirror at themselves. After event I took both pictures and photo shopped them together so looked like one picture.
IDEAS FOR THE CEREMONY
If you have multi-level troop you can give each level a different part of ceremony to be in charge of. For our troop The younger girls in the troop did the flag ceremony and older girls did the candle lighting that I share below.
Candle Lighting
We used 10 white candles, each candle was tied with a colored ribbon representing each law. Each girl read her line, then lit the candle
I will do my best to be: (all the girls said together)
Honest and fair (girl#1)
The purple ribbon on this candle represents a girl's sense of honesty and fairness. A Scout works honestly and keeps her promise. She is fair in all she does and those she meets.
Friendly and helpful (girl #2)
The blue ribbon on this candle represents a girl's sense of friendship and thoughtfulness. A Scout is amiable and loyal to her friends. She helps others wherever and whenever she can.
Considerate and caring (girl #3)
The orange ribbon on this candle represents a girl's sense of kindness and warmth. A Scout works well with others and looks out for the well-being of others.
Courageous and strong (girl #4)
The red ribbon on this candle represents a girl's sense of adventure and independence. A Scout attempts new tasks and braves new endeavors. She is confident and self-assured in her actions.
Responsible for what I say and do (girl #5)
The gold ribbon on this candle represents a girl's sense of ownership and pride in her work. She readily admits her strengths and weakness and is aware of the consequences of her actions. A Scout is up front with her intentions.
And to: (all the girls said together)
Respect myself and others (girl #6)
The white ribbon on this candle represents a girl's sense of integrity. A Scout directs her thoughts and deeds to encompass her own beliefs and to be sensitive to, and respectful of the beliefs of those around her.
Respect authority (girl #7)
The yellow ribbon on this candle represents a girl's sense of regard for another's position. A Scout understands the importance of having a leader of a group to make final decisions. She works with that leader to make the best decisions for the good of the group.
Use resources wisely (girl #8)
The green ribbon on this candle represents a girl's sense of being careful with resources. She uses her materials, money, time, and energy wisely. A Scout does not wasted the Earth's resources.
Make the world a better place (girl #9)
The brown ribbon on this candle represents a girl's sense of improvement. A Scout strives to be clean, conserve, and enrich the world around her. She believes it is important to leave a better place than when she found it.
Be a sister to every Girl (girl #10)
The silver ribbon on this candle represents a girl's loyalty to sisters all over the world. A Scout is always ready to accept more friends into her ever widening circle. She treats all of her sisters with kindness, acceptance, and warmth.
---
Keep Your Troop Organized And Focus On The Fun Part of Being A Leader  
This Leader Planner is from another amazing blogger named Jen her blog is called "I am StrawjenBerry" With the help of Jen I wrote a blog post explaining everything you will get in this planner. It has everything you need to plan your troop year. The planner contains your calendar, meeting planners, rosters and badge trackers in one safe place for when you need it.   Read more
Enjoy every minute being a leader and continue to inspire your girls!
Purchase this wonderful illustrated book from Amazon.