We have held a spud theme event a couple times over the years, the advantage in staying in Scouts for so long you can recycle the themes and events. With the potato theme you can work on gardening and the health value of a potato. We even used the spud party as a chance to do a service project, the potato's that were not damaged during the event were donated to the area food pantry, we contacted them and told them of our event and what was happening to the potatoes and they had no problem accepting them.
FIRST, ask every person attending event to bring 5 lbs of potatoes. Now that you have ALOT of potatoes its time to have some fun.
Today I will share a number of games, a craft and a recipe, that we have done at different spud night events.
Potato Games
Hot Potato
We had girls stand in a circle to play, the object of the game is not to have the potato when the music stops. When music starts the potato goes around circle, when it stops girl holding potato is out and the music starts again and potato again gets past and each time one person gets eliminated, the last person standing is the winner. If you have a large group you could start out with more than one potato.
Bowling for Spuds
We used 2 liter pop with a small amount of water for the pins, we marked off the bowling lines on floor with masking tape, Potatoes was used for bowling balls, if they rolled outside the lane they were disqualified. There was a few ties so we had to have bowl off, highest points won.
Driving the Spuds to Market
We put the girls into teams and each team got a broom and each girl got one potato, we set up some orange cones for obstacles. We marked the finish line (market) once the girl gets her potato to market she hurries' back to line and pass the broom then that girl takes her potato to market this continues until all team members get there potatoes to market first team wins.
Potato Tower (aka Potato Pyramids)

We put the girls into small teams and gave each team a large pile of potatoes, we gave each team 5 minutes to build the tallest pyramid (tower) possible. We had extra potato available if any team needed them.
Chip Tasting Test
We took five bowls of potato chips and wrote the flavor in a sealed envelope under the bowl. We kept this secret. We taped the five chip bags to the wall behind the table no particular order. We gave each scout a piece of paper and pencil and they each came up, throughout the event to guess the flavors, at end of event we opened the envelopes to see who guessed right.
Speed Spud (Potato races)
We took long stacking tables with the legs of one end collapsed, each girl got to pick out her own potato for this race. We took masking tape and made a starting line and a finish line, we had purchased racing flags to put on the bottom of table. We had girls put potato on the start line and on go give it a push, the potato had to roll not be pushed. The first one over the finish line wins that round after all scouts have completed the race all the winners do a second round and this continues until there was only a 1st,2nd ,3rd place winners. (It was like a Derby race but with potatoes)
Potato Stuffing

This was of the funniest part of the event; we set up a set of scales and had one person do the weighting of each girl before the game began. (We kept all the weight private) some girls have weight issues so we informed everyone this was a private weigh in. We piled potatoes in different areas of the room and at go the girls had to put as many potatoes on their bodies, in pockets, pants shirts, sleeves and after 5 minutes we stopped everyone or if the girl felt she couldn't get any more on her body she waddled over to the scales to see how much she gained from the potatoes. One funny thing that happen is one girl put so many potatoes in her pants when she tried to step up on scales her pants fell down, the scales were behind a table so no one seen anything but her face told it all it was a very funny game and the girls loved it. The girls that gained the most won the game.
Potato Stamping Craft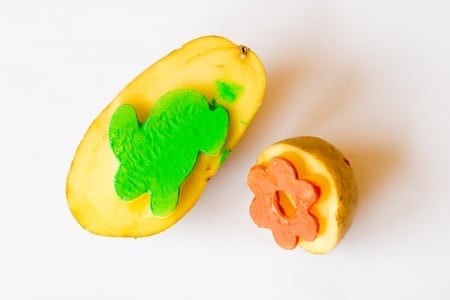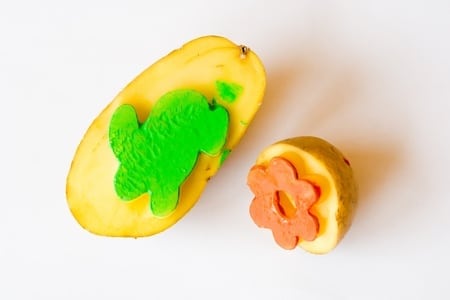 We had each girl bring a white T-shirt for this activity, plus we had card stock paper to make cards. We carefully cut several large clean potato in half, we allowed the older girls to cut out a shape of her choice, younger girls we just showed how to do it, but we did allow them to try to dig out a section using a spoon, we had already made a few potato stamps ahead.
We used a pencil drew an outline of the shape we decided on and then carefully cut away the area that we wanted to print.
To use the stamp we had to pat the surface dry, and then brush on some acrylic paint, the girls had to press the potato gently onto the paper and they did the same on t-shirt, gently so it will not smudge. We had placed cardboard inside of the t-shirt so it didn't bleed through, cards were made to donate to the local nursing homes.
Mashed Potato Cookie Recipe
I would recommend making these before the event and have as a snack, we shared the recipe with the girls so they could make at home.
Ingredients
1 cup molasses
1/2 cup butter
1 cup cold mashed potatoes
2 cups flour
1/2 teaspoon salt
2 teaspoons baking powder
1/2 teaspoon baking soda
1 teaspoon cinnamon
1/2 teaspoon nutmeg
1/2 teaspoon ground cloves
1 cup chopped walnuts
Directions
In large saucepan heat molasses and butter til the butter melts.
Stir in the potatoes mixing til smooth, add dry ingredients, mix well.
Mix in walnuts.
Drop onto greased sheet, bake at 375′ 10-12 min.
---
Party Planning Kit Printables
I am so excited to present Strawjenberry's Ultimate Party Kit! Almost everything you need to plan your troop celebration is included in this kit and can be printed at home or through your local office supply store or printer. It all starts with a personalized troop banner (two options to choose from) that includes your troop number. From there you have many different supplies to create the labels, stickers and decorations that you need.
The full color party kit includes:
One personalized banner
Personalized party invitation
Four (4) styles of placecards/treat labels, including one (1) secret bonus design
"I Love Girl Scouts" flower graphic
Fifteen (15) unique and colorful "badges" to use as stickers, cupcake toppers, or decorative elements on any number of party items
A sheet of personalized gift tags
Two (2) square backgrounds to create labels for lollipops. chocolate bars or giftboxes
A set of personalized badges with your girls' names on them (you can also opt for a troop number instead)
Printable 8 1/2 x 11 Promise and Law pages–perfect for framing!
One sheet of twelve (12) blank badges
One sheet of twelve (12) level letters with heart (d, b, j, c, s, a, v)
The sky is the limit for how you can use all of these DIY elements to create the ultimate party. All items are included and have the bright and cheerful design color scheme. Get now for any party, ceremony or event you are planning for your troop.
Organize Your Troop Parties This Year with a 25+ page Leader Planner
This Leader Planner is from another amazing blogger named Jen her blog is called "I am StrawjenBerry" With the help of Jen I wrote a blog post explaining everything you will get in this planner. It has everything you need to plan your troop year. The planner contains your calendar, meeting planners, rosters and badge trackers in one safe place for when you need it. Read more
Enjoy every minute being a leader and continue to inspire your girls!