Today I want to share great ideas to teach your girls about music. Instead of a typical meeting turn it into a party. I will give you the ideas for the food and drinks, along with activities to earn the Junior Musician Badge. I also made labels that I printed on white card stock and glued to color card stock for the labels of food on tables. Feel free to print and use for your next meeting or event.
---
Musician Activity Booklet
The musician activity booklet will teach your girls more about how music is made, what has changed over the last century with the types of music that were most popular during each decade, learn more about how music is in our everyday life, and will be given tools to help plan and perform their very own musical performance. Learn more about this activity booklet.
---
Food and Decoration Ideas for Musical Performance
First I purchased a few things from Oriental Trading for the party. We wanted all the tables to be covered with colorful table clothes which you will see in many of the pictures. I bought the 12 pack of multi colors and they worked great. Check them out here
Secondly for the cupcakes we wanted something a little more unique then the typical cupcake cover. So we purchased the multi color cupcake stands and laid them out on table. Now I would say by far these are a must for such a unique party. Check them out on oriental here
While I was ordering Oriental I saved myself a trip to the party store and also purchased all the plates, napkins, and silverware right from oriental. The quality was great and price was what I would expect. I bought different colors for each thing so it added to the multi color of the event. check out the wide variety click here
Use the labels below just print them and glue to colorful card stock. Below is a description of each of the labels
Chips (Treble Clef Chips)
Cupcakes (Musical Jam Cupcakes)
The cupcakes were made by a Girl who use to be in our Girl Scout troop (graduated) she did a amazing job!
Punch (Musical Fuel)
You could do punch or water or soda
Veggies (Classical Music Veggies)
Lay out the fruit in colorful way
Fruit (A Xylophone of Fruit)
Lay out the fruit so it looks like a Xylophone
Fruit loops/Cheerios (Whole Notes)
I used individual containers for each child so there was not cross handling of fruit loops and cheerios
Pizza (Rhythm Pizza)
Blank heart design
use this for whatever you want we had extra brownies come in so used the label for that.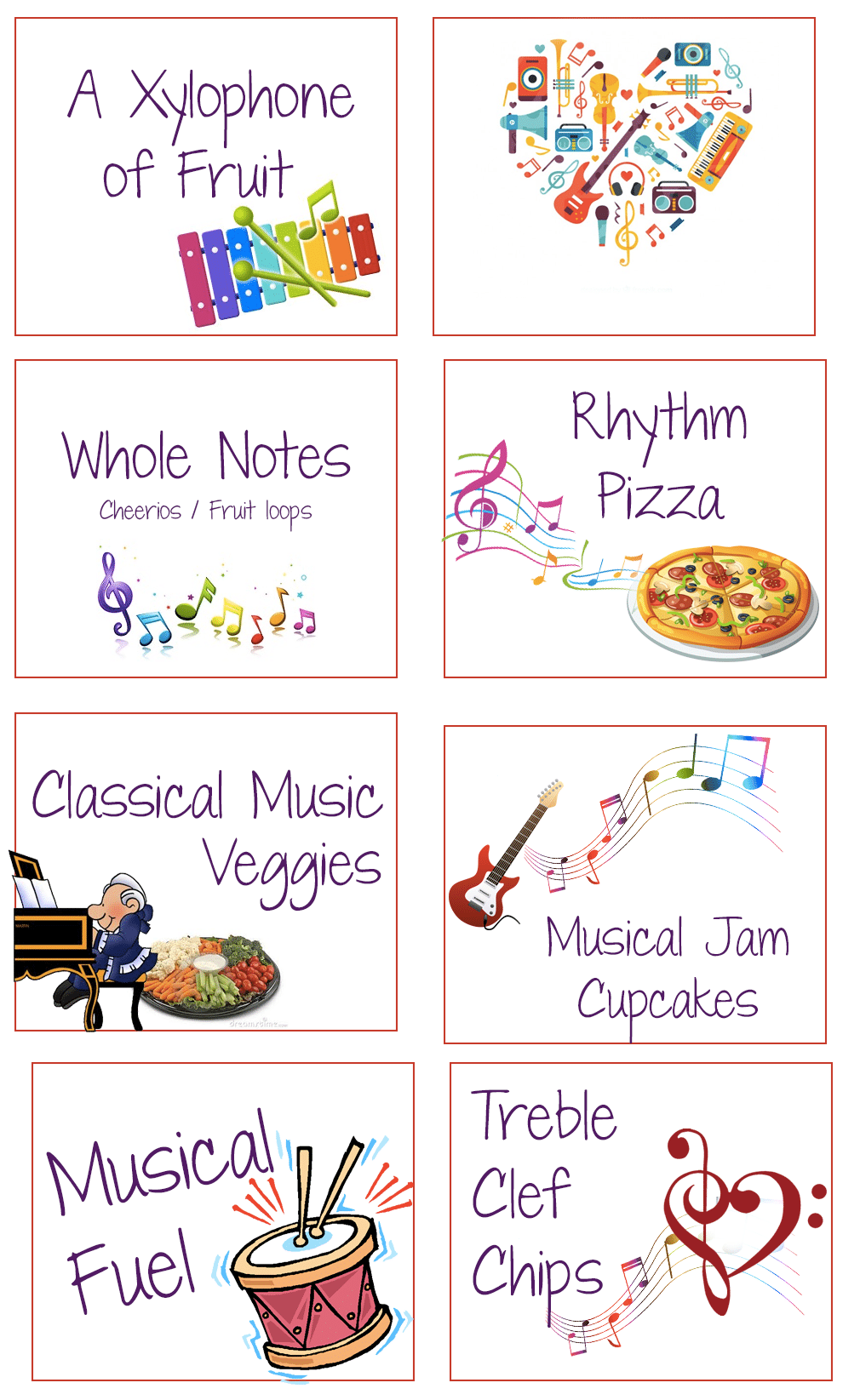 See the pictures below of how we set up the tables…
---
Make a Harmonica
What you need:
2 Popsicle Sticks (I recommend the wide ones)
2 Rubber Bands (I recommend grabbing som string as well)
A strip of paper the same size as the Popsicle Stick
2 toothpicks cut the width or just wider than the Popsicle Stick
Putting it together:
Put the paper strip in between the 2 popsicle sticks. Then wrap the rubber band around one end until it is very snug. If you want to use the string tie that as well after rubber band is put on. Slide the toothpick to the inside of the rubber band that you just added. Then put the last toothpick at the other end of popsicle sticks and wrap that side with the rubber band. Now you are ready to use your new harmonica.
---
Note Worksheet
Have fun solving a puzzle while also learning more about music with the Note Worksheet. I explained to the girls that music is made by playing a combination of different sounds in an arranged pattern. These sounds are called notes, and last for different amounts of time depending on how they are arranged. Print the sheet below and do with your girls.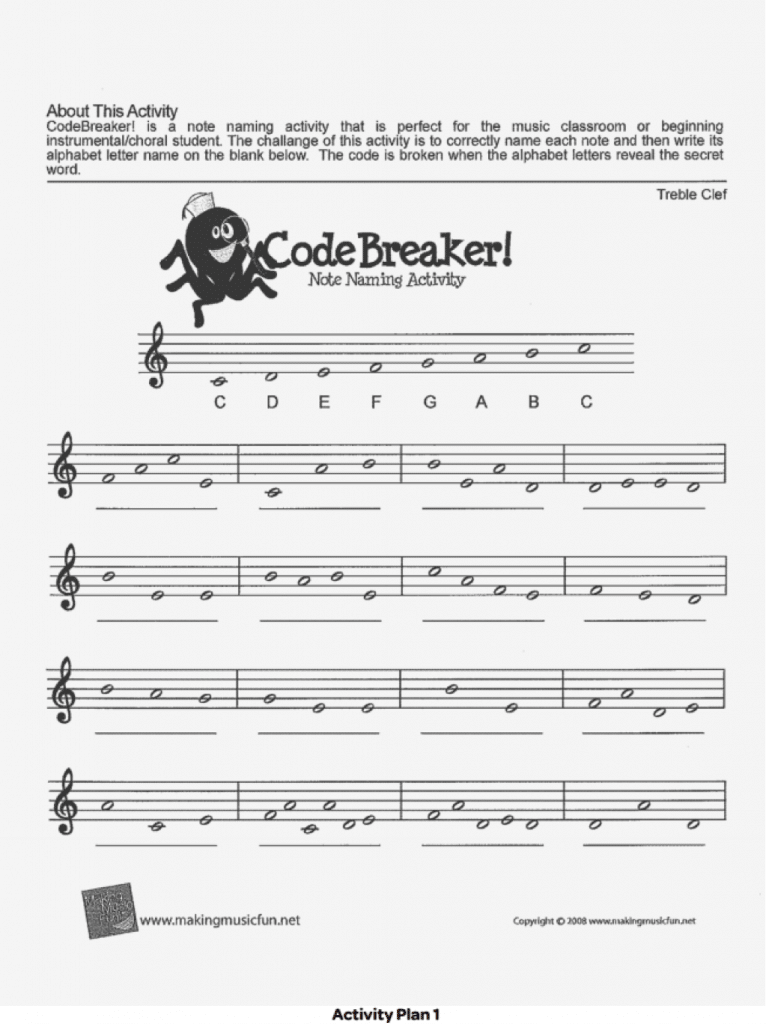 ---
Musical Fun Patch and Activity Sheet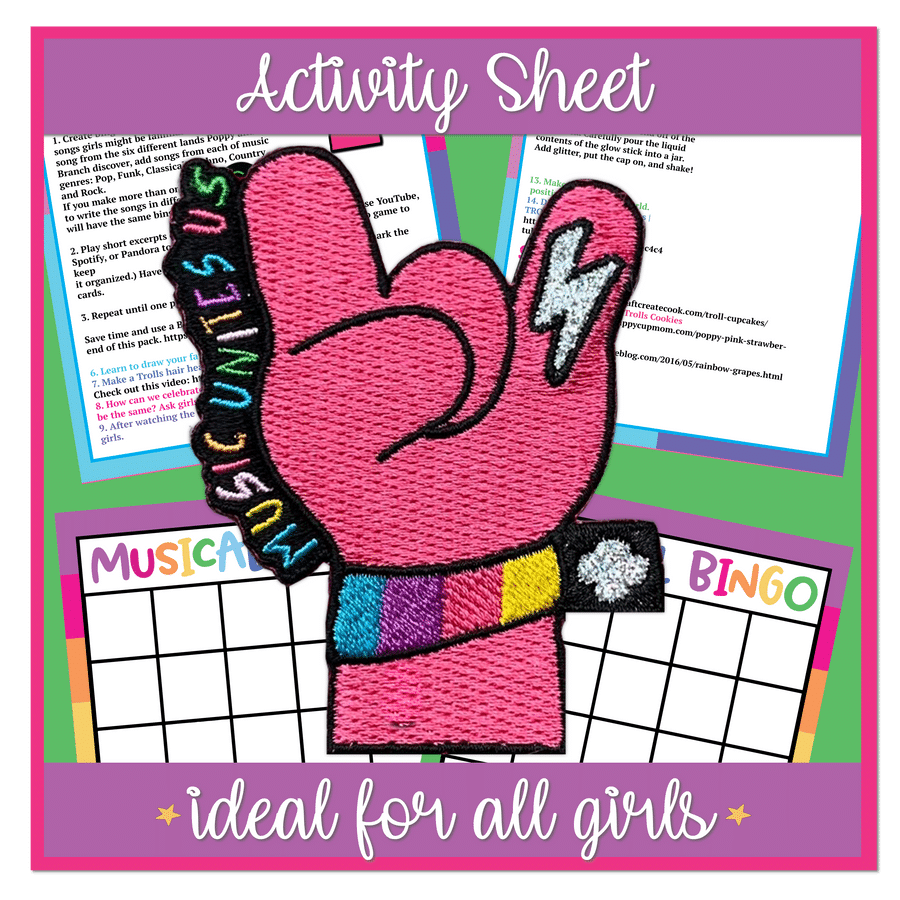 MUSIC UNITES US, TROLLS WORLD TOUR INSPIRED ACTIVITY PATCH
---
Fun With Duct Tape
You could make just about anything with duct tape and you can do it using musical note designed tape to keep with the theme of your badge work, Here is one type you can get right from Amazon: Printed Duct Tape, Musical Notes
Now what do you make? That can be just about anything. I have put together a board on Pinterest with a pile of craft ideas using Duct Tape. Check out the Duct Tape Pinterest Board
---
What do we do after your girls complete the activities?
Well of course give them the badge to display proudly on their vest, they earned it! Additionally If you are like many leaders we want to award our girls when they complete something even beyond just the patch. One great way to show achievement is with a certificate. Don't worry you don't have to make them, I found a resource that has done all the work for you and all you have to do is print them and customize the certificates with each girl's name, badge or award earned, date, and troop leader. Editable certificates perfect for awarding girls after earning a badge.
---
Other Activity Booklets Your Girls Will Love
Enjoy every minute being a leader and continue to inspire your girls!
Purchase this wonderful illustrated book from Amazon.