As a leader I am always looking for new ways to have my whole troop work on an art project. We have all heard of murals, but have you tried something as simple as a Troop American Flag. The girls will have fun getting a little messy while also making something you can proudly display at your meeting location, attach to a float in a parade or even a great backdrop for pictures. As you can see in this one here of some of my girls at a World Thinking Day event.
Today I will share with you exactly how we made our troop American Flag. Along with some suggestions of how to use your new art piece.
How to Make American Flag
What you need to make American Flag:
White twin size sheet
Red, white and Blue Paint
Pen or Pencil to draw outline
Yard stick
Paper plates to have paint on
Paper towels and wipes for clean up
Wide Paint brush (will be used to paint blue area of flag)
How to make American flag:
Layout the large twin sheet. First using the yard stick and pencil trace out the blue box of flag and where the lines will go for red hand prints will go. The real American flag has 13 stripes so if you want it completely realistic you can do the same or just have your flag represent the real thing and do less lines– (This will be very light on sheet but it will give your girls direction where to put hand prints.)
First paint the blue square on the flag. You can have your girls do this or have this part done before meeting so it has time to dry and girls can put the white hand

prints over blue box. If you choose to have girls do all the painting start with blue square then work on red lines of flag and come back to white after blue is done drying.
After blue square is painted now it is time to use girls hand prints to make the red lines of flag. Using the paper plates put the red paint on plate. Then have each girl take a turn putting hand print onto sheet. Staying along the lines you drew in step 1. Depending on troop size you may have each girl do multiple hand prints then have next girl go. My troop had 45 girls so each girl did one and leaders each added their hand print. After red lines are all done have girls clean up hands with paper towels, wipes and wash off in sink so all red is off hands before doing the stars.

Last step is to add the white stars (thumb prints or hand prints) Unless your girls have tiny hands you wontbe able to fit 50 hand prints so to make it realistic you can do 50 thumb prints which will represent the 50 stars on the American Flag. We did the handprints on ours.
---
Incorporate Your American Flag Craft Into These Ideas
Paint Party For Your Girls
I know my girls always love to get messy and try different paint activities. If you are looking for a different kind of party, make it a paint party. Here are some great ideas for a Painting Party.
Help Earning the Celebrating Community badge
This could be a great addition to the activities you are doing to earn the Celebrating Community badge. If you need more ideas for this badge here are some ideas along with a complete activity booklet to help you earn it.
Help Earning the Painting badge
This could be a great addition to the activities you are doing to earn the Painting badge. If you need more ideas for this badge here are some ideas along with a complete activity booklet to help you earn it.
World Thinking Day
Hang your new troop American Flag at your World Thinking Day event. It is a great backdrop for pictures at the event as well. If you need help planning your World Thinking Day event here are a number of great ideas.
Learning more about the American Flag and do a flag ceremony
After making the large flag as a craft, now teach your girls how to do a proper flag ceremony. So as a Scout it is important to learn how to do a proper flag ceremony. If you have never done one or need a few ideas. Here is a post I share exactly how to do a simple flag ceremony. If you do not have a flag for your troop yet here is a good one that I feel like is a perfect size even for our littlest girls to hold.
Let's not forget about fun patches
After making a amazing American Flag and doing a flag ceremony send your girls home with a fun patch to wear proudly on the back of their vest. Here is one that is perfect for the occasion and come with a free PDF with even more ideas related to putting on a Flag Ceremony.
I hope your girls have a blast making their American Flag. I would love to share all the unique flags made right here in this post. So if you have done this craft or followed my directions to make one send me a picture at [email protected] and I will add your troops flag to this post for other leaders to see.
When do I fly a flag?
The American Flag is an idolized symbol of the United States and should be properly displayed on all days when weather permits, especially on designated flag flying days. Never miss an important flag flying holiday by following the dates below: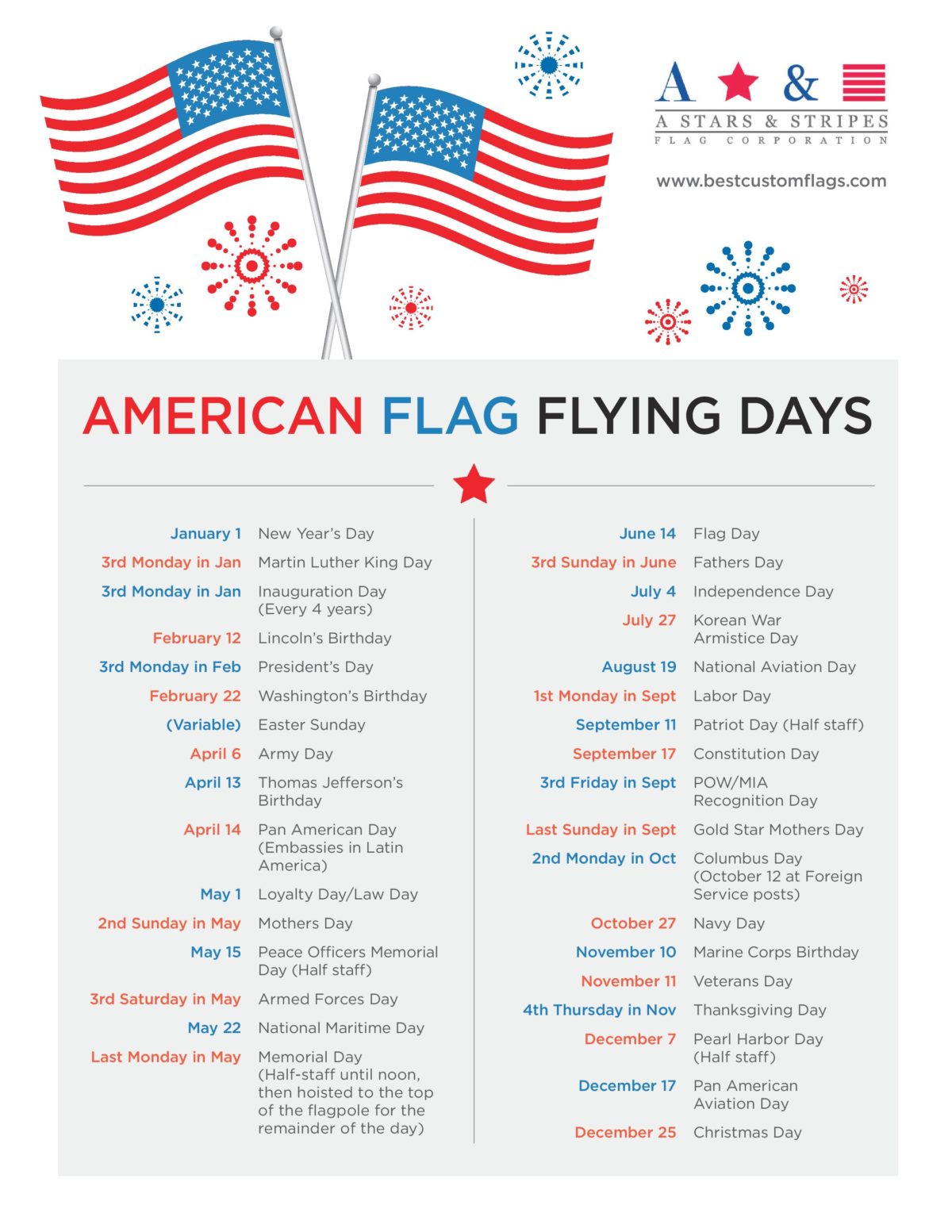 Enjoy every minute being a leader and continue to inspire your girls!