One thing that I hear a lot about in Facebook groups is leaders looking for pen pals for their girls. I thought since this is a hot topic I address it in a post. I am going to share with you how to find pen pals, a new fun way I created to interact with a pen pal and also 3 other great ways to connect with girls around the world that you may have already heard of.
If you were wondering, why would I want my troop to have pen pals? Let me tell you from first hand experience I have had a number of pen pals in past and it is a great way to learn about different cultures, or even become friends for life with someone. I have a friend on the other side of the country that I have known for 10 years, but I have only meant once but we talk weekly. As we say let's Make New Friends!
How to Connect With Other Girls In Other Troops
There are many different ways to approach being pen pals with another troop. You could exchange post cards, swaps, make cards, flat Juliettes and more. Since I was writing up all the great ideas out there for pen pals. You know me I needed to create something new for all of you to try. So I decided the Petal Fairies would be a great way to teach your girls more about living by the law while learning about other girls and making new friends. I call them the "Traveling Petal Fairies"
Traveling Petal Fairies 
If you have been on my site before you have probably meant the 10 Petal Fairies. You may have already used some of the resources
Well now I can introduce you to the Traveling Petal Fairies. They are taking it on the road. Teaching your girls more about the law while learning how other girls in other troops follow the law as well.
How do I use the Traveling Petal Fairies
First you need to download the FREE printable which includes 10 laws pen pal sheets and 1 Petal Fairy Law Card set. Download here

Then decide how you want to use them….
OPTION 1: Print the 10 pen pal sheets twice. Once for your child in your troop and second one for the girl they will be writing to. You will mail a blank one with your girls responses. Then print the Petal Fairy Law cards that are included print two sets of these as well. One to give your girl and other to mail to the girl they are writing to. You could laminate them to make them stronger. The girl starting the communication is the one mailing the fairy cards. Which is noted at the bottom of each pen pal paper. After every law is filled out and mailed give your girl that Petal Fairy Law card and then the girl receiving the letter will write back her responses while also collecting a Petal Fairy Law card.
OPTION 2: Have both parties(troops/girls) print one set of pen pal sheets and the Petal Fairy Law cards. Both girls write to each other at same time and mail the collector cards with maybe an additional note to each other on back. Again allowing for both girls to collect the 10 fairy cards.
WITH EITHER OPTION: Girls can continue this back and forth through the 10 laws. Learning more about each other while also collecting the 10 Petal Fairy Law cards. After collecting them all they will have these as a reminder to be kind to others. They could continue being a pen pal or find another troop and do it again being a sister to every girl.
There are many variations, use your imagination. My hope is that these worksheets will make having a pen pal even more fun and educational. If you love the idea get your free traveling petal fairies set now Download here.
Flat Juliette
The Flat Juliette project is a pen pal type activity that promotes literacy and international friendship.  It was a 100th anniversary project in many councils, but many years later troops still love doing it. Here are some great resources to do this type of pen pal activity with your troop.
If you want a complete program that a council used click here
What you would do is to design your Juliette then send Flat Juliette to other troops and they take pictures and write about what activities they did with her. Troop meetings, trips, events, etc. Troops can then mail back Juliette with pictures and notes about what they did.
SWAPS
How To Find Other Troops to Connect with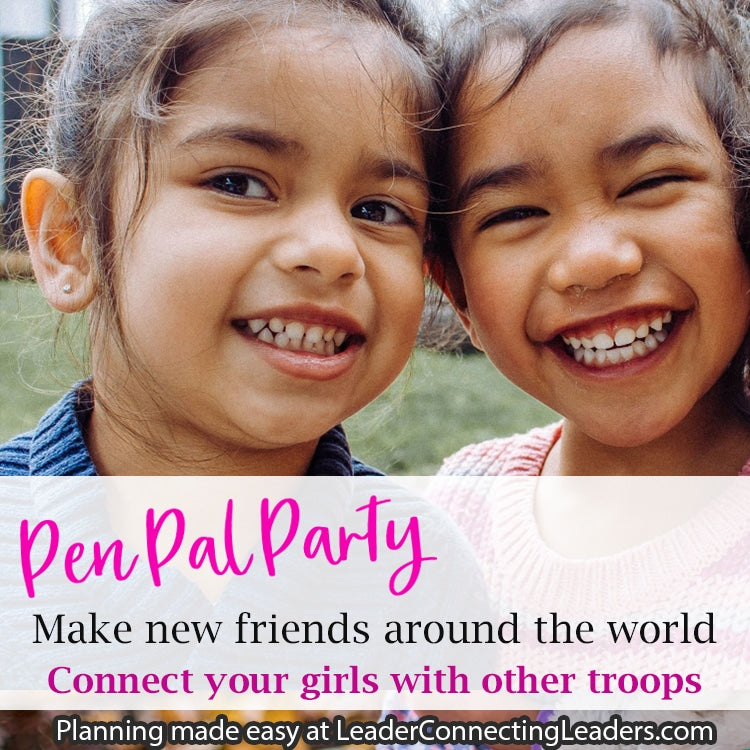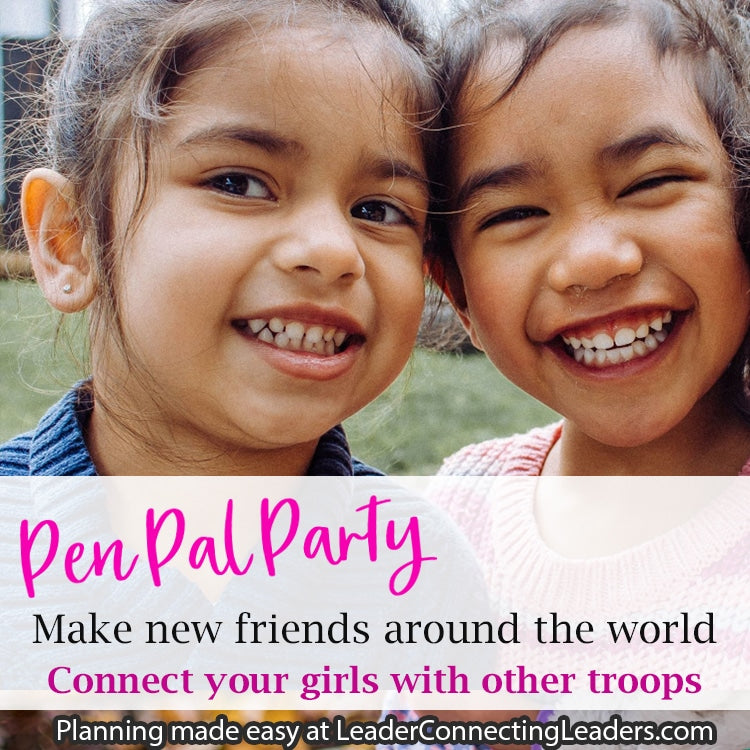 Being part of so many great communities on Facebook, often leaders just post looking for a troop to pen pal with and other leaders respond. So I decided to take that idea and make it just a little better. On my Facebook page pinned at top I am going to post a Pen Pal Party post. Then everyone who is looking for pen pals can put their information on that post, respond back to other people on that post, and make the pen pal connection you are looking for. To keep it from getting outdated and overwhelming I will put a new one up after the string gets pretty long (I wont delete old ones) so feel free to look back through the feed for older pen pal parties maybe there is still a connection for your troop in them. That way we keep it updated to what people need at the time. If you didn't find a pen pal with one post try again when a new post goes up.
I am not saying that continuing using the other Facebook groups should go away. I am just offering another way to connect.  If you are looking for more groups to join to connect to more leaders be sure to check out this post where I share 35+ best Facebook groups to help run your troop easier. 
I hope you all enjoy connecting with other troops. As always I love to connect with all of you. If you have ideas, looking for ideas, or want to share something on the blog send me an email I respond personally to every email I receive and would love to chat. Email me here or reach out on Facebook or I recently started using Instagram so lots of ways to connect.
Want more amazing ideas? Here are 12+ amazing resources to help you plan and organize your troop + FREE Kaper Chart Download
One thing we all know as leaders we need all the help we can get to make the program fun, educational, and to help build the girl leaders of tomorrow. This post is packed full with ideas for:
Kaper Chart ideas plus a free download
How to organize your troop
Collaboration Ideas
Badge Planning Resources
World Thinking Day
Cookie Season Support
Extra Fun For Meetings
How to make your troop unique
Ceremony Ideas
Enjoy every minute being a leader and continue to inspire your girls!