One fun thing to do with your girls is to teach them about another country everything from the people of country, weather, culture, food and more. You can center your whole meeting around teaching the girls about Australia.
I chose the country on my bucket list, which is Australia. I've included some general facts about the country. I thought I knew a lot about Australia, but to my surprise I learned several new things. Then beyond just the facts I have provided a pile of games, activities, fun patch suggestions, and other resources to make your event fun and educational. 
Learn Everything You Can About Australia
This is the content you can print and use to put together a poster or just share with your girls.  If you want easy to use games and activities to teach your girls these facts be sure to keep reading through this post.
Did you know? Australia is also known as "the Oldest Continent," "the Last of Lands," and "the Last Frontier." It is officially called "the Commonwealth of Australia".
Geography of Australia: It is located between the Pacific Ocean and the Indian Ocean.  The capital of Australia is Canberra. It is also the smallest continent. Australia is the 6th largest countries by area.
Australia consists of 6 States which are:
New South Wales

Queensland

South Australia

Tasmania

Victoria

West Australia
Where are the people? The population, of Australia, is 25 million. The largest city in Australia is Sydney.  Other metropolitan areas are Melbourne, Brisbane, Perth, and Adelaide. The land varies throughout Australia.  It also consists of deserts, rain forests, and mountain ranges. There are 2.5 people per kilometer.
Animals of Country are amazing: Australia has a wide variety of animals.  Koala bears, kangaroos, wombats, emus, kookaburras and dingos are some of the more popular animals.  It has 755 species of reptiles which is more than any other country. Australia has some of the most venomous snakes in the world.
Government in Australia: Queen Elizabeth II is the Queen of Australia. Governor General of Australia and Australian Prime Minister are other important positions in the government.  There are 3 branches of the government which are Legislature, Executive and Judiciary. You have to be 18 years or older to vote in Australia.
Economy in Australia: A large part of the economy is from mining-related exports, telecommunications, banking and manufacturing.  Australia has the 13th largest economy in the world. The Australian dollar is the currency used in this country.  Australia is a wealthy country with a low rate of poverty. It's ranked 2nd in the world after Switzerland.
Armed Forces in Australia: The military is called Australia Armed Forces, also called the Australian Defense Force made up from the Royal Australian Navy, the Australian Army and the Royal Australian Air Force.  The age range to apply for a job in the military is 16 and a half.
Language in Australia: There isn't an official language.  English has always been used with a distinctive accent, however there are more than 200 spoken languages used.  Mandarin is the biggest non-English language.
Religion in Australia: There is no state religion.  The Australian Constitution prohibits the federal government from making any law to establish or prohibit the free exercise of religion. Catholicism is the largest Christian group in Australia.
Education in Australia: Kids attend school from the age of 5 until 16.  Between the age of 16 and 17 they can continue to go to school or attend vocational training, apprentice or apply for the military.  There are 37 government funded universities, 2 private universities and numerous technical schools.
Food in Australia: Barbeques ("the barbie") are a traditional pastime in Australia.  Some traditional foods are kangaroo, wombat, turtle, emu, meat pie, roast lamb, seafood and snake.  Christmas in Australia is in the middle of the summer. The usual meal consists of salads and cold meats. Older generations celebrate with roast meats, roasted vegetables and plum pudding.
Recreation in Australia: Some of the popular sports and recreation in Australia consists of football, soccer, rugby, swimming, surfing, horse racing, basketball and motor racing. With so many incredible spots, it can be hard to choose, the best towns for surfers in Australia but remember no matter where you go in Australia, you'll find some of the best waves in the world.  Some of the popular kids games are Toss the Thong (Flip flop), backyard cricket, cockroach races, water play, beach frisbee and egg and spoon races.
Australia Fact Bingo Game Activity Booklet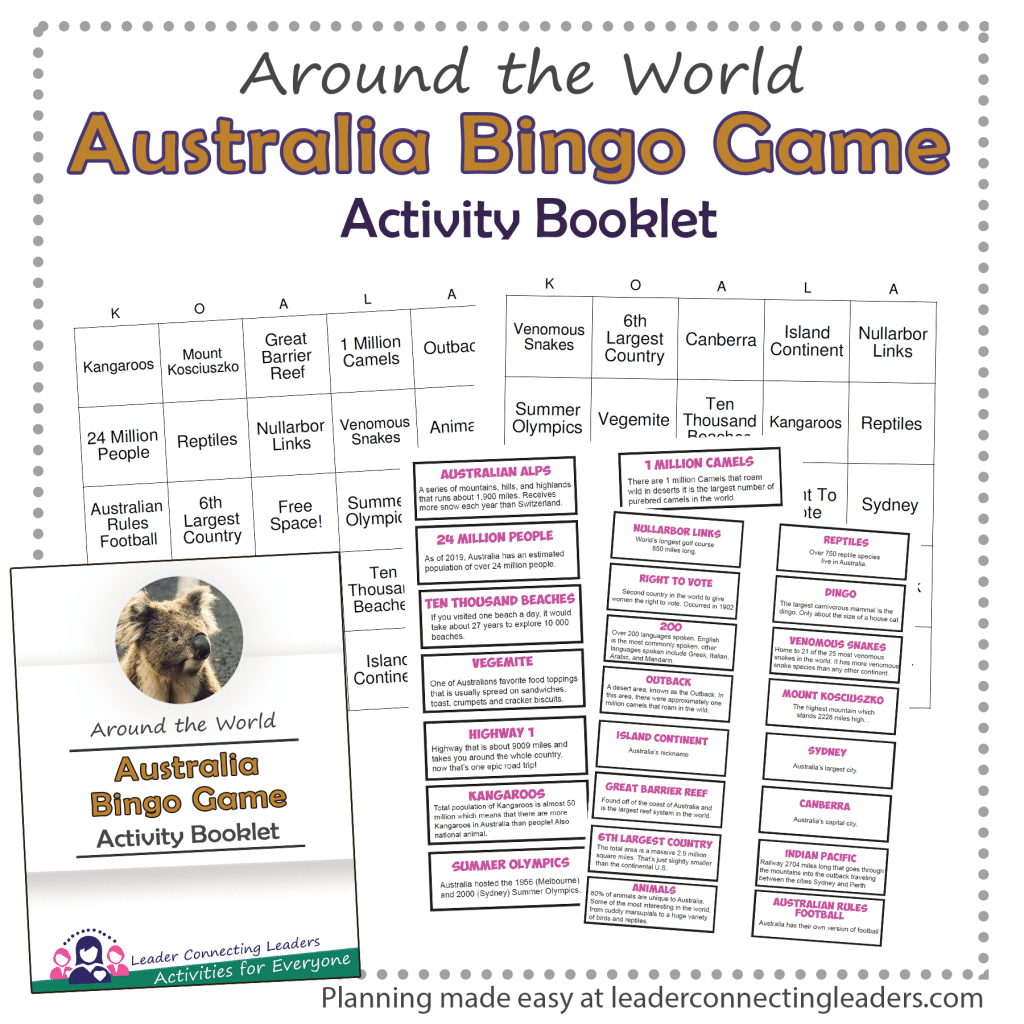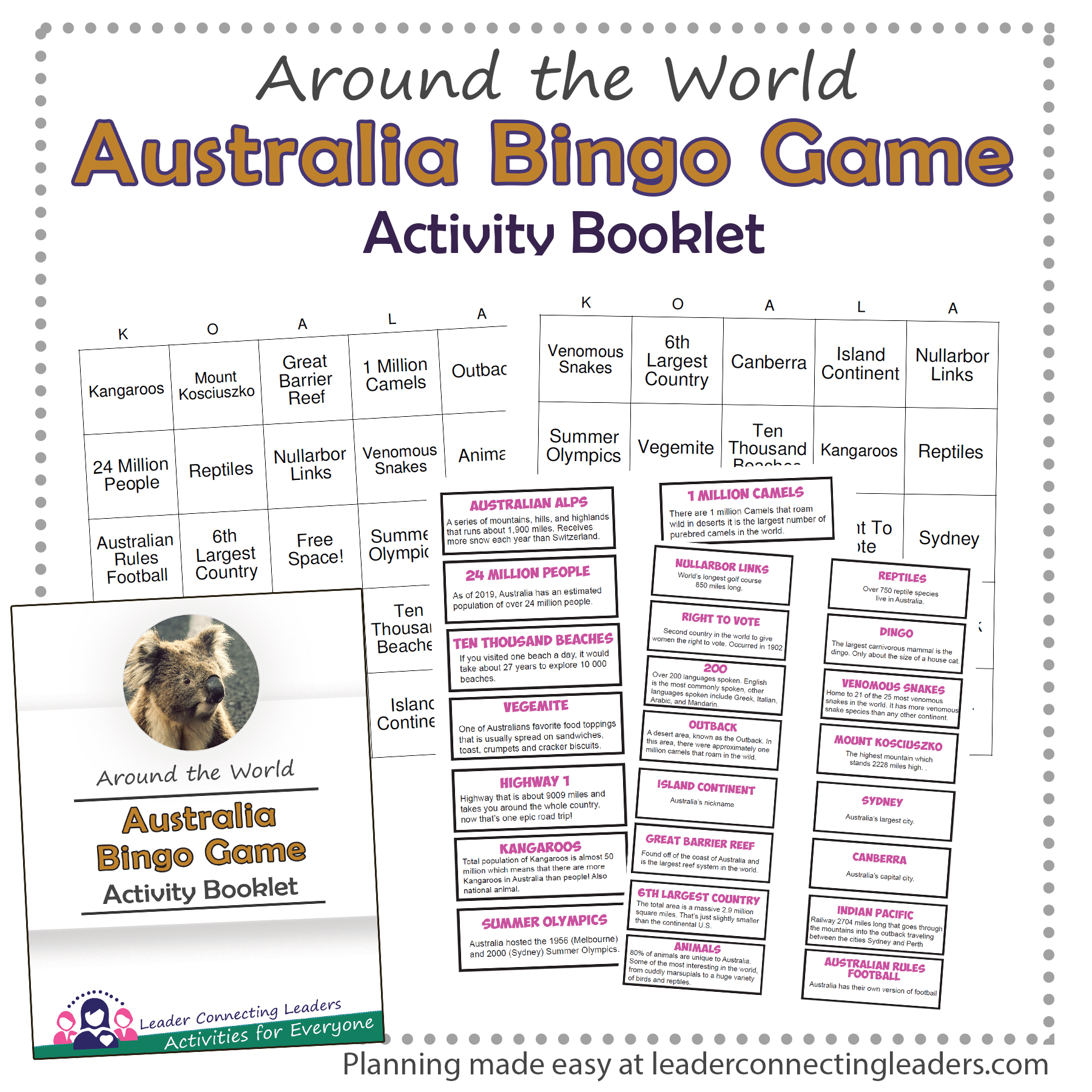 You may enjoy teaching your girls facts about Australia while playing a game of bingo. In this bingo game there are 24 different Australian facts your girls will learn about playing the game. When you draw a fact listed on the bingo cards you can also tell your girls a little bit about what each of them mean. After one game play again and have girls tell you what each fact means. Learn more and get your Bingo game to play with your girls.
4 Fun Group Games and Activities
Sandal Tossing
Using Sandals have girls see how far they can throw their sandal. Australia has 10,000 beaches so you can share with girls that people in Australia enjoy going to the beach. Whoever can throw sandal the furthest wins.
Eat a Cracker in the Shape of Australia
Using crackers have girls try to eat the cracker into the shape of Australia. It is a lot harder than it sounds.
Pin the Tail on the Kangaroo
Similar to pin the tail on the donkey but use a kangaroo and create the kangaroo tail to connect to your Kangaroo.
Photo Booth
If you love to get create pictures of your girls you could set up a photo booth with a variety of Australian type props to use in pictures. If you don't have the time to gather your own. here is a great PDF printable with 35 great Australian photo props you can print and cut out and glue to sticks to use at your event.
Quick Fact SWAP Ideas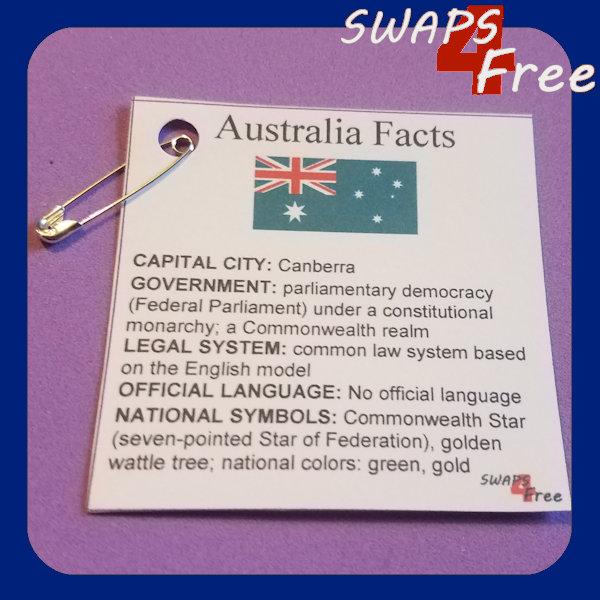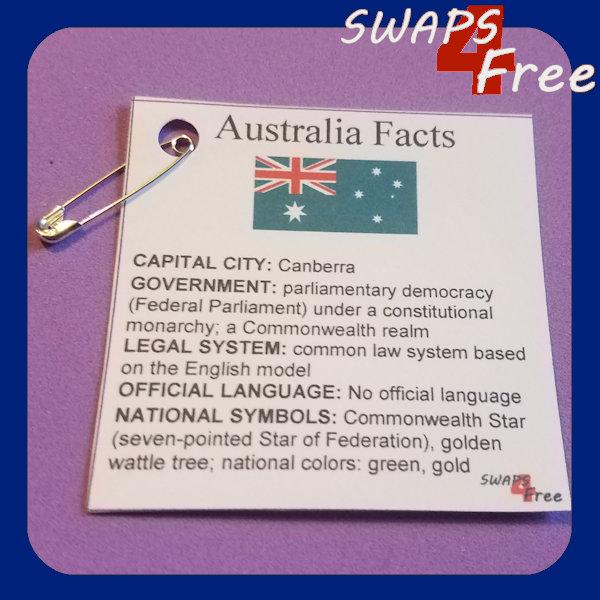 Bring all the facts the girls are learning together with these easy and free SWAP ideas related to Australia. All you need is a printer, scissors, hole puncher, beads, and safety pins to put together.  SWAPS4Free has a number of different variations of SWAP ideas for this country.
Check them out here and get printables and directions to make yours with your troop.
Learn About Australia With This Planned Booklet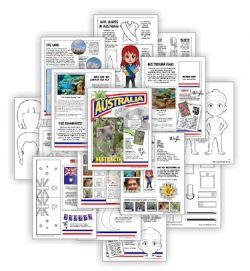 Would you love to explore the outback even more with your girls? If so you will love this 15 page Australia fun pack that comes from makingfriends.com. You will have 13 different activities to choose from to teach your girls about Australia. Or you can just pick the ones that work for your troop. These activities are great for girls from K – 5th grade. Get yours here
Fun Patch Ideas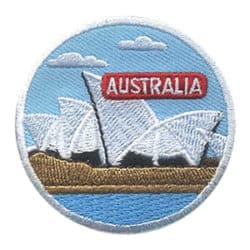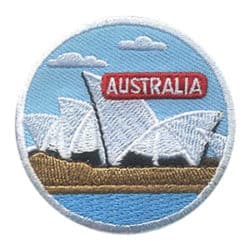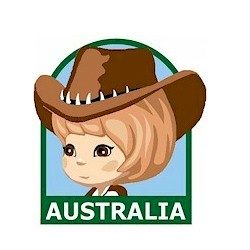 If this is still not enough Australia inspiration.
Checkout my Australia Pinterest board where I share all kinds of other great ideas people have shared online for Australia that you can incorporate into your event.
I enjoyed learning more about Australia, I hope you did too.
Before You Go…
Here are few other around the world ideas I have shared in the past that may be great for your event as well if you are doing more than just Australia.
Around the World Printable Activity Booklets
Enjoy every minute being a leader and continue to inspire your girls!
Purchase this wonderful illustrated book from Amazon.