One of my favorite parts about being a leader was being creative and coming up with new and interesting ways to teach my girls new things as well has have a blast doing it. One of my favorite themed parties or for us we turned a meeting into it, which was a pig out party/event.
Did you know? National Pig Day is held annually, in the United States, on March 1st. It is mostly celebrated in the Midwest. It was started in 1972 by sisters Ellen Stanley, of Texas, and Mary Lynne Rave, of North Carolina. Pigs are celebrated because they are important to humans. Pigs are compared to the intelligence of a 3 year old child. Scientists believe a pigs, sense of smell, is more powerful than a dogs. They are also important, as we know, for food.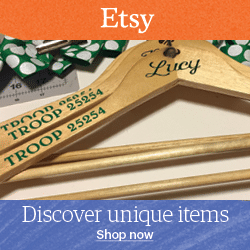 Now you may be wondering why I'm talking about pigs. This leads into a meeting theme we had which was a "Pig Out Party". We gave our girls the option to dress like a pig if they wanted to or wear pink. It was a great opportunity to help the girls earn a badge plus enjoy some delicious food. Continue on to find out what food, games, crafts, badges and fun patches would be great for this type of event.
The Low Down on a Pig Out Party…
Pig Out Party Food Ideas
We used this party as a opportunity for every level to work on cooking badges. Each level having more complex meals to make. Which meant since we had k – 12th grade girls we had snacks, appetizers, all the way up to full course meal items. Below are a few pictures and captions of my girls making different types of food. If you don't know where to start with finding the perfect recipe for your girls. Check out the Kid's Cooking Recipes and S'more Recipes pinterest boards I put together when working to set up this event.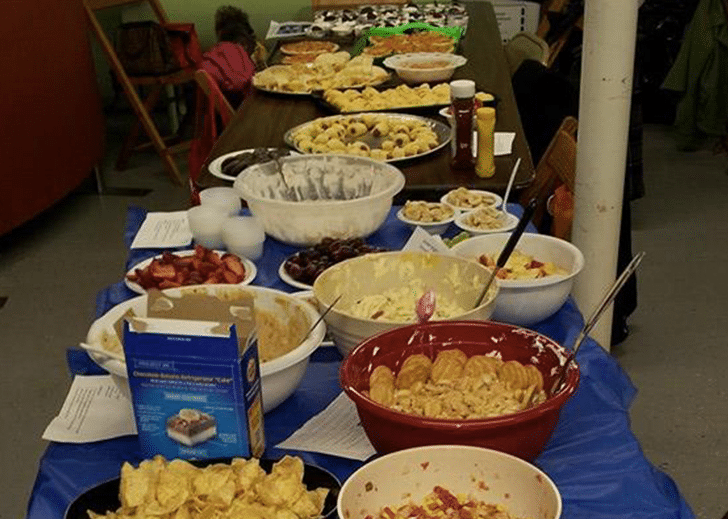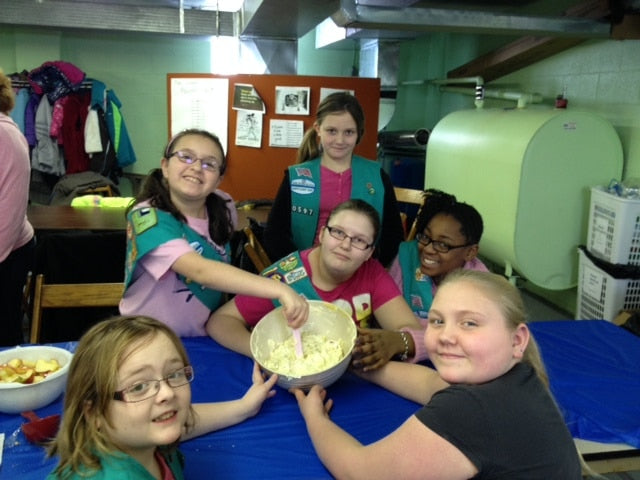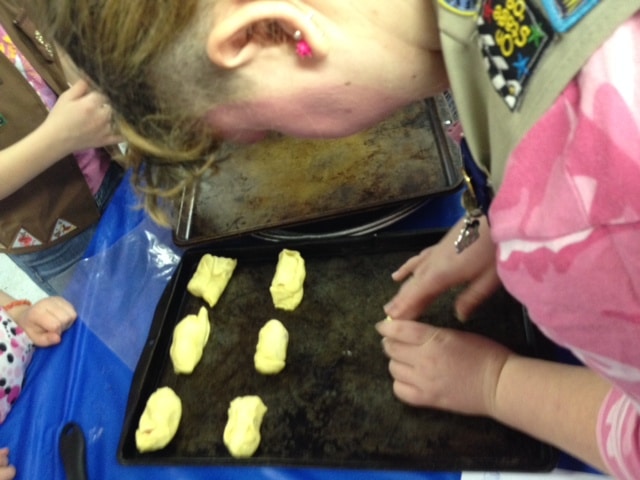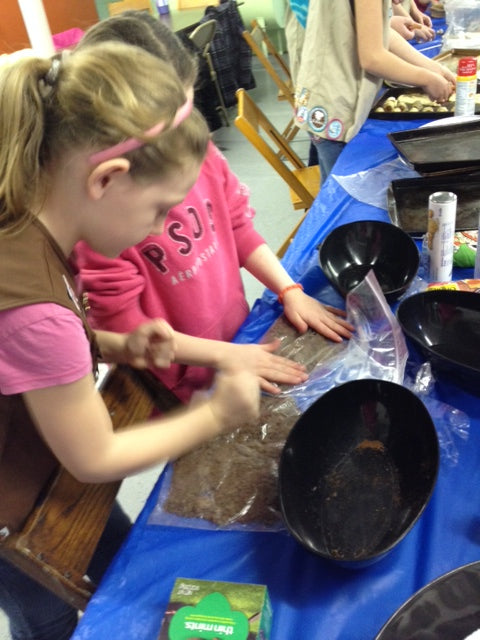 Don't want to actually cook at your pig out party?
A alternative to the cooking fun you could have a signup sheet, at the previous meeting. Each girl and leader writes down what food they would be able to bring, so you don't have duplicates.
Pig Out Craft Ideas
The craft portion of event we focused on the pig part of name.
Pig Puppets and Play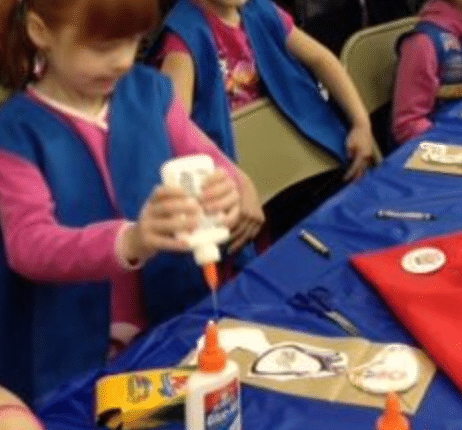 We made simple pig puppets using a paper bag and coloring cut out. We got those right off the DLTK Kid craft site which is all free. The girls wanted to do a short puppet show when they were done making their puppets. We gave they 10 minutes to come up with their show then they performed it for the adults.
Piggy Banks
We also ordered small piggy banks that were paintable pack of 12 so price was not to bad for our larger group. It was fun seeing all the various colors and designs, on the piggy banks. Our girls were excited to be able to take them home. We did this activity first so the paint would have time to dry.
Pig Out Game Idea
Build a Tower of Food
Since the idea of this event is food, why not play a game using food.
What you need: Marshmallows (1 large bag per team), spaghetti (1 box per team), tape measure.
How to play: Put girls into teams of 4 or 6 people. Each team given a box of spaghetti and bag of marshmallows. The girls must see who can build the tallest free standing tower in a set amount of time. Set timer for time you agree upon somewhere between 5 to 15 minutes is the best. At end use a measuring tape to see which team has the highest tower. You could do additional categories like tower that can be moved from one side of room to other without falling down. Tower that stands the longest without falling leave up during meeting or come up with other categories as a group before starting.
Pig Out Fun Patch Ideas
I know there are a lot of cute fun patches out there that you could incorporate into this theme. Here are a few that I love…
Cooking Fun Patch

If your girls are making s'mores then they may love this fun patch for the back of their vest after enjoying the delicious snack. OOEY GOOEY GOODNESS Fun Patch
I hope you and your girls have a great time. OINK, OINK!
---
Party Planning Kit Printables
I am so excited to present Strawjenberry's Ultimate Party Kit! Almost everything you need to plan your troop celebration is included in this kit and can be printed at home or through your local office supply store or printer. It all starts with a personalized troop banner (two options to choose from) that includes your troop number. From there you have many different supplies to create the labels, stickers and decorations that you need.
The full color party kit includes:
One personalized banner
Personalized party invitation
Four (4) styles of placecards/treat labels, including one (1) secret bonus design
"I Love Girl Scouts" flower graphic
Fifteen (15) unique and colorful "badges" to use as stickers, cupcake toppers, or decorative elements on any number of party items
A sheet of personalized gift tags
Two (2) square backgrounds to create labels for lollipops. chocolate bars or giftboxes
A set of personalized badges with your girls' names on them (you can also opt for a troop number instead)
Printable 8 1/2 x 11 Promise and Law pages–perfect for framing!
One sheet of twelve (12) blank badges
One sheet of twelve (12) level letters with heart (d, b, j, c, s, a, v)
The sky is the limit for how you can use all of these DIY elements to create the ultimate party. All items are included and have the bright and cheerful design color scheme. Get now for any party, ceremony or event you are planning for your troop.
Organize Your Troop Parties This Year with a 25+ page Leader Planner
This Leader Planner is from another amazing blogger named Jen her blog is called "I am StrawjenBerry" With the help of Jen I wrote a blog post explaining everything you will get in this planner. It has everything you need to plan your troop year. The planner contains your calendar, meeting planners, rosters and badge trackers in one safe place for when you need it. Read more
Enjoy every minute being a leader and continue to inspire your girls!