If your looking for ideas to make your meeting more fun while discovering the technology behind entertainment, you have come to the right place. Using some of these activities below your girls will start understanding the ins and outs of things like amusement park rides, sound effects, video games and animations.
Below are a few ideas to get you started.
Entertainment Technology Activity Booklet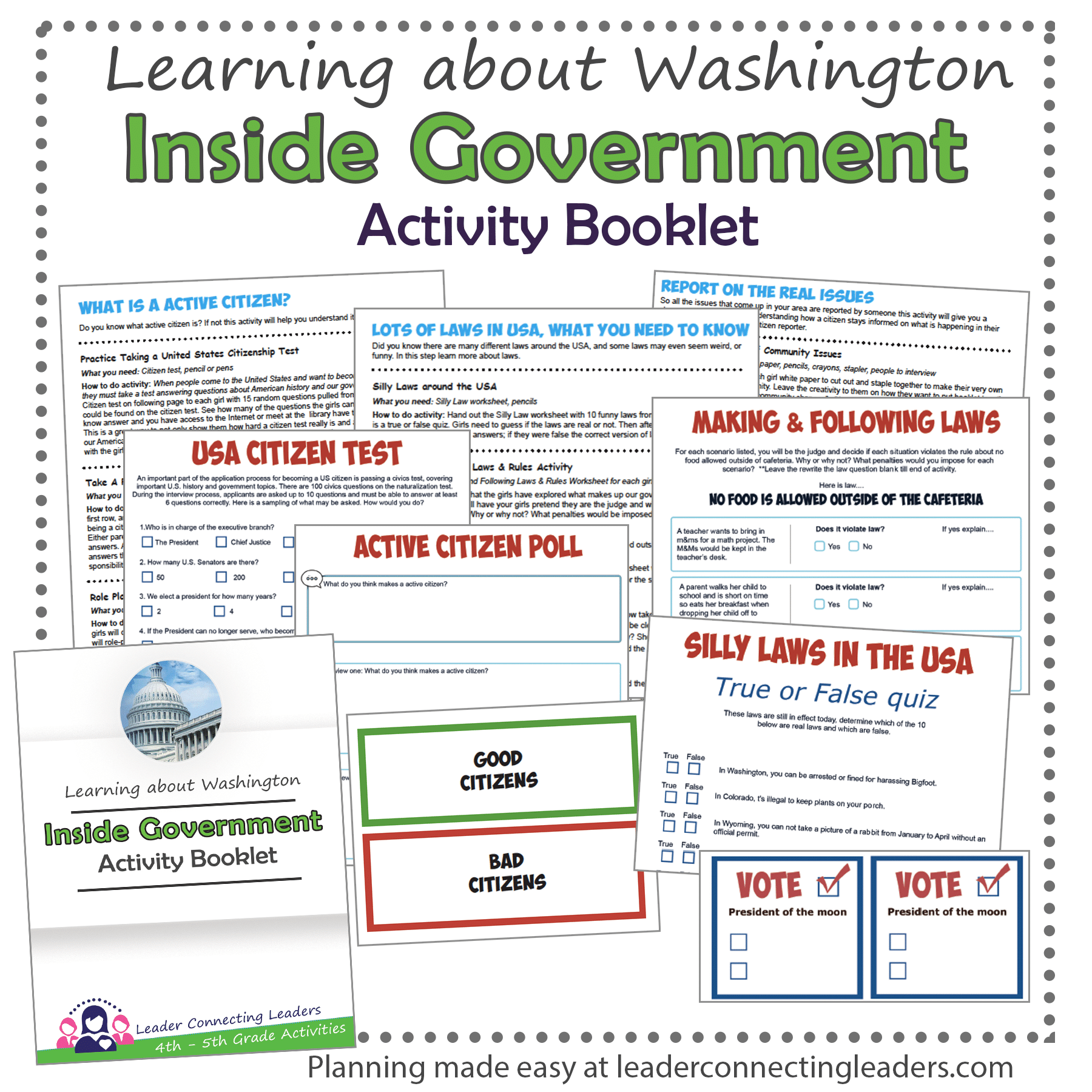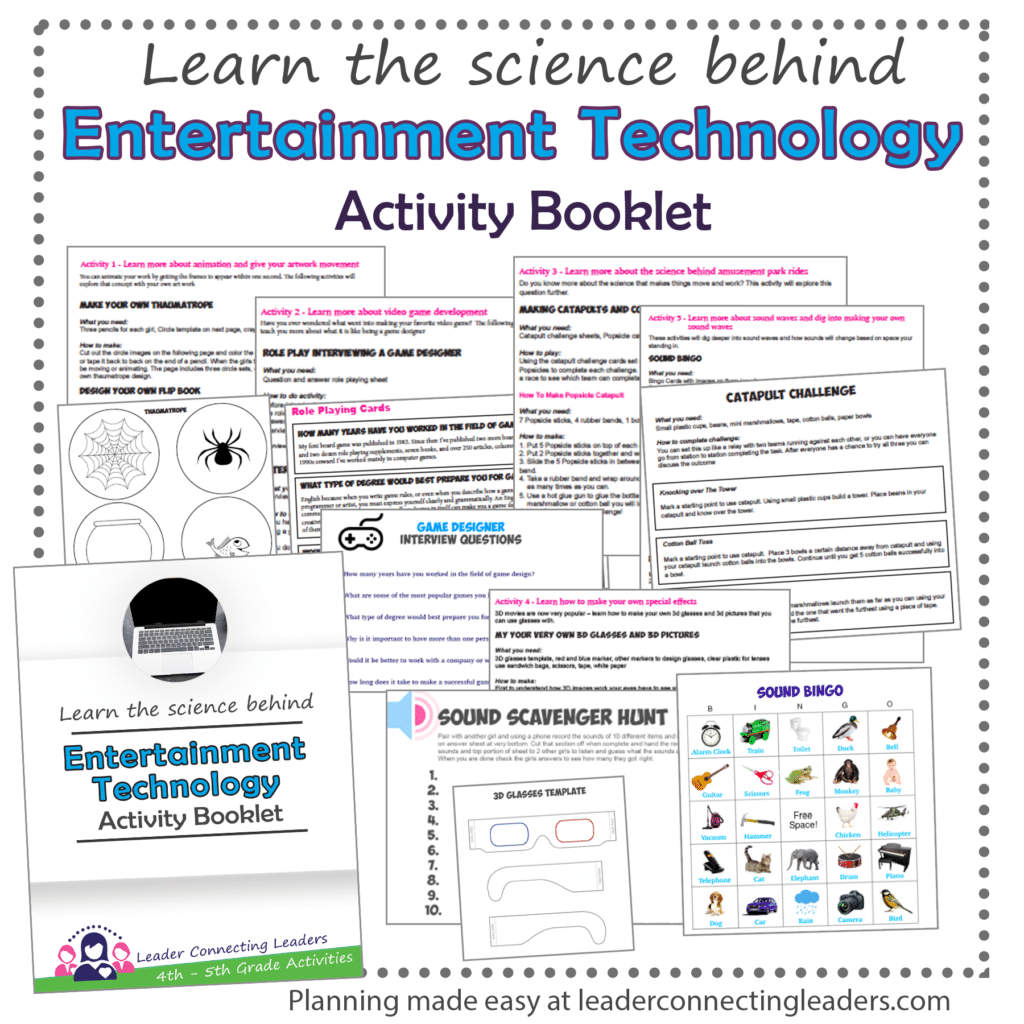 Before jumping into a few ideas, do you want to skip all the planning? If so, use this Activity Booklet with activities that are hands on to keep the girls engaged while digging into the science behind all the types of entertainment that we love to use today such as amusement park rides, sound effects, video games and animations. This badge will teach your girls more about these things using a variety of games, experiments and activities. With a step by step activities, you can't ask for a easier way to run your meeting. Learn more and get yours today!
Be sure to also checkout these other activities your girls will love:
---
Other Fun Activities To Try
Fun with Acoustics
Have your girls pick out a song that they all like. Then take them to different areas of meeting space: outside, small bathroom, large room, smaller room.  In each space play the music first with ears uncovered, then have them cover their ears with piece of paper and play it again. Talk about how the sounds are different both with and without paper and depending on the space your in that your playing the music.
Learning More About Animation
If your girls are very interested in making their very own slow motion animation. I highly recommend this how to book called Animation Lab For Kids. It has so many hands on projects the girls can run their own meeting because nothing requires prior experience. They could make their own zoetrope or flip book, and there are explanations on different methods of shooting. The girls could experiment with different art material like clay and paper. The book even covers how they can plan a film, write the script, make the storyboards and create the set. Honestly it covers much of what this badge is all about.
Marble Run Ideas
Have your girls gather up old paper towel and toilet paper rolls and make their very own marble run track. They can paint them and design them anyway they want. Below is a variation to just a simple marble run track.
Create a Roller Coaster as a Group 
What you need: Marbles, Oak tag, thin cardboard, or tagboard, Tape, Books, Cups, Scissors, Paper, Writing utensils 
How to do activity: Depending on number of girls either do as one group or split into pairs depending on girls there  Explain to the girls that they are going to explore amusement parks by building their own roller coasters. The marble will be the "car" and the other materials can be used to build the track. Girls should work together in their groups to build a roller coaster from the given supplies. They can plan their coaster before they start building using the paper and writing utensils. You may need to help girls with some of the more difficult building aspects. Encourage girls to try to make u-turns, loops, and hills. For an extra challenge, girls can try to get the marble to fly through the air into the cup. Have girls demonstrate their coasters to other groups when they are finished. 
Sound Effect Hunt
Have all the girls sit down and close their eyes. One at a time, using the directions in the chart below, make the sound effects and ask the girls to guess the sound you are simulating. Remind the girls that they are trying to guess what the sound could be, not what the sound is. 
Sound Bingo 
This is a fun game of bingo that uses sounds instead of telling you want to cover. This game comes with 4 bingo boards so you can put your girls into teams if you have more than 4 girls. It has 48 different sounds so lots of chances to guess the sounds. Get yours here: Sound Bingo Game
If you don't want to spend the time planning, our Activity Booklet has step-by-step instructions with activities that don't require any planning other than gathering supplies and printing booklets.
What do we do after your girls complete the activities?
Well of course give them the badge to display proudly on their vest, they earned it!  Additionally If you are like many leaders we want to award our girls when they complete something even beyond just the patch. One great way to show achievement is with a certificate. Don't worry you don't have to make them, I found a resource that has done all the work for you and all you have to do is print them and customize the certificates with each girl's name, badge or award earned, date, and troop leader.  Editable certificates perfect for awarding girls after earning a badge.
Organize Your Troop Parties This Year with a 25+ page Leader Planner 
This Leader Planner is from another amazing blogger named Jen her blog is called "I am StrawjenBerry" With the help of Jen I wrote a blog post explaining everything you will get in this planner. It has everything you need to plan your troop year. The planner contains your calendar, meeting planners, rosters and badge trackers in one safe place for when you need it. Read more
Enjoy every minute being a leader and continue to inspire your girls!