One fun thing to do with your girls is to teach them about another country. Everything from the people of the country, the weather, culture, food, and more. You can center an entire meeting around teaching girls about Switzerland. I've included some general facts about the country, and highlighted a few games, activities, craft suggestion, and other resources to make your meeting fun and educational.
---
Learn Everything You Can About Switzerland
This is the content you can print and use to put together a poster, or share with your girls during a meeting. If you want easy-to-use games and activities to teach your girls these facts, be sure to keep reading.
Did you know? Switzerland is the largest producer of chocolate in the world!
---
Geography of Switzerland: It is a landlocked country in Central Europe and shares a border with Germany, Austria, Liechtenstein, Italy and France. Switzerland has the highest mountains in Europe and the Swiss Aletsch Glacier is the longest glacier in Europe.The steepest cog railway in the world is going up Pilatus mountain in Lucerne, while the Rhein Falls are the most powerful waterfalls in Europe. Switzerland is divided into 26 cantons. A canton is a district, like a state in the USA.
---
Where are the people in Switzerland? The capital city of Switzerland is Bern, however, the largest city of Switzerland is Zürich with a population of 1.3 million inhabitants. The northern part of Switzerland is more populated than the southern part of the country due to the high mountains. The least populated canton is Graubünden which is located in the Alps. The biggest cities in Switzerland are: Zurich, Geneva, Basel, Bern and Lausanne.
---
Animals in Switzerland: In the Alpine regions you will most certainly encounter marmots. Marmots live in groups of up to 15 family members and these cute mammals can be seen regularly when hiking in the Alps. They whistle and quickly hide when people get too near to them or they feel threatened.
In Switzerland's forests, there are squirrels and deer, rabbits and foxes. And if you are around Zermatt, you might see the domesticated Valais Blacknose sheep.
Golden eagles are among the biggest birds of prey in Switzerland. They can grow up to 7 ft!
Switzerland doesn't have a national animal, but some cantons do have animal symbols like the bear, the bull, the ram, the lion, the ibex or the eagle.
---
Government in Switzerland: It has been termed a consociational democracy, which attempts to maintain political balance and stability, given the country's linguistic and religious diversity. The executive branch is headed by the Federal Council, a seven-member collegial board. The presidency of the Federal Council rotates among the members annually, and each councillor presides over a federal department. Power ultimately rests with the people, who vote on proposed legislation several times a year at the national level and often more frequently in the cantons.
---
Economy in Switzerland: The official national currency is the Swiss Franc and is equal to 1.10 United States dollars.
---
Armed Forces in Switzerland: Switzerland is famously neutral during times of war, but the Swiss do have an army. Swiss men all have to join the military for their military service, which lasts about 21 weeks. The Swiss Guards are also famous around the world for protecting the Vatican and the Pope. The guards have dual citizenship and are the only Swiss to be allowed to serve in a "foreign army."
---
Language in Switzerland: They has four official languages: French, Italian, German and Romansh. Not all cantons speak the same language. German is the most widely spoken language in Switzerland. Depending on where they live in Switzerland, people speak German, or German and French, or even German, French, and Italian!
---
Religion in Switzerland: Christianity is the predominant religion of Switzerland, with its presence going back to the Roman era.
---
Education in Switzerland: The education system in Switzerland is not only one of the best in Europe, but it is considered one of the top systems in the world.
Education Facts in Switzerland
Homeschooling is not common in Switzerland.
In primary school, students are schooled together. After primary school, students are separated according to their academic abilities and interests. Most schools implement placement exams to do so.
Compulsory education in Switzerland lasts for nine to eleven years.
Children must begin primary school at age six.
Primary school lasts eight years; however, only six of them are mandatory. Mandatory secondary education lasts for three years.
---
Food in Switzerland: It is very rich in taste, and there are over 450 different kinds of cheeses in Switzerland!
Popular food in Switzerland:
Fondue: When eating a fondue, people sit around the pot of melted cheese and with a special long-handled fork dip a small piece of white bread into the cheese and then eat it.
Raclette: A half cheese round is heated and the melting cheese gets scraped onto the plate.

Rösti: thinly grated potatoes and pan fried until crisp and golden. Rösti is the Swiss version of hash browns. Rösti is one of Switzerland's national and iconic dishes. Traditionally, farmers would eat it for breakfast.
Spätzli: dough noodles
It is not uncommon to find a shelf in a grocery store with about 154 or more different chocolate products!
---
Recreation in Switzerland: There are outdoor and nature barefoot trails and extensive bicycle trails throughout the country. In the north there are many museums and old architecture, while in the south, there are lakes and palm trees. Some fun recreational activities includeszip lining, aerial adventure parks, the Glacier Express train, skiing, soccer, ice hockey, tennis and basketball. Winter sports were developed in Switzerland as one of the first countries. Some of the special sports in Switzerland are flag swinging, Summer bobsledding and Schwingen, which is a type of Swiss wrestling. Some people also practise Alphorn blowing and participate in yodeling
---
Switzerland Fact Bingo Game Activity Booklet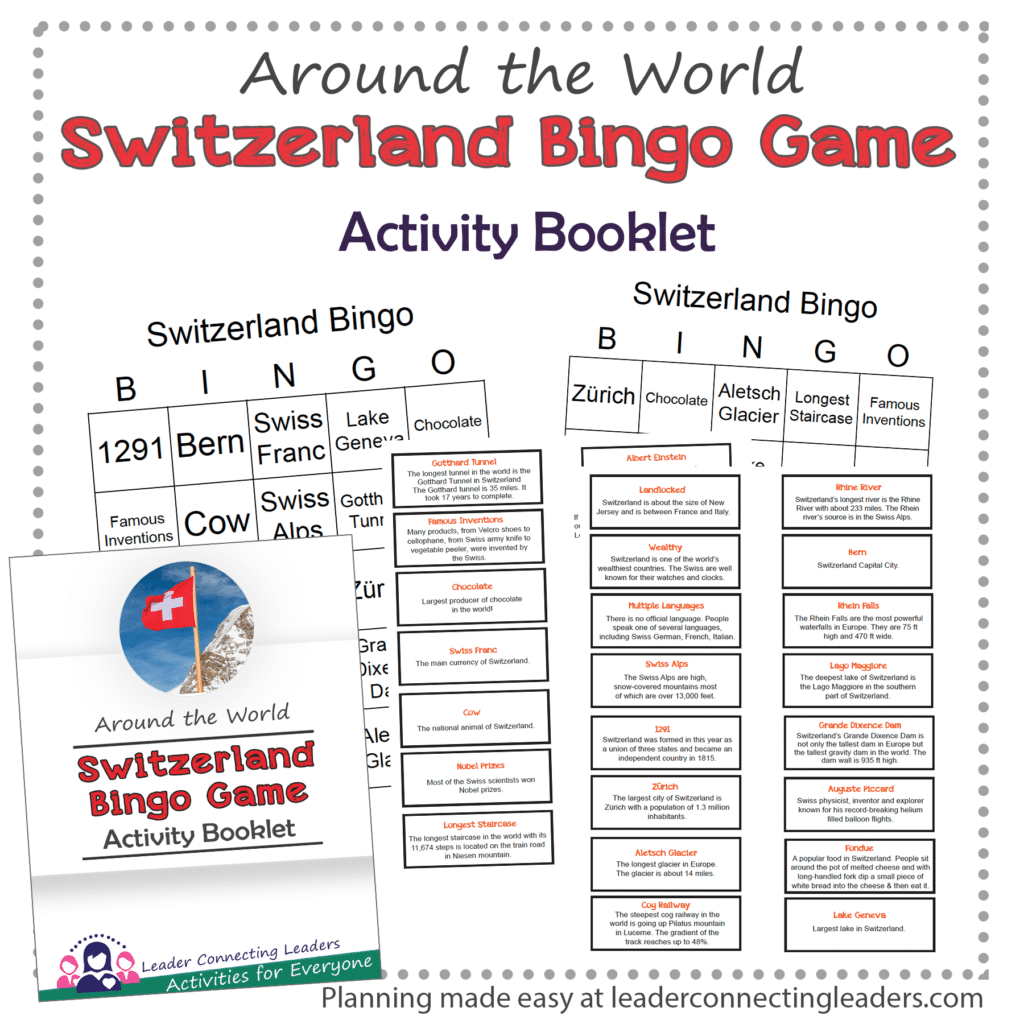 You may enjoy teaching your girls facts about Switzerland while playing a game of bingo. In this bingo game there are 24 different Switzerland facts your girls will learn about playing the game. When you draw a fact listed on the bingo cards you can also tell your girls a little bit about what each of them mean. After one game play again and have girls tell you what each fact means. Learn more and get your Bingo game to play with your girls.
---
Group Games and Activities
Chocolate Game: The chocolate game can be played by any number of children who sit around a table and take turns rolling a pair of dice. A large wrapped chocolate candy bar is placed in the middle of the table for all to see, as are a beanie hat, a long scarf and a pair of thick gloves. The first person to roll a double quickly puts on the hat, scarf and gloves, then opens and begins to eat the chocolate with a knife and fork. The child can continue to eat the chocolate until another player rolls a double and then must give the clothing and chocolate to that child. Play continues until the chocolate is gone.
---
Don't Look Back, The Fox Walks Around: Don't Look Back, The Fox Walks Around can be played by any number of children who sit in a circle facing each other. One child plays the fox and walks around the outside of the circle behind the other children. The fox carries a piece of fabric, a small stone, or another object. The fox drops the item behind one of the children in the circle. As soon as that child knows the object was dropped behind him or her, he or she jumps up and tries to catch the fox. The fox runs and tries to get back around the circle and sit in the seat of the child who was tagged. If the fox makes it back to the child's seat, the other child becomes the fox. If the fox is tagged, however, he plays the fox again and chooses another child to tag. If the child who is tagged doesn't know the item was dropped behind him or her, and the fox can run around the circle before that child realizes it, the tagged child becomes a "lazy egg," and must sit inside the circle until another child becomes a lazy egg.
---
Zwanzgerle: To play Zwanzgerle, an Easter game, two painted Easter eggs are set on a table and two players are given an equal amount of coins. The goal is to break the opponent's egg by hitting it with a large coin. If a player tosses a coin and misses the egg, he must give the other player that coin. If he hits it, he gets to keep it.
---
Diamond Painting Switzerland Flag Craft
These kits makes 24 diamond painting flag friendship swaps.They are about 2″ x 1.25″ Approximately 2″ x 1.25″ Get your kit here
If this is still not enough Switzerland inspiration. Checkout my Switzerland for Kids pinterest board where I share all kinds of other great ideas people have shared online for country that you can incorporate into your event. I enjoyed learning more about Switzerland, I hope you did too.
---
Before You Go…
Here are few other around the world ideas I have shared in the past that may be great for your event as well if you are doing more than learning about 1 country.
Enjoy every minute being a leader and continue to inspire your girls!
Purchase this wonderful illustrated book from Amazon.