If your looking for ideas to make your meeting more fun while discovering what it takes to really afford that dream home, dream vacation, or what their dream jobs will allow them to afford, you have come to the right place. Using some of these activities below they will explore their dreams with some fun activities, and at the same time take it a step further and actually figure out how to finance their current dreams at this point, and talk about the things they may need to give up or pull back on depending on what they can afford.
Below are a few ideas to get you started.
Finance Your Dreams Activity Booklet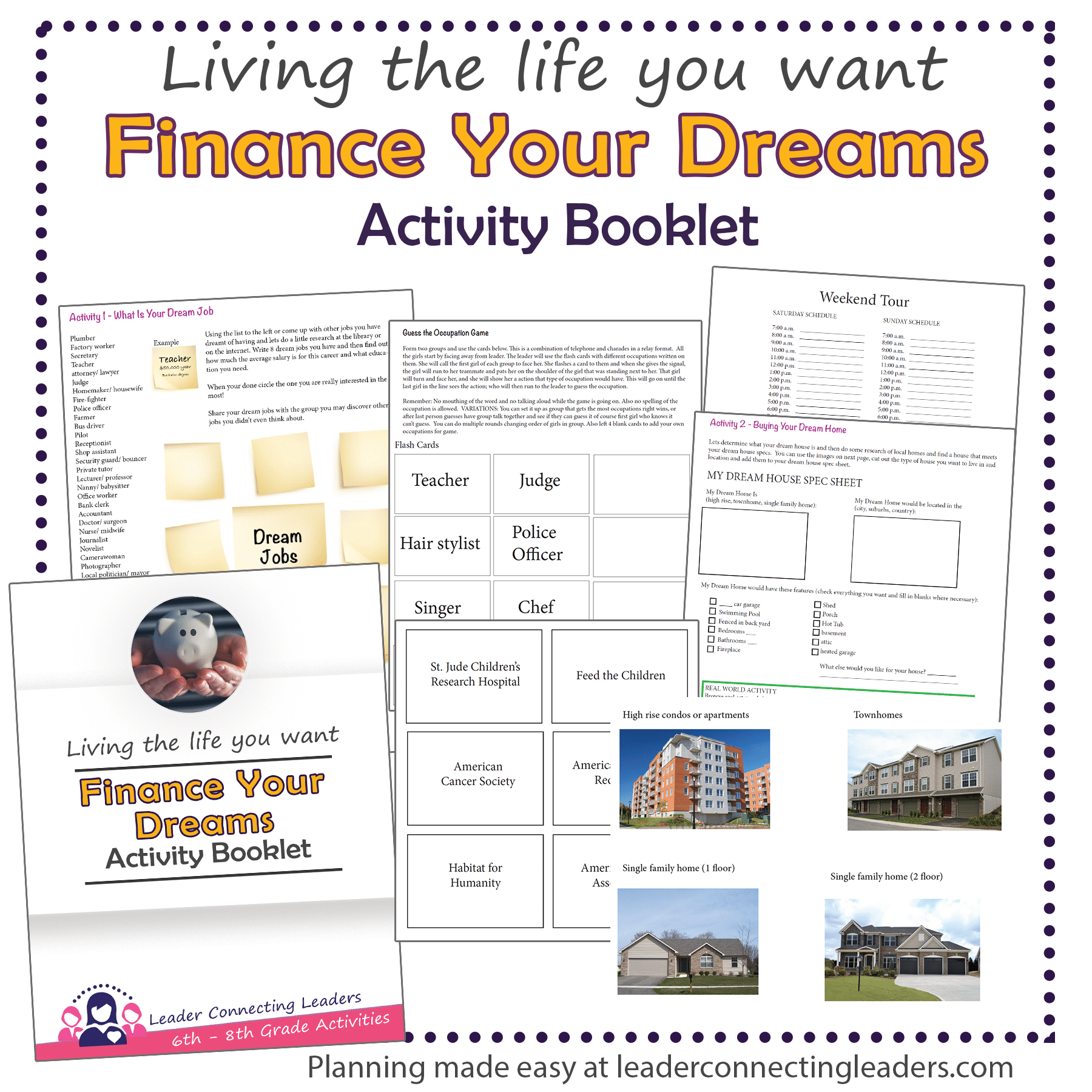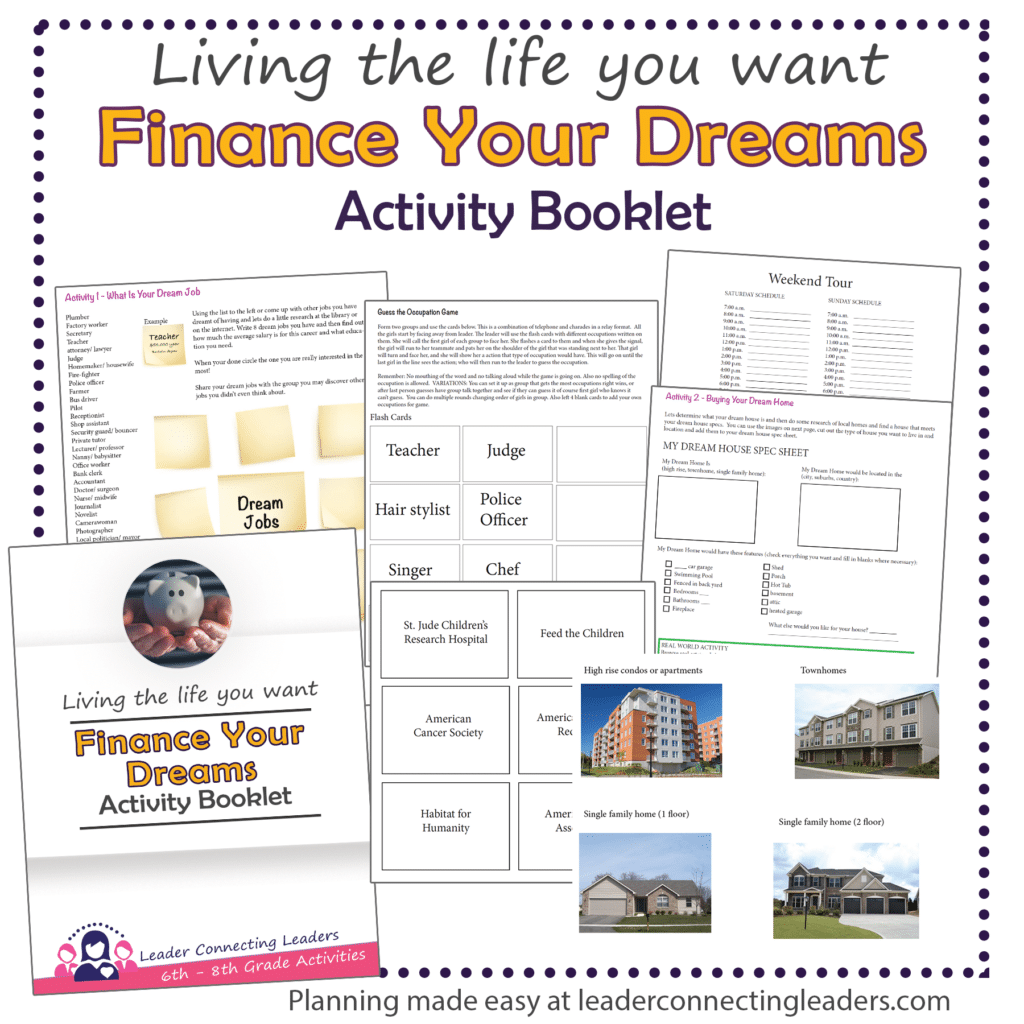 Do you want to skip all the planning? If so, use this Activity Booklet with activities, games, and worksheets to allow your girls to take over the meeting and the girls will explore their dream homes, dream jobs, charities, and vacations, and play a few games, role play, and really focus in on what they really want out of life.
With these activities your girls can start early to daydream about their future, what type of job they will have, what type of home they would love to have, vacations they will take, charities they will help, but simply sitting down and doing a bunch of research is pretty boring. So instead why don't we make it a little more fun. There are places in this booklet it is best to have internet access so girls can do extra research on charities mentioned, job searching, and vacation dreaming. It includes a activity and a real world activity which allows for some fun and then drive it home with some real world research on the girls dreams. Learn more get yours today!.
Be sure to also checkout these other activities your girls will love:
---
Other Fun Activities To Try 
Dream Board
Give each girl a poster and a pile of magazines. Gather up writing supplies and scissors and glue and then tell the girls we are going to start this badge by creating a board displaying all your dreams. What you want out of life. Then after the boards are all done you can dig into how your going to finance those dreams.
Virtual Badges
I don't know if you have heard of this pretty cool site called Virtual Badges. It has a pile of badge support especially for older girls 6th grade and up and they are all free. You can pick a topic and there are 4 to 5 activities to do related to it. Saves you from having to plan a lot of stuff. Here is everything they have to help you with Finance Your Dreams And Future.
Learning Ledger
I came across this very cool concept on Etsy called "My Learning Ledger" which is a spiral bound workbook that will help your girls manage their money, will teach your girls banking terms, money management and real life math skills you will need to finance your dreams. Check out this book here.
What do we do after your girls complete the activities?
Well of course give them the badge to display proudly on their vest, they earned it!  Additionally If you are like many leaders we want to award our girls when they complete something even beyond just the patch. One great way to show achievement is with a certificate. Don't worry you don't have to make them, I found a resource that has done all the work for you and all you have to do is print them and customize the certificates with each girl's name, badge or award earned, date, and troop leader.  Editable certificates perfect for awarding girls after earning a badge.
More Resources For You Beyond This Site
I get asked a lot what other resources are out there on the internet for Leaders.  I have done some digging over the years and have used many of the resources myself. I compiled a list of some great companies that sell patches, programs and also other bloggers offering amazing resources that may fit your needs even better than my site did.   Checkout what I found.