Earth Day is a great time to teach your girl's about saving the earth and making a difference.  Earth Day is always celebrated on April 22nd. It raises awareness for the environment and care of our planet.  
Did you know? The first Earth Day was started in 1970, which means the 50th anniversary will be in 2020. More than 1 billion people in 192 countries take part in Earth Day activities.  It started out because their was so much smog and pollution in the world. Now we have several endangered species that are at risk for extinction including bees, giraffes, coral reefs, whales, elephants, and insects.
How can you celebrate Earth Day? Here is a list of things to start with that you could do all year long not just on Earth Day, but if you are not doing it now April 22nd is a great day to start. This is a great list to share with your girls and discuss as a group to see what the girls can do at home and every day to make the world a better place.
Reduce, reuse, recycle

Conserve water

Shop wisely (Use reusable bags)

Use long lasting light bulbs

Use non-toxic chemical at home and work

Bike more drive less

Start a compost in your garden

Switch to paperless bills

Use refillable water bottles

Turn off lights, fan or t.v. when you leave the room.

Don't leave the water on when you brush your teeth
What To Do With Your Troop On Earth Day
Beyond just discussing with your girls what Earth Day means and how they can make a difference to helping the planet here are 14 great ideas for your troop to do on Earth Day. They come from another amazing Scouting blogger so be sure to subscribe to her blog as well.
Even more ideas….
Making Seed bombs
Plant a tree
Clean the beach

Volunteer for a cleanup in your community

Start a vegetable garden in pots or a small plot
Create posters with environmental themes and ask teachers to post them in their
classrooms.
Inspiration: Helping our planet is another great focus for a Gold Award or take action project. Here is a story about a girl who focused on Water pollution for her award. There is so much this planet needs lets all step up and make a difference.
Earth Day Every Day
Teach your girls more about what it means to take care of the earth we live in. One of my favorite picture books that covers the subject great is called "Earth Day Every Day"  This book will take you on a adventure to discover how everyone can be a planet protectors. Teach your girls how to reduce, reuse, recycle, and more with this adorable picture book.
Earth Day With My Troop
Over the years our girls have done a number of things to help the environment. One of their favorites was when they decided to do a cleanup day in our neighborhood with our troop.  The girls each brought gloves and and a trash bag. We also did a photo scavenger hunt related to Earth Day and protecting earth. The trash and recyclables were separated and the recyclables were dropped of at our local recycle drop center.  After we were all done we stayed at the park and had a pizza party.
Earth Day Scavenger Hunt, Bingo, and 4 Corner Game Activity Booklet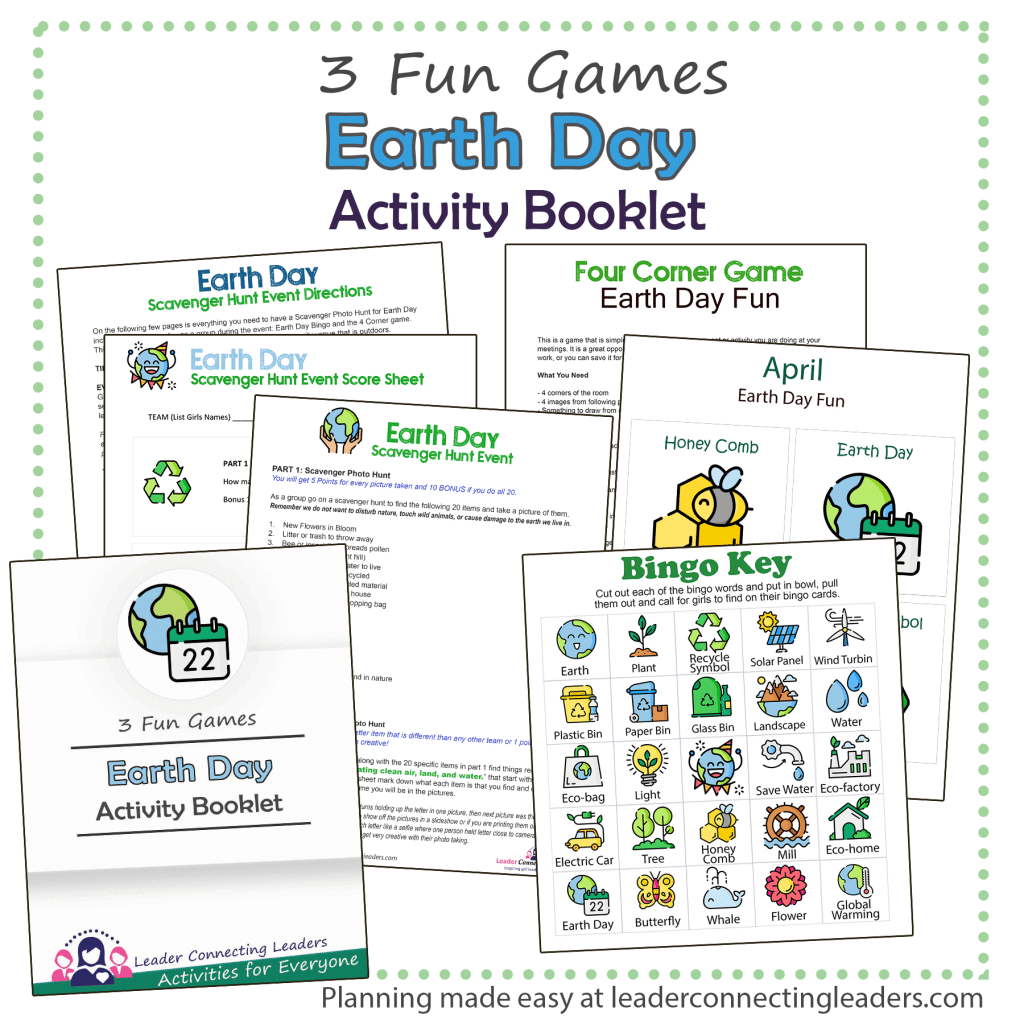 This booklet includes everything to put on a Scavenger Photo Hunt for Earth Day event. Girls will search and find items and take pictures of the items they find. They will also have fun taking pictures related to each letter of the alphabet associated with why we celebrate Earth Day: Clean water, land, and air.  It also includes 2 games to play as a group during the event: Earth Day Bingo and the 4 Corner game. Learn more and get your booklet now.
Fun Patch Ideas
Depending on the area you are focusing on for your event you will love one of these adorable fun patches from Madaboutfunpatches.com
Where else can I get resources for Earth Day?
Everyone can do their part to keep our planet clean.  The more we educate our younger generation the cleaner our planet can be.  We can all make the world a better place.