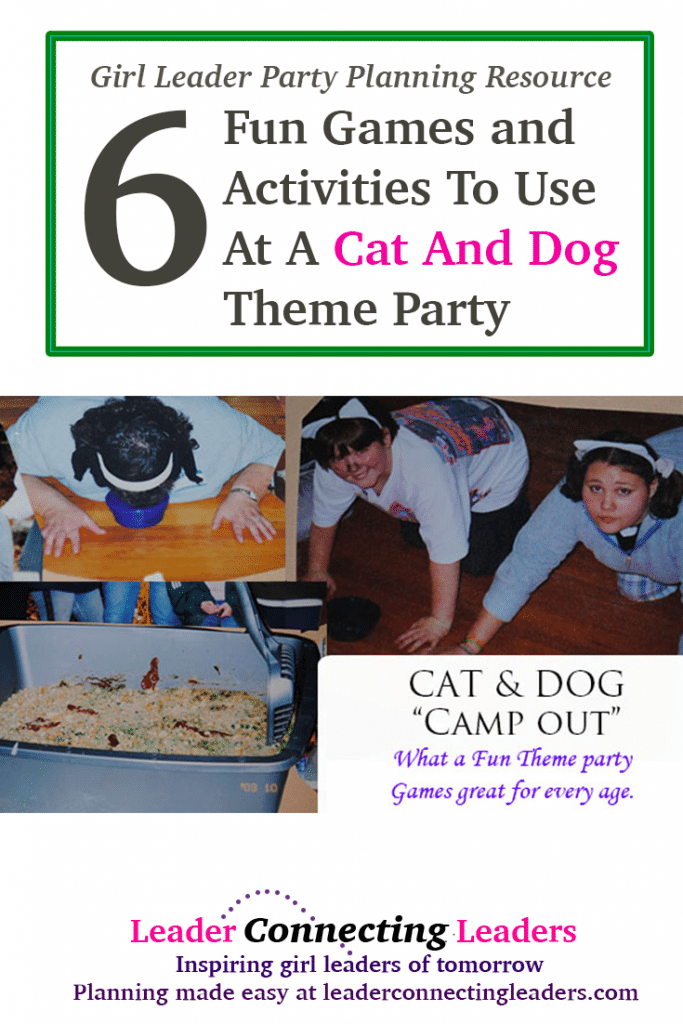 A great halloween or camp theme party; a dog/cat theme costume campout; everyone was to come dressed as a dog or a cat. Prizes were given to the greatest number of either dogs or cats (dogs won) then we gave special prizes (candy or scout cash) for each one of the following a collar, leash, animal toy, name tag etc. The greater detail on the animal the better, one person (dog) brought a stuff cat to chase.
You may also be interested
Messy Game
We played one game that everyone seemed to really like, we went out and bought new a dog bowls (dollar tree) and washed them out. Then we went and bought Jell-O in the single serving containers. We laid a roll of plastic along the floor and placed the dishes with the Jell-O in it. Then each scout got down on all fours in front of her dish, and on go they had to eat it just like a dog/cat (no hands). We gave 1st, 2nd and 3rdplace prizes.
Cat Fun Game
Not to neglect the cats we got cat pooper scoopers and tootsie rolls, we took the tootsies rolls and threw them all around the floor, then we formed teams and gave each a pooper scooper, on go first person in line had to run down and scoop up a tootsie roll and place into a container at the end of room, then run back and pass the scooper and go to back of line this continued until first team all got to go and they were the winners. First team got two pieces of candy and 2nd team got one piece for participation.
One of the desserts was kitty litter cat: Be prepared a lot of reactions and some will not even try it, but it is very tasty.
Kitty Litter Cake
You'll need a new kitty litter box, box liner and litter scoop as "props" to get the full effect with this cake!"
INGREDIENTS:
1 (18.25 ounce) package German chocolate cake mix
1 (18.25 ounce) package white cake mix
2 (3.5 ounce) packages instant vanilla pudding mix
1 (12 ounce) package vanilla sandwich cookies
3 drops green food coloring
1 (12 ounce) package tootsie rolls
DIRECTIONS:
Prepare cake mixes and bake according to package directions (any size pan).
Prepare pudding according to package directions and chill until ready to assemble.
Crumble sandwich cookies in small batches in a food processor, scraping often. Set aside all but 1/4 cup. To the 1/4 cup add a few drops of green food coloring and mix.
When cakes are cooled to room temperature, crumble them into a large bowl. Toss with 1/2 of the remaining cookie crumbs, and the chilled pudding. You probably won't need all of the pudding, you want the cake to be just moist, not soggy.
Line kitty litter box with the kitty litter liner. Put cake mixture into box.
Put half of the unwrapped tootsie rolls in a microwave safe dish and heat until softened. Shape the ends so that they are no longer blunt, and curve the tootsie rolls slightly. Bury tootsie rolls randomly in the cake and sprinkle with half of the remaining cookie crumbs. Sprinkle a small amount of the green colored cookie crumbs lightly over the top.
Heat 3 or 4 of the tootsie rolls in the microwave until almost melted. Scrape them on top of the cake and sprinkle lightly with some of the green cookie crumbs. Heat the remaining tootsie rolls until pliable and shape as before. Spread all but one randomly over top of cake mixture. Sprinkle with any remaining cookie crumbs. Hang the remaining tootsie roll over side of litter box and sprinkle with a few green cookie crumbs. Serve with the pooper scooper for a gross Halloween dessert.
Dog Games
Who Let the Dogs Out
Playing the song "Who let the dogs out" and form teams and put a container that girls have to run to end of room and around and back to their team before next girl(dog) runs, two things they had to do: run on all fours and bark all the way down and back, this was a very noisy game but fun.
Bark Contest
Simple game was who could bark the best we judged the top 5 then had a bark off..we had girls that sounded like mean dogs, happy dogs and even one sounded like a puppy.
Dig for Bones
Fill two large tubs with sands and dog bones. Divide the children into even teams. On "Go," each team runs to their tub and starts digging for bones. After five minutes, the team that finds the most bones wins the game.
Dog Tricks
Fill balloons with slips of papers with different dog tricks and scatter around floor, we formed teams at go the first girl in each line runs picks a balloon and pops it, does the dog trick and then runs back to next one in line this continues until whole team has done a trick. Some ideas:
Roll over
Play dead (count to 5 before you can get up)
Chase your tail …(3 times in circle)
bark like a Chihuahua (all the way back to team)
Howl at the moon (all the way back to team)
Sniff around for your bone (all the way back to team)
Wag your tongue (all the way back to team)
---
Party Planning Kit Printables
I am so excited to present Strawjenberry's Ultimate Party Kit! Almost everything you need to plan your troop celebration is included in this kit and can be printed at home or through your local office supply store or printer. It all starts with a personalized troop banner (two options to choose from) that includes your troop number. From there you have many different supplies to create the labels, stickers and decorations that you need.
The full color party kit includes:
One personalized banner
Personalized party invitation
Four (4) styles of placecards/treat labels, including one (1) secret bonus design
"I Love Girl Scouts" flower graphic
Fifteen (15) unique and colorful "badges" to use as stickers, cupcake toppers, or decorative elements on any number of party items
A sheet of personalized gift tags
Two (2) square backgrounds to create labels for lollipops. chocolate bars or giftboxes
A set of personalized badges with your girls' names on them (you can also opt for a troop number instead)
Printable 8 1/2 x 11 Promise and Law pages–perfect for framing!
One sheet of twelve (12) blank badges
One sheet of twelve (12) level letters with heart (d, b, j, c, s, a, v)
The sky is the limit for how you can use all of these DIY elements to create the ultimate party. All items are included and have the bright and cheerful design color scheme. Get now for any party, ceremony or event you are planning for your troop.
Organize Your Troop Parties This Year with a 25+ page Leader Planner
This Leader Planner is from another amazing blogger named Jen her blog is called "I am StrawjenBerry" With the help of Jen I wrote a blog post explaining everything you will get in this planner. It has everything you need to plan your troop year. The planner contains your calendar, meeting planners, rosters and badge trackers in one safe place for when you need it. Read more
Enjoy every minute being a leader and continue to inspire your girls!