From the Founders of Think Outside Boxes
Autumn is officially here! 'Tis the season for falling leaves, bon fires, and end-of-the-season camping! With the changing weather, hot cider and s'mores are a surefire way to continue to enjoy the outdoors, even as the temperatures cool in many regions of the United States..
As you plan your next outdoor gathering, whether it be camping or a bonfire, utilize that time to teach your girls the principles of starting a fire with a simple steel striker and flint. A good fire striker can last many years with minimal care and maintenance compared to its fluid filled rival—not to mention, it's still effective in rainy or wet conditions.
Safety first! Starting a fire should always be practiced under adult supervision. Never start a fire directly on the grass, it should be placed within a contained area (like a fire ring) and be at least 15 feet away from your shelter, tent, or anything else at risk of catching fire. Be aware of your state's warnings, especially in dry climates that are prime conditions for forest fires. Last but not least, never leave a fire unattended!
How to build a fire
Time to teach the basics! Reference these tips to help set your youngster up for success and confidence in learning how to build a fire.
Create kindling and tinder from gathering dried grass or leaves.
Collect fallen sticks or branches of different sizes and thicknesses.
Place your kindling and tinder in the center of your fire ring. Make sure it is piled together in one area, but loose enough so that oxygen can feed the flame.
With your flint and fire striker, grasp the flint in one hand and the striker in your dominant one.
Hold the flint at a 45-degree angle next to the tinder. As you maintain pressure on the rod, swipe the strike at a 45-degree angle down the flint rod away from you to create a spark towards the tinder.
You may have to repeat the process until the tinder catches a good spark. Be careful, the sparks are hot!
As your tinder catches fire, slowly feed it smaller sticks until they catch a good fire. Be sure not to crowd your initial fire.
With the sticks beginning to burn, you can add larger sticks and logs continuing to monitor it.
With your fire started, why not plan a campfire dinner? Check out this campfire cooking challenge, and challenge your #OUTSiDER to plan a meal that must be cooked on a campfire. Let them be creative and gain confidence as they learn key survival skills—both fire starting and cooking!
Over & Out!
THiNK OUTSiDE
What else do I do at a camp out? 
Beyond the campfire challenge
Do you want to jump head first into doing more outside activities with your troop? Most leaders will say yes. But if you are like me where you don't know much about outdoor skills or maybe you just don't have time to plan for outdoor activities Think Outside has you covered.
I have had the opportunity to try their monthly subscription service for a few months and it has made getting outside with my kids so much easier.  If you are interested in the service here is my honest review of the first two boxes or visit their website directly here for more information on their monthly subscription service. Keep THiNK OUTSiDE updated on how you create family connection time in your household, by tagging them in your troops activities on social media using @thinkoutsideboxes.
As troop leaders the cost of supplies can be hard. If you have been reading along on the blog and would love to get in on some of these amazing activities THINK OUTSIDE has to offer they now have a bulk subscription offer if you purchase 6 or more boxes shipped to the same address they are only $25 per month/box plan.
To get the bulk pricing, sign up here. 
For 2-5 orders to the same address, you can get them for $29.95 per month/box plan. Use code
FAMILY5
  at
check out here
What else can I do with my troop outside?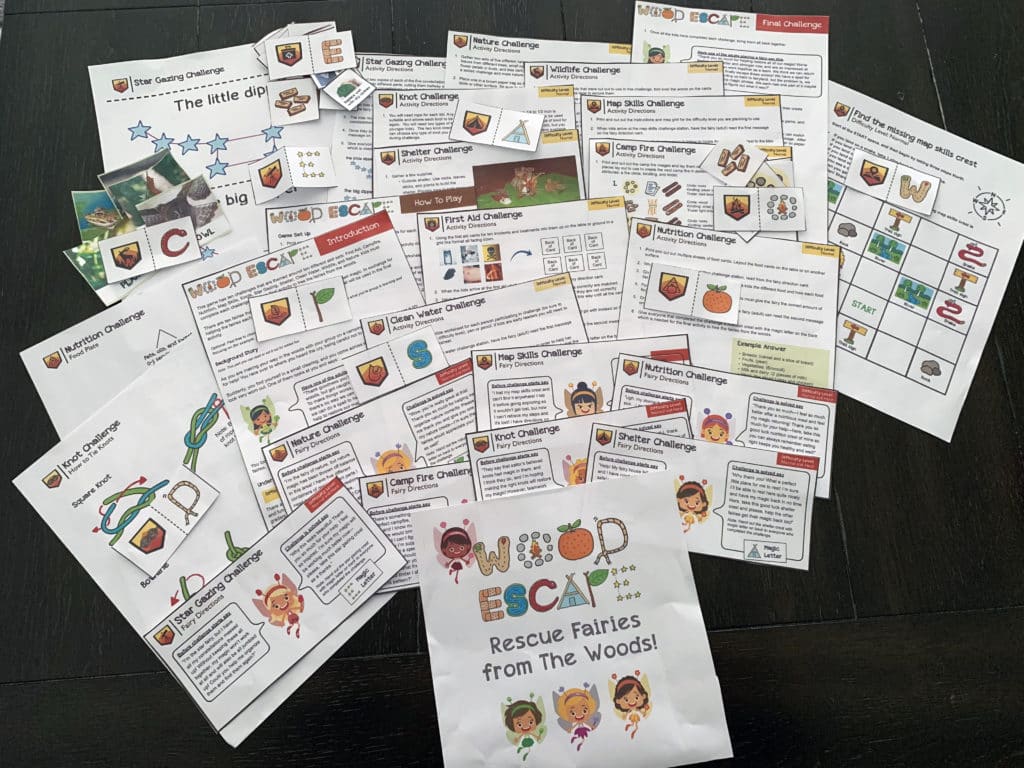 This game has ten challenges that are themed around ten different skill sets: First Aid, Campfire, Nutrition, Map Skills, Knots, Star Gazing, Shelter, Clean Water, Wildlife, and Nature. Girls must complete each challenge and do a final activity to free the fairies from the woods. Get your copy of this game now.
Outdoor Artist Activities
Enjoy every minute being a leader and continue to inspire your girls!