If your looking for ideas to make your meeting more fun while discovering how to draw like a professional comic artist, you have come to the right place. Using some of these activities below they will learn from the pros, and then draw some of their very own comics to share with friends and families.
Below are a few ideas to get you started.
Comic Artist Activity Booklet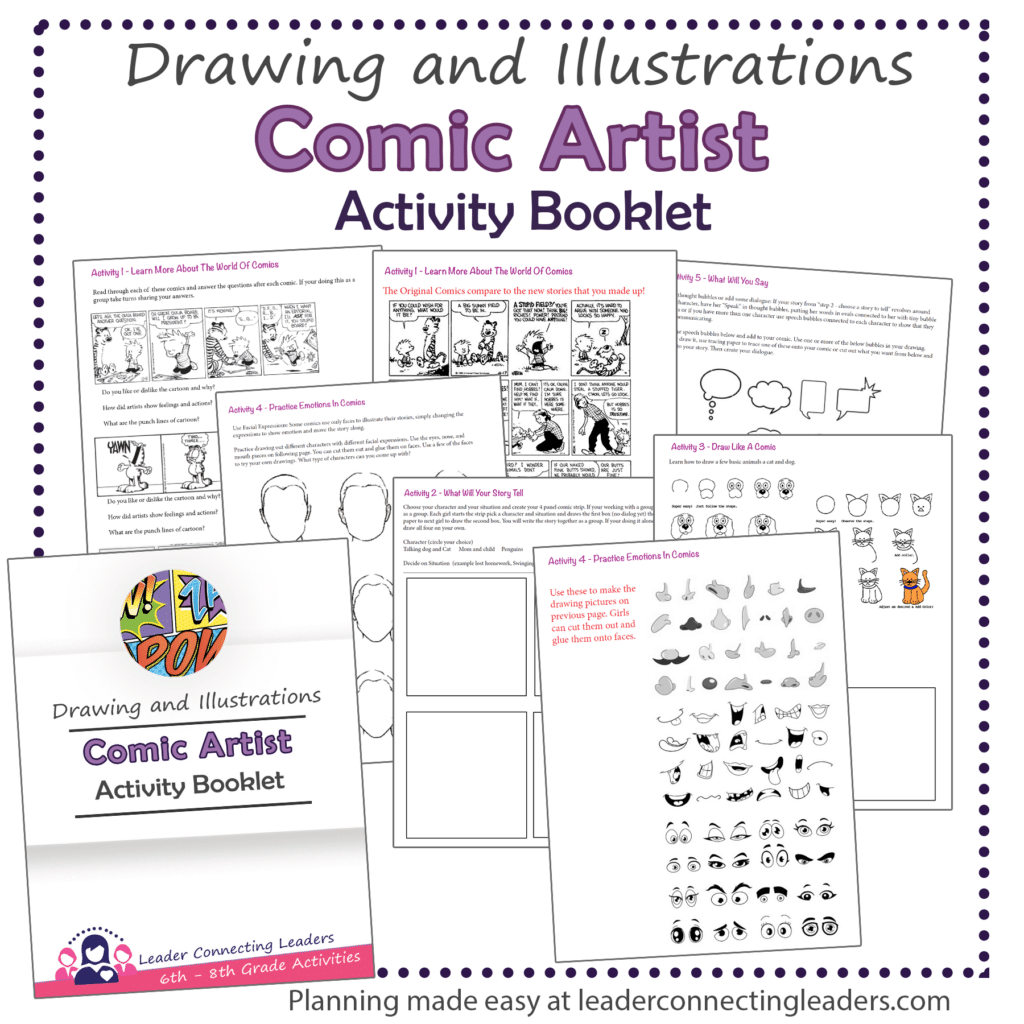 Do you want to skip all the planning? If so, use this Activity Booklet with activities, games, and worksheets to allow your girls to take over the meeting. First your girls will learn about famous comics and make up their own stories with the pictures from those comics.
They will play a game and create their own stories for characters they design.  picking a character and a scenario. Your girls will learn how to draw comics with some drawing activities. They will learn about different facial expressions and how to add them to their comics. Then add words to their comic strips using speech bubbles.  With a step by step activities, you can't ask for a easier way to run your meeting. Learn more and get yours today! 
Be sure to also checkout these other activities your girls will love:
---
Other Fun Activities To Try 
Make Your Own Comic In A Variety Of Ways
When you browse the web there are so many places you can get your hands on comic templates. Below is blank comic to get you started making your very own comic.
You could also try a few of these other options as well:
WHOLE BOOK: If your girls really love making comics getting each girl their own book maybe a great addition to your meeting plan: Blank Comic Book with 130 pages and its professionally bound.
SCRAPBOOK STYLE: Ever thought about making a Comic Book Scrapbook. Maybe your girls would enjoy a 12 x 12 size book to put their comic strips in. Here is a great collection of 6 different templates to get your book started.
COMIC BOOK REPORT: I found this really cool concept on Teacher Pays Teacher where the girls could make up a comic based on one of their favorite books. It has everything you need to plan the comic and lay it out. Check it out here
GROUP COMIC: How about buying a huge roll of white paper roll it out on floor at meeting and have girls start building a mega comic. You can put the squares in ahead of time and maybe have first girl draw in first square and then next girl goes to second building on story from first.
Virtual Badges
I don't know if you have heard of this pretty cool site called Virtual Badges. It has a pile of badge support especially for older girls 6th grade and up and they are all free. You can pick a badge or topic and there are 4 to 5 activities to do related to it. Saves you from having to plan a lot of stuff. Here is everything they have to help with being a Comic Artist.
What do we do after your girls complete the activities?
Well of course give them the badge to display proudly on their vest, they earned it!  Additionally If you are like many leaders we want to award our girls when they complete something even beyond just the patch. One great way to show achievement is with a certificate. Don't worry you don't have to make them, I found a resource that has done all the work for you and all you have to do is print them and customize the certificates with each girl's name, badge or award earned, date, and troop leader.  Editable certificates perfect for awarding girls after earning a badge.
Organize Your Troop Parties This Year with a 25+ page Leader Planner 
This Leader Planner is from another amazing blogger named Jen her blog is called "I am StrawjenBerry" With the help of Jen I wrote a blog post explaining everything you will get in this planner. It has everything you need to plan your troop year. The planner contains your calendar, meeting planners, rosters and badge trackers in one safe place for when you need it. Read more
Enjoy every minute being a leader and continue to inspire your girls!