I thought it be fun to share some fun games and activities to play at an Outer Space Theme Party with your Troop. Just have everyone come dressed as something that represents space. You will get a variety of costumes if you keep it generic: astronauts, aliens, and planets for sure.  This post is full of games and songs to play at your event.
Add the following activities into your party:
Games, Songs and Crafts For Outer Space Theme Party
Space Bowling 
This can be played in a number of different ways. The thing we did was bought the Rocket Ship Cardboard tent for kids from Oriental trading. It was part decoration, part activity to fill time when we were setting up and then used in a game.  Bring crayons and markers with you and have the girls color the rocket ship, then to play game set it up at one end of room. Give the girls planets and have them roll them to try to get into the rocket ship. Have it as a contest to see who can get the most in. You can get the planets and the rocket ship by going here

Alien Toilet Paper Game

Give each team 2 rolls of toilet paper and tell them they have 10 minutes to create the best alien. Choose one girl to be the model. At end have leaders judge the best alien but best part is of course taking the pictures.
Alien Tails
Cut Pieces of string that are long enough to tuck in the bottom of each girls pants and hang on the floor. The girls will each have a alien tail. On go they will run around and try to step on each others tail, removing the tail from the girls pants. If you loss your tail you are out. Continue till there is only one girl remaining with a tail. 
Space Walk
Put your girls into relay teams and give each girl a balloon. They must put the balloon between their legs and space walk to other end of room. Once at other end they must sit on their balloon and pop it. Run back to next girl who will do the same. First team to complete relay first wins.

Do you know your planets? 
How well do you know the planets in our solar system? Do you know them in the right order? You can print and make your own planet images and words or get the magnet set from oriental trading and save yourself some time. We had the girls race against each other on teams putting the planets in the correct order with correct labels. This is probably not great for younger kids that cant read, but they could do the visual part of it getting the planets in the right order.  You can get the planets magnets by going here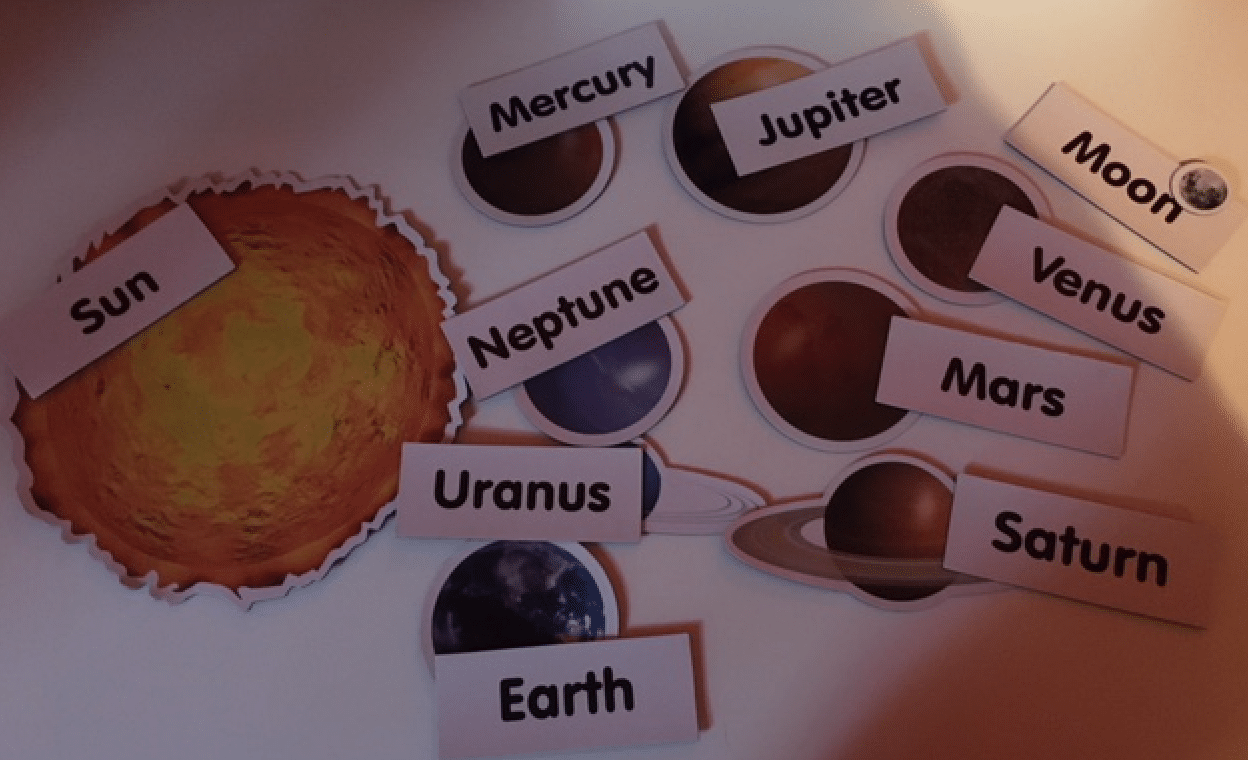 Space Race
If your looking for another unique game to play at your event check out Race Through Space. The purpose of game is to try to land your three rockets on the moon and earn the most points doing it. Get yours here
Sing a Song
This video is one of my sons favorite songs, and he is only 2 1/2 and learned the planets and what order they go in using this song.  So this could be a great additional to your party maybe sing the song with your girls. Here is the video and lyrics

Lyrics to song:
I'm closest to the sun
I'm Mercury Mercury
I'm the brightest in the sky
I'm Venus Venus
I'm a Red planet
I'm Mars Mars
And I'm your planet
I'm Earth Earth
We are the planets big and round
Watch us happily fly around
We are the planets big and round
Watch us happily fly around
I'm the largest planet
I'm Jupiter Jupiter
I'm the planet with the Rings
I'm Saturn Saturn
I have 27 moons!
I'm Uranus Uranus
I am made of Gas
I'm Neptune Neptune
We are the planets big and round
Watch us happily fly around
We are the planets big and round
Watch us happily fly around.
---
Party Planning Kit Printable
I am so excited to present Strawjenberry's Ultimate Party Kit! Almost everything you need to plan your troop celebration is included in this kit and can be printed at home or through your local office supply store or printer. It all starts with a personalized troop banner (two options to choose from) that includes your troop number. From there you have many different supplies to create the labels, stickers and decorations that you need.
The full color party kit includes:
One personalized banner
Personalized party invitation
Four (4) styles of placecards/treat labels, including one (1) secret bonus design
"I Love Girl Scouts" flower graphic
Fifteen (15) unique and colorful "badges" to use as stickers, cupcake toppers, or decorative elements on any number of party items
A sheet of personalized gift tags
Two (2) square backgrounds to create labels for lollipops. chocolate bars or giftboxes
A set of personalized badges with your girls' names on them (you can also opt for a troop number instead)
Printable 8 1/2 x 11 Promise and Law pages–perfect for framing!
One sheet of twelve (12) blank badges
One sheet of twelve (12) level letters with heart (d, b, j, c, s, a, v)
The sky is the limit for how you can use all of these DIY elements to create the ultimate party. All items are included and have the bright and cheerful design color scheme. Get now for any party, ceremony or event you are planning for your troop.
Organize Your Troop Parties This Year with a 25+ page Leader Planner 
This Leader Planner is from another amazing blogger named Jen her blog is called "I am StrawjenBerry" With the help of Jen I wrote a blog post explaining everything you will get in this planner. It has everything you need to plan your troop year. The planner contains your calendar, meeting planners, rosters and badge trackers in one safe place for when you need it. Read more
Enjoy every minute being a leader and continue to inspire your girls!