Are you looking for a fun party idea to have with your troop? Today's post I will share with you a few ideas on how to throw a Mardi Gras party with your troop. Complete with games, crafts, decorations, and fun patches to give out at the end.
Game Ideas for Mardi Gras Party
Mardi Gras Balloon Pop
What you need: Balloons that are green, yellow, purple, and orange and Mardi Gras beads
How to play: Put one of the bead necklaces into each balloon and blow them up and throw all over the play area. On go have everyone go around and sit on balloons and pop them to find the beads inside and place around neck. Girl with the  most beads at end wins.
Mardi Gras Bead Toss
What you need: Beads they won in previous game, plastic cups
How to play: Now that they have bead necklaces lay out plastic cups and have them try to get the bead to go around the cup. You can do it as a timed contest see who can get the most of their beads around a cup, or just a challenge to see how many you can get individually.
Craft Idea: Bead Mosaic
This idea comes from a great website full of free kids crafts. For added fun at your Mardi Gras party make a Bead Mosaic that will be as unique as each girl that makes them. Click here for all the directions
 Just For Fun Added Idea
When we had our Mardi Gras party it happened to be the year the cookie shirts were also purple so we had all the girls wear their purple shirts to party. Even if everyone doesn't have the same purple shirt it could be fun to have everyone where a purple shirt to party. Or if you are a multi-level troop have each level wear different color like yellow, purple and green. Of course then take a group picture like this one below.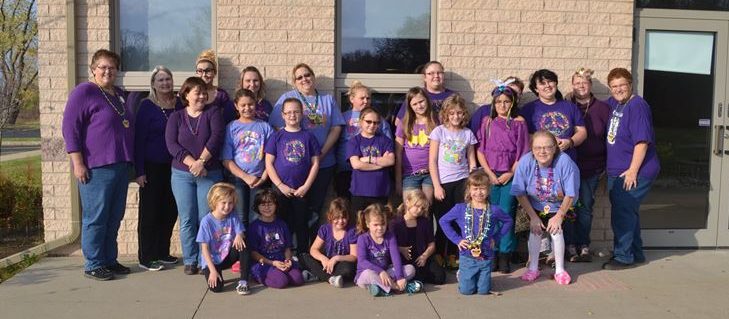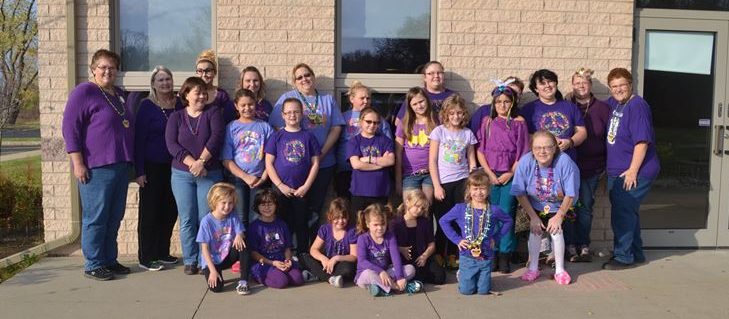 Decorations / Party Favors
A few things you have to have at your Mardi Gras party is beads, masks and lots of colorful decorations. Here are a few links to some bulk sets you could get for your party
Mardi Gras Fun Patch Ideas
After the party is over give your girls a fun patch to put on the back of their vest to remember the event.  Here are two that I found that are super adorable.

Get this 2″Mardi Gras Embroidered Fun Patch Now
Get this 2″Mardi Gras Embroidered Fun Patch Now
Pinterest Ideas
Lastly if you need more ideas beyond what I have shared here, I have a Pinterest board that I have pinned a pile of ideas I have found all over the web that may help with your planning as well.   Click here for Mardi Gras ideas. 
---
Party Planning Kit Printables
I am so excited to present Strawjenberry's Ultimate Party Kit! Almost everything you need to plan your troop celebration is included in this kit and can be printed at home or through your local office supply store or printer. It all starts with a personalized troop banner (two options to choose from) that includes your troop number. From there you have many different supplies to create the labels, stickers and decorations that you need.
The full color party kit includes:
One personalized banner
Personalized party invitation
Four (4) styles of placecards/treat labels, including one (1) secret bonus design
"I Love Girl Scouts" flower graphic
Fifteen (15) unique and colorful "badges" to use as stickers, cupcake toppers, or decorative elements on any number of party items
A sheet of personalized gift tags
Two (2) square backgrounds to create labels for lollipops. chocolate bars or giftboxes
A set of personalized badges with your girls' names on them (you can also opt for a troop number instead)
Printable 8 1/2 x 11 Promise and Law pages–perfect for framing!
One sheet of twelve (12) blank badges
One sheet of twelve (12) level letters with heart (d, b, j, c, s, a, v)
The sky is the limit for how you can use all of these DIY elements to create the ultimate party. All items are included and have the bright and cheerful design color scheme. Get now for any party, ceremony or event you are planning for your troop.
Organize Your Troop Parties This Year with a 25+ page Leader Planner 
This Leader Planner is from another amazing blogger named Jen her blog is called "I am StrawjenBerry" With the help of Jen I wrote a blog post explaining everything you will get in this planner. It has everything you need to plan your troop year. The planner contains your calendar, meeting planners, rosters and badge trackers in one safe place for when you need it. Read more
Enjoy every minute being a leader and continue to inspire your girls!