So many troop leaders get caught in a bit of a rut during the school year. It can get tough when it's getting cold outside, your girls are drowning in homework (especially if they're at a higher grade level), and the fun summery parts of girl scouting like camping and hiking are seeming a little less accessible.
If your troop is drowning in cookie sales and patches to earn, you need to incorporate some new things! I've created some great resources that will make leading girls of any age group easy and fun. A little bit of levity can be awesome for any troop.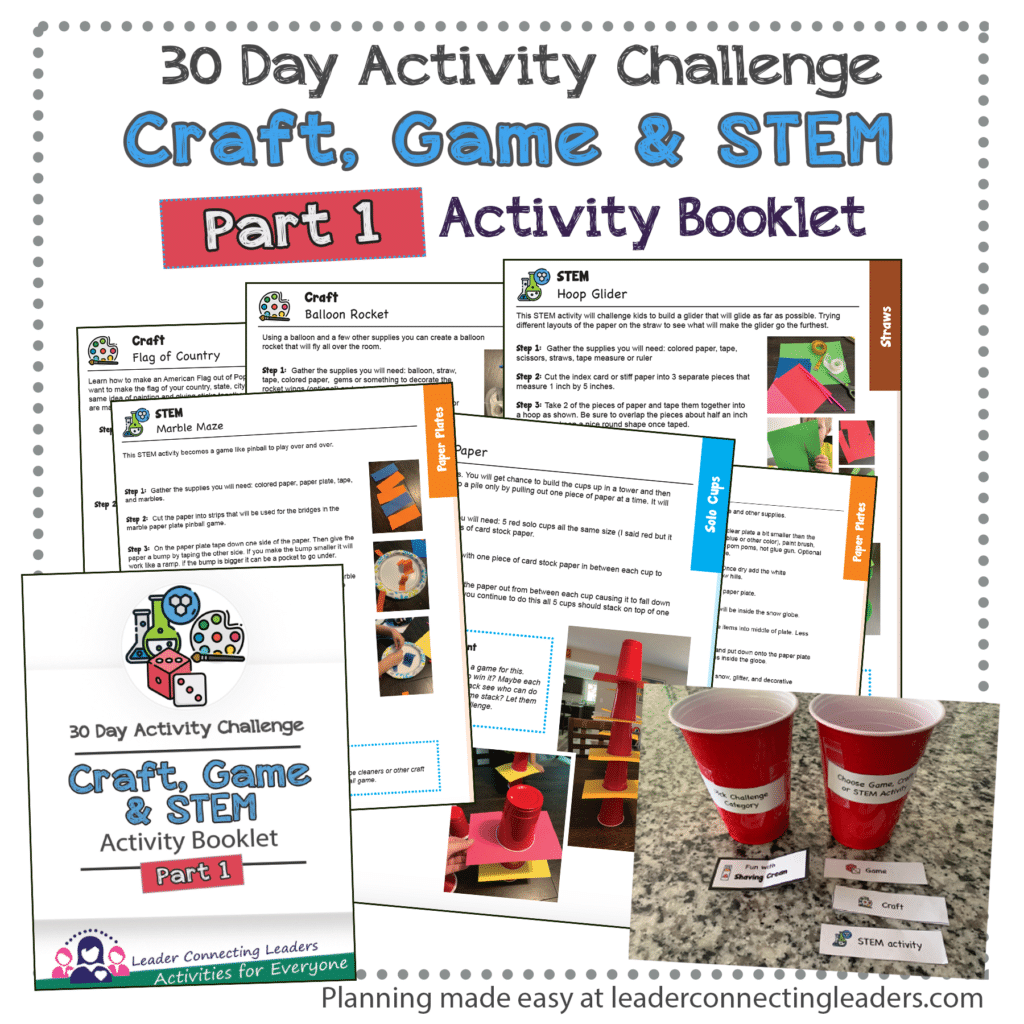 This booklet has 30 activities that you can enjoy with your troop! It includes a game, craft, and STEM activity using:
shaving cream
bubbles
straws
popsicle sticks
balloons
pipe cleaners
paper plates
toilet rolls
solo cups, and
M&M candy.
There are step-by-step instructions for each activity, and throughout the booklet, there are additional creative kid moments that will allow for added exploration with the material used in the activity.
Did you know that Juliette Gordon Low was the founder of Girl Scouts of the USA? She wanted to create a female counterpart to the Boy Scouts organization that allowed girls to have fun, learn, and reach their full potential.
This party pack pays homage to Juliette's legacy by including a wide variety of games your girls will love! You can integrate these games into multiple troop meetings, or host one party and play them all. We love to play some of these games on the road when we have field trips– that way, the time in the car is an integral part of the learning process.
The pack includes:
Juliette Low Scattergories
Juliette Low (Scouting addition) of Would You Rather
Juliette Low Trivia
Juliette Low A – Z
Juliette Low Scramble
Juliette Low Word Search
Your scouts will love these low-stakes, fun games that will help them learn about Juliette Gordon Low.
What kid doesn't love music? Many kids find the music patches to be some of the most fun patches available. The musician activity booklet will help your girls learn everything they need to know about music. It's a tried and true group of activities that your troop will enjoy, and it will give you a bit of a break on having to plan your own activities.
The booklet includes these units:
How is Music Made? Complete 3 different activities first learning more about different types of instruments playing the I have… Who has… card game. Then get up and get dancing and moving while learning more about different music categories. Lastly spend some time guessing the instrument being played by listening to musical instruments and using a worksheet to record answers.
Evolution of Music: Compete 2 activities first learning more about music throughout the decades from the 1940s to today. You will listen to music from each decade and have fun moving around the room dancing to your new musical discoveries.
Life with Music: Complete 3 activities first exploring more about musical instruments and what family each instrument lives in by playing a game of Bingo and What am I? Then explore music in every day life by doing a music poll of everyone in your family.
Making Music on Your Own: Complete 2 activities, first have some fun naming that song by listening to 10 different Disney favorites and completing a worksheet matching the correct movies and titles. Then spend some time writing your own lyrics to one of a classic Disney song many know and love.
Music Performance: After learning all about music, and exploring more about the different types of instruments. This activity will give girls a chance to put on their own musical performance. Booklet includes ideas to help girls plan what they want to do and who they will invite to watch.
I hope these fun activities will take some stress off of you as a leader, and help your troop build exciting memories together. If you'd like to see more options, remember there's plenty more activity booklets available on my site. Leading your troop doesn't have to be difficult when you're connected with other leaders who have been there, done that!
Enjoy every minute being a leader and continue to inspire your girls!