Since the weather outside is cold, why not warm up with some hot tea.  
Did you know? January is National Hot Tea Month, however if you can't have your tea party in January, any month is a great time to have a tea party.
There are so many different types of tea parties to have with your girls. Below I will share some great ideas to get you started.
Invitations, Decorations and Set Up
Let's start by sending invitations home with your girls.  Allow them to invite an adult guest, to the tea party. This can be a mother, father, grandparent, aunt, etc.  Invitations can be store bought or handmade by your girls. The choice is yours. The invitation should include whether guest need to dress up or wear casual clothing.  
Then you have decorations and set up, below is just what I did at our tea party. I used different color table clothes, got place-mats that have activities on them and had crayons at table so when girls arrived they could do something waiting for others to get there.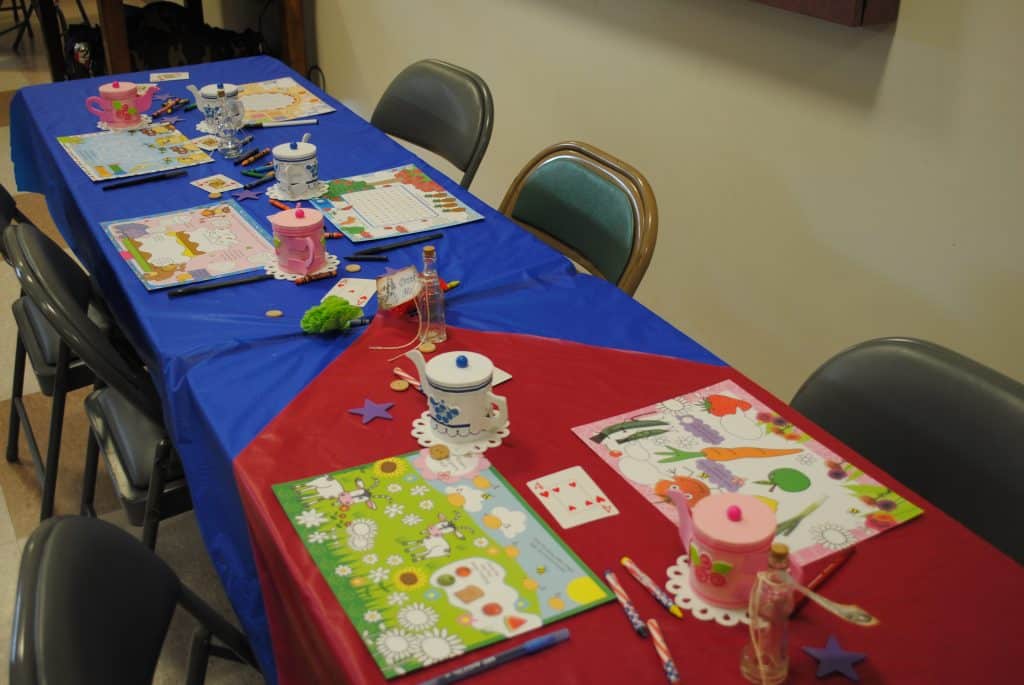 If you are not sure on decorations it really depends on what type of party you want to have. Checkout a few of these ideas for themes for your tea party:
What do you do for teapots and cups?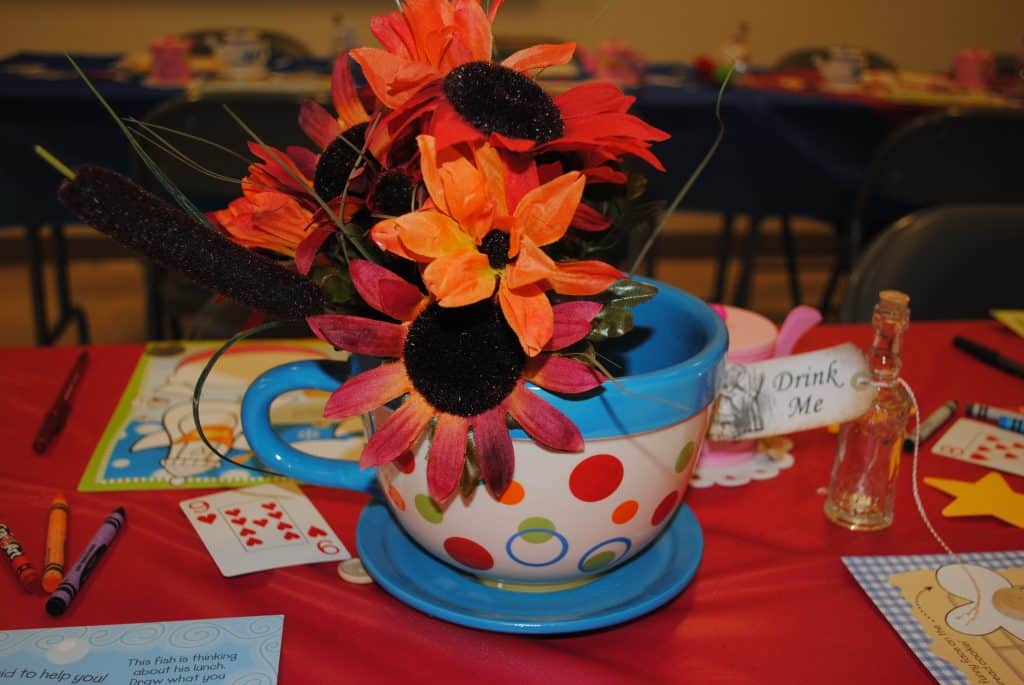 There are several options for your teapot.  You can use the traditional tea kettles that whistle when they are hot.  You also have the option to use an electric tea kettle then pour it into a teapot, when it is hot.  Depending on the size of your group, will determine how many teapots you will need.
There are several options for your teacups.  You can ask the girls in your troop and their guest, to bring in a teacup (saucer is optional).  If your'e not having your tea party for awhile you can pick up tea cups at garage sales, etc.
Rather not do hot tea?  I know with younger girls sometimes there is fear of using the hot tea could burn their tongues. Then customize it and make iced tea to drink.  You can get cute Tea cups that hold cold beverages from oriental trading. 
Choosing the Tea and Food For Party
The tea flavors should be limited to 3 to 4 choices.  At least one fruit tea is a good option when having a tea party with younger girls because many are picky. Make sure to have sugar cubes, milk, and artificial sweetener on hand for everyone to use if desired. Of course all that will depend on if you are doing cold or hot teas. 
Food Ideas: Finger sandwiches such as chicken salad, egg salad, tuna are some ideas to serve at the party.  Some other ideas are cookies, cupcakes, small desserts and fruits salad. Silver, glass or tiered serving trays will make your food look even more delicious.
Tea Party Games
Tea Bag Toss
Place several tea cups on a table.  Players stand behind a line and throws tea bags into the tea cups. They receive 1 point for each tea bag that goes into the cup.  The player with the most points wins.
Sugar Cube On A Spoon
Place a sugar cube on a spoon and carry it to the end of the line and place in a cup.  If it is dropped on the floor they have to return to the starting line and try again. It can be an individual or relay race.
Sugar Cube Stacking Contest
Have several boxes of sugar cubes.  Set the timer for 2 minutes. Stack sugar cubes as high as they can before the timer goes off.  The tallest sugar cube stack wins.
Fun Patch Ideas
As you all know as leaders there are so many fun patch ideas out there for events like this one. I wanted to share 3 that I loved and wanted to share them with you. Pick the one that best fits your event or search the web for something different. If you find one that you think other leaders would love send it my way and I can add it to this post.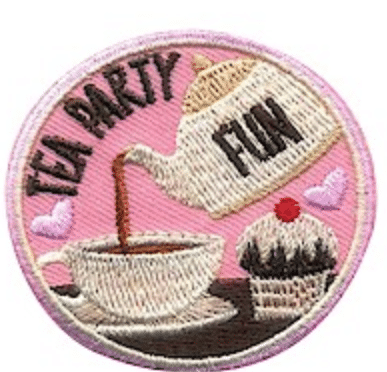 If you are looking for more ideas to add to a teddy bear themed tea party, check out 8 Fun Activities and Games for a Teddy Bear Party with Your Girls. 
I hope you have a great time at your tea party!
---
Party Planning Kit Printables
I am so excited to present Strawjenberry's Ultimate Party Kit! Almost everything you need to plan your troop celebration is included in this kit and can be printed at home or through your local office supply store or printer. It all starts with a personalized troop banner (two options to choose from) that includes your troop number. From there you have many different supplies to create the labels, stickers and decorations that you need.
The full color party kit includes:
One personalized banner
Personalized party invitation
Four (4) styles of placecards/treat labels, including one (1) secret bonus design
"I Love Girl Scouts" flower graphic
Fifteen (15) unique and colorful "badges" to use as stickers, cupcake toppers, or decorative elements on any number of party items
A sheet of personalized gift tags
Two (2) square backgrounds to create labels for lollipops. chocolate bars or giftboxes
A set of personalized badges with your girls' names on them (you can also opt for a troop number instead)
Printable 8 1/2 x 11 Promise and Law pages–perfect for framing!
One sheet of twelve (12) blank badges
One sheet of twelve (12) level letters with heart (d, b, j, c, s, a, v)
The sky is the limit for how you can use all of these DIY elements to create the ultimate party. All items are included and have the bright and cheerful design color scheme. Get now for any party, ceremony or event you are planning for your troop.
Organize Your Troop Parties This Year with a 25+ page Leader Planner 
This Leader Planner is from another amazing blogger named Jen her blog is called "I am StrawjenBerry" With the help of Jen I wrote a blog post explaining everything you will get in this planner. It has everything you need to plan your troop year. The planner contains your calendar, meeting planners, rosters and badge trackers in one safe place for when you need it. Read more
Enjoy every minute being a leader and continue to inspire your girls!