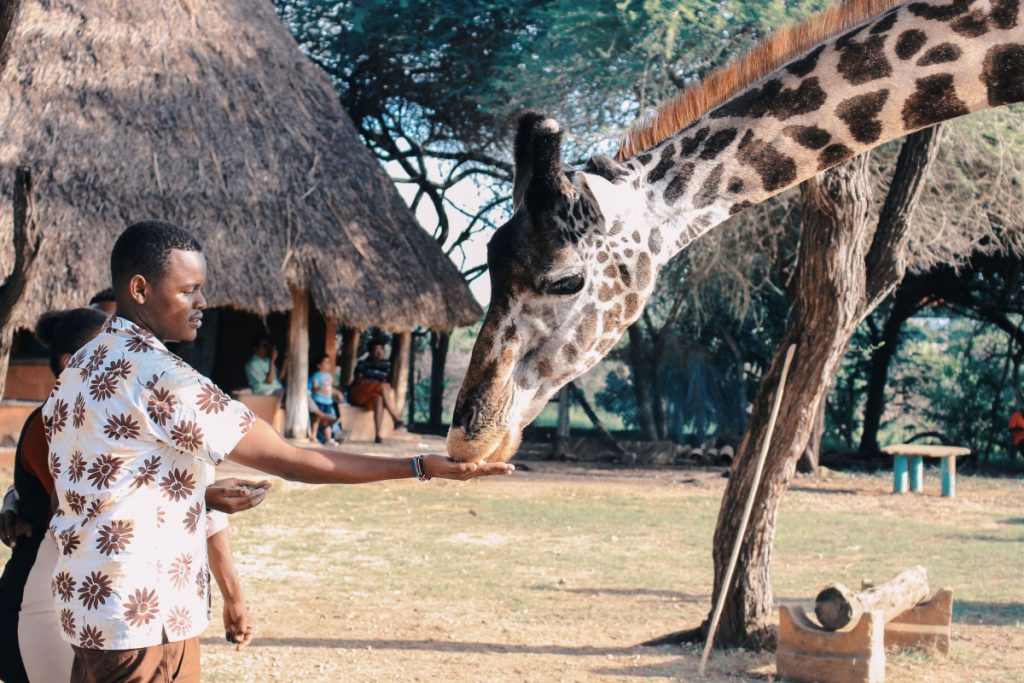 One fun thing to do with your girls is to teach them about another country everything from the people of country, weather, culture, food and more. You can center your whole meeting around teaching the girls about Kenya.
You can center your whole meeting around teaching the girls about Kenya. I've included some general facts about the country.  Then beyond just the facts I have provided a pile of games, activities, fun patch suggestions, and other resources to make your event fun and educational.
Learn Everything You Can About Kenya
This is the content you can print and use to put together a poster or just share with your girls.  If you want easy to use games and activities to teach your girls these facts be sure to keep reading through this post.
Did you know? Scientists think that Northern Kenya may have been the original birthplace of humans- the bones of our earliest human ancestors were found in Kenya's Turkana Basin.
Geography of Kenya: Kenya is located in East Africa and its terrain varies from low coastal plains on the Indian Ocean to mountains and plateaus. West of Nairobi, the capital of Kenya, is the Great Rift Valley, a 4,000 mile tear in the Earth's crust. Located in this valley is the famous Lake Turkana which contains jade-green water.
People of Kenya: The capital city of Kenya is Nairobi with a population of over 49.7 million people. Most Kenyans live in the highlands where Nairobi is located but Kenya's oldest city and first capital is the coastal city of Mombasa.
Animals of Kenya: Millions of people visit Kenya each year to see its savanna and the animals that inhabit it. These animals include elephants, lions, cheetahs, giraffes, zebras, hippos, and rhinos. There are more than fifty parks and reserves in Kenya that have been set up to protect these animals. Many animals in Kenya are found nowhere else in the world.
Government of Kenya: Kenya was a colony of the United Kingdom until 1963 and since its independence, it has been a republic. Kenya has a president, a national assembly, called a Bunge, and a judiciary. December 12th is called Jamhuri Day and celebrates Kenya's independence day and is celebrated with parades, dancing, speeches, and feasts.
Economy of Kenya: Major industries in Kenya include agriculture, fishing, mining, forestry, manufacturing, tourism, energy, and financial services. The currency is Kenya is called a Kenyan shilling and is equal to 0.0099 of a U.S. dollar.
Armed Forces of Kenya: The armed forces in Kenya are known as the Kenya Defense Forces and are composed of the Kenya Army, Kenya Navy, and Kenya Air Force. The military participate in peacekeeping missions around the world but there have been serious allegations of human rights violations by military force.
Language of Kenya: There are more than sixty languages spoken and forty ethnic groups in Kenya. Almost everyone speaks more than one language. The official languages of Kenya are Swahili and English.
Religion of Kenya: Almost 85% of Kenyans practice Christianity. Islam is the second most practiced religion of the country. Music and storytelling are important parts on the Kenyan culture and Kenyan tribes use songs, stories, and poems to pass on their history, beliefs, and customs.
Education of Kenya: The education system in Kenya is almost identical to that of the United States with eight years of primary school, four years of secondary school, and hour years of university education. School in Kenya is free to attend but many children are too busy for classes. Children are often found helping their families by working the land, cooking, collecting water, and working the land.
Food of Kenya: The main dishes in Kenyan cuisine are maize meal and rice. Stews are mainly served for lunch and dinner and they can be either vegetarian or made with goat meat. Kenya grows a variety of fruits including mangoes, oranges, tree tomatoes, bananas, plums, grapes, and passion fruits. These fruits are often served as desserts.
Recreation of Kenya: Football (soccer) is the most popular sport in Kenya and their national team is called the Harambee Stars. Basketball, volleyball, and netball are also popular sports. Netball is exclusively played by women and is similar to basketball. Athletes in Kenya are known for their distance running as they have produced many Olympic champions.
Kenya Fact Bingo Game Activity Booklet
You may enjoy teaching your girls facts about Kenya while playing a game of bingo. In this bingo game there are 24 different Kenya facts your girls will learn about playing the game. When you draw a fact listed on the bingo cards you can also tell your girls a little bit about what each of them mean. After one game play again and have girls tell you what each fact means. Learn more and get your Bingo game to play with your girls.
3 Fun Group Games and Activities
Escape the Lions
Start with a large group of children, four of whom are 'lions'. The rest of the children are 'mtu,' or people. The goal of the mtu is to capture the lions' treasure, which are beanbags.
The mtu form a circle with the four lions in the middle, surrounded by their bean bags.
The four lions are blindfolded and the mtu must try to take a beanbag from the lion without being captured.
Those who are captured are 'out' and those who capture the beanbag get to be lions in the next round.
Elephant Stampede
Two children are chosen to be elephants and they link arms.
The rest of the children run to avoid the elephants and being tagged.
When a child is tagged, they link arms with the other elephants.
The last two children to be tagged are the elephants for the next game.
Splish, Splish, Splash
Children sit in a large circle and one child is chosen as 'it' and fills a sponge with water.
The child that is 'it' walks around the circle holding the sponge over the other kids heads and says "splish, splish, splash."
The child that is 'it' squeezes the sponge on top of one of the children's heads.
Those two children run around the circle. If the child that is 'it' gets to the other child's seat first, the other child becomes 'it' for the next round.
Fun Patch Ideas
Quick Fact SWAP Ideas
Bring all the facts the girls are learning together with these easy and free SWAP ideas related to Kenya. All you need is a printer, scissors, hole puncher, beads, and safety pins to put together. SWAPS4Free has a number of different variations of SWAP ideas for this country. Check them out here and get printables and directions to make yours with your troop.
If this is still not enough Kenya inspiration. Checkout my Kenya Pinterest board where I share all kinds of other great ideas people have shared online for Kenya that you can incorporate into your event.
I enjoyed learning more about Kenya, I hope you did too.
Before You Go…
Here are few other around the world ideas I have shared in the past that may be great for your event as well if you are doing more than learning about 1 country.
Enjoy every minute being a leader and continue to inspire your girls!