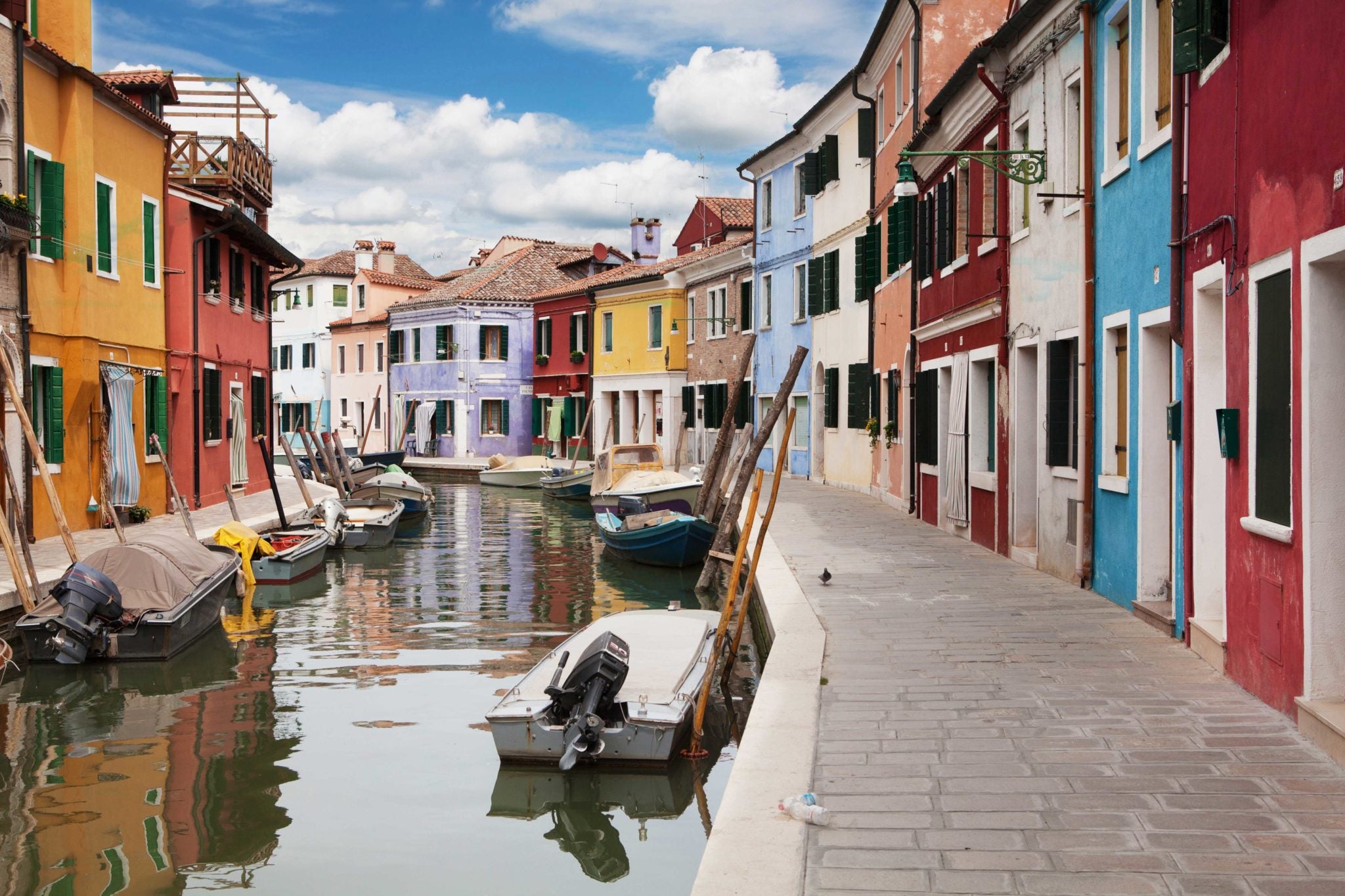 One fun thing to do with your girls is to teach them about another country everything from the people of country, weather, culture, food and more.
You can center your whole meeting around teaching the girls about Italy. I've included some general facts about the country. Then beyond just the facts I have provided a pile of games, activities, fun patch suggestions, and other resources to make your event fun and educational.
Learn Everything You Can About Italy
This is the content you can print and use to put together a poster or just share with your girls. If you want easy to use games and activities to teach your girls these facts be sure to keep reading through this post.
Did you know? Since the rise of the Roman Empire, Italian art and architecture, has influence around the world. Leonardo da Vinci, Michelangelo are just 2 of the famous artists?
Geography of Italy: It is located in southern Europe and comprises the long, boot-shaped Italian Peninsula, the southern side of the Alps, the large plain of the Po Valley and some islands including Sicily, Sardinia.
People in Italy: Italy is officially known as the Italian Republic. The population is over 61 million people. The capital city is Rome. Vatican City and San Marino are small states inside Italy. Major cities are Milan, Naples, Turin and Palmero.
Animals in Italy: The Grey Wolf is the unofficial symbol of Italy. Marsican Brown Bear, Speckled Salamander, Big Horn Sheep, Dormouse, and Corsican Hare are just a few of the many animals of Italy.
Government in Italy: It is a Democratic Republic, established constitution on June 2,1946. It consists of a legislative, executive, and judicial subdivision. It also has a Head of State or President.
Economy in Italy: Main exports are clothing, shoes, food and wine. Italy is one of the world's leading economies.
Armed Forces in Italy: Italian military consists of the Italian Army, Navy, Air Force and "Carabiniere" meaning Military Police.
Language in Italy: Italian, German French and Sloven
Religion in Italy: Catholicism is the dominant religion with the Christian denomination of 72% of the country. Other Christian denominations include Orthodox Jews, Jevovah's Witness, Protestant and Methodists.
Food in Italy: Lasagne, Risotto, Spaghetti, Pizza, Mozzarella Cheese,Parmesan Cheese, and Bruschetta, are all popular foods.
Education in Italy: Kindergarten is for age 4-6 year olds. Primary School is for ages 6-11. Secondary School is for ages 11-14. Kids 14-18 wishing to study music go directly to a conservatory. Technical schools, Trade schools, and Prep Schools for teaching are all choices for 14-18 year olds.
Recreation in Italy: Soccer is the most popular sport in Italy. Basketball, Bocce, Cycling, Fishing, Baseball and Skiing are also popular activities.
Popular Attractions in Italy: Colosseum, Leaning Tower of Pisa, Trevi Foundation, Roman Forum, Capri, and The Vatican, just to name a few.
Italy Fact Bingo Game Activity Booklet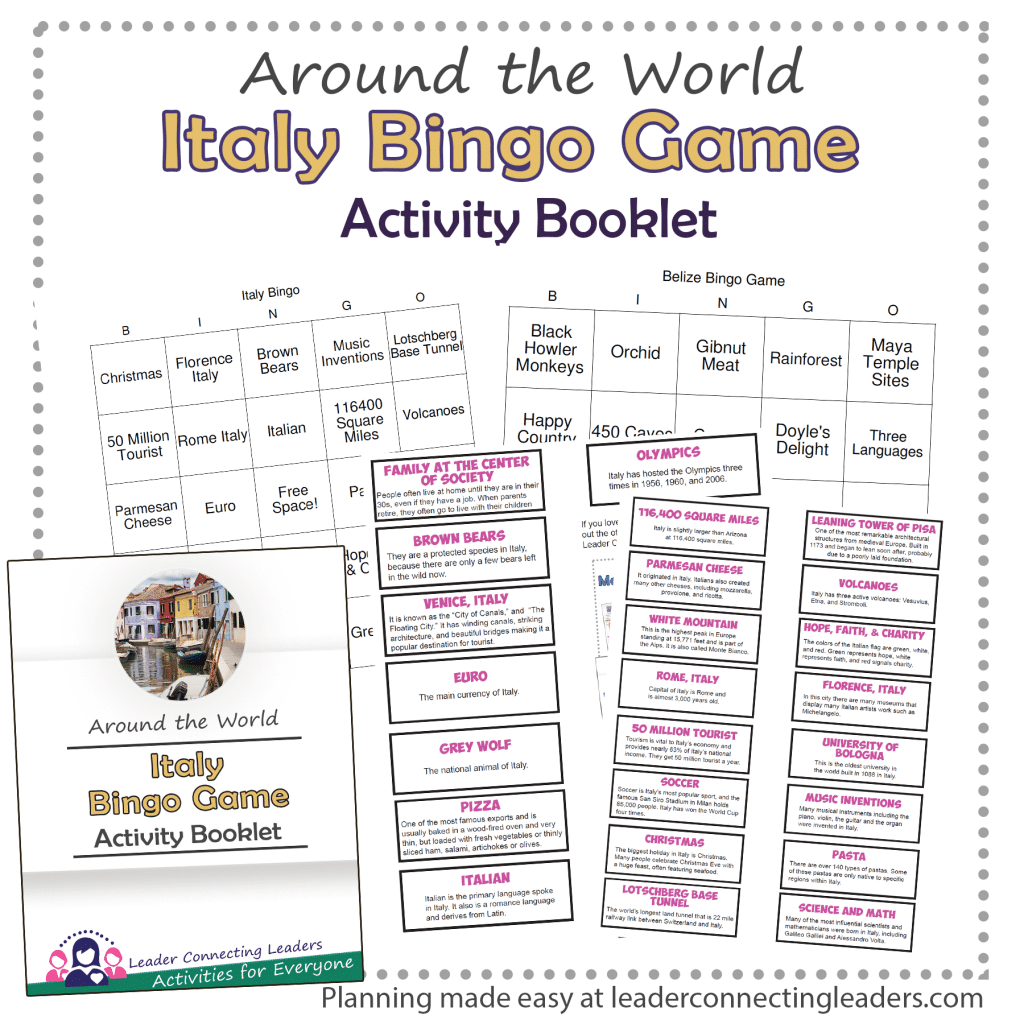 You may enjoy teaching your girls facts about Italy while playing a game of bingo. In this bingo game there are 24 different Italy facts your girls will learn about playing the game. When you draw a fact listed on the bingo cards you can also tell your girls a little bit about what each of them mean. After one game play again and have girls tell you what each fact means. Learn more and get your Bingo game to play with your girls.
3 Fun Group Games and Activities
Guardie e ladri
(Cops and Robber)
You need a minimum of 2 players to 14 players. Divide the girls into an even number of players into 2 groups. One group is the cops and the other group is the robbers. The players pretend there is a treasure; this treasure has to be guarded by the cops, while the robbers must try to steal it. The robbers pretend to steal the treasure and the cops must try to catch them. If the cops succeed in catching the robbers, they win. If the robbers can free themselves after having been caught they will be the winners.
Lupa mangia frutta
It can be played with a minimum of 5 players. The ideal number is 15. With a counting out rhyme, one child is selected as the "wolf". All the other children decide on what kind of fruit they will be without being heard by the wolf. After that all the "fruit" will stand side by side in a line, opposite to the wolf, at a distance of approximately 20 steps from it. The wolf says: "Toc, Toc (knock, knock) and all the fruit ask "Who is it?" Then the wolf replies "I am the fruit-eater wolf: and the fruit ask again" "Which kind of fruit do you want"? The wolf calls out the name of a fruit. If one of the players is that kind of fruit called out by the wolf, she must run away from the wolf and the wolf tries to catch her. If the wolf succeeds, the child will be the wolf, in the next game. If the wolf doesn't catch the child, then she is the wolf again.
Strega comanda color
("Witch Says Colors")
The players must be at least 3. The ideal number of players is 11. With a counting rhyme, "a witch" is selected. The witch calls out a color; all the players must go and touch a "thing" that is that color: it can be clothes, objects, or anything that is that color. The game ends when the witch touches a player before she can touch the wanted color. This player will be the witch for the next round of the game. Only 2 players can touch the same object.
Quick Fact SWAP Ideas
Bring all the facts the girls are learning together with these easy and free SWAP ideas related to Italy. All you need is a printer, scissors, hole puncher, beads, and safety pins to put together. SWAPS4Free has a number of different variations of SWAP ideas for this country. Check them out here and get printables and directions to make yours with your troop.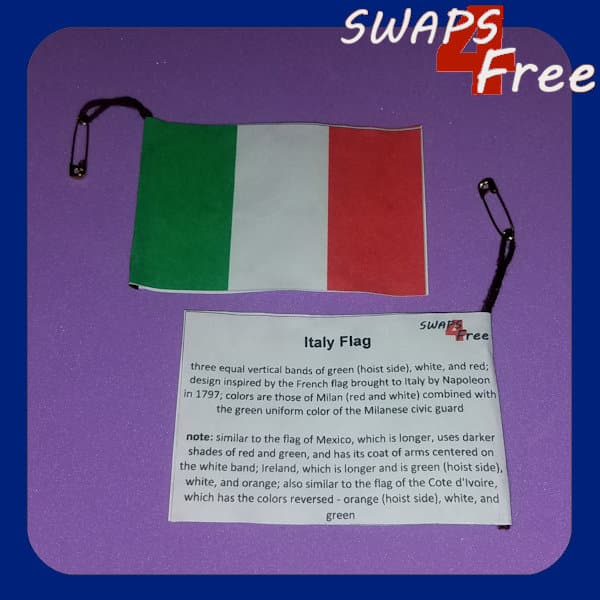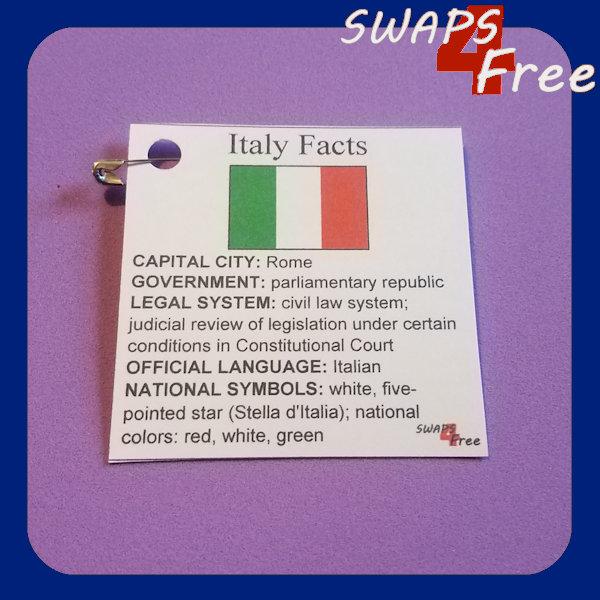 Fun Patch Idea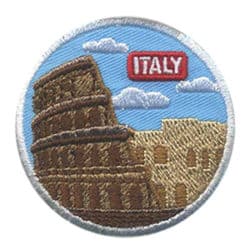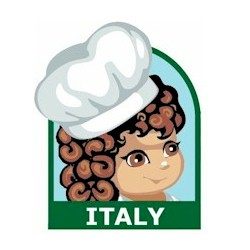 If this is still not enough Italy inspiration. Checkout my Italy Pinterest board where I share all kinds of other great ideas people have shared online for Finland that you can incorporate into your event.
I enjoyed learning more about Italy, I hope you did too.
Before You Go…
Here are few other around the world ideas I have shared in the past that may be great for your event as well if you are doing more than just Australia.
Around the World Printable Activity Booklets
Enjoy every minute being a leader and continue to inspire your girls!