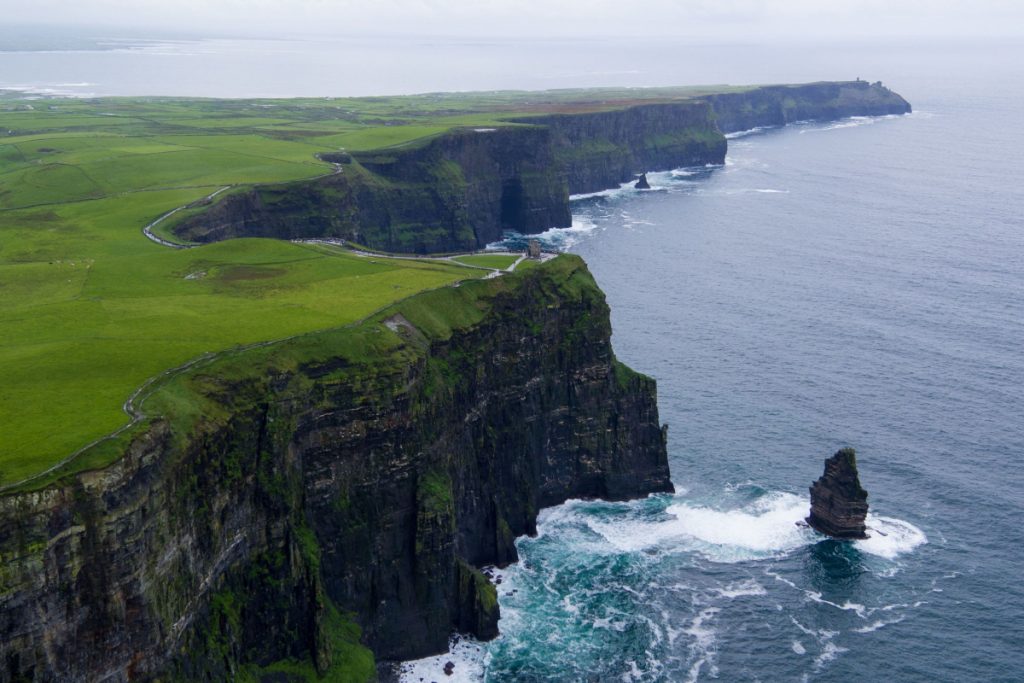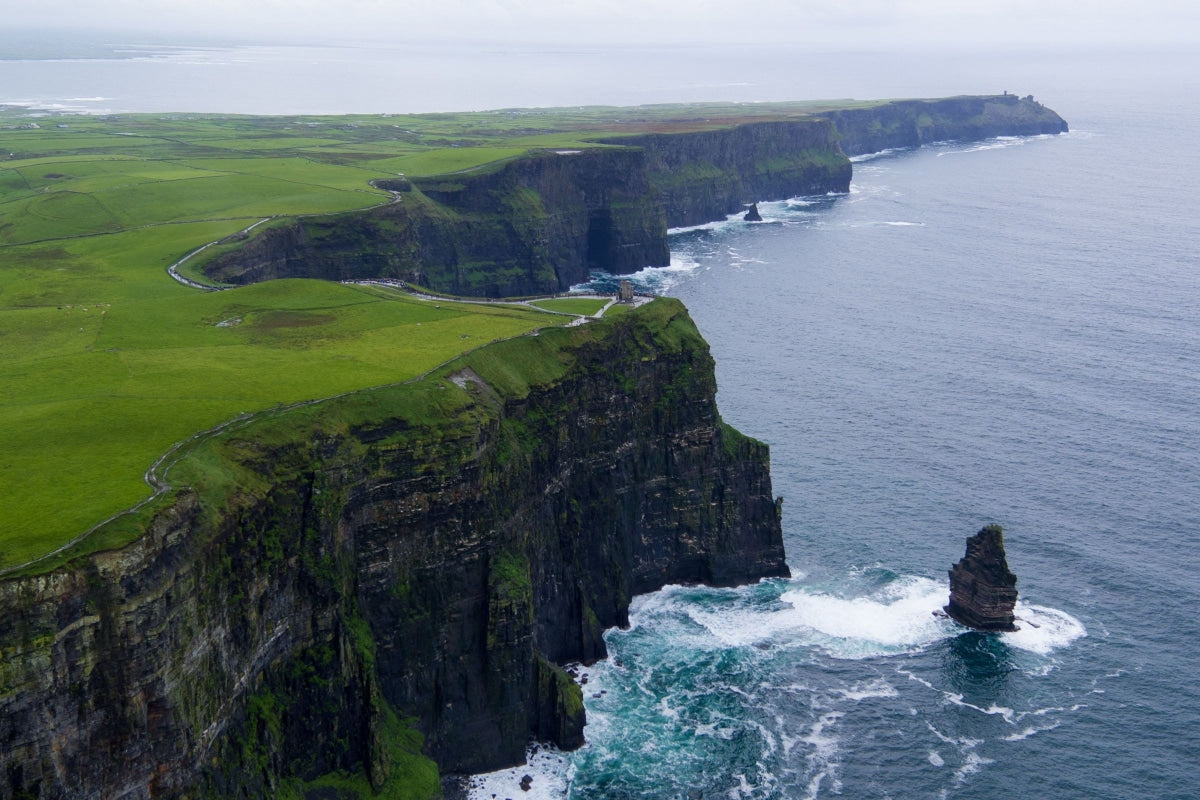 One fun thing to do with your girls is to teach them about another country everything from the people of country, weather, culture, food and more. You can center your whole meeting around teaching the girls about Ireland.
You can center your whole meeting around teaching the girls about Ireland. I've included some general facts about the country.  Then beyond just the facts I have provided a pile of games, activities, fun patch suggestions, and other resources to make your event fun and educational.
Learn Everything You Can About Ireland
This is the content you can print and use to put together a poster or just share with your girls.  If you want easy to use games and activities to teach your girls these facts be sure to keep reading through this post.
Did you know? Ireland is an Island Nation at the western edge of Europe.  It is the second largest island after Great Britain. Ireland is known for a wide area of lush green fields, that's why it's nicknamed the "Emerald Isle".  Ireland has no wild snakes. 
Where are the people in Ireland:  The population of Ireland is approximately 4,859,511 people.  Dublin is the most populated city in Ireland followed by Belfast and Cork.  Dublin is the capital or Ireland. The island of Ireland is made up of 32 countries. 
Geography of Ireland: Ireland is located west of Great Britain.  It has 68,890 square kilometers. Major mountain ranges are Macgilly Cuddy's Peak and Wicklow mountains.  Major rivers of Ireland are the Shannon, Liffey, Boyne, Moy and Barrow River. Ireland occupies 80% or ⅚ of the land mass.  Another area in the north is called Northern Ireland, which is ⅙ of the land mass.  
The official name of Ireland:  It is officially named Eire, Republic of Ireland.
Animals of Ireland:  Connemara Pony, Red deer, Irish hare, badger, Irish Setter, Red fox, Pygmy shrew, hedgehog, Great Irish Elk and the Viviparous Lizard.  These are just a few of the many animals of Ireland.
Government of Ireland:  It is a Constitutional Democracy which consists of an elected parliament, which makes the laws.  The President of Ireland is also called the head of state. 
Economy of Ireland:  The currency of Ireland is called a Euro.  Agriculture plays a major part in the economy of Ireland.  It was the fastest growing economy between 2016-2019. Google, Facebook, PayPal, Twitter, Intel, Apple and many large corporate U.S. companies all have their European Headquarters in Ireland. Exports include perfume, cosmetics, machinery, meat, dairy, aircraft and chemical goods.
Armed Forces in Ireland:  The Armed Forces are called the Defence Forces-Army, Air Corps, Naval Services and the Reserve Defense Force which hold their commission for the President.
Languages in Ireland:  Irish, English, Ulster Scots, Shelta, and immigrant languages are all spoken in Ireland.  English is the most spoken language in Ireland. 
Religion in Ireland:  Roman Catholic is the most popular religion followed by Protestant, Judaism, Islam, Buddhism, Hinduism, Neo-Paganism and New Age Religious Movement. 
Education in Ireland:  Preschool is optional and provided by private schools.  Primary school is for kids 6 to 11 year olds. Secondary school is for kids 12 to 16.  Third level is preparation for a Technical school or University.
Food in Ireland:  Potatoes are served with most meals in Ireland.  Soda bread, shellfish, Irish Stew, Boxty, boiled bacon and cabbage, smoked salmon, Black and White pudding, Coddlem and Barmbrack are also popular foods in Ireland.
Recreation In Ireland:  Gaelic football which is a cross between soccer and football.  Hurling which is a version of field hockey is also played. Rugby, bicycling, horse racing, golf, equestrian sports of show jumping, boxing and water sports.
Ireland Fact Bingo Game Activity Booklet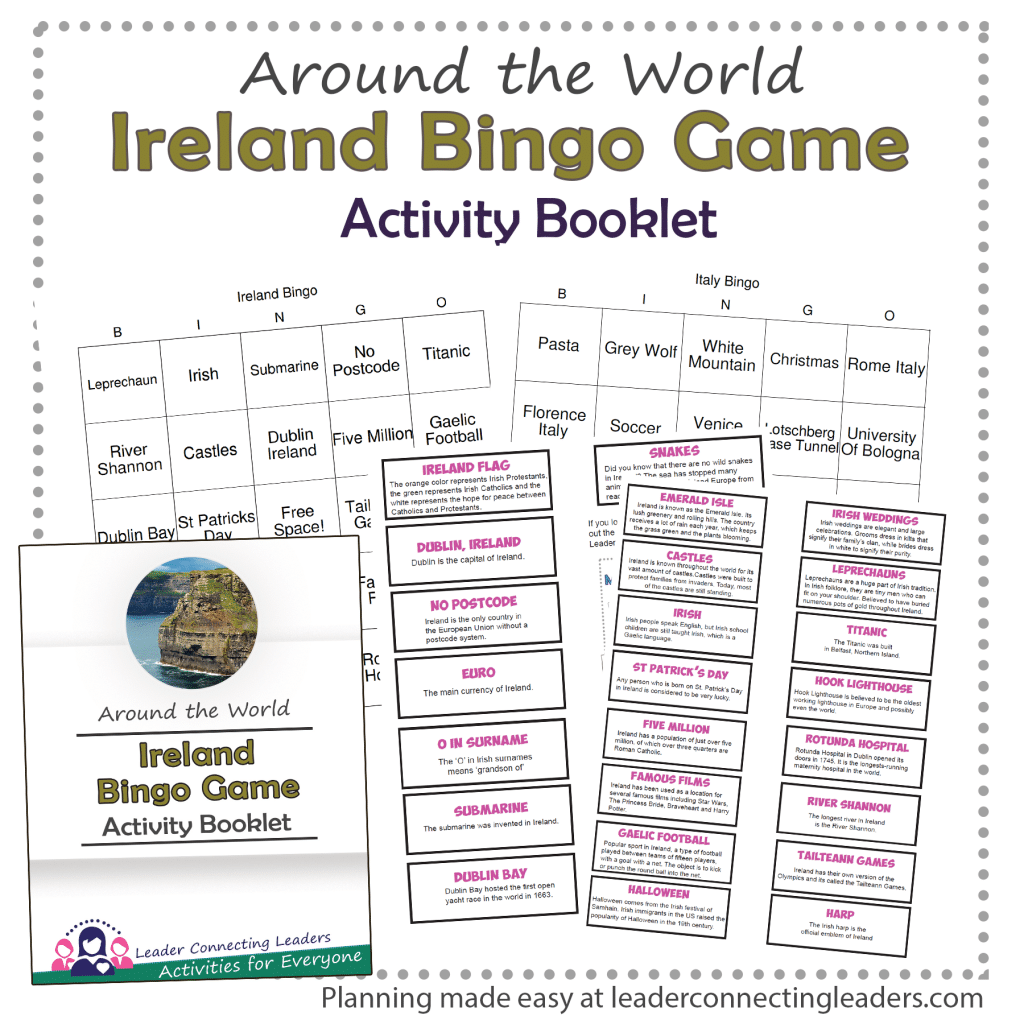 You may enjoy teaching your girls facts about Ireland while playing a game of bingo. In this bingo game there are 24 different Ireland facts your girls will learn about playing the game. When you draw a fact listed on the bingo cards you can also tell your girls a little bit about what each of them mean. After one game play again and have girls tell you what each fact means. Learn more and get your Bingo game to play with your girls.
2 Fun Group Games and Activities
Conkers is a popular game in Ireland
A Buckeye, a shoelace or string and a screwdriver are needed to play. The screwdriver is used to a hole through the Buckeye.  After the hole is made a shoelace is placed through the middle of the Buckeye and a knot tied at each end. Two players take turns trying to hit the other persons Buckeye.  The player that is trying to break the Conker can wrap the string around their wrist with and aim for the Buckeye. The first player to break the Buckeye wins.  
Clapping games are very popular in Ireland. 
It's usually played for fun and not competition.  It generally played with 2 players and involves clapping as a rhythmic accompaniment to a singing game or a reciting of a rhyme, often a nursery rhyme.   
Fun Patch Ideas
Quick Fact SWAP Ideas
Bring all the facts the girls are learning together with these easy and free SWAP ideas related to Ireland. All you need is a printer, scissors, hole puncher, beads, and safety pins to put together.  SWAPS4Free has a number of different variations of SWAP ideas for this country. Check them out here and get printables and directions to make yours with your troop.
If this is still not enough Ireland inspiration. Checkout my Ireland Pinterest board where I share all kinds of other great ideas people have shared online for Ireland that you can incorporate into your event.
I enjoyed learning more about Ireland, I hope you did too.
Before You Go…
Here are few other around the world ideas I have shared in the past that may be great for your event as well if you are doing more than learning about 1 country.