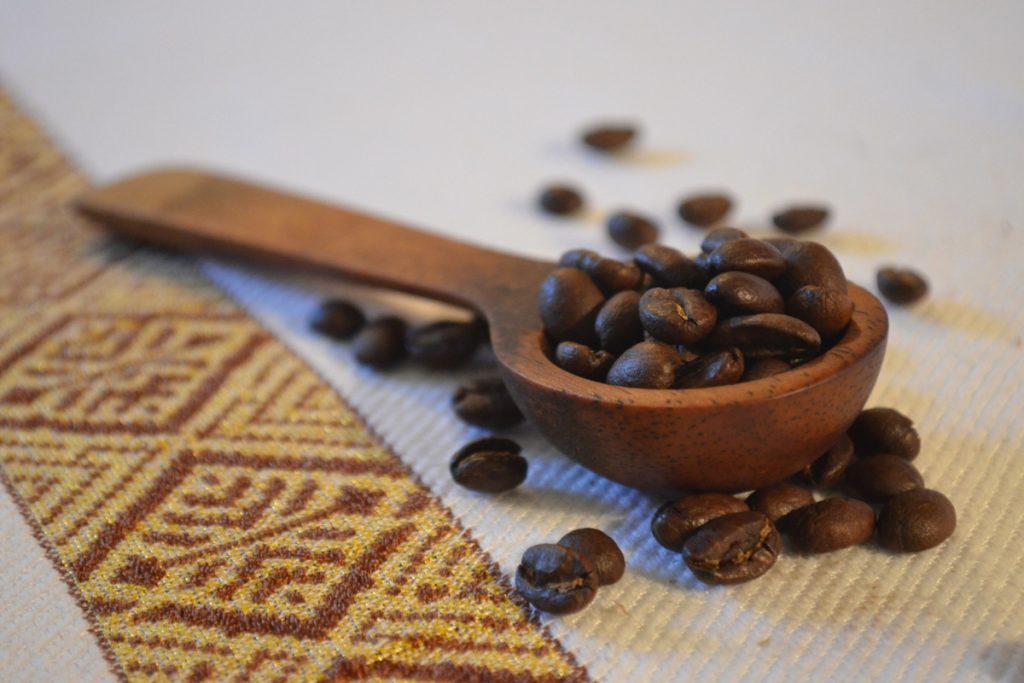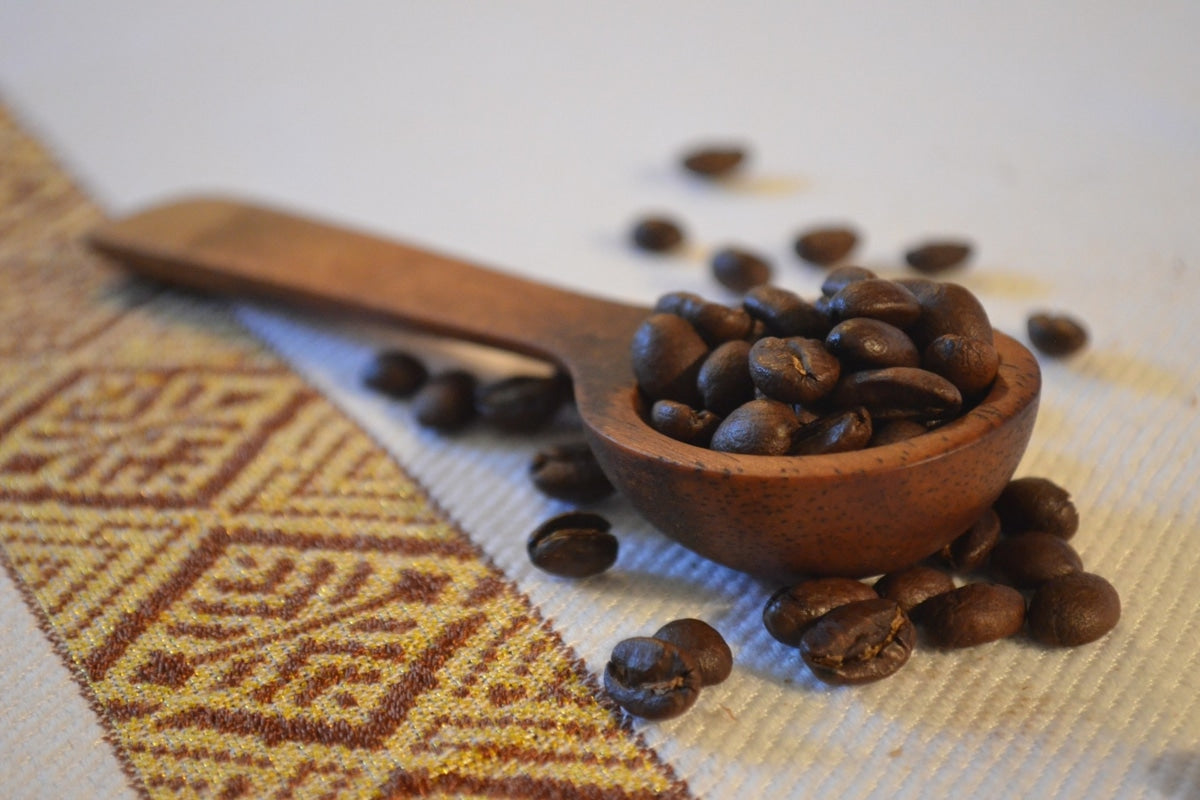 One fun thing to do with your girls is to teach them about another country everything from the people of country, weather, culture, food and more. You can center your whole meeting around teaching the girls about Ethiopia. You can center your whole meeting around teaching the girls about Ethiopia. I've included some general facts about the country.  Then beyond just the facts I have provided a pile of games, activities, fun patch suggestions, and other resources to make your event fun and educational.
Learn Everything You Can About Ethiopia
This is the content you can print and use to put together a poster or just share with your girls.  If you want easy to use games and activities to teach your girls these facts be sure to keep reading through this post.
Did you know? Ethiopia is the oldest independent country in Africa.  It takes 15.5 hours to fly from the U.S. to Ethiopia. It is twice as big as the state of Texas.  Ethiopia is the second most populated country in Africa. It has the highest birth rate in the world with an average of 5 kids per family.  Ethiopia is said to be one of the oldest nations on earth believed to be founded in 980 B.C.
Geography of Ethiopia:  The land mass of Ethiopia is 455,186 square miles.  It is located in northeast Africa between Somalia, Sudan and Kenya.  Erta Ale is the most active volcano in Ethiopia. It is located on The Horn of Africa.  The longest river is the Blue Nile. Ras Dashen is the highest mountain in Ethiopia at 4,450 meters tall.  The climate has very little rain so drought and famine are a major problem in Ethiopia. Dire Dawa, Mekele Gondar, and Bahir Dar are other major cities in Ethiopia.
People of Ethiopia:  There are 107 million in Ethiopia.  The capital is Addis Ababa where 3.4 million live.  It is estimated that over 7 million people don't have enough food.  There are only 3 doctors for every 100,00 people. The life expectancy is 50 years old.   Only 49% of the Ethiopian people can read.
Animals of Ethiopia:  The following animals are only found in Ethiopia-Ethiopian Wolf, Walia Ibex, The Mountain Nyala, Somali Wild Donkey, The Yellow Fronted Parrot, The Bale Mountain Vervet, Menilik Bushbucks, Gelada Baboons, Swaunye's Hartebeeste and The Black Lion.
Economy in Ethiopia: The economy is based on agriculture, but the government is pushing to diversify into manufacturing, textiles and energy generation.  Coffee is the major export crop. The agriculture sector suffers from poor cultivation practices and frequent drought.
Armed Forces in Ethiopia:  "The Ethiopian National Defense Force: is the official name of the military.  The Minister of Defense oversees the ground forces, air force, and the Defense Industry sector.  The age to enroll in the armed forces is between 16-49 year olds.
Languages in Ethiopia:  The official language in Ethiopia is Amharic. Other languages are Oromo and Samali are widely spoken.  There are a total of 286 languages spoken by 86 ethnic groups in Ethiopia. English is taught in school as a foreign language.
Religion in Ethiopia:  The major religion in Ethiopia is Christianity with 61% being Christians.  Ethiopian Orthodox, Prostestant and Muslims are also religions throughout the country.  There are 11 Medevial churches cut and carved out of rock. They are called Lalibelas.
Education in Ethiopia:  Unfortunately only 4 out of 10 children attend school.  Children that live in bigger cities get a better education.  Primary school is for ages 7-12 year olds. Secondary school is for ages 13-18.  Only 2% of children in rural areas get a secondary education. Approximately 50% of the population can read or write.
Food in Ethiopia:  Ethiopians main dishes contain vegetables.  Spicy meat stews, sauces and flatbread are served with most meals.  Injera is another name for flatbread. Lentils, chickpeas, beans, corn, beef, lamb and fish are also common foods in Ethiopia.  Kitfo, Wat and Genfo are also popular dishes. Pork is not eaten in Ethiopia due to religious beliefs.  Coffee production in Ethiopia is a longstanding tradition which dates back to dozens of centuries
Recreation in Ethiopia:  Popular sports in Ethiopia include running (track), mountain climbing, bird watching, riding and pony trekking, caving, hunting and water sports.
Ethiopia Fact Bingo Game Activity Booklet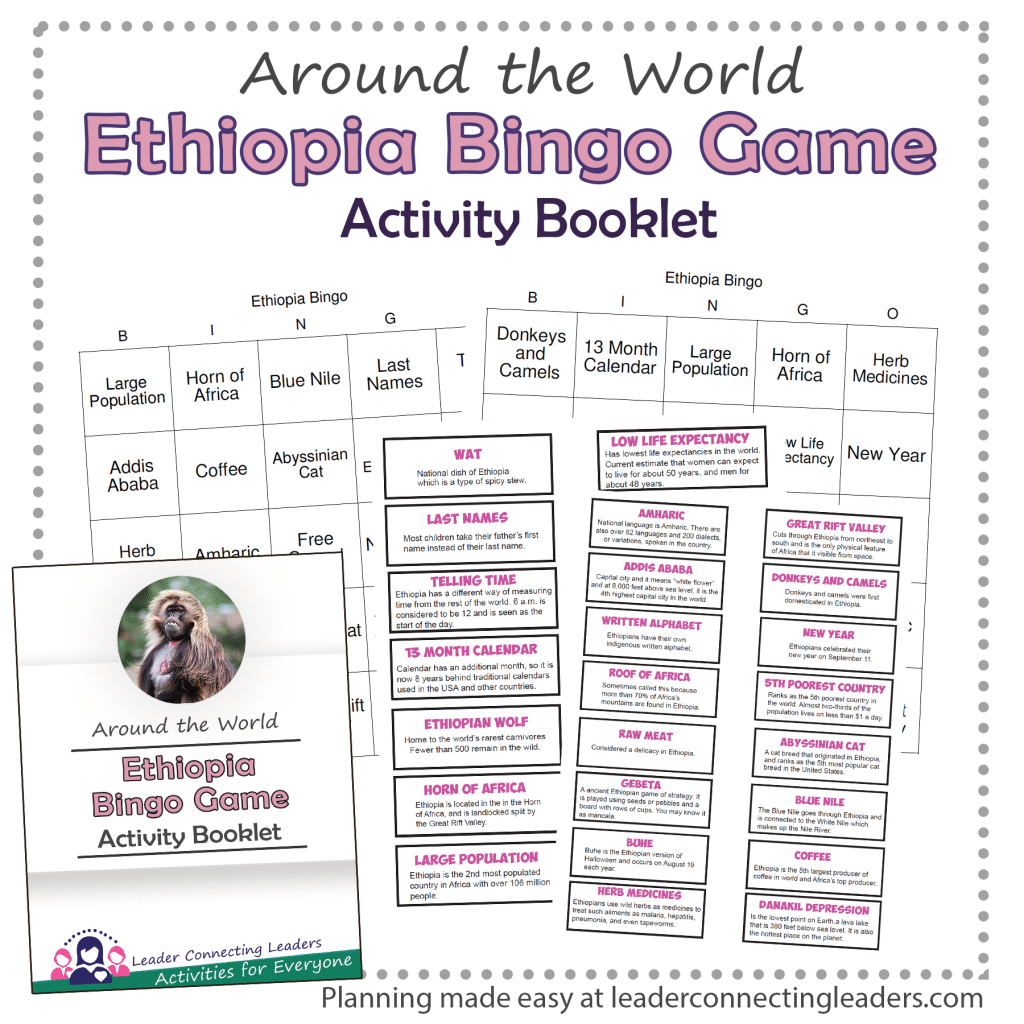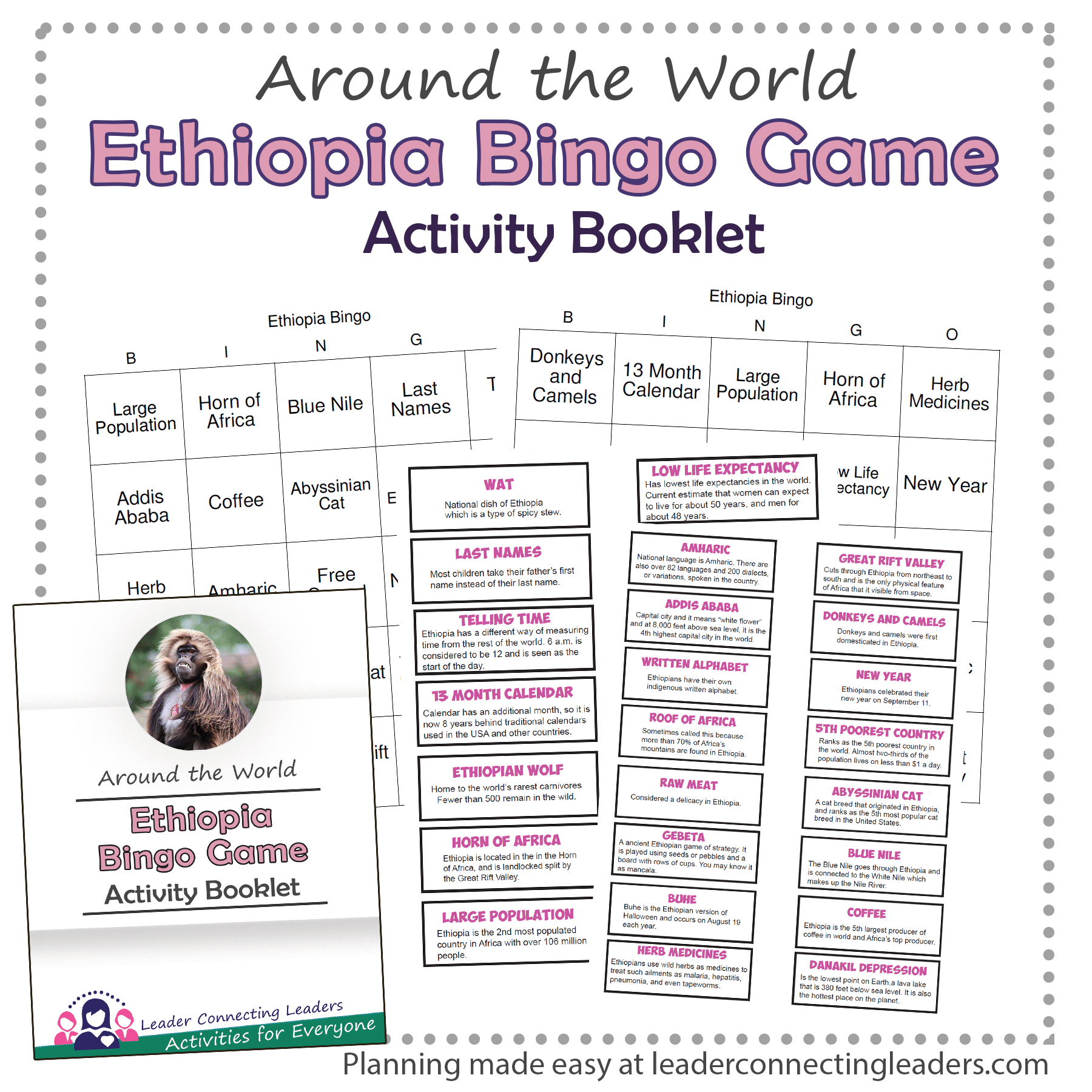 You may enjoy teaching your girls facts about Ethiopia while playing a game of bingo. In this bingo game there are 24 different Ethiopia facts your girls will learn about playing the game. When you draw a fact listed on the bingo cards you can also tell your girls a little bit about what each of them mean. After one game play again and have girls tell you what each fact means.
Learn more and get your Bingo game to play with your girls.
Ethiopia Game 
A popular games in Ethiopia that is widely known as Mancala (amazon purchase) is Gebeta. It is considered the oldest board game in the world.  
Do you want to make your own?
Learn and make your very own Mancala with your troop.
read more.
Fun Patch
Where do I get Ethiopia Resources? 
One of my favorite places to get resources and activities to teach girls about countries is Teachers Pay Teachers. 
Try one of these activities all about Ethiopia
.
If this is still not enough Ethiopia inspiration.
Checkout my
Ethiopia Pinterest
board where I share all kinds of other great ideas people have shared online for Ethiopia that you can incorporate into your event. I enjoyed learning more about Ethiopia, I hope you did too.
Before You Go…
Here are few other around the world ideas I have shared in the past that may be great for your event as well if you are doing more than learning about 1 country.
Enjoy every minute being a leader and continue to inspire your girls!