One fun thing to do with your girls is to teach them about another country everything from the people of country, weather, culture, food and more. You can center your whole meeting around teaching the girls about El Salvador.
You can center your whole meeting around teaching the girls about El Salvador. I've included some general facts about the country. Then beyond just the facts I have provided a pile of games, activities, fun patch suggestions, and other resources to make your event fun and educational.
Learn Everything You Can About El Salvador
This is the content you can print and use to put together a poster or just share with your girls. If you want easy to use games and activities to teach your girls these facts be sure to keep reading through this post.
Did you know? The official name of El Salvador is the Republic of El Salvador.
Geography in El Salvador: El Salvador is the smallest country in Central America and is smaller than the state of Massachusetts. The country is covered in mountains and is bordered by the Pacific Ocean, Guatemala, and Honduras. El Salvador is known as the Land of Volcanoes and has frequent earthquakes and volcanic activity. It is also the only country in Central America that does not have a coastline on the Caribbean Sea.
People in El Salvador: About half of all Salvadorans live in the countryside. These natives are considered poor and don't have electricity or running water in their homes. Most of the wealthy families live in San Salvador, the country's capital, in houses and apartments. The population of El Salvador is approximately 6,800,000 people.
Animals in El Salvador: El Salvador has over 800 species of animals. Almost half of all species are butterflies; bird species are the second of species, with about 330 resident species and 170 that are migratory. These birds include quetzals, toucans, herons, kingfishers, brown pelicans, egrets, parakeets and sandpipers. Illegal bird trafficking also poses a problem to the country. Besides birds and butterflies, the remaining mammal species is around 200 and can be seen mostly in reserves. These animals include opossums, anteaters, porcupines, agoutis, ocelots, spider monkeys and white-tailed deer. There are around 90 animal species are in danger of extinction, including marine turtles, armadillos and over 15 types of hummingbird in the country.
Government in El Salvador: El Salvador has a democratic government. The president and vice president are elected by popular vote for one, five-year term. El Salvador's government has added manufacturing jobs but faces the challenges of poverty, crime, and natural disasters.
Economy in El Salvador: El Salvador uses the U.S. dollar as its form of currency. Coffee, sugar, corn, rice, shrimp, and beef are the main agricultural products in El Salvador. El Salvador has the third largest economy in Central America.
Armed Forces in El Salvador: The Armed Forces of El Salvador is the official military force in El Salvador. The Forces has three branches: the Salvadoran Army, the Air Force of El Salvador, and the Navy of El Salvador.
Language in El Salvador: Spanish is the main language in El Salvador.
Religion in El Salvador: Around 50% of the population is Roman Catholic. Other religions of the country include Protestant (36%), other (2%), and no specific religion (12%).
Education in El Salvador: The government offers free education to children up to the ninth grade, but many families cannot afford the cost of supplies and transportation. Only 82% of children ever make it as far as the ninth grade and 6% of children never attend any school, even though it is mandatory until age fifteen.
Food in El Salvador: Rice, beans, and tortillas are the main foods in El Salvador. The national dish of El Salvador is called Pupusa, which is handmade corn tortillas stuffed with cheese and refried beans. Most of the natives cannot afford meat and do not have enough food to eat every day. Malnutrition is a leading cause of death among the poor in the country.
Recreation in El Salvador: Due to the location of El Salvador, the Pacific Ocean attracts surfers from all over the world. El Salvador beaches are the main tourist attraction for tourism. In El Salvador, it is not uncommon to spend the day hiking a volcano. Soccer in El Salvador is referred to as football, and the country has a national teams that compete in the Summer Olympics. El Salvador has attended the FIFA World Cup two times. El Salvadorians also enjoy boxing and basketball.
El Salvador Fact Bingo Game Activity Booklet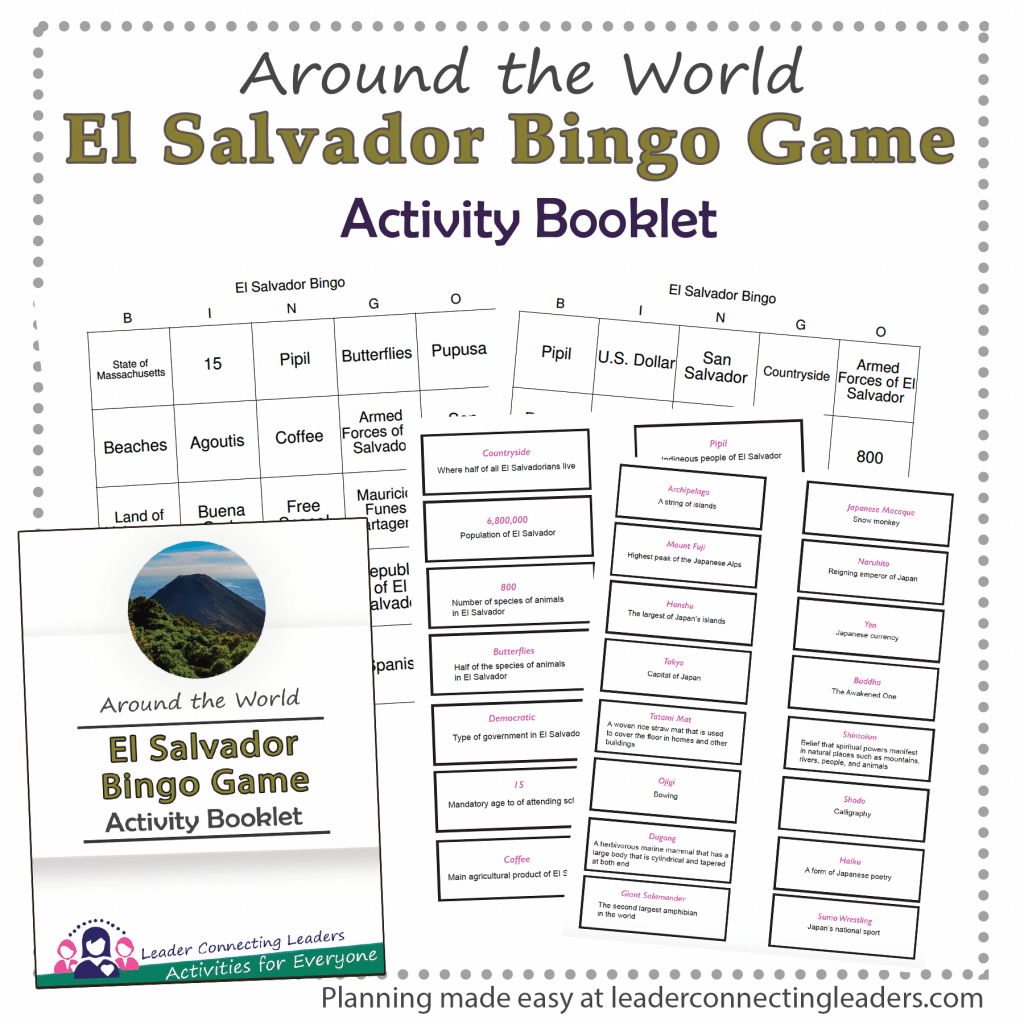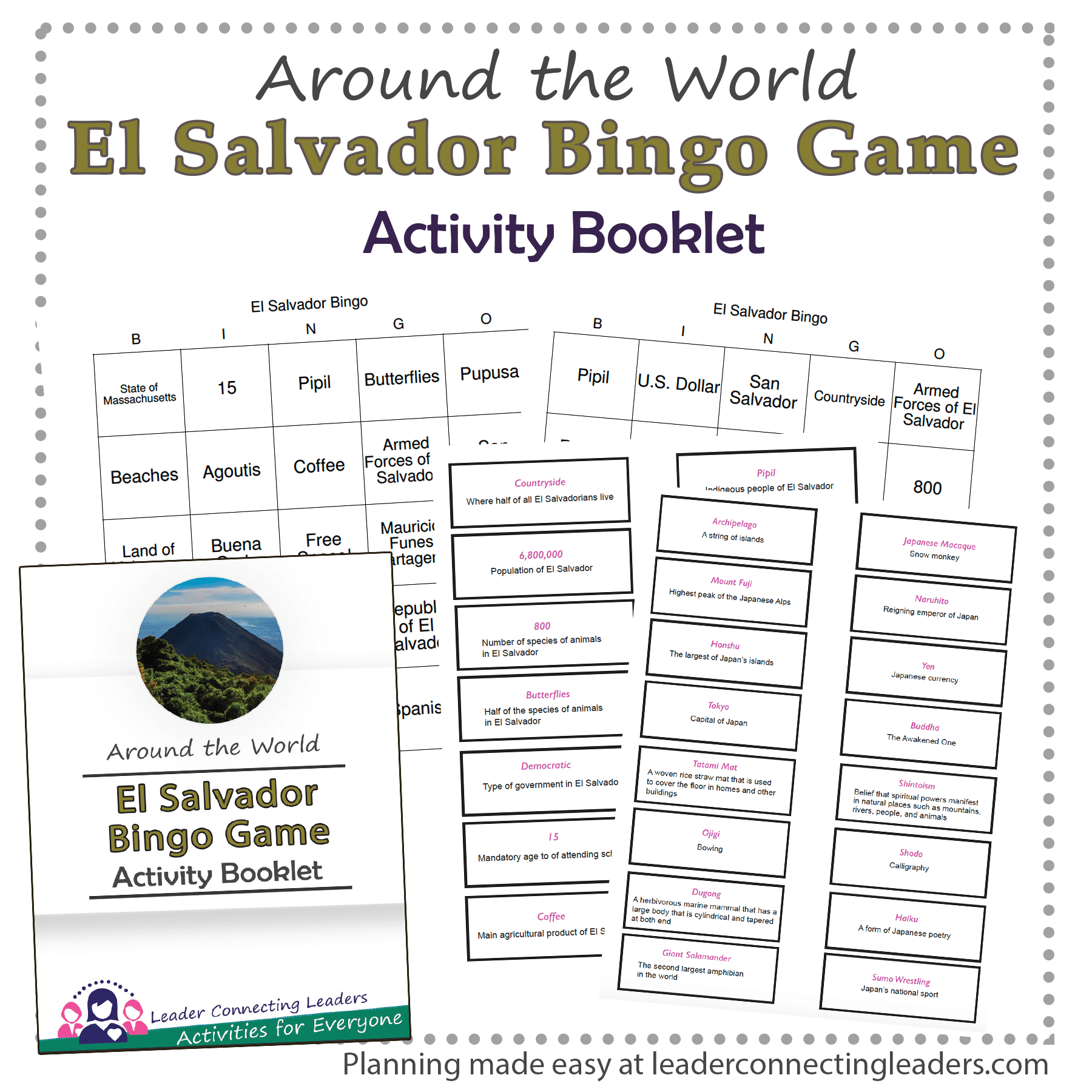 You may enjoy teaching your girls facts about El Salvador while playing a game of bingo. In this bingo game there are 24 different El Salvador facts your girls will learn about playing the game. When you draw a fact listed on the bingo cards you can also tell your girls a little bit about what each of them mean. After one game play again and have girls tell you what each fact means. Learn more and get your Bingo game to play with your girls.
2 Fun Group Games and Activities
Arranca Cebolla (Pull the Onion)
6-7 players needed
One person (the onion) grabs hold of a tree and hang on tight. The rest of the players line up in order of size, with the smallest person at the end.
The onion tries to hold onto the tree while the rest of the players link their arms around each other's waists and pull as hard as they can. The object is to pull the onion off of the tree.
Tripa Chuca (Dirty Guts)
2 players
Take a sheet of paper and write two sets of numbers 1-20 all over the piece of paper in random order.
Flip a coin to determine who goes first.
Play 1 draws a line from number 1 to the other number 1 without touching any other numbers or lines.
Player 2 draws a line from number 2 to the other number 2 without touching any numbers or lines.
The game continues with each player taking a turn to connect the numbers.
Fun Patch Ideas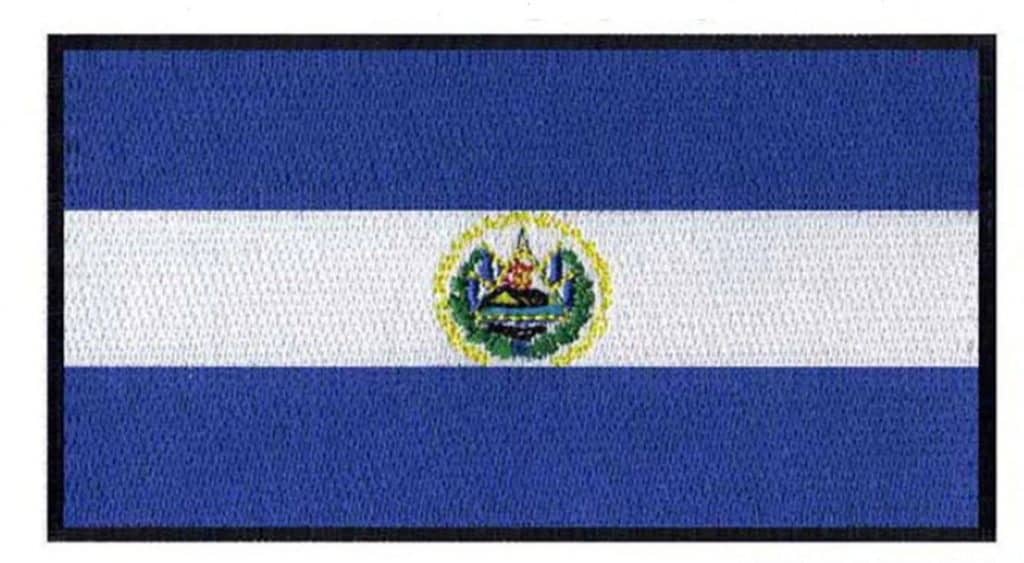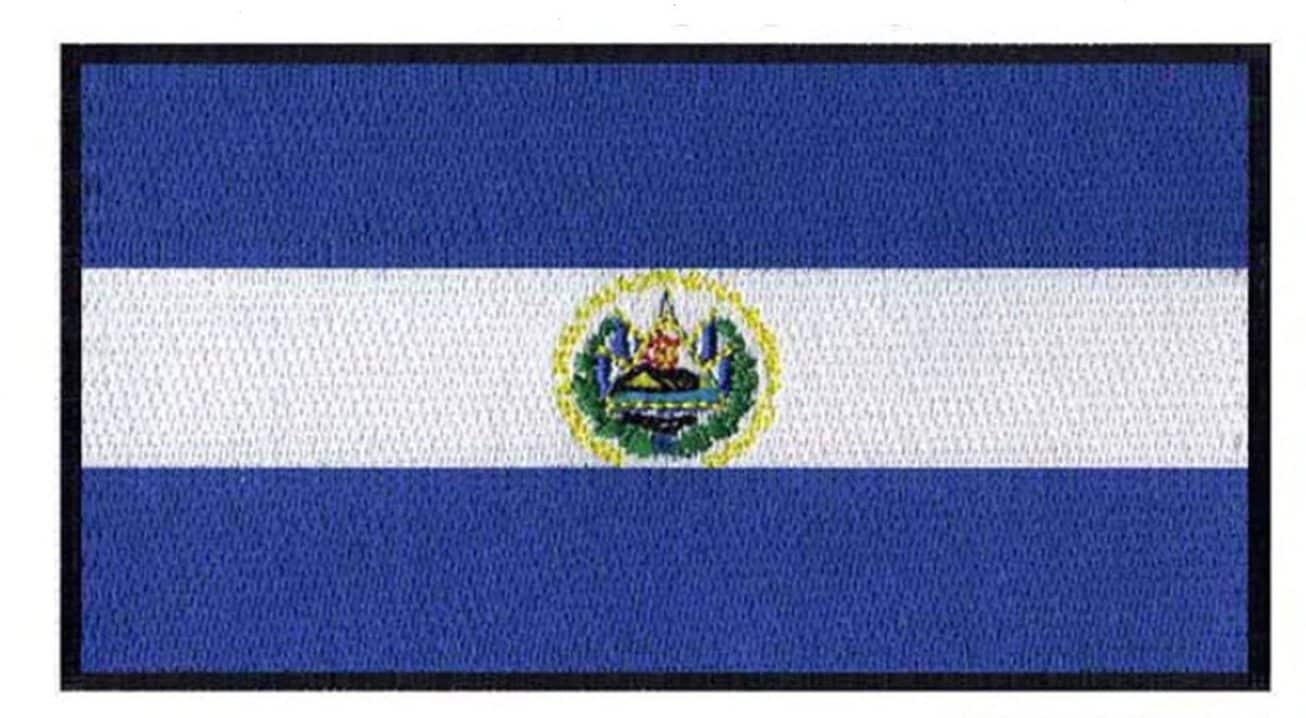 Quick Fact SWAP Ideas
Bring all the facts the girls are learning together with these easy and free SWAP ideas related to El Salvador. All you need is a printer, scissors, hole puncher, beads, and safety pins to put together. SWAPS4Free has a number of different variations of SWAP ideas for this country. Check them out here and get printables and directions to make yours with your troop.
If this is still not enough El Salvador inspiration. Checkout my El Salvador Pinterest board where I share all kinds of other great ideas people have shared online for El Salvador that you can incorporate into your event.
I enjoyed learning more about El Salvador, I hope you did too.
Before You Go…
Here are few other around the world ideas I have shared in the past that may be great for your event as well if you are doing more than learning about 1 country.
Around the World Printable Activity Booklets
Enjoy every minute being a leader and continue to inspire your girls!
Purchase this wonderful illustrated book from Amazon.