One fun thing to do with your girls is to teach them about another country. Everything from the people of the country, the weather, culture, food, and more. You can center an entire meeting around teaching girls about China. I've included some general facts about the country, and highlighted a few games, activities, patch suggestions, and other resources to make your meeting fun and educational.
Learn Everything You Can About China
This is the content you can print and use to put together a poster, or share with your girls during a meeting. If you want easy-to-use games and activities to teach your girls these facts, be sure to keep reading.
China is the world's most populated country, home to almost 1.5 billion people, making China one of the most interesting and diverse countries to learn about.
Did you know? China is the world's third largest nation in size. As a nation, China has developed at rapid speeds, quickly becoming the second largest economy on earth. China's "full name" is The People's Republic of China.
Geography of China: China is located in Southeast Asia, prominently spreading across the coastline of the Pacific Ocean for nearly 18,000 kilometers (that's more than 10,000 miles). With an area of 9.6 million square kilometers, China's outline resembles a rooster.
Where are the people in China? China boasts an impressive population of almost 1.5 billion people, more than any other country on the planet. China's capital city, Beijing, is home to at least 20 million residents, and China's most populated city, Shanghai, is home to nearly 25 million people. 33% of Chinese territory is occupied by mountains, plateaus, deserts, and plains.
Government in China: China exists under the authority of the exclusive political leadership of the CPC (Communist Party of China) consisting of legislative, executive, military, supervisory, judicial and procuratorial branches of government.
Animals in China: China's diverse landscape serves as a great home for thousands of incredible species. Some of the most commonly known include the giant panda, which is currently endangered and classified as a protected species, and a wide variety of primates, including dozens of types of gibbons. Along China's coasts, you can find an impressive collection of dolphins, sharks, and whales.
Economy in China: China's economy has grown by at least 10% every year for the last 30 years. China is the largest manufacturer of toys, clothing, fertilizer, concrete, and steel. In 2018, China's GDP was more than 13 trillion dollars.
Armed Forces in China: China's armed forces are called The PLA – The People's Liberation Army is the world's largest military force with more than 2 million active personnel. The PLA has the second largest military budget on earth, totaling more than $177 billion.
Religion in China: China's residents practice a wide range of religions, but five of the most common include Buddhism, Taoism, Islam, Protestantism, and Christianity. China has no official religion and in 2010, more than 50% of the population said they didn't identify with any religion.
Education in China: China is home to the world's largest education system with nearly 45 million children enrolled in schooling. The average school day in China starts at 7:30am and ends after 5:00pm. China also trains more PhD students than the United States, and is expected to spend more than the US on research in the near future.
Food in China: China's different regions host their own unique take on common cuisine. A few of China's most famous dishes include peking duck, wonton soup, and dumplings. Rice and noodles are a major staple in China, and most of the population prefers to eat using chopsticks.
Recreation in China: China's population takes advantage of the great outdoors at their disposal, and opt to hike, swim, ski, and participate in outdoor sports including volleyball, badminton, and cycling. Bicycling is the most popular mode of transportation for China's population.
---
China Fact Bingo Game Activity Booklet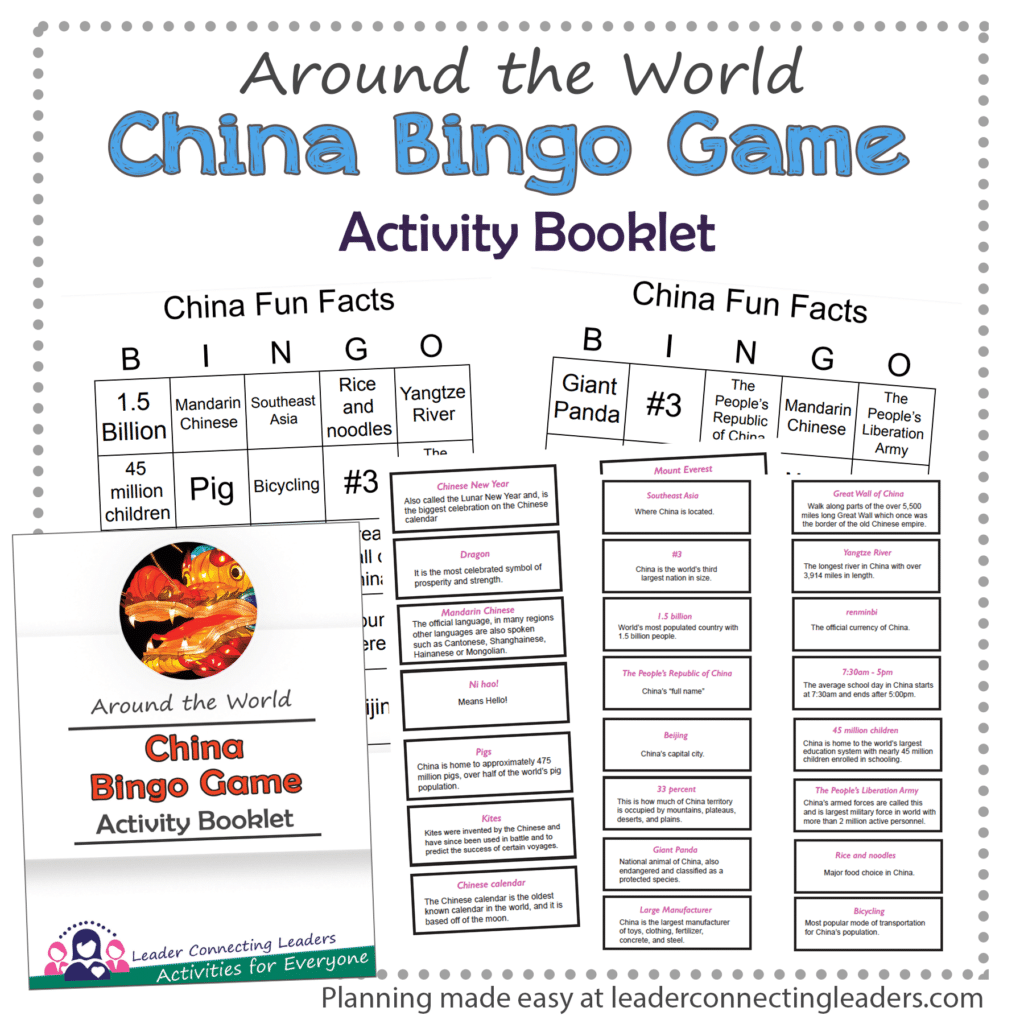 You may enjoy teaching your girls facts about China while playing a game of bingo. In this bingo game there are 24 different China facts your girls will learn about playing the game. When you draw a fact listed on the bingo cards you can also tell your girls a little bit about what each of them mean. After one game play again and have girls tell you what each fact means. Learn more and get your Bingo game to play with your girls.
---
Group Games and Activities
Mahjong was first developed in China, and many are familiar with the game since it spread across the globe in the 20th century. It's a tile-based game, most commonly played with two to four players. You can easily play online, or get your own set on Amazon to play as a group.
Chinese jump rope can be an incredibly fun way to get a group involved in a traditional Chinese activity. Jumping moves are combined to create rope patterns, and a variety of patterns, examples, and Chinese jump rope games can be found online. To play, a thin piece of elastic rope is wrapped around the legs of players/participants. Many think that it combines the skills of hopscotch with patterns from "cat's cradle."
Chopstick holders and Chinese fans present even more great arts & crafts options for your group. You can make them using paper, markers, paints, and perhaps a little bit of tape. Decorate paper before folding into a traditional Chinese fan or chopstick holder.
---
Flag SWAP and Fun Patch Idea
This is a great Flag pin kit you can purchase from Makingfriends.com and make as troop and SWAP with others or wear proudly after learning about China. Check it out here
If this is still not enough China inspiration. Checkout my China Pinterest board where I share all kinds of other great ideas people have shared online for China that you can incorporate into your event. I enjoyed learning more about China, I hope you did too.
---
Before You Go…
Here are few other around the world ideas I have shared in the past that may be great for your event as well if you are doing more than learning about 1 country.
Enjoy every minute being a leader and continue to inspire your girls!
Purchase this wonderful illustrated book from Amazon.