One fun thing to do with your girls is to teach them about another country everything from the people of country, weather, culture, food and more.
You can center your whole meeting around teaching the girls about Belize. I've included some general facts about the country. Then beyond just the facts I have provided a pile of games, activities, fun patch suggestions, and other resources to make your event fun and educational.
Learn Everything You Can About Belize
This is the content you can print and use to put together a poster or just share with your girls. If you want easy to use games and activities to teach your girls these facts be sure to keep reading through this post.
Did you know? You can drive across Belize in 90 minutes. Belize is only 60 miles wide and 190 miles long. It has the largest underwater sinkhole, called the Great Blue Hole. The people greet each other by locking thumbs.
Geography of Belize: Belize is located in Central America, by the coast of the Carribean Sea. It is slightly smaller than the state of Massachusetts. Belize is a flat , swampy coastal plain, with low mountains, in the south. It's highest point is Victoria Peak, at 1,160m and the lowest point, is the Carribean Sea. It's climate is tropical and very hot and humid from February through May. The rainy season is May through November. There are 8,803 square miles of land.
People in Belize: The population of Belize is 356,000 people. People from Belize are called Bellizeans. Belize City is the largest city. There are only 4 highways in Belize. The capital is Belmozan. Belllizeans, enjoy their tropical country, known for breathtaking sunsets, wildlife and warm ocean waters. It has the second largest barrier reef in the world. More than half of Belize is a rainforest.
Animals in Belize: The national animal is called "Tapri" or mountain cow. The national bird is the Keel Billed Toucan. There are 500 species of fish and over 500 distinct varieties of birds. More than any other country. Belize is the best place in the world to see sharks. It has a rare species of the howler monkeys. Jaguars, manatees, dolphins, centipedes, millipedes, scorpions and snakes are just a few of the animals found in Belize.
Government in Belize: Belize was formerly called British Honduras and was a British colony. Queen Elizabeth is the official head of state. The country gained its independence in 1981. It the democratic administrations authority of Belize, with a constitutional monarchy under parliamentary democracy.
Armed Forces in Belize: The military started in 1817. In 161 years the name of the military changed names 10 times. It is currently called the Belize Defense Force, which includes the army reserve, air wing and maritime wing. The ministry of defense leads the military.
Language in Belize: The official language in Belize is English. Some people also speak Kriol, Spanish, Creole and Mayan.
Religion in Belize:Most Belizians are Roman Catholic. The other religions include Protestants, Seventh-Day Adventist, Mennonites, Methodist, and Jehovah's Witness.
Economy in Belize:  Th Belizian dollar has a picture of Queen Elizabeth on the front.  Major industries are garment production, food processing, tourism and construction.  Agricultural products include bananas, coca, citrus, sugar, fish and cultured shrimp.  Natural resources are lumber, hydropower. Belize is a major exporter of Molasses. 
Education in Belize:  Preschool through Primary education, which is to the age of 14 is free.  At 14, the students can either opt out of school or continue their education, which requires a tuition.  Unfortunately, many families aren't able to pay for their child's tuition,so they can't continue to pay for a secondary education.
Food in Belize:  The national dish of Belize is called 1,2 &3 which consists of stewed chicken, rice and beans.  Many of the basic dishes include rice and beans. Belizians often eat chicken, pork, veal fish and vegetables.  Coconut milk and plantains are also added to dishes. Exotic foods include armadillo meat, venison, iguana, iguana eggs and fried paca.
Recreation in Belize:  The major sports in Belize are football, basketball and volleyball.  Boat riding, track and field, softball, fishing and cricket are also part of recreational activities.
Belize Fact Bingo Game Activity Booklet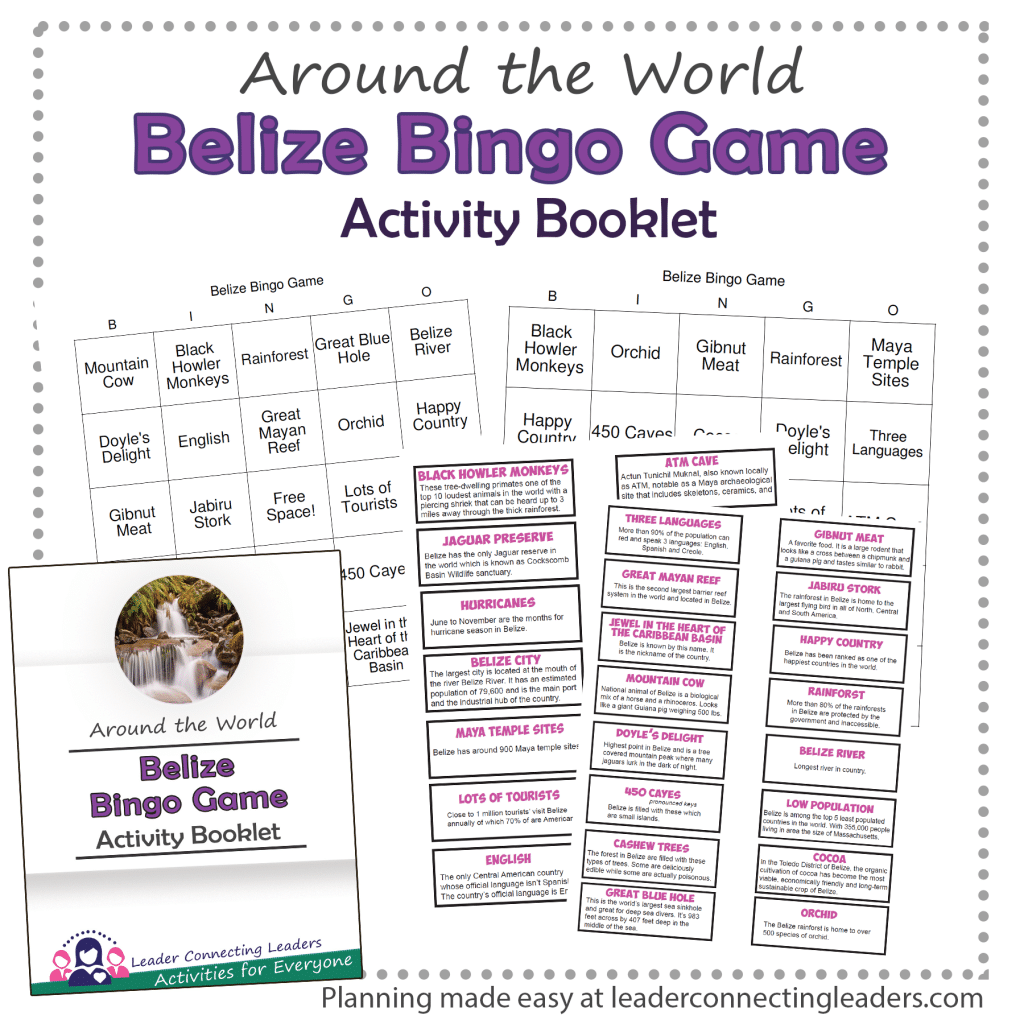 You may enjoy teaching your girls facts about Belize while playing a game of bingo. In this bingo game there are 24 different Belize facts your girls will learn about playing the game. When you draw a fact listed on the bingo cards you can also tell your girls a little bit about what each of them mean. After one game play again and have girls tell you what each fact means. Learn more and get your Bingo game to play with your girls.
3 Fun Group Games and Activities
How Green Are You? 
(Object is to find a hidden object)
All players decide on an object to be hidden.  One person is chosen as "IT" then sent out of the room.  Someone guards the door to ensure that "IT" doesn't look into the room or hear what is being said.  The rest of the players decide on a suitable place to hide the object.
After the object is hidden, "IT" is brought back into the room to  look for the object. The players begin to sing as "IT" looks for the object.  The farther away from the object the louder the singing. The closer to the object the softer the singing  Once the object is found, some else has a turn to be "IT" and the game is played again. Players decide when to end the game.  This game can be adapted for outside.
 song
HOW GREEN YOU ARE       
How green you are                                
How green you are                                 
How green you are  
How green
Kik di Pan   
(Hide and Seek Game)
The object of the game is for the players to come out of hiding and kick the pan before the keeper of the pan can find out where they are hiding.  The keeper of the pan is selected. His job is to guard the pan. A pan (tin) is placed in the middle of the open area where the game is to be played.  All participants should find a suitable hiding place in close proximity to the pan ,where they cannot easily be seen, by the Keeper. The players should try to sneak out from their hiding place, without being seen, by the Keeper.  If the Keeper sees where a person is hiding ,then the Keeper must hit the pan, loudly to signal that someone has been seen. He/she will then call out the player's name and where that person is hiding. That person will be out of the game.
Roal Huk
(Bicycle Hoop Race)
This race is held outside.  Each participant needs a hoop made from wood or a bicycle rim and a stick.  The players start on a starting line and when they are counted down, 3,2,1 go, the child takes their rim and uses a stick and tries to keep the rim upright and rolling to the finish line.  The first to get their rim over the finish line wins. 
Quick Fact SWAP Ideas
B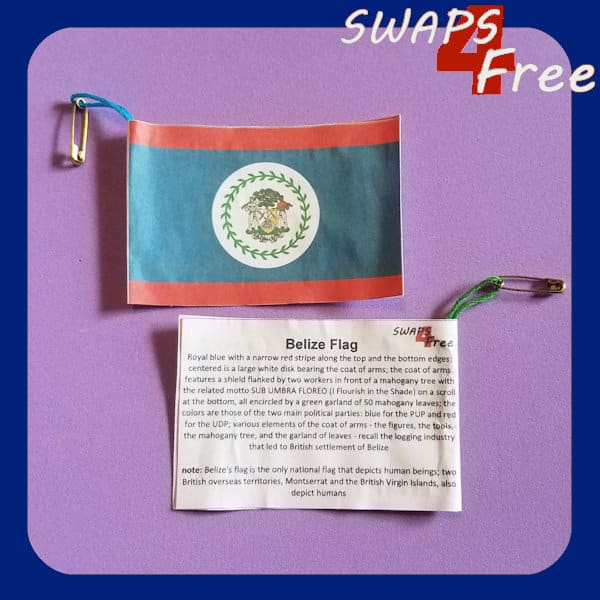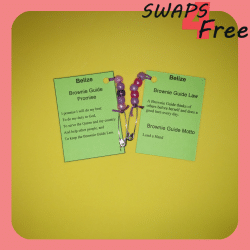 ring all the facts the girls are learning together with these easy and free SWAP ideas related to Belize. All you need is a printer, scissors, hole puncher, beads, and safety pins to put together.  SWAPS4Free has a number of different variations of SWAP ideas for this country. Check them out here and get printables and directions to make yours with your troop.
Fun Patch Idea
This patch I found on Etsy, seems like they go in and out of stock. This particular seller does a lot of patches from countries around the world. If you don't see what you need I recommend messaging the seller. 
If this is still not enough Belize inspiration. Checkout my Belize Pinterest board where I share all kinds of other great ideas people have shared online for Egypt that you can incorporate into your event.
I enjoyed learning more about Belize, I hope you did too.
Before You Go…
Here are few other around the world ideas I have shared in the past that may be great for your event as well if you are doing more than just Belize.
Around the World Printable Activity Booklets
Enjoy every minute being a leader and continue to inspire your girls!
Purchase this wonderful illustrated book from Amazon.