My girls enjoy playing games and doing crafts. While learning about pets I incorporated both when learning because it is a great way to reinforce the topic we are covering.
Below are a few ideas to get you started.
Pets Activity Booklet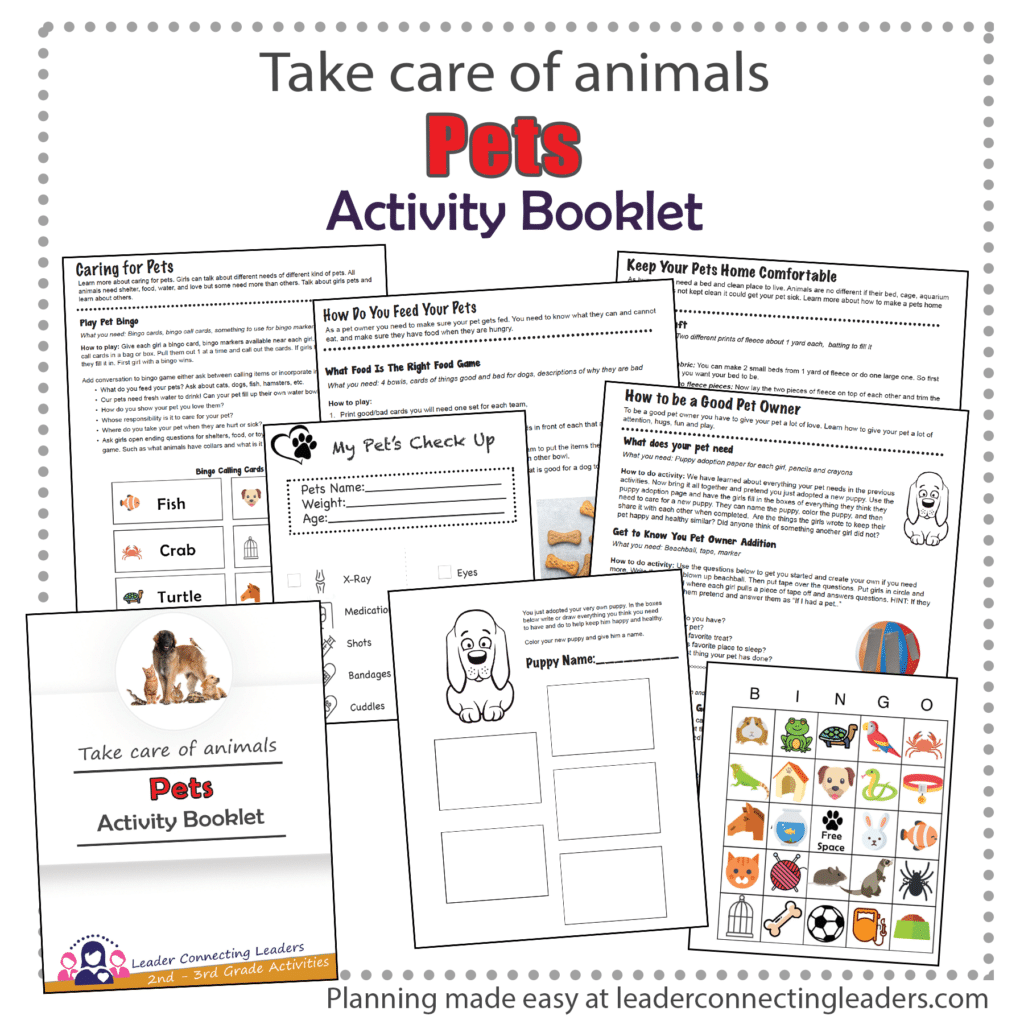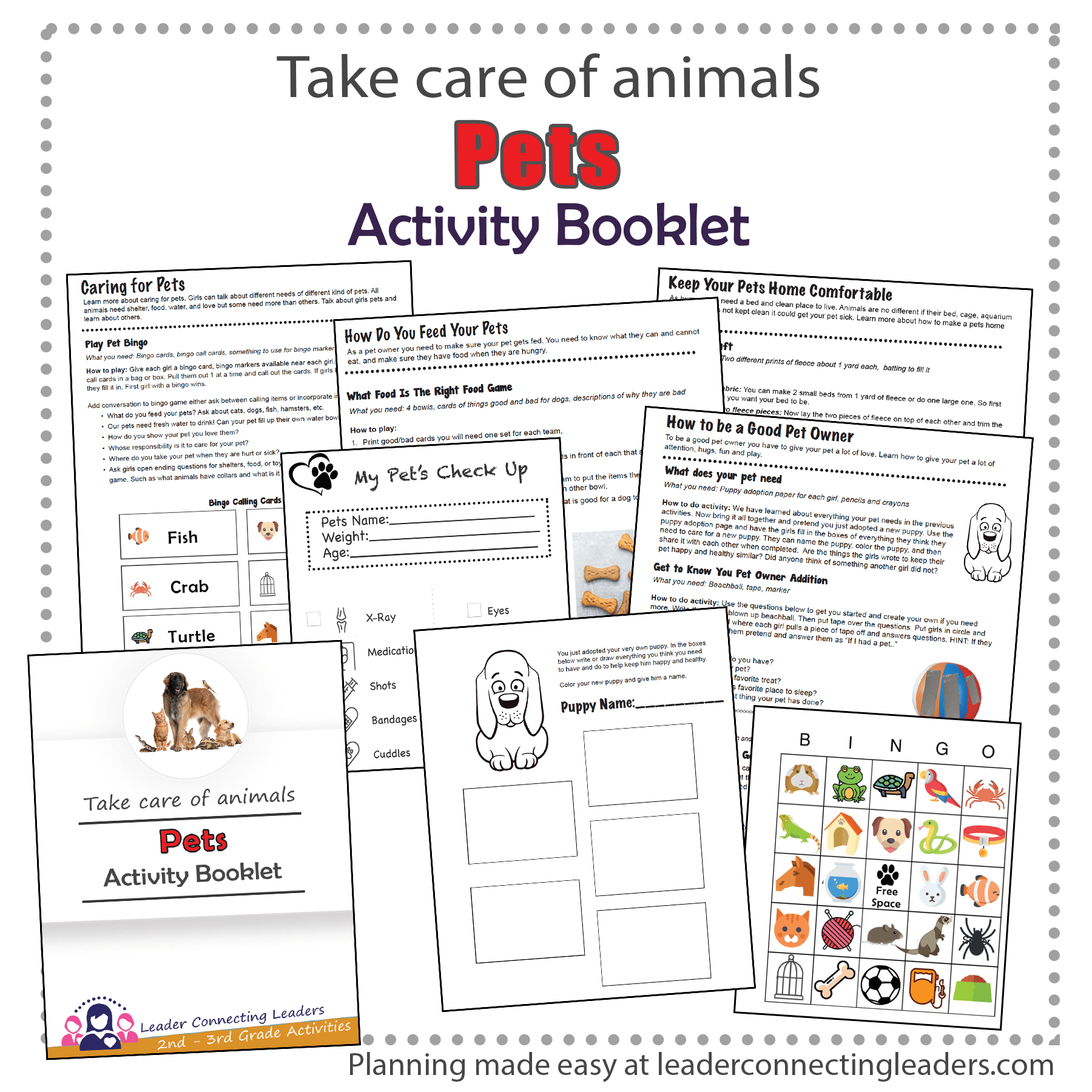 Before jumping into a few ideas, do you want to skip all the planning? If so, use this Activity Booklet which will teach your girls about caring for your pet while keeping them happy and healthy using games and activities. With a step by step activities, you can't ask for an easier way to run your meeting. Learn more and get yours today!
Be sure to also checkout these other activities your girls will love:
---
Other Fun Activities to Try
Can You Clean Your Dish First?
Get some doggy dishes and put Jell-O or pudding in these doggy dishes and have the kids kneel beside the dishes with their hands behind their backs and see who finishes first. Grab your camera this is going to be fun to watch.
Dog or Cat Relay
Put your girls into two teams and purchase cookie bones and cat toys. At go each girl must go to other end of track on all fours pick up a bone and eat it then run back to next person in line. Each girl must go, first team to finish wins. Added variety have girls bark as they take their turns, have them be cats and run down get cat toy and bat it all the back to next player who must then bat toy through course as well.
Dog Poo Pick Up
Give each girl a brown bag and throw candy tootsie rolls all over the play area. These tootsie rolls are now doggie poo. At go everyone must go around and clean up the meeting space of all the poo by putting it in their brown bags. The girl with the most candy wins.
Who Let the Dogs Bark?
You will need a tape recorder. Have each girl take a turn barking into a recorder or phone. Make sure you mark who's voice is what. Then have girls guess who was barking.
Another Way To Earn This Badge
Since I have had a multi-level troop for so many years, I tried another way to earn the badge, I used a product from makingfriends.com. They offer badge in a bag kits which has something for each step for your girls to do. I also added a few extra games with it and shared on the gsleader411 blog where I offered my review. Checkout my review on the product.  My girls had fun using it and each girl went home with a pet frog. 🙂
Why Not Make Your Very Own Pet Frog
Do you remember when you were younger and you made your own pet rock? If so I bet your Brownies will love it to.  Here is a kit that has everything you need to make that pet rock with your girls Craft Rock Pets Frog. If you have all the paint you need and don't want to spend any extra of your budget on a kit, then how about a field trip, if you live near a beach or creek you could take the girls on a field trip to pick out their own rocks.
Activities For You and Your Dog
You could talk to your girls about the health and well being of their dog. Did you know a active lifestyle is often associated with living a long and healthy life for both humans and dogs alike. Finding new and interesting ways to keep you and your dog active can be tough. Just like you, your furry friend can become bored with the same old song and dance. That is why you should switch up the activities every now and then. Checkout some of these ideas for keeping your dog healthy
What do we do after your girls complete the activities?
Well of course give them the badge to display proudly on their vest, they earned it!  Additionally If you are like many leaders we want to award our girls when they complete something even beyond just the patch. One great way to show achievement is with a certificate. Don't worry you don't have to make them, I found a resource that has done all the work for you and all you have to do is print them and customize the certificates with each girl's name, badge or award earned, date, and troop leader.  Editable certificates perfect for awarding girls after earning a badge.
Enjoy every minute being a leader and continue to inspire your girls!