I get a lot of questions about ceremonies. Today I want to share with you a unique idea for holding an Investiture and/or Rededication ceremony!
First question you may have, what is an investiture ceremony? It is a way to welcome new members both your girls and adult to your troop. You would give each girl their GS pin based on what level you have.
Second question you may have, what is an rededication ceremony? This is when you take the time for your returning girls and adults to renew their commitment to the GS Promise and Law.
If you have a combination of new and returning girls and adults you can combine the ceremony into one, or you can have them as two separate events. Many troops like to start the new year out with one of these types of ceremonies.
Today I am going to share a idea of a themed Investiture/Rededication ceremony, which is Pirate Theme. If you want to decorate for the event, I would highly recommend searching oriental trading for items you can buy in bulk like table clothes, rubber duckies, treasure chest, coins, etc. 
WELCOME TO THE CREW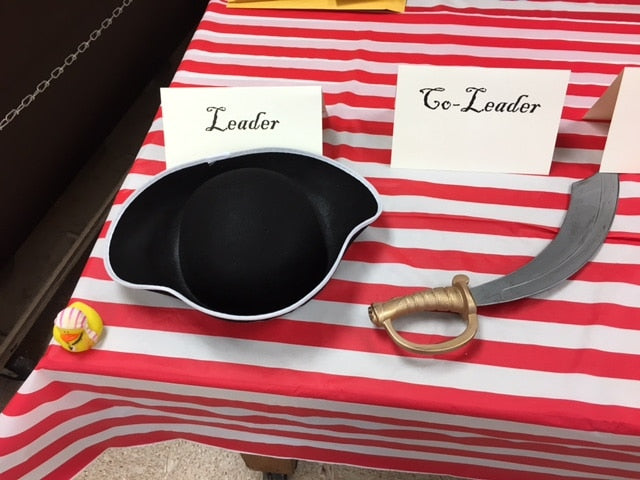 Today we come together to rededicate and/or welcome new girls and leaders to our troop. I remember the day I walked up the plank and joined as a leader of this troop. (put on your captain hat) As your captain(leader) I will determine and carry out the wishes of the group. I will prepare and start our meetings on time, and seek the girls and the adults participation, I will guide discussions and enthusiastically develop programs that will get all the crew members (girls) excited to lead their own meeting.
Ask your co-leader to come up.  Give her the sword.
As the co-leader of this troop you are my lifesaver, always there ready to pick up anything I need. You are informed about everything going on and can pick up any crew member's duties. You take over the meetings during the captain's(leader's) absence. Thanks for being here guiding our crew members(girls) to be the leaders of tomorrow.
The following activities you could do to rededicate and welcome new girls to the troop and help them learn what it means to follow the GS Law.
GS Law Treasures – Monthly Challenge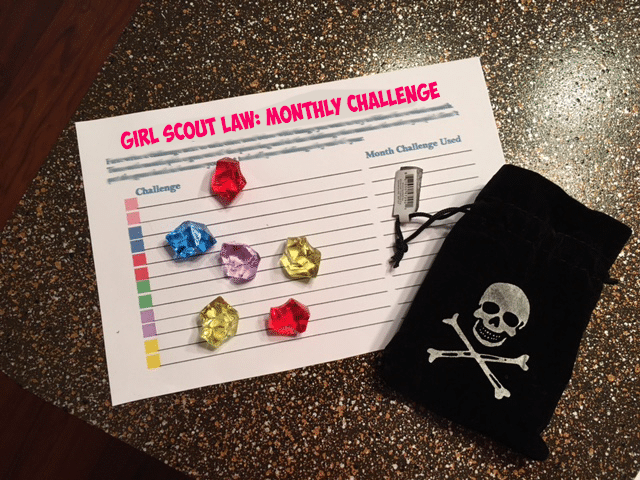 Print a copy of the GS Law Treasures sheet and purchase the pirate gem packs, or use colored papers in a baggy. The pirate gems can be found at party centers and oriental trading has them in bulk.
This activity will give girls a chance to talk about the GS Law, and come up with monthly challenges they can do at home to live by the law. (Example recycle cans each month, send a card to someone who needs cheering up, etc)
Have them work together to come up with the 12 challenges to put next to color squares. Then each month draw a gem out of pirate bag and whatever color they pull is the challenge they must complete. If you want to do a shorter term challenge, do it as a 12 day challenge, one thing a day for 12 days.  The form is easy to customize.
Additional Pirate Ideas
If you want to go beyond the ceremony and continue to have some pirate fun checkout these ideas
Use recycle items and have girls create their very own pet bird that would sit on their shoulder. Gather up all kinds of left over craft supplies Give your girls the task at hand and they will go wild.
Cannon Ball Pop – Fill black balloons with message with some saying "Collect Yer Treasure" and "Walk the Plank!" then tell girls that they must put out all the cannon balls by sitting on them. If note inside says "Collect Yer Treasure" They are out and have some type of price for them. If it says "Walk the Plank" they must keep popping till all the balloons are gone.
Fun Patch Suggestions

Other Ceremonies You May Be Interested In
Plan your troop ceremonies using the following resources:
Keep Your Troop Organized And Focus On The Fun Part of Being A Leader  
This Leader Planner is from another amazing blogger named Jen her blog is called "I am StrawjenBerry" With the help of Jen I wrote a blog post explaining everything you will get in this planner. It has everything you need to plan your troop year. The planner contains your calendar, meeting planners, rosters and badge trackers in one safe place for when you need it.   Read more