Thanksgiving will be here before you know it. This post is full of a number of fun games and activities you can do with your troop to celebrate the holiday. This is not just for the girls in your troop, the adult leaders and parents can get involved in the fun as well.
When your girls arrive tell them they need to start thinking of things that they are thankful for. Once everyone is there takes turns letting each girl share what they are thankful
for. You can go around the group more than one time. It depends on the size of your troop.
Thanksgiving Activity Booklet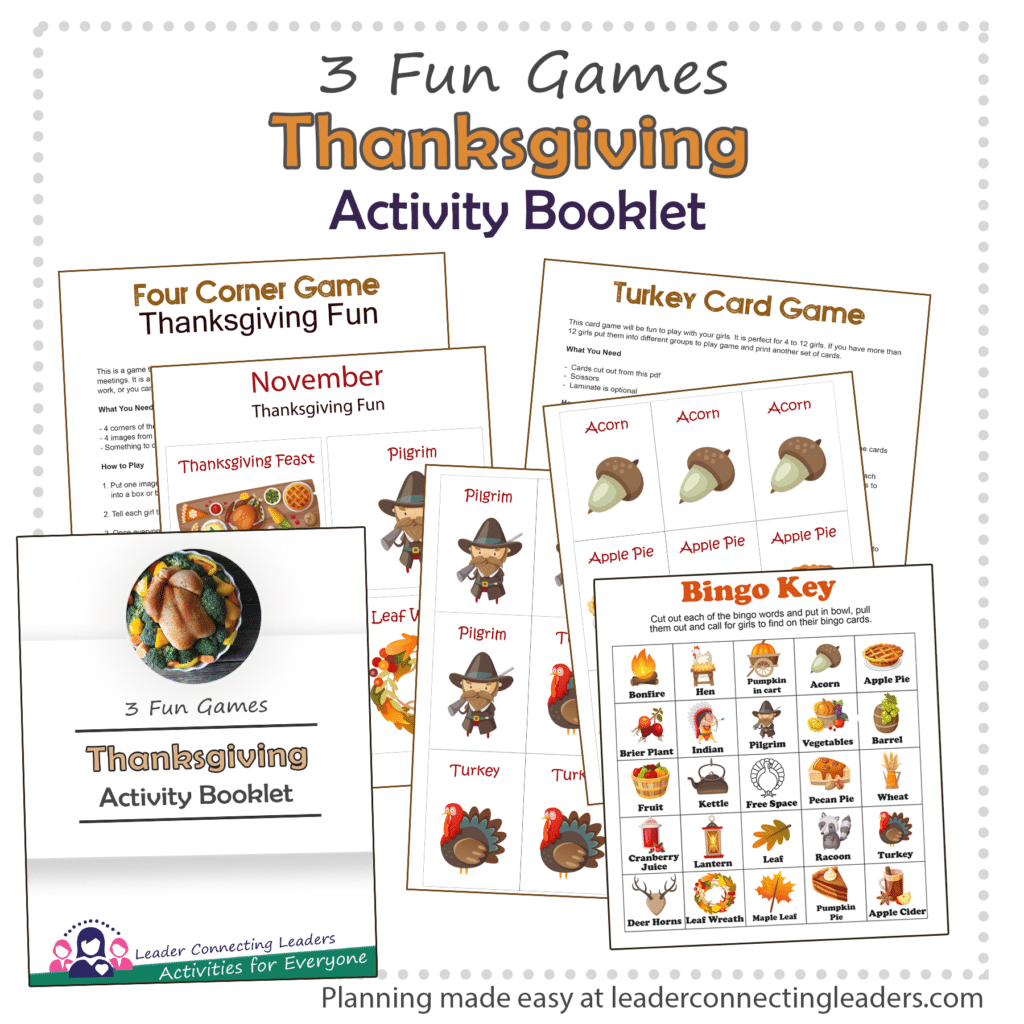 Before jumping into some ideas for your Thanksgiving party, here is 3 fun games to add to your event. This activity booklet has 3 very fun games all focused on Thanksgiving. The girls will have a blast running from corner to corner of the room in the 4 corner game. Then jump into the turkey card game where the girls will compete against each other to match their 4 cards before someone else does. Lastly play a game of bingo. Learn more about this activity booklet and get yours today!
Gratitude Jar Craft
You need to have a plastic jar or glass jar depending of the age of your girls. The jars will also need lids. Let the girls decorate the jars with their own creativity. Some supplies you will need are glitter glue, markers, paints, pieces of tissue paper, stickers, etc. The girl's name should be somewhere on the jar to make it personal.
Have the girls cut out small pieces of paper to write something their grateful for daily and place it in the jar. They can do it from Thanksgiving until New Year's Day or for the whole year.
Your girls may also enjoy the Petal Fairy Gratitude Game and 6 amazing ways to say thank you to someone in your life.
Turkey Tag Game
You will need 3 clothespins for each girl. The girls place 3 clothespins on their clothes. When you say go the girls run and try to take the clothespins off the other girls. The
girl with the most clothespins wins. It is more fun to play tag outside but it can also be placed inside.
Pumpkin Roll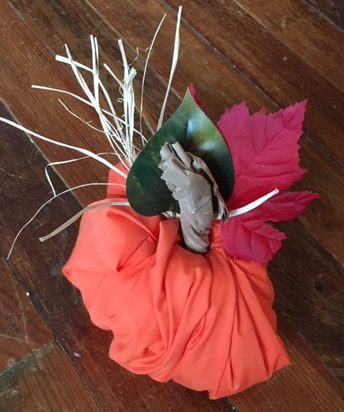 You will need 2 pumpkins around the same size. Divide your girls and possibly leaders into 2 groups. They need to be in a single file line and take turns rolling the pumpkin down a course. The course can be a straight line or with obstacles. The first team to finish wins. Of course, pumpkins don't roll straight so this game is a lot of fun.
Your girls may also enjoy a few different pumpkin crafts to add to Thanksgiving event.
Turkey Is Stuffed Favors
I used 2 color napkins put food gummy's inside tied with ribbon and then added eyes and beak and tag saying I'm stuffed. I found that glue dots worked great for this craft.
Turkey Draw
You will need a piece of paper for each girl, a book and crayons or a pencil. The girls hold a book on their head with a piece of paper on top of the book. The girls get a pencil or crayon. Tell them to draw a turkey while the book and paper is on their heads. They can't take it from their head until they are done drawing. It's a fun activity and the results will vary. Make sure the girls share their turkey drawing with the rest of the troop.
Thanksgiving Escape Room
This one comes from another passionate Girl leader. She created "We're Late for Thanksgiving Dinner" which tasks the players to complete a frazzled mom's to do list before they can leave for Thanksgiving dinner at Grandma's house. The game includes an optional part for the host to play in addition to giving the players hints.
It is designed for players to escape in an hour. The games are digital downloads that include your supply list, directions for setting up the room, how to set up locked boxes and what goes inside and all the printables that are used in the game. Simply set up meeting space so girls can walk around comfortably. Read more about this kit and get yours today.
Fun Patch
This is the time of year to be thankful. After your girls enjoy some thankful games during this month. Add this adorable fun patch to the back of their vest: "I choose to be thankful for you..Happy Friendsgiving"

Have a wonderful Thanksgiving!
---
Keep the ideas coming with 12+ amazing resources to help you plan and organize your troop + FREE Kaper Chart Download
One thing we all know as leaders we need all the help we can get to make the program fun, educational, and to help build the girl leaders of tomorrow. This post is packed full with ideas for:
Kaper Chart ideas plus a free download
How to organize your troop
Collaboration Ideas
Badge Planning Resources
World Thinking Day
Cookie Season Support
Extra Fun For Meetings
How to make your troop unique
Ceremony Ideas
Enjoy every minute being a leader and continue to inspire your girls!