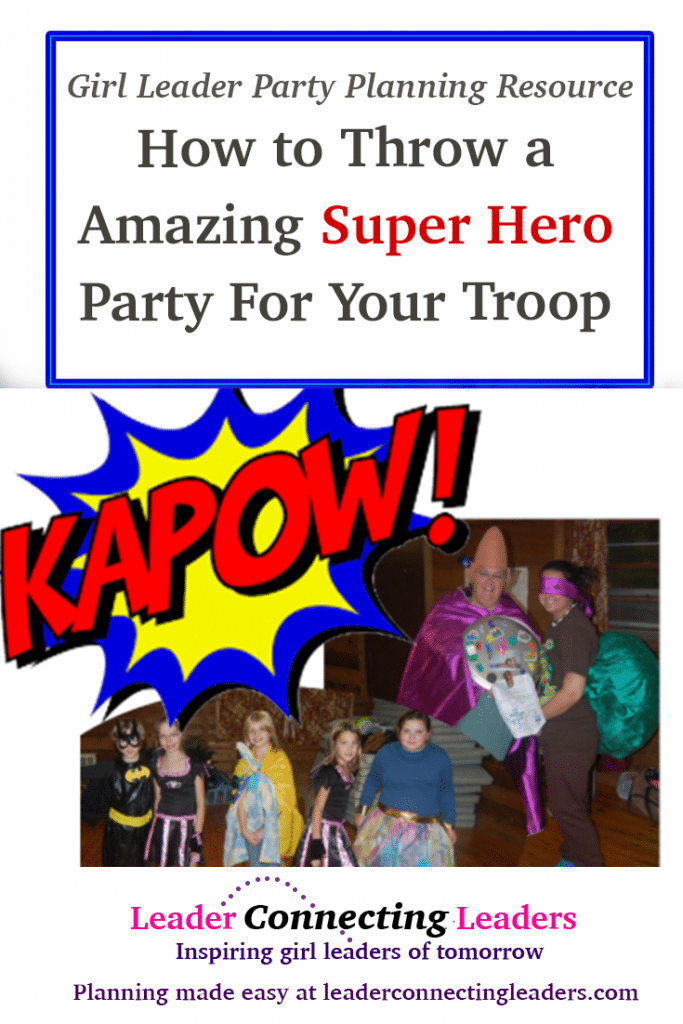 One of the most successful parties we have had have been a Super Hero theme; everyone came dressed either as their favorite super hero or became their own special super hero. This post is full of games and songs to play at your event.
Add the following activities into your party:
Complete a badge at your party using some of these activities
Games, Songs and Crafts For Party
Super Hero Craft
You can have your girls come dressed as their favorite super hero. Then when they arrive we made their very own super hero mask to wear during the day during the event. Get yours now: Superhero Masks Craft Kits – Makes 12
Spiderman's Web
Give girls silly string and go after the leaders with their webs. Of course the girls will have a blast hitting each other as well.
Spidery Obstacle course
This is a hysterical superhero game; I set up a simple obstacle course using tables, mattresses, and chairs. We paired the girls up, one player was blindfolded and their partner had to lead them through the obstacle course using only their voice. I set plastic spiders all over the course. The object was for the blindfolded player to collect as many spiders as they could in one minute. Afterward the players switched roles and went again. The team that collected the most spiders won.
Kryptonite weakness
The girls sat in a circle, almost shoulder to shoulder, we explained to the scouts that superman was a superhero who had amazing powers and abilities, but the only thing that could hurt him and made him lose his powers was "Kryptonite". We told the girls that they all had to pretend they were Superman and they had to get rid of the Kryptonite by passing it to the next player as fast as they could. We used a green ball represented Kryptonite…
This game is played like musical chairs play music when music stops the one that is holding the Kryptonite is out. We continued the game until the last one is left and she won.
Superhero Muscles
Blow up 30 or smaller balloons. These balloons should be no bigger than 6 inches long because they will be stuffed into baggy clothing. Divide the children into teams of three or four. Each team will choose one member of the team to be the superhero. Have the superhero wear some extremely over-sized and baggy clothing, such as an adult sweatshirt and sweatpants. Set a timer for one or two minutes. When you say "Go," have the participants stuff the balloons into the superhero's clothing. Whichever superhero has the most "muscles" at the end wins.
Sing a Song
The song Can-A-Woman is a very popular song with girls we used it at our day camps and meetings. Just added the line can a woman be super hero…and it fits right in.
Can A Woman? (to the tune of "She'll Be Coming Round the Mountain")
Can a woman fly an airplane? Yes she can, yes she can!
Can a woman build a building? Yes she can, yes she can!
Can a woman fight a fire?
Can a woman change a tire?
Can a woman lead a choir?
Yes she can, yes she can!
Can a woman be a lawyer? Yes she can, yes she can!
Can a woman fix an engine? Yes she can, yes she can!
Can a woman be a drummer?
Can a woman be a plumber?
Can she play ball in the summer?
Yes she can, yes she can!
Can a woman be a doctor? Yes she can, yes she can!
Can a woman drive a tractor? Yes she can. yes she can!
Can a woman lead a nation?
Can she run a TV station?
Can she head a corporation?
Yes she can, yes she can!
CAN A WOMAN BE A SUPER HERO? Yes she can!
Just you wait until we're older, then you'll see
We'll be women in tomorrow's history!
As we grow up through the years
We'll sing out loud and clear
Can we start the process here?
Yes we can, yes we can!!
---
Party Planning Kit Printables
I am so excited to present Strawjenberry's Ultimate Party Kit! Almost everything you need to plan your troop celebration is included in this kit and can be printed at home or through your local office supply store or printer. It all starts with a personalized troop banner (two options to choose from) that includes your troop number. From there you have many different supplies to create the labels, stickers and decorations that you need.
The full color party kit includes:
One personalized banner
Personalized party invitation
Four (4) styles of placecards/treat labels, including one (1) secret bonus design
"I Love Girl Scouts" flower graphic
Fifteen (15) unique and colorful "badges" to use as stickers, cupcake toppers, or decorative elements on any number of party items
A sheet of personalized gift tags
Two (2) square backgrounds to create labels for lollipops. chocolate bars or giftboxes
A set of personalized badges with your girls' names on them (you can also opt for a troop number instead)
Printable 8 1/2 x 11 Promise and Law pages–perfect for framing!
One sheet of twelve (12) blank badges
One sheet of twelve (12) level letters with heart (d, b, j, c, s, a, v)
The sky is the limit for how you can use all of these DIY elements to create the ultimate party. All items are included and have the bright and cheerful design color scheme. Get now for any party, ceremony or event you are planning for your troop.
Organize Your Troop Parties This Year with a 25+ page Leader Planner
This Leader Planner is from another amazing blogger named Jen her blog is called "I am StrawjenBerry" With the help of Jen I wrote a blog post explaining everything you will get in this planner. It has everything you need to plan your troop year. The planner contains your calendar, meeting planners, rosters and badge trackers in one safe place for when you need it. Read more
Enjoy every minute being a leader and continue to inspire your girls!