Summer is the season of fun, and there is no better place for younger girls to be than with their Girl Scout troop! Sometimes your troop can be so set in the Girl Scout mindset and focused on learning new skills and selling Girl Scout cookies that they forget to relax and enjoy their time together.
Any group of girls from grades K-12 can form lifelong friendships during these beautiful summer days, and as troop leaders we need to remember how important the fun Girl Scout activities are for fostering those relationships.
I've created a light and easy list of fun activities you can do right now with Girl Scouts at any age level. I hope your scouts love them as much as mine do!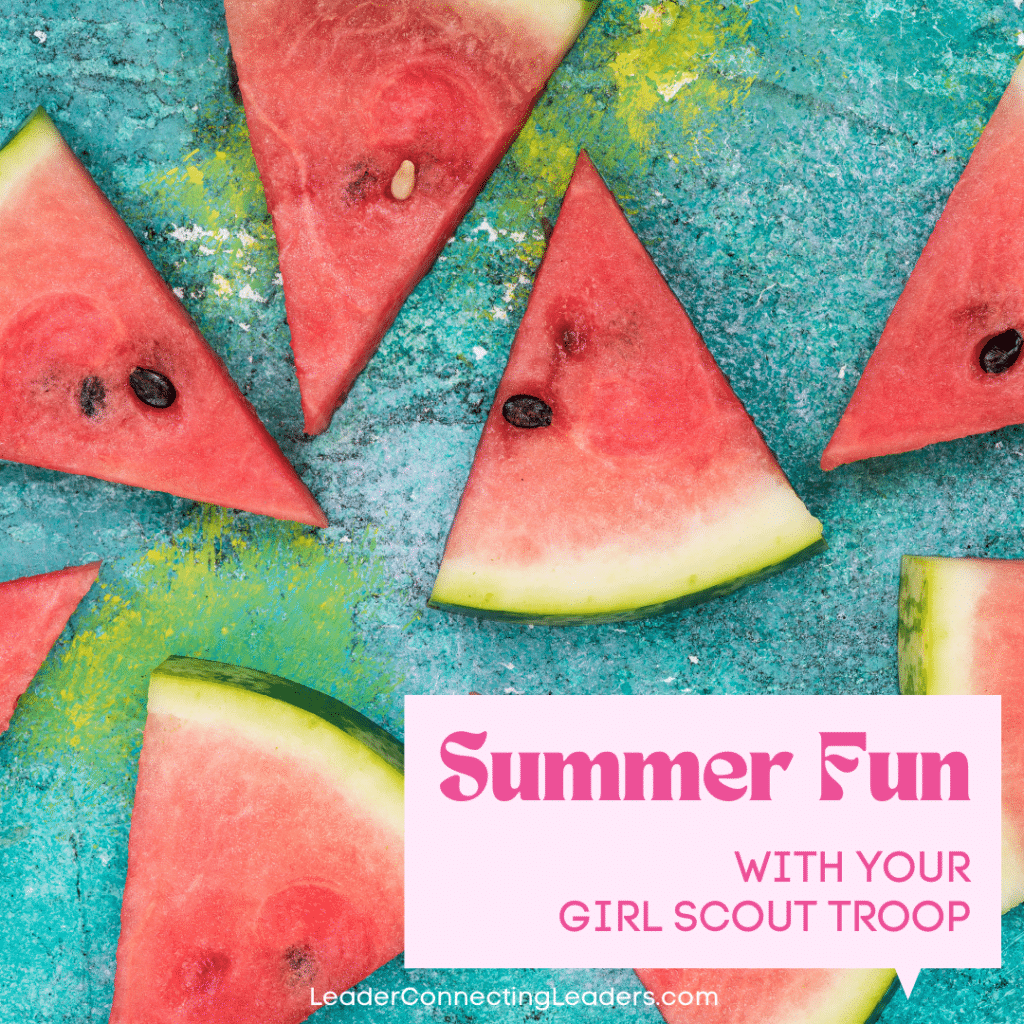 Have a Social Media Challenge
Is it just me, or does every kid have an iPhone these days? One great way to put that technology to use is to integrate it into your summer fun. What's easier than creating fun activities with the tools you have in your own hands?
A social media challenge provides a perfect opportunity to create new friends and new experiences for younger girl scouts, or scouts who are in high school! It is so much fun, especially if you let your scouts help create the challenges.
Simply gather your scouts into pairs or groups, and give them a list of pictures they need to create. The prompts could be more of a scavenger hunt (example: take a picture next to the red bench) or something more creative (example: take a picture where you're all in the air). If you give your girls safe parameters that they can explore to complete the challenge, and set up rules for who wins, it can be such a great time! For easier judging, you can create a hashtag that hasn't been created yet to collect the photo entries. Otherwise, you can just have them send all their pictures to you.
In my experience, even girls that are a bit harder to get involved really love a fun social media challenge. It can help them get out of their bubbles, and it lets the especially creative kids shine!
Host an Ice Cream Social
Sometimes you need to take a break from your girl scouting and enjoy a fun break. An ice cream social is a great girl scout experience to help your troop build healthy relationships. You can meet in a local park if you want to take advantage of the beautiful weather, or a home or school– whatever you have access to.
I love creating a special toppings bar for my girls. You can include little bowls of things like sprinkles, chocolate chips, flavored syrups, fresh fruits, crushed up graham crackers, and more to give them that fun summer break feeling. For an added summer twist, roast some marshmallows around the fire and use them as a gooey topping on your ice cream! If you throw in some chocolate chips and graham cracker crumbles, you have a special s'mores sundae.
All you need to do is make sure that none of your girls have any intolerances you should be aware of, and you're good to go!
Create Themed Activities
If you know anything about me, you know I love creating themed activities for the whole troop! As a troop leader, you are completely capable of bringing completely new things into your troop meetings. I have tons of resources available to help you pick the perfect theme for your gathering. Whether you want to use that time to teach your girls new skills, bring in a special adult volunteer, or celebrate accomplishments, you can come up with creative ways to integrate those items into your themed activities.
As long as you have my resources, some input from your girls, and some creative modifications, you will be able to throw an amazing event that will build the bonds that will last forever.
The topic of summer fun with your girl scout troop is so exciting and nostalgic for me, because I still remember those beautiful summer nights I had when I was a young girl, and my former troop members still bring up all the fun things we did together. Creating Girl Scout events has something sacred about it, knowing that you will be passing on a legacy of fun, sisterhood, love, and advocacy to the next generation in the same way those things were taught to you. I hope you and your troop love these little celebrations! Let me know how your events go!
Enjoy every minute being a leader and continue to inspire your girls!
Purchase this wonderful illustrated book from Amazon.