If your looking for ideas to make your meeting more fun while discovering how important good health for women is, you have come to the right place. Using some of these activities below they will learn more about women's health and understand all the unique health issues that can affect us at every stage of our life.
Below are a few ideas to get you started.
Women's Health Activity Booklet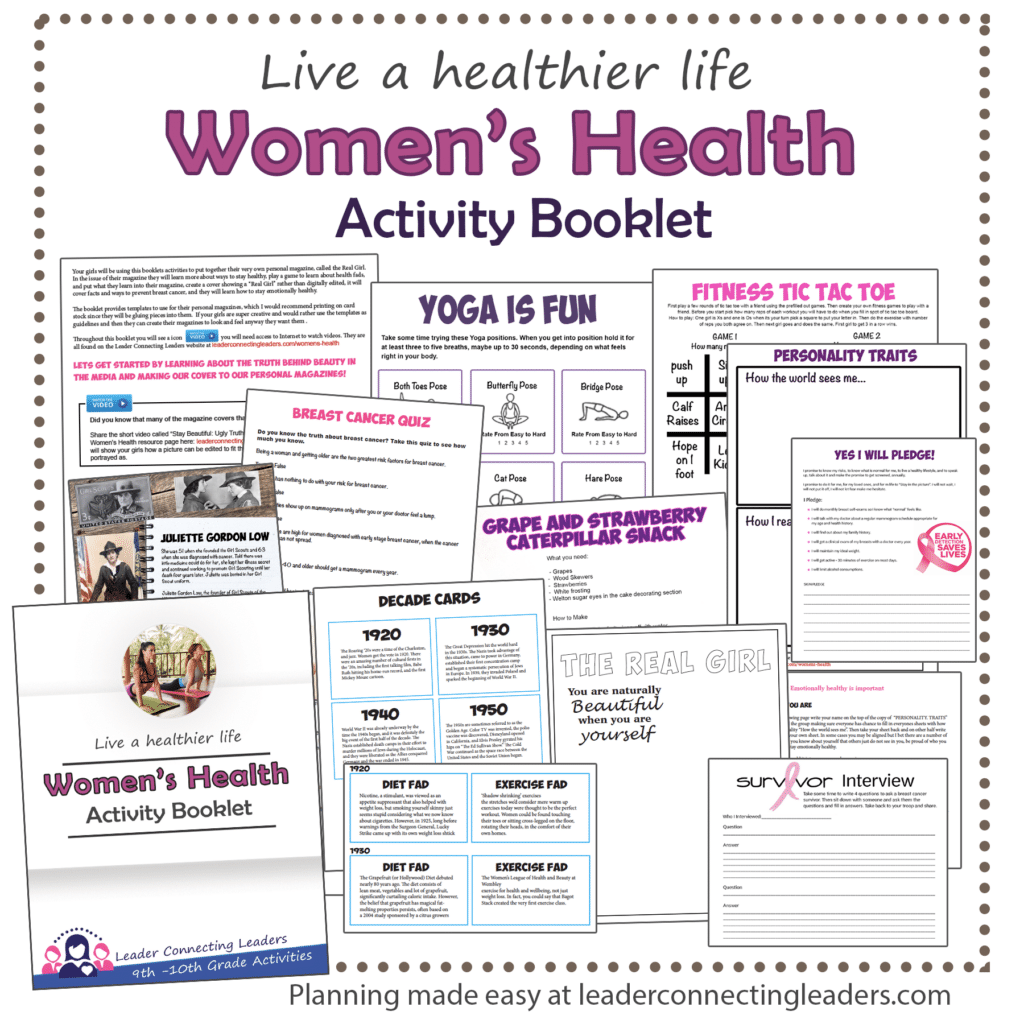 Before jumping into a few ideas, do you want to skip all the planning? If so, use this Activity Booklet to help your girls understand and explore woman's health. The girls will put together their own personal magazine where they will get a better understanding of how to help women stay healthy, learn how fad diets and exercise have changed throughout the years, learn more about ways to help stay emotionally healthy, learn more about breast cancer awareness and in the end they will have a completed personal magazine that they can share with other women to help them be aware of ways to stay healthy. With a step by step activities, you can't ask for a easier way to run your meeting. Learn more and get yours today!
Be sure to also checkout these other activities your girls will love:
---
Other Fun Activities To Try
Learning More About Depression
I came across a great program from a company called Kids Health in the class room. It focuses completely on depression. If your girls are interested in learning more about depression. If any of their friends are acting irritable and moody or even withdrawn it could be a sign of depression. This program was designed for 9th to 12th grade kids. Click here for program
Screening Test That Are Recommended for Women
If your girls are going to put together a flyer or poster to display at a health fair, maybe they could use this document to help them share when people should get screenings for certain diseases. Click here for document.
Flu Prevention Flyer
As we all know when flu season comes around we are always looking for ways to prevent ourselves and our family from getting it. Have your girls put together a Flu Prevention Magnet to hand out to friends and family so everyone will have the facts front in center on their fridge.  Click here for some great facts to get you started. 
Health and Fitness Educational Activity Board Game Board Game
Part of being healthy is making sure your active, you are eating a balanced diet, avoid stress and make sure your mental health is intact. This board game will bring this all together for your girls. They will have fun competing against each other and not even realize they are learning at the same time.  While playing the game girls are focusing on winning the golden ticket to become the "Coach of the Game". Your girls will learn how to be healthy and be active at the same time. They will be answering pop quiz questions and completing exercise challenges. It also includes a Food Scale Chart showing healthy food choices and Workout Poster to do even more exercises. Get the game here
If you don't want to spend the time planning, our Activity Booklet has step-by-step instructions with activities that don't require any planning other than gathering supplies and printing booklets.
What do we do after your girls complete the activities?
Well of course give them the badge to display proudly on their vest, they earned it!  Additionally If you are like many leaders we want to award our girls when they complete something even beyond just the patch. One great way to show achievement is with a certificate. Don't worry you don't have to make them, I found a resource that has done all the work for you and all you have to do is print them and customize the certificates with each girl's name, badge or award earned, date, and troop leader.  Editable certificates perfect for awarding girls after earning a badge.
More Resources For You Beyond This Site
I get asked a lot what other resources are out there on the internet for Leaders.  I have done some digging over the years and have used many of the resources myself. I compiled a list of some great companies that sell patches, programs and also other bloggers offering amazing resources that may fit your needs even better than my site did.   Checkout what I found.