An amazing opportunity to teach your girls about appreciating our nation's veterans! Veteran Baskets Girl Scout Challenge!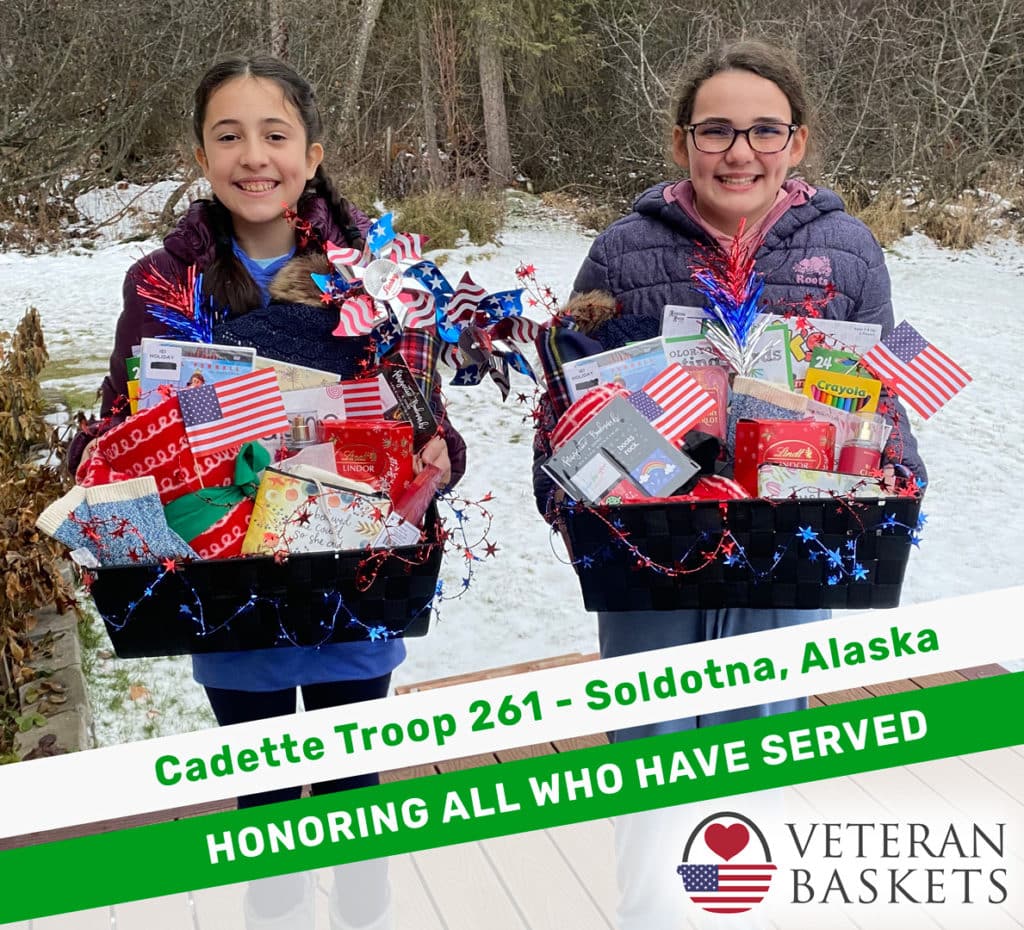 Did you know? Thousands of our older veterans live in extended care facilities and veterans homes around the country. Many of them have no family or friends near them. World War II, Korean, & Vietnam War veterans will no longer be with us in a few years. Some will die alone because they have no family or friends who come to visit.
How can my troop help Veterans in our community?
A unique and very fun way to teach your girl scouts about military service and appreciation. The Veteran Baskets Girl Scout Challenge is to make unique gift baskets and find veterans in your area to present them to.
Half the fun is making the baskets as creative as you can, but the teaching moment is helping girls understand who they are giving the baskets to. What these men and women have done to serve our nation. These can be veterans in nursing homes, the quiet old man who lives alone down the block, or individuals you know of at church.
Then the special moments happen when presenting the baskets and seeing the smiles and gratitude that is expressed. Your troop will learn about veterans and their service in a fun and engaging way, and with Veterans Day and the holiday season right in front of us, this is a great opportunity to let those who may not have much family know that they are loved and cared about.
What other Leaders have said about the Veteran Basket Challenge
"We dropped off our Veterans Baskets this morning at Care Partners Assisted Living in Winneconne. Our hometown is small and this is the only assisted living in the village with only 15 rooms. They are at capacity and not allowing visitors as Covid-19 is at its height in this area. But we completely surprised the nurse on duty when we rang the doorbell this morning. We honestly weren't sure if they would have enough Veteran residents…when she said with tears in her eyes "this donation is so thoughtful…we have exactly 3 veterans currently, and they will be so glad to have this little holiday cheer right now." Our girls couldn't feel prouder!" – Jennifer H.

"While learning about their community and government, Troop 6257 brownies wanted to thank our veterans. We found out about this program from our Girl Scout council and felt that we could make a great contribution to this effort. The girls wanted to give our veterans treats and then started to think about things veterans might need. They then started to consider things the veterans in their personal lives enjoyed. As a result we have a great variety of gifts. The girls have collected personal hygiene items, masks, socks, bandanas, games, playing cards, word finds, snacks, treats, sugar free candies, drinks, patriotic decor and vouchers for free snow plowing." – Amber P.
So is your troop ready to take the Veteran Baskets Girl Scout Challenge?
This is the third year that Veteran Baskets has done the Girl Scout Challenge. As part of the challenge, they award grants to councils, troops, and also amazing individual girl's efforts.
This year there is a $1000 grant to the council with the most participation and ten $500 grants to troops.
You snap a few pics or videos and post them on social media with the @VeteranBaskets tag and you can submit them on their website also veteranbaskets.com/girlscouts. You can follow them on Facebook at facebook.com/veteranbaskets

---
Learn More about our Government with these Activity Booklets
---
How To Make Toddler Busy Boxes To Donate To Shelters or Hospitals
The best part about this idea is that any age troop can get involved right down to Daisy Scouts. Link below has some ideas to get you started. But honestly the sky is the limit with toddlers anything that will keep their little hands busy is a win!
---
Teach your girls about integrity and values
This beautifully illustrated book empowers kids to be nice and kind human beings.  'The Adventures To Me ' is an endearing story of a little elephant on a journey to becoming the best version of "me".
Equipped with nothing other than a colorful scooter, a backpack, and a map, the little elephant starts their "Adventures to Me". Along the way, meets new friends of all different backgrounds as encounters challenges, has to make choices, and learns lessons along the way.
The road to discovering the best version of "me" is paved with lessons about confidence, truthfulness, resilience and strength, respect, kindness, responsibility, accepting differences, using what you have, dreaming big, setting goals, and looking ahead towards the future with a positive mindset.
For the little elephant, the journey of life is full of a wealth of possibilities –– ready to embark on a beautiful journey alongside our elephant friend?
Learn about the choices we all make to be good people and explore the great "Adventures To Me"!