Over the past years our troop has had some fun at our meetings and camp outs by making them theme events. The girls have to come dressed as something and if they participate in the theme they get to collect a rubber ducky. Today I want to share a few of my themes we have done.
Outer Space Theme Meeting or Camp out
For a halloween fall camp out we did outer space theme party we played a lot of wacky games. But one game the girls really enjoyed was create your own alien out of toilet paper.
Alien Toilet Paper game
Give each team 2 rolls of toliet paper and tell them they have 10 minutes to create the best alien. Choose one girl to be the model. At end have leaders judge the best alien but best part is of course taking the pictures. You can get these ducks here
Zombie Theme Meeting or Camp out
Have your girls come dressed like a zombie. This can be a great fall idea around halloween, or even just for fun any other time of the year.
Editable Fires
We bought everything needed to do editable fires at this meeting.
Start with a safety circle (paper plate).
Place rocks (marshmallows) in a circle to surround the fire. to surround the fire.
Add kindling (pretzel sticks) in a square or A- square or A—frame.. frame.
Add tinder (potato sticks) in the center. Add tinder (potato sticks) in the center. er (potato sticks) in the center.
Add red hots (coals) to the top. Add red hots (coals) to the top.
You're edible fire is done…eat up. You're edible fire is done…eat up. You can get these ducks here
Pirate Theme Meeting or Camp out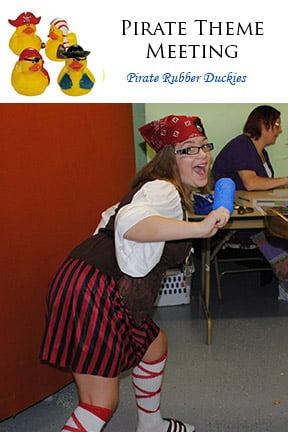 Have the girls come to meeting dressed as a pirate.
Girls at the time were working on the Get Moving Journey so we decided to use recycle items and have girls create their very own pet bird that would sit on their shoulder. Gather up all kinds of left over craft supplies Give your girls the task at hand and they will go wild. You can get these ducks here
Thinking Day Meeting or Camp out

There are so many different things you can do with this category. You can ask all the girls to dress like a person from another country, you could ask everyone to bring a food and poster board with information about another country. We actually have done it a variety of different ways we always gave girls ducks for participating in Thinking Day. You can get these ducks here
Cavewoman Meeting or Camp out

This was a fun theme idea. Everyone comes dressed like a pre-historic cave woman. We purchased a few prizes and did a drawing at end of meeting for the best dressed cave woman. The girls really enjoy coming to meetings dressed up and getting opportunity to do a photo shot before meeting is over. The leaders Love it to!! SO think about it you can just add the ducks to meeting and not do anything different. You can get these ducks here
This is just a small taste of what you can do with Rubber ducky theme meetings and camp outs – we themed two years of scouting just using the ducks we found the duck we wanted then planned the meeting. It was a lot of fun and the girls loved it. At the end of the two years we asked the girls to take a picture with their duck any way that they would like. Below is a image of just a few girls and what creative things they came up with.
---
Party Planning Kit Printables
I am so excited to present Strawjenberry's Ultimate Party Kit! Almost everything you need to plan your troop celebration is included in this kit and can be printed at home or through your local office supply store or printer. It all starts with a personalized troop banner (two options to choose from) that includes your troop number. From there you have many different supplies to create the labels, stickers and decorations that you need.
The full color party kit includes:
One personalized banner
Personalized party invitation
Four (4) styles of placecards/treat labels, including one (1) secret bonus design
"I Love Girl Scouts" flower graphic
Fifteen (15) unique and colorful "badges" to use as stickers, cupcake toppers, or decorative elements on any number of party items
A sheet of personalized gift tags
Two (2) square backgrounds to create labels for lollipops. chocolate bars or giftboxes
A set of personalized badges with your girls' names on them (you can also opt for a troop number instead)
Printable 8 1/2 x 11 Promise and Law pages–perfect for framing!
One sheet of twelve (12) blank badges
One sheet of twelve (12) level letters with heart (d, b, j, c, s, a, v)
The sky is the limit for how you can use all of these DIY elements to create the ultimate party. All items are included and have the bright and cheerful design color scheme. Get now for any party, ceremony or event you are planning for your troop.
Organize Your Troop Parties This Year with a 25+ page Leader Planner
This Leader Planner is from another amazing blogger named Jen her blog is called "I am StrawjenBerry" With the help of Jen I wrote a blog post explaining everything you will get in this planner. It has everything you need to plan your troop year. The planner contains your calendar, meeting planners, rosters and badge trackers in one safe place for when you need it. Read more
Enjoy every minute being a leader and continue to inspire your girls!