Who doesn't like a good movie? It makes it even more fun and memorable to watch a movie outside, under the stars. When I was a kid, Drive-In movie theaters were popular. Unfortunately, in our area, they are all out of business.
Side note: I started writing this post way back in January 2020 and sat it down. Just picked it back up, and its 7 months later and because of what Covid-19 did to the world I am starting to see Drive-In movies coming back. More people are buying projector screens and projectors and having movie nights in their backyard. I recently did just that and have been having a blast with movies and tv shows with the kids outside, in living room, and even in their bedrooms.
Planning a Movie Night With Troop
The first thing you need to decide is to find a place and date to have your movie night. I think there are many ways to do a movie night safely and social distance. You could create your own drive thru movie theater if you have a loud enough speaker system and large enough projector screen. Just have everyone come and stay in their cars. You could also do it in a large open area where everyone can spread out safely.
What you will need
You will need a projector, if you don't have one you can check with your friends or parents, of your girls, and see if they have one you can use. These projectors can also be rented if you google places with rentals in your local areas. You can also get projectors with built in apps like Disney+ and Netflix. I highly recommend the Nebula projector brand.
The second thing you will need is a screen to show the movie on. They're a few options you can think about. You can use a plain outdoor wall, a white sheet, canvas drop cloth, on a clothesline or hung between 2 poles. Inflatable screens are also available for rent. Of course if you love the idea of using this over and over like I did you can purchase a portable projector screen to move from place to place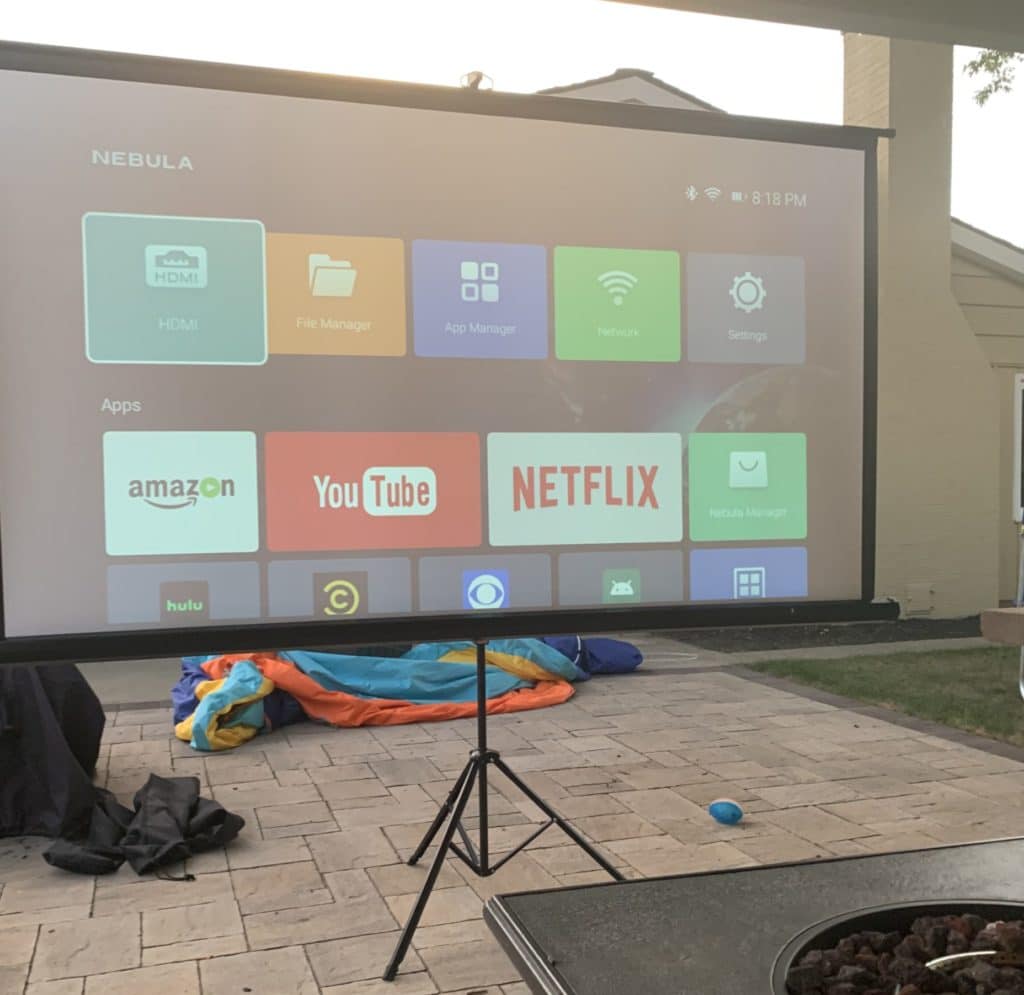 Optional Theme and Decorations
Your movie night can include homemade or premade decorations. One idea could be a red carpet event, with the girls names, on a star, on the red carpet. It can be as simple or elegant as you decide. You can give each girl a ticket when the arrive, to give, before entering the movie area. If you wanted to make this part of a ceremony check out a star is born ceremony I did with my troop a few years back.
Seating Plans
The next thing you will need to decide is where your girls will sit, during the movie. Chairs, blankets, cushions, sleeping bags and pillows are all good choices. As mentioned earlier if you are doing this during Covid-19 times social distancing is important. So you could do it in a large open area and keep everyone apart, do a true drive thru where everyone stays in cars if speakers are loud enough.
Food and Snacks
A movie night isn't complete without snacks. Popcorn is always popular choice. Hot dogs, pizza, Cracker Jack, malt balls, Goobers, M&M's, Reese Pieces and Good & Plenty are also some good options for snacks. Drinks can be as simple as water, soda, or more difficult such as milkshakes.
Selecting the Perfect Movie
The most important decision is the movie you will choose for your movie night. A few things to keep in mind is what's appropriate for the age of your girls and the movie rating. As a leader, you can just choose one or get ideas, from the girls, and let them vote on it. It's a good idea to let the parents know, ahead of time, which movie you will be showing.
Movie Fun Patches and Activities
Do your girls love fun patches? Maybe you can choose your movie based on some of these great fun patches from Mad About Fun Patches. Best part most of them come with a activity worksheet to go with it that you can include in your movie night.
I hope your enjoy you movie night and just maybe you'll see a shooting star!
Enjoy every minute being a leader and continue to inspire your girls!