Are you new to being a leader and are asking Kaper Chart Whats that? A troop Kaper Chart, is a chore or job to be done at the meetings. You use a chart to indicate what jobs are available and who will be in charge of that job at the meeting.
We all use them as Leaders, some just use paper forms others create elaborate poster boards. I am always looking for new creative ways to create a troop Kaper Charts. Every year I try to change it up a little for my girls. I thought it be cute to make each girl a monkey, with their name on it. What better place to put the Monkey is to hang it on a tree.
That idea evolved so not only is the troop Kaper Chart a tree used for tasks girls need to complete and do at meeting, but also I used the container to hold troop dues.
How to make a Monkey Around Troop Kaper Charts
What You Need:
I purchase round containers from Walmart, brown construction paper, green construction paper, and made leaves with all the tasks and chores needed done at meeting, clothespins
Resources:  Tree Leaves and Promise and Law and Monkey Heads (click images to enlarge)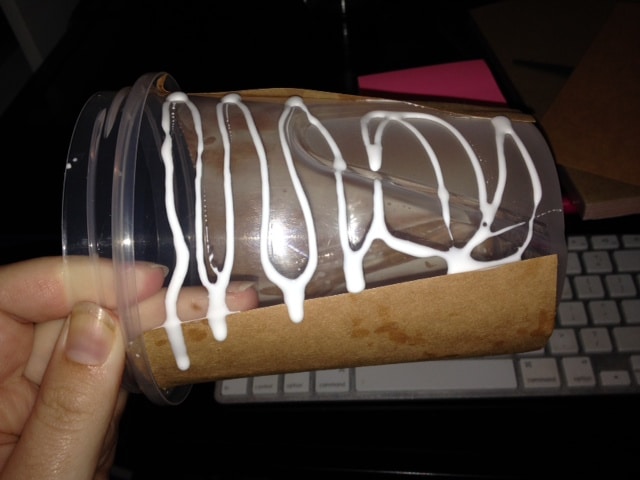 Step 1
Glue brown construction paper all the way around the round container you will be putting tree on.
Step 2
Cut out and glue tree leaves all the way around the container to create the illusion that it is a tree. The tree leaves are pre-wrote out but I also included a few that are blank and you can add what ever you want to your kaper chart.
Step 3
Glue the Promise and the Law onto the tree as well. That way the girls have a reference when learning promise and law.
Step 4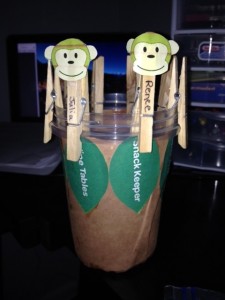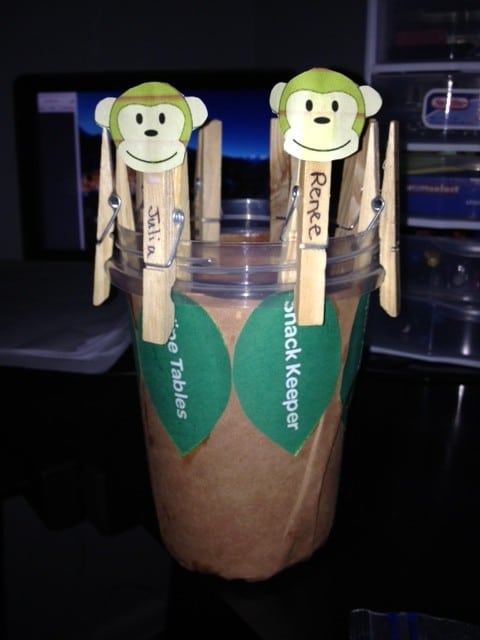 Finalize the Kaper Chart, by placing girls names on all the Clothespins and gluing a monkey head to top of clothes pin.
We actually did this as part of our Brownie GS Ways badge, so I didn't get as elaborate with the monkey clothespins. Here are  4 more ideas to help you earn the Brownie Girl Scout Ways Badge
If you need other ideas – check out my Pinterest board I have pinned over 100 ideas from other leaders you can get some inspiration from them for your next Kaper Chart.
As a added resource, I did find a great blog that shows you how to make your clothespin look even more like a monkey. If your interested in taking it a step further, check out this post for instructions on how to turn your clothespin into a monkey with tail and all. Click Here
---
12+ amazing resources to help you plan and organize your Girl Scout troop + FREE Kaper Chart Download
One thing we all know as leaders we need all the help we can get to make the program fun, educational, and to help build the girl leaders of tomorrow. This post is packed full with ideas for:
Kaper Chart ideas plus a free download
How to organize your troop
Collaboration Ideas
Badge Planning Resources
World Thinking Day
Cookie Season Support
Extra Fun For Meetings
How to make your troop unique
Ceremony Ideas