My troop has had many different types of cookie booths over the years, and one of our favorite things to do is to run what we call a "Marathon Girl Scout Cookie Booth Sale".
What exactly is a Marathon Cookie Booth? After the Council contacts all the local businesses, we contact off-sites that have not been asked, such as the corner store, local Dairy Queen, etc. We secure about 6 different places and run the booths throughout the day in rotating shifts. Two of them are always set up as Drive-Thru Cookie Booths (indicated with signs). We make the "Gift of Caring" box a contest between each booth to see who can collect the most donations for the Soldiers, home safe or food pantry (depending what the girls decide for year)
---
Drive Thru Cookie Booth
A drive thru cookie booth is a booth allowing customers to buy cookies without leaving their car. We set up orange cones and enter and exit signs. Due to safety issues, the girls are not allowed to approach a car without a adult, but we make sure the girls still do all the selling and collecting of the money. The Drive Thru Cookie Booths are always are top sellers for the day because people love not having to get out of their car to buy cookies.
We always have a car near the booth where an adult and a girl can make change. If you're not in a place where you have access to a car, have money behind you covered up, guarded by an adult (there has been so many grab-and-run incidents with scouts' cookie money).
How to Run a Marathon Cookie Booth Event
We have what's called "the marathon". We set up 4 – 6 booths, that go all day long. We also have two of the leaders chosen to b runners. This means we start out each booth with a certain number of cases, and if they get low, the leaders call and the runners drop off more cases and exchange with other booths if they have more or get low. At each booth, we have a sign out sheet so we can keep track of how many cookies are sold and how much money we have when we close down. We start each booth at a different time, so we can go to each booth and close them in a timely manner. For safety reasons, the runners stop at the booths throughout the day to pick up money.
We take the whole total of all the booths on marathon day, and divide the hours worked between each girl that worked the sale. We do it this way because some booths have more traffic than others especially the Drive Thru booths. We have done this event 3 times and each time we have averaged between 1000 – 1200 boxes in one day. Of course we put it out there in newspaper and radio so that the community knows were we will be.
Cookie Booth Marketing Ideas
There are a lot of fun creative ways to market before and during your event. Here are a few that we have done
Have the girls hold up cookies to show people as they walk by.
Have a few cookies crumbled up on a tray for samples.
We bought the girls pom poms so they can shake them around, which is really great to alleviate bored young scouts.
Make billboards out of cookie boxes!
The booths put up pictures of activities they have accomplished, with sign stating what the goal was for the troop.
Our girls like to pick out themes, too. One group selected a tropical theme, while another group made their booth patriotic, one of our drive-thru cookie booths used "Get them before they are extinct" theme.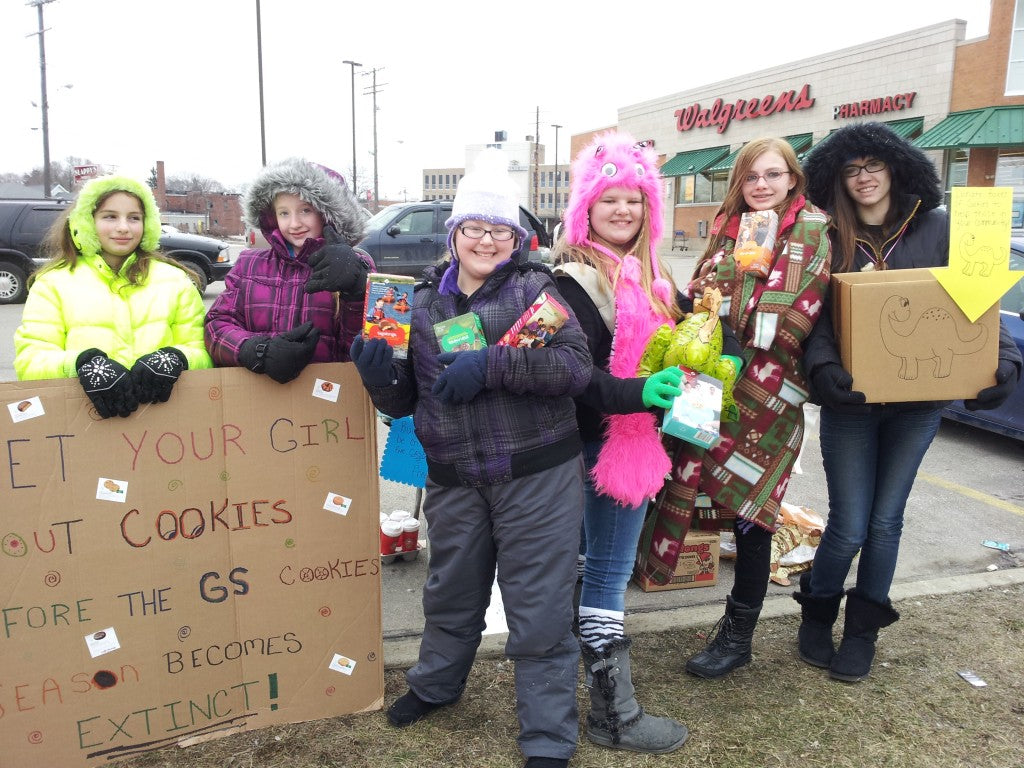 You can get a few cookie signs online if you are not ones to make your own. These ones are sturdy and can be used over and over again.
Set a Goal to Work Toward at Your Girl Scout Cookie Booth
Make sure to spend time with your troop to figure out what they want to earn for selling cookies.
On a personal note thinking back on some of my troops goals. We have always had a large troop so our goals were usually pretty big.
One year it was to sell enough cookies to receive a cookie shirt for each member of the troop
Another year the council was sponsoring a concert so everyone wanted to sell enough for whole troop to go rather than just the ones that sold enough so we ran a lot of booths that year.
On the 100th year birthday our council offered free registration if troop sold more than 5000 boxes, we went above and beyond that year and sold a grand total of 8500 boxes.
Girl Scout Cookie Booth Bundle Printable
Beyond the bash I bet you want to make the fundraising with your troop easier. I have a resource for you. I love everything from IamStrawberry etsy store has to offer. This bundle includes everything you need for a productive cookie season. And what's more important that cute resources? The bundle includes:
* Parent cookie form
* Cookie booth tally sheet
* Cookie lanyard
* Girl business cards (Fillable!)
* Thank you cards/cookie order slips (4 UP)
* Door hangers
* FREE Bonus! Three booth signs, including one custom troop sign
Which baker are you using? Bundle for ABC Baker or Bundle for Little Brownie Bake
My Recommendations: Printable Activity Booklets
If this is still not enough cookie inspiration. Checkout my Cookie Ideas Pinterest board where I share all kinds of other great ideas people have shared online for cookie bashes and fundraisers that you can incorporate into your event.
In conclusion, Girl Scout cookie booth marathon is both an entertaining and effective way to teach your girls what it means to be an entrepreneur. This activity provides an opportunity to teach girls to be creative and resourceful while they gain important skills such as communication and problem solving. As the old adage goes, "success is not final, failure is not fatal: it is the courage to continue that counts."
I hope I was able to demonstrate why girl scout cookie booth marathons make for a great learning experience for your girls, but the best way to truly know what a great experience this can be for you and your girls is to try it for yourself. So why not consider running your own cookie booth marathon and witness firsthand how inspiring it can be for your scouts?
Enjoy every minute being a leader and continue to inspire your girls!